Advancing Prospective Lithium-Brine Properties in Argentina
This profile is part of a paid investor education campaign.*
Overview
Portofino Resources Inc. (TSXV:POR, FSE:POT) is a Canadian mineral resource company with lithium and gold projects in the Americas. The company's focus is on its three lithium brine projects located within Argentina's Catamarca Province, which is one of the leading lithium production centers in South America's Lithium Triangle. The region's salars have become the world's main source for lithium carbonate production. Additionally, Portofino's three lithium projects are all located near key producers and advancing projects, such as FMC Lithium, Galaxy Resources (ASX:GXY) and LSC Lithium Corp. (TSXV:LSC), to name a few.
Recent exploration work at the company's Hombre Muerto West and Rio Grande Sur properties yielded promising results. At Hombre Muerto West, a surface sampling program tested 18 areas of interest and returned 1,031mg/L lithium, Portofino's highest-grade brine assays to date. At Rio Grande Sur, 13 samples from the property were tested and returned values of up to 216mg/L and 4,185 mg/L potassium. Additionally, lithium has been found in spring-sourced surface waters, which indicate that the area may be a key source of lithium for the salar.
Both Portofino's Project II lithium and Iron Horse-Bolivar gold-silver projects have seen extensive historical exploration. Historical results recovered from Project II average 274 mg/L of lithium. Between 1939 and 1941, the Iron Horse-Bolivar historically produced approximately 244 tonnes of ore, which yielded 1,618 grams of gold and 15,116 grams of silver.
The demand for lithium is expected to rise over the coming years to reach approximately 900,000 tonnes by 2025. Most of the demand is being fueled by the adoption of clean energy initiatives and the rising demand for electric vehicles (EV), in which lithium plays a critical role. As the name implies, lithium is a main component in the lithium-ion battery.
Company Highlights
Three lithium brine projects located in the province of Catamarca, Argentina; approximately 14,000 hectares near key producers and advancing projects.
Ongoing programs to verify historical results indicating high-grade lithium and potassium.
Hombre Muerto West sampling program returned highest to date value of 1,031mg/L lithium.
Rio Grande Sur sampling program returned values of up to 216mg/L and 4,185 mg/L potassium.
Experienced management with excellent network of regional community and government connections.
Prospective gold-silver property in BC with a potential porphyry system.
BC property saw historic production of 1,618 grams of gold and 15,116 grams of silver between 1939 and 1941
Lithium Projects in Catamarca, Argentina
Hombre Muerto West
Portofino has entered into a definitive agreement acquire a 100 percent interest in the Hombre Muerto West lithium brine project located in Catamarca, Argentina. The 1,804-hectare Hombre Muerto West project is comprised of two claim blocks and is located within the world-class, Salar del Hombre Muerto, where FMC Lithium is currently producing lithium carbonate and Galaxy Resources is developing its Sal de Vida project.
Portofino has recently completed a surface sampling program that tested 18 sites within the claim blocks and returned Portofino's highest-grade brine assay to date of 1,031mg/L lithium.
Rio Grande Sur
Portofino has executed a definitive agreement to acquire a 100 percent interest in the 8,500-hectare Rio Grande Sur lithium brine salar project in Catamarca, Argentina. The concession area consolidates the southern extension of the Rio Grande salar and cover one of the primary water sources for the main Rio Grande salar brines.
The property is adjacent to the Rio Grande concessions held by LSC Lithium who has reported an initial mineral resource estimate, which has an inferred resource of 2,190,000 tonnes of lithium carbonate equivalent with the top 50 meters of the deposit amounting to 1,375,435 tonnes grading 338mg/l lithium and the lower 50 meters to 100 meters amounting to 814,582 tonnes grading 410mg/l lithium.
Portofino's 2018 exploration program included geological mapping and pit and auger sampling of near-surface saline brines to a depth of one meter. In total, 13 sample sites were tested and returned values of up to 216mg/L and 4,185 mg/L potassium on the property. Additionally, lithium has been found in spring-sourced surface waters, which indicate that the area may be a key source of lithium for the salar.
Project II
Portofino can acquire up to an 85 percent interest in Project II, a lithium brine property, which is located approximately 10 kilometers from the Chile border, 27 kilometers east of Wealth Minerals' (TSXV:WML) Laguna Verde project and 65 kilometers northeast of Neo Lithium Corp's (TSXV:NLC) 3Q project, encompassing a 3,950-hectare claim block.
Exploration work conducted by a previous operator in 2012 included geological mapping, sampling of surface waters, auger sampling of brines and compilation of the distribution of lithium and potassium grades within the basin. Results from the surface water and auger brine samples averaged 274 mg/L of lithium.
June 2017, APEX Geoscience completed a comparative surface sampling program that validated the results received in 2012. As a result, Portofino intends to move forward with a definitive agreement on the property and to initiate a formal exploration program.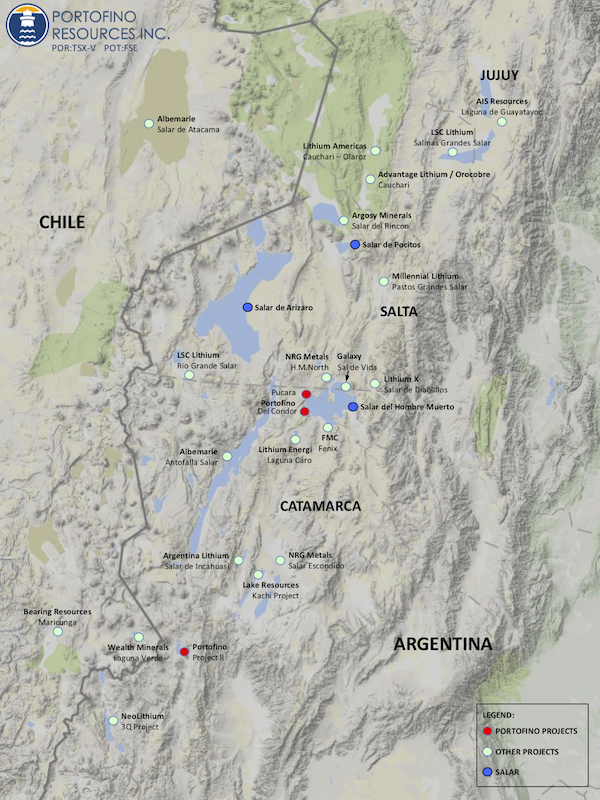 Iron Horse-Bolivar Project
Portofino Resources has the option to acquire a 100 percent interest in the 1,800-hectare Iron Horse-Bolivar silver-gold project in British Columbia's Peachland region. The property is located eight kilometers southeast of the past-producing Brenda Mine.
Historical work on the property dates back to the late-1890s. Historical data suggests that exploration work has been carried out on the property by various operators, such as Noranda Exploration, Brenda Mines, Esso Minerals, Fairfield Minerals and Placer Dome, between 1936 and as recently as 2005. Data also suggests that historical production was conducted between 1939 and 1941. In total, 244 tonnes of ore yielding 1,618 grams of gold and 15,116 grams of silver were produced during this period.
Management
David Tafel — CEO and Director 
David Tafel holds a B.A. in Economics from the University of Western Ontario and contributes over 20 years of corporate structuring, strategic planning, financing and management experience to the company. He is currently CEO of Centurion Minerals Ltd., an agri-gypsum fertilizer company with operations in Argentina. He has been an officer and director of a number of publicly listed companies. He co-founded MBMI Resources Inc., which became a nickel producer in the Philippines that reached a market capitalization of $400 million. He led the spin out of Garson Gold Corp (from MBMI) and as CEO went on to acquire the New Britannia gold mine in Manitoba from Kinross and High River. Garson was subsequently bought out by a Toronto-based mining company for over $35 million. Prior to his public company experience, Tafel managed private investment funds at the largest independent Canadian securities firm.
Kenneth Cawkell — Director
Kenneth Cawkell is a member of the British Columbia Bar Association, and, in 1987, he co-founded the law firm Cawkell Brodie LLP, where he remains as Managing Partner. For over 25 years, he has been involved in technology industries within public, private and venture capital markets; successfully fulfilling the roles as a professional advisor and as a principal and investor. In his professional capacity, he has focused on intellectual property, technology transfer, financial and transaction structuring, and securities law.
Cawkell is an investor and founder of a number of private companies, where he has held executive management positions and currently sits on the board of a number of private and public companies. He has served as director and officer of a number of public companies involved in the mining industry. He is also a past member of the National Research Council of Canada IMB/ INH Advisory Board and the British Columbia Securities Commission's Securities Law Advisory Committee.
Stephen Wilkinson — Director
In the mid to late 1990s, Stephen Wilkinson was the Vancouver-based mining analyst for RBC Dominion Securities Inc. and was responsible for small capitalization gold and base metal companies. From 1999 to 2002, he was President, CEO and Director of Northern Orion Explorations Ltd. and currently President and CEO of WPC Resources Inc., a British Columbia-based gold exploration company.
Wilkinson has extensive international experience in the mining and finance industries having served as an officer and director of several private and public companies. He has a Bachelor of Science from the University of Western Ontario (Geology, 1976), a Master of Science from Carleton University in Ottawa (Geology, 1983) and an MBA degree from Clarkson University in New York (1995).
Jeremy Wright, CPA, CMA — CFO and Secretary
Jeremy Wright brings over 20 years' experience to clients as President and CEO of Seatrend Strategy Group. He currently serves as a Director of Demetra Minerals, Budly Software and Pacific Community Resources Society. He previously served as a Director with PreveCeutical Medical, Good Ventures, the Canadian Freestyle Ski Association and several community associations and municipal advisory boards, including the Gateway Stakeholders' Advisory Committee for the City of Coquitlam. Additionally, Wright currently serves as the CFO for several public and private companies including: Portofino Resources, Centurion Minerals, Demetra Minerals, GreenTec Holdings, PayVida Solutions and was previously the CFO for PreveCeutical Medical.
Wright is a Chartered Professional Accountant (Certified Management Accountant). He has extensive negotiation training, including the University of British Columbia's Sauder School programs: "Advanced Negotiation Skills" and "Strategies, Skills and Tactics of Negotiation". He also holds a Bachelor of Arts, with honors in Environmental Economics from Brock University.
Sebastian Cattaneo, B.Eng. – Country Manager
Sebastian Cattaneo is responsible for tactical delivery of the Argentine operations, including community relations, vendor management and local administration. He has over 15 years of experience in oil and gas and mining industries, along with a degree in environmental engineering from the University of Buenos Aires.
Having lived in Vancouver for over 10 years, Cattaneo relocated back to Argentina in 2010 to be the Country Manager for junior mining company specializing in fertilizers where he managed the startup of the company. As an Argentine and Canadian, he has a unique understanding of both Argentine and Canadian business practices allowing him to bridge professional and cultural gaps effectively.
---
*Disclaimer: The profile provides information which was sourced and approved by Portofino Resources Inc. in order to help investors learn more about the company. Portofino Resources Inc. is a client of the Investing News Network (INN). The company's campaign fees pay for INN to create and update this profile page, to which links are placed on Investingnews.com and channel newsletters.
The company description, investment highlights and catalysts were sourced by INN and approved by the company. INN does not guarantee the accuracy or thoroughness of the information contained on this page.
INN does not provide investment advice and the information on Investingnews.com profile should not be considered a recommendation to buy or sell any security.
INN does not endorse or recommend the business, products, services or securities of any company profiled.
Readers should conduct their own research for all information publicly available concerning the company.