Copper Resource in Canada's Yukon Territory
This Copper North profile is part of a paid investor education campaign.*
Overview
Copper North Mining Corp. (TSXV:COL) is a mineral exploration and development company focused on transforming the Carmacks Project into a low-cost, environmentally sustainable, copper and precious metals producer.
The Carmacks Project, 100 percent owned by Copper North, is located 220 km northwest of Whitehorse, in mining-friendly Yukon. The project is road accessible now and is located 11 km from Yukon grid power. Carmacks is a near-term producer and is partially permitted for construction.
Copper North's Carmacks Project – Key Values
Advanced stage:

As soon as 3.5 years to production
Positioned to take advantage of any potential copper supply shortfalls
Partly permitted to build
Feasibility engineering-level open pit mining, waste rock management, and infrastructure designs

Low-cost copper producer:

C1 Cash Cost of US$1.08/lb. after precious metal credits (2016 PEA)

Established regional infrastructure:

Road accessible now
11 km from Yukon grid power (94 percent hydro generated in 2018)

High-grade oxide copper-gold-silver mineral resource:

Drilling in 2015/2017 increased the oxide mineral resource tonnage by 36 percent, potentially adding 2.5 years to the currently planned 7-year mine life, with further exploration potential remaining on the property (2016 PEA and April 9, 2018 news release)
Underlying sulfide mineral resource open at depth along the entire oxide strike length

Engineered for environmentally sustainable copper production:

Dry stack tailings management, grid power, cathode copper production on-site/no smelting required
Carmacks Copper-Gold-Silver Project: Building Project Value
Copper North has embarked on a program to build value in the Carmacks Project by adding recovery of precious metals, with an emphasis on gold, and by increasing the mineral resource through exploration to potentially extend the mine life.
Adding Precious Metals Recovery
The addition of precious metals recovery to the metallurgical process required a shift away from heap leaching – the process previously planned for the project – because there is no economic means of neutralizing a copper heap to then leach for gold/silver recovery. Metallurgical testing directed Copper North to instead move to a two-stage agitated tank leaching process – the first stage for leaching of copper using sulphuric acid, followed by rinsing and neutralization and a second stage for leaching of gold and some silver using cyanide. Agitated tank leaching is a commonly used process for the processing of oxide mineralization.
Copper leached in the first stage is collected as cathode using solvent extraction/ electrowinning. Precious metals leached in the second stage are collected as doré in a carbon-in-leach (CIL) plant. The twice-leached barren slurry is passed through a cyanide destruction treatment plant, then is filtered for placement as dry stack tailings, the best available technology for tailings management.
The two-stage metallurgical process is detailed in the 2016 PEA, which was prepared by JDS Energy & Mining (dated November 25, 2016). The previously developed feasibility plans were carried forward into the 2016 PEA along with the PEA-level engineering for the process plant and dry stack tailings area. The PEA was based on the same measured and indicated mineral resource on which the previous feasibility study was based.
The potential economic benefits of the new metallurgical process are also detailed in the 2016 PEA, the results of which are summarized in the following table. The table compares project economics based on the tank leaching process with economics of the previous copper-only heap leaching plan that was detailed in the (now superseded) 2012 Feasibility Study prepared by M3 Engineering and Technology. Economics were compared for the planned 7-year mine life of the heap-leach project based on the measured and indicated oxide mineral resource in zones 1, 4, 7, and 7A at the common copper price of US$3.20/lb, which was the base case price used for the heap leach study. Economics of the tank-leaching project are also listed for the more common US$2.75/lb copper price that has prevailed over the past year.
Comparison of 2016 PEA economics, with copper and precious metals recovery at 3 copper prices, with the 2012 Feasibility Study economics that were based on copper recovery only.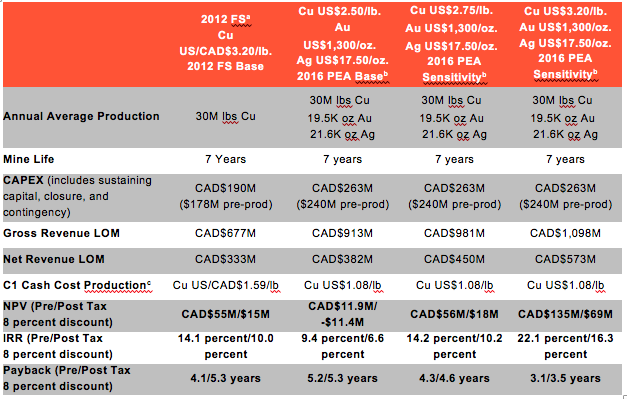 Notes to Above:
The above estimates are forward-looking and demonstrate sensitivity to specific project assumptions.
Source: M3 Engineering & Technology Corporation. NI43-101 Technical Report, Feasibility Study 31 Oct 2012. Available at www.sedar.com .
Source: JDS Energy and Mining. November 25, 2016. NI 43-101 Preliminary Economic Assessment Technical Report on the Carmacks Project, Yukon, Canada. Available at www.coppernorthmining.com and on www.sedar.com .The PEA is based only on the Measured + Indicated oxide mineral resources in Zones 1, 4, 7, and 7A. The PEA does not include any oxide resources from Zones 12, 13, and 2000S and does not include sulphide mineral resources. The 2016 PEA is preliminary in nature and there is no certainty that the PEA findings will be realized.
C1 cash cost of copper production net of precious metal credits.
All economic metrics are markedly improved by the addition of precious metals recovery at US$3.20/lb copper. Most importantly, the C1 Cash Cost of copper production, after precious metals credits, is greatly reduced, from US$1.59/lb for the heap leach plan to US$1.08/lb for the current project plan, making the Carmacks Project a potential low-cost copper producer. The after-tax payback period for the tank leaching project has also improved compared to the heap leach project, even with the higher pre-production CapEx requirement for the tank leach project.
The addition of precious metal recovery also makes the project more resilient to fluctuations in metal prices because the gold price, in particular, varies independently of the copper price. As an example, project economics of the tank leach project at US$2.75/lb copper and US$1,300/oz gold, are comparable to the copper-only heap leach project at US$3.20/lb copper.
The two-stage tank leaching process has the additional benefit of considerably reducing the copper leaching time, with four hours leaching time required to achieve 85.2 percent recovery as total copper (JDS 2016 PEA). In comparison, 80 percent copper recovery was expected after 210 days of heap leaching, with an additional 5 percent recovered over the life of mine (M3 2012 FS). The much faster copper leaching has a direct benefit to project cash flow, reducing the working capital required in the important first year of operation. The tank leach process also effectively recovers in excess of 100 percent of the soluble copper, which represents 82.3 percent of total copper on average.
The addition of oxide mineral resources to extend mine life may be expected to further improve project economics. The increases in the Carmacks mineral resource described below remain to be added to the economic model, subject to preliminary mine planning, metallurgical testing and environmental planning specific to these resources.
Expanding the Mineral Resource
Exploration from 1970 through 2008 by Western Copper and its predecessors defined the oxide and sulfide mineral resources in Zones 1, 4, 7, and 7A (the main zone, see the following figure). The main zone resource estimate in the table below is based on 193 drill holes totaling 31,536 m.
Copper North resumed exploration in 2014, with a small program to explore Zone 2, located approximately 2 km north of the main zone, and the zone between the south end of the main zone and zone 2000S, which has been named the Gap zone. Some 2.6 km of IP geophysics coupled with geochemical soil sampling along the IP lines, 1,600 m of trenching, and 10 diamond drill holes, totaling 615 m, were completed in Zone 2. Work in the Gap Zone included 2.2 km of IP geophysics and five diamond drill holes totaling 467 m. The program extended the area of known mineralization in Zone 2 to a strike length of approximately 500 m and further confirmed the gap in mineralization between the main zone and Zone 2000S. Further exploration is necessary to bring the Zone 2 mineralization into the mineral resource estimate.

Exploration continued in 2015, 2016, and 2017. Work included 1,371 ha of ground magnetic geophysics distributed across the central, northern, and eastern portions of the property. Trenching (4,510 m in 82 trenches) and in-fill and step-out diamond drilling (73 drill holes in 2015 and 2017, totaling 8,470 m) focused on known mineralization in Zones 2000S, 12, and 13.
The 2015 and 2017 drilling increased the total oxide measured and indicated mineral resource by 36 percent on a tonnage basis, as shown on the following table, potentially adding 2.5 years of mine-life at the planned average mining rate of 4,860 tonnes/day.
The sulfide resource that underlies the oxide mineralization at Carmacks also was increased by 2015 and 2017 drilling. The measured and indicated resource tonnage increased by 93 percent, to 8.61 million tonnes, and the inferred resource tonnage increased by 106 percent, to 8.3 million tonnes, as detailed in the following table. The sulfide resource remains open at depth along the entire 2.7 km strike length.
North-South Longitudinal Section Showing Oblique 3-D View of Oxide, Sulphide, and Transition Mineralisation
Copper North Management
Doug Ramsey, M.Sc., R.P.Bio. — President, CEO, and Director
Mr. Ramsey is a Registered Professional Biologist with over 37 years of professional experience in the mining industry. Over this time, he has worked at all stages of the mining cycle, from grassroots exploration through project planning, environmental permitting, and construction, to mine operations and site closure on projects across Canada and internationally. He joined Copper North as Vice-President, Sustainability and Environmental Affairs, in February 2012 to work on the re-engineering and environmental permitting of the Carmacks Project and develop relationships with indigenous stakeholders. That role quickly grew to include coordination of exploration programs and the engineering studies to transform the Carmacks Project into a low-cost copper-gold producer. Prior to joining Copper North, Mr. Ramsey founded and managed the mining environmental services group at Wardrop Engineering, which later became part of Tetra Tech Canada.
Rebecca Moriarty, CPA, CA – CFO
Mrs. Moriarty is a chartered professional accountant with over 16 years of experience related to the mining industry. She previously spent 11 years at PricewaterhouseCoopers LLP working with public resource companies. She earned her bachelor's degree in geology from Queens University in Kinston, Ont. and later returned to obtain her accounting credentials.
Robert McKnight, P.Eng., MBA – Chairman
Mr. McKnight is a Professional Engineer and MBA with over 35 years of experience in the resources business with extensive knowledge of corporate and project finance, mergers and acquisitions, feasibility studies and valuations. Mr. McKnight is a geological engineer by training with broad experience in the mining sector having held senior roles with Brascan Resources, Wright Engineers, Getty Resources, TOTAL S.A., Endeavour Financial, Runge Pincock, AMEC FW, Yukon Zinc, Selwyn Resources & Nevada Copper. He is currently Executive Vice-President and CFO of Nevada Copper Corp. Mr. McKnight is a graduate of the University of British Columbia in Geological Engineering with an MBA from Simon Fraser University.
Bill Koutsouras, C.A., C.F.A. – Director
Mr. Koutsouras is the principal of Kouts Capital, a consulting company which provides strategic advice to natural resource companies. Previously Mr. Koutsouras was the Executive Vice President and Chief Financial Officer of Endeavour Financial Corporation, a mining-focused merchant banking business. He was primarily responsible for overseeing financial advisory mandates, investment-related services and the financial operations and management of the Endeavour group of companies. Mr. Koutsouras is also a non-executive director of several natural resource companies. Mr. Koutsouras is a Chartered Accountant and Chartered Financial Analyst and is a member of the Canadian Institute of Chartered Accountants and the CFA Institute.
Lorne Anderson, CA – Director
Mr. Anderson is a Chartered Accountant. He has been an independent Financial Consultant to the minerals industry and has served on the Boards of several publicly listed mineral companies. Mr. Anderson was the Chief Financial Officer and Treasurer of Glamis Gold Ltd and a director of Tahoe Resources Inc. He has over 20 years of experience in the mining industry, during which time he has been involved with administration, both equity and bank financings, and investor relations programs.
Loy Chunpongtong, P.Eng. – Director
Mr. Chunpongtong is a mining engineer with 25 years of experience in mine planning-scheduling, pit optimization, pit design, ore-grade control planning, and advanced geo-statistical modeling. He is a Registered Professional Engineer (Alberta) and holds a Bachelor degree in Mine Engineering and Master degree in Economics, both from Chulalongkorn University in Thailand. Loy is the Surface Mining Society Peer Review Chair for the CIM Journal and is an Executive Officer of the CIM Surface Mining Society.
Sue Craig, P.Geo. – Director
Ms. Craig is a professional geoscientist, who has worked in BC and Yukon for over 25 years, on projects from the exploration and development stage, to construction and production, and final mine closure. Ms. Craig's experience includes work with publicly-listed mining companies, Territorial and Federal Governments, First Nations, and industry groups. Ms. Craig served for six years as President/CEO and Director of Northern Freegold and more recently was the Advisor for Sustainability in the Yukon for Newmont. She is also currently VP Community and Environment for Kutcho Copper and an advisor to the Social, Environmental and Regulatory Affairs Team of the Galore Creek Mining Corporation.  Ms. Craig has also served as the Chair of AMEBC Mineral Exploration Roundup, as well as a Board Member of AMEBC and was recognized by AMEBC for her "exceptional meritorious service to the Mineral Exploration Community " with The Gold Pan Award. Ms. Craig is currently a Director of Yukon Energy Corporation and is Past-President of the Yukon Chamber of Mines. She has received a number of awards recognizing her contributions toward environmental stewardship and sustainable development, and was the recipient of the 2017 Canadian Women in Mining Trailblazer award.
---
*Disclaimer: The profile provides information which was sourced and approved by Copper North Mining( TSXV:COL) in order to help investors learn more about the company. Copper North Mining is a client of the Investing News Network (INN). The company's campaign fees pay for INN to create and update this profile page, to which links are placed on Investingnews.com and channel newsletters.
The company description, investment highlights and catalysts were sourced by INN and approved by the company. INN does not guarantee the accuracy or thoroughness of the information contained on this page.
INN does not provide investment advice and the information on Investingnews.com profile should not be considered a recommendation to buy or sell any security.
INN does not endorse or recommend the business, products, services or securities of any company profiled.
Readers should conduct their own research for all information publicly available concerning the company.