Overview
Western Copper and Gold Corporation (TSX:WRN,NYSE:WRN) is focused on developing the Casino project, Canada's premier copper–gold project. In July 2020 Western Copper and Gold updated the resource estimate at the Casino deposit based on its 2019 drilling results. The updated estimate includes 14.5 million ounces of gold in the measured and indicated category and 6.6 million ounces of gold in the inferred category in addition to 7.6 billion pounds of copper in the measured and indicated category and 3.3 billion pounds of copper in the inferred category. The deposit is located in Canada's Yukon Territory, which ranks among the top 10 most attractive mining investment jurisdictions in the world.

The company has recently acquired the Canadian Creek project, which is adjacent to both the Casino project and Newmont Goldcorp's (TSX:NGT,NYSE:NEM) Coffee project. On September 24, 2019 Western announced that they had hit a high-grade gold intercept that, if proven, could allow for a starter operation and be a game-changer for the project. Further drilling results are pending and expected to be included in an updated resource estimate for the Casino project.
Western Copper and Gold is led by a highly-knowledgeable management team with a proven record of success. For example, Western Copper and Gold's parent company, Western Silver Corporation, was acquired by Glamis Gold for $1.6 billion in May 2006. Glamis Gold was subsequently bought by Goldcorp, now Newmont Goldcorp, in November 2006. Management is supported by a highly-qualified team of engineers dedicated to bringing Casino into production.
"Casino is a rare asset in that it is sizeable, economic, well-advanced and located in a great jurisdiction. Casino is the key asset in the emerging Yukon gold district." said Western Copper and Gold President and CEO Paul West-Sells.
Company Highlights
The Casino deposit hosts a significant resource of almost 21 million ounces of gold and 11 billion pounds of copper (M+I+I) according to a July 2020 update.
The Casino project is economic at current spot prices.
The Casino project is located in an emerging gold district in which several majors (Newmont Goldcorp, Agnico Eagle, Kinross) have all made investments.
The federal government announced a funding package to fund two access roads into the district.
Results of the Preliminary Economic Assessment (PEA) on the Casino copper-gold-molybdenum deposit in the Yukon supersedes all previous studies and incorporates the updated mineral resource with an effective date of July 3 , 2020. New column testing on various lithology samples representing the feed to the heap leach indicated that the gold recovery in the heap leach could be increased from 66 percent to 70 percent.
Project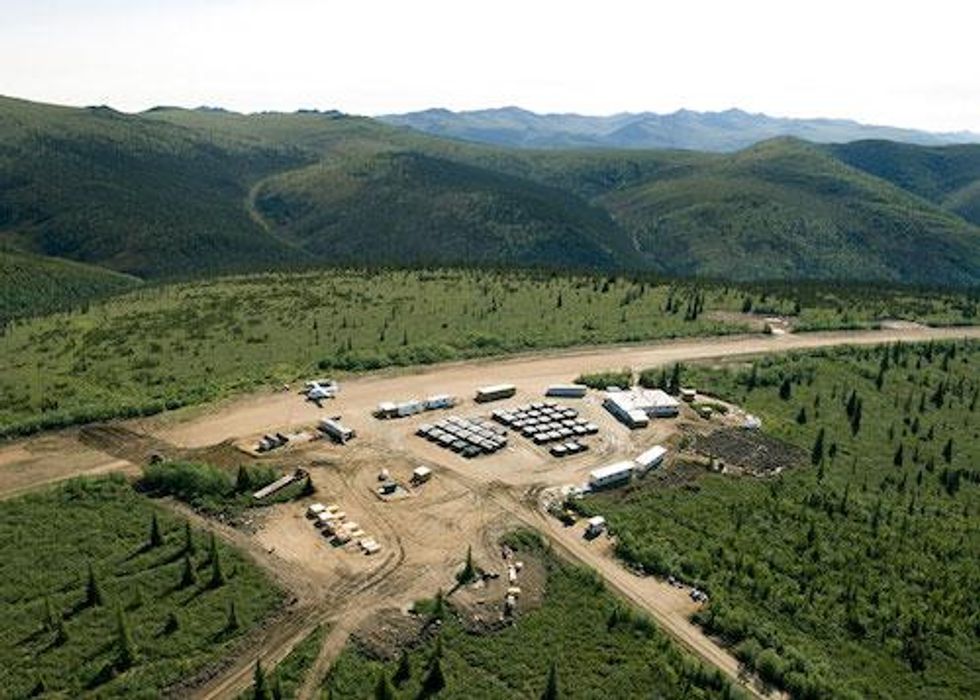 The Casino project is a large porphyry-type copper-gold-molybdenum deposit located 560 kilometers from the year-round port of Skagway, Alaska and 380 kilometers from the capital city of Whitehorse in the Yukon Territory of Canada.
The Yukon is ranked as one of the most attractive mining investment jurisdictions in the world and has attracted the attention of numerous major mining companies over the last few years. Additional investment in the Yukon has been spurred by recent infrastructure funding from the regional and federal governments. In September 2017, the territorial and federal governments announced that they would provide approximately C$130 million in funding to upgrade and subsidize a large portion of the Casino access road, as part of the Yukon Gateway project.
"Since 2006, we have been working with the federal, territorial and First Nations governments and top environmental consultants to ensure that the planned road leading into the Casino site will have the lowest possible environmental impact and will ensure maximum benefit for local communities and First Nations," said West-Sells.
Feasibility Study: Excellent Economics
Using base commodity prices of $1,400 per ounce gold and $3 per pound copper, the 2013 feasibility study shows the project has promising economics, such as a 20.1 percent IRR and an after-tax $1.83 billion NPV, due in large part to a best-in-class strip-ratio and initial high-grades.
One of the largest undeveloped copper-gold deposits in Canada, Casino contains a NI 43-101 compliant proven and probable reserve of 8.9 million ounces of gold and 4.5 billion pounds of copper contained in 1.12 billion tonnes of ore. The project holds plenty of upside potential as well, with an inferred resource of 9.0 million ounces of gold and 5.4 billion pounds of copper.
The project has an initial mine life of 22 years at 120,000 tonnes per day throughput, with the potential for an additional 25 years if the inferred resource is mined as well. The deposit is naturally hedged with copper accounting for approximately for 46 percent and gold contributing 34 percent of the projected revenue.
The feasibility study is based on a conventional open-pit mine, concentrator complex and heap leach operation. The study shows an initial capital investment of $2.46 billion, which is in-line with other copper projects of this size. Combined mining and milling operating costs are estimated at $8.52 per tonne ore milled, with a net smelter return of $31.59 per tonne for the first four years and $22.59 per tonne for the life of the mine.
Adding onto the promising capital and operating costs, the low strip-ratios are some of the lowest in the industry. A strip-ratio of less than 1:1 is considered low in the industry. The Casino project has a predicted strip ratio of 0.49:1 for the first four years of operation and a strip ratio of 0.59:1 for the life of mine.
"This project is economic at spot prices. And that's one of the main aspects of what separates Casino from other developing projects. We are not positioning this for a recovery in commodity prices – Casino is economic at this point in this cycle," said West-Sells.
A review of the feasibility study in 2017 indicated that the economic metrics (e.g. IRR and NPV) at current prices and exchange rates was comparable to the base case metrics.
Engineering and Construction
Western Copper and Gold is actively advancing key aspects of the engineering work at Casino. The company has signed an agreement with M3 Engineering and Technology to build the mine and has an LOI with the engineering firm for the operations and management of the mine once in production.
Western Copper and Gold has also secured an MOU with Siemens concerning operations, equipment supply and funding for a power plant and other electrical equipment required for mining and processing facilities. In addition, initial agreements have been made with potential suppliers of liquefied natural gas.
Delivering Copper at the Right Time
As a result of underinvestment in new projects, declining grades at existing mines and a myriad of recent production issues, the copper market is headed toward a supply deficit with a forecasted 10 million tonne deficit by 2028.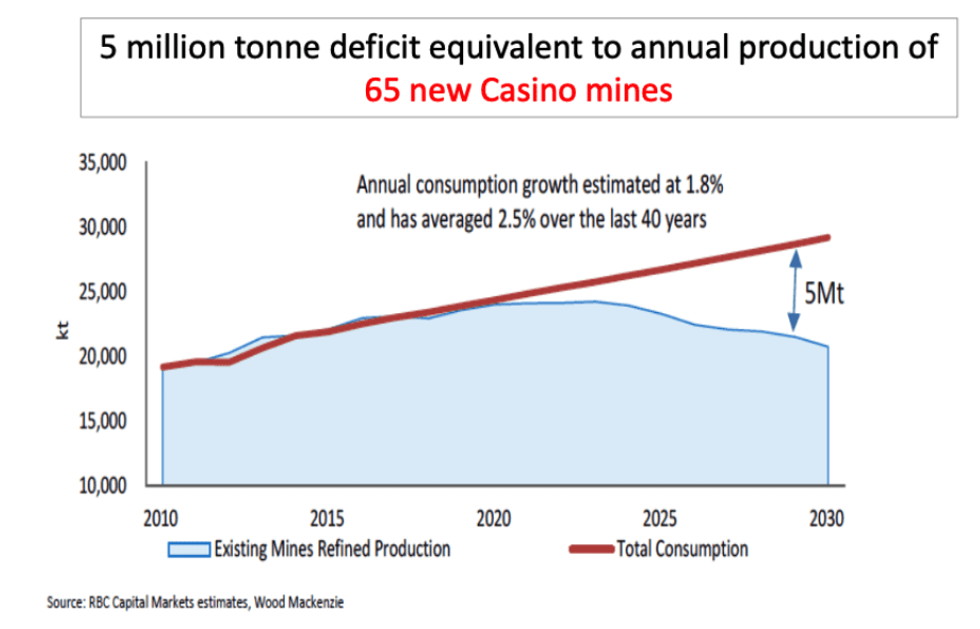 Upcoming Catalysts
Permitting
In November 2018, the company completed its best available tailings technology study for the project, which was conducted with First Nation, Yukon Environmental and Socio-economic Board (YESAB) and Yukon government participation.
The design enhancements include:
Significantly reduced water storage within the facility during operations;
A reduction in the height and slope of the embankment;
Relocation of potentially acid generating tailings to the rear of the facility, confined by waste rock;
Minimized long-term water storage in the facility at mine closure.
This 18-month-long process was conducted to review the tailings and mine waste disposal plan and is a significant component of the environmental assessment application. It reviewed 11 locations and five different technologies and assessed them from an environmental, technical, economic and social point of view.
The selected option impounds tailings and mine waste in a facility limited by an embankment constructed by cyclone tailings material. It is similar to that which was proposed in the original feasibility study, with proposed design enhancements including reduced water storage during operations, reduced height and slope of the embankment, relocation of potentially acid-generating tailings and minimized long-term water storage at mine closure.
In 2018, Western Copper and Gold also completed several First Nation traditional land use studies, continued its baseline data collection program and conducted numerous smaller environmental studies.
Resource Estimate and Ongoing Exploration
In June 2019, Western Copper and Gold commenced a 10,000-meter drill program at the Casino project, primarily focused on the Casino deposit. The aim of the exploration program was to convert inferred mineralization into indicated mineralization. The company later announced the drill results of its 2019 campaign at Casino, including 55.1 g/t gold over 2.97 meters at a depth of 147.98 m.
The results of Western Copper and Gold's 2019 exploration were later incorporated into the company's 2020 resource estimate which increased the measured and indicated Mill resource by 106 percent to 2.2 billion tonnes. The 2020 Casino resource estimate now includes 14.5 million ounces of gold in the measured and indicated category and 6.6 million ounces in the inferred category in addition to 7.6 billion pounds of copper in the measured and indicated category and 3.3 billion pounds in the inferred category. Moving forward the company intends to continue to explore the Casino project through a 2020 drill program designed to test the High Gold Zone, Northern Porphyry and Canadian Creek targets identified by its 2019 program.
The Canadian Creek Project
In July 2019, Western Copper and Gold acquired the Canadian Creek Property from Cariboo Rose Resources Ltd. (TSXV:CRB). The property shares a six-kilometer-long north-south boundary on the eastern side with the Casino project and a 12-kilometer-long east-west boundary on the northside with Newmont Goldcorp's Coffee project. As part of the Yukon's Gateway project, the Coffee-Casino connector road also lies on some of the property.
"The acquisition of the Canadian Creek project will considerably strengthen the Casino project. It will add significant exploration potential, with a number of exploration targets with the potential to increase mineralization of the Casino project – particularly the initial heap leach. By increasing the overall land package and increased border with the Coffee project, it will also further solidify the key position of the Casino project in the region," said West-Sells.
Exploration Potential
Western Copper and Gold believes that the Casino deposit may extend onto the Canadian Creek project. To test this theory, the company intends to drill a 700-meter untested area between the most westerly Casino drill holes and the closest drill holes on the Canadian Creek property, as part of its drill program at Casino. The four drill holes on the property closest to the property border contained copper-gold-molybdenum mineralization, which are consistent with the outer edges of a porphyry copper–gold–molybdenum deposit.
The Canadian Creek project also offers additional exploration upsides for Western Copper and Gold. The Ana porphyry copper-gold-molybdenum zone lies 1.5 kilometers west of the primary target. The Ana zone measures 1.5 kilometers by one kilometer and contains no historical drill holes in the center of the target; however, mineralization at the target is similar to what has been found at the Casino deposit. The Canadian Creek project also hosts structurally-controlled gold-bearing zones in the northern half of the property similar in style to the Coffee project.
Management Team
Francis Dale Corman - Interim Chairman
Mr. Corman worked as a mining analyst and investment banker in the early 1960s, until 1968 when he joined the Harbinson Mining Group as a senior officer. Mr. Corman was involved in the discovery and development of the Durham antimony mine in New Brunswick and the NBU copper-zinc deposit in Northwest Ontario . In 1977, Mr. Corman moved to San Francisco where he participated in the exploration and development of the Roosevelt Geothermal Field in Southwest Utah .
In 1995, Mr. Corman merged his exploration company with Western Copper Holdings, a subsidiary of Teck Corporation, where he became President.
Paul West-Sells, Ph.D. - President and CEO
Dr. West-Sells has over 20 years' experience in the mining industry. After obtaining his Ph.D. from the University of British Columbia in Metallurgical Engineering, he worked with BHP, Placer Dome, and Barrick in increasingly senior roles in Research and Development and Project Development. Since 2006, Dr. West-Sells has worked for Western Copper and Gold, holding a number of technical and executive positions. Currently, as the President and CEO of Western Copper and Gold, Dr. West-Sells oversees the day to day operations of the company. Dr. West-Sells currently sits on the Yukon Minerals Advisory Board and the Centre for Northern Innovation in Mining Governing Council.
Varun Prasad - Interim CFO
Mr. Prasad has been with Western Copper and Gold since 2011. He worked closely with the CFO on financial and regulatory manners, assisted in the preparation of financial statements, and was responsible for accounts payable. Mr. Prasad holds a B.A Technology (Accounting) from British Columbia Institute of Technology and is on track to earn his CPA designation in 2015. He is an avid sports fan and fitness buff.
Cameron Brown, P.Eng. - VP Engineering

Mr. Brown has 40 years of experience in mineral processing. He has been responsible for plant maintenance, project management and engineering of major base and precious metal projects. He was formerly Project Manager for Bechtel Engineering and Western Silver Corporation.
Shena Shaw - VP, Environmental and Community Affairs
Ms. Shaw has been managing projects and contributing to environmental assessments across the North for nearly 20 years. Her knowledge and advice will help the company make strategic and effective decisions when planning and implementing Indigenous and community consultation and engagement. After graduating from the University of Victoria with a Bachelor of Arts in Anthropology focusing on First Nations Studies and Geography, Ms. Shaw joined the Yukon Chamber of Commerce with a role in supporting community-based entrepreneurship programs and services.
Klaus Zeitler, Ph.D. - Director
Dr. Zeitler was the founder and CEO of Inmet from 1987 to 1996. Dr. Zeitler was Senior Vice President of Teck Cominco Limited from 1997 until 2002, and previously was on the Board of Directors of Teck Corp., Tahoe Resources and Cominco Limited. Dr. Zeitler is the Executive Chairman, and director of Amerigo Resources, and he is the Chairman and director of Los Andes Copper Ltd. (TSXV:LA).
Tara Christie, B.A.Sc., M.A.Sc., P.Eng. - Director
Ms. Christie has over 20 years of experience in the exploration and mining business. Currently the President and CEO of Banyan Gold Corp, Ms. Christie serves on the boards of Constantine Metal Resources Ltd. and Klondike Gold Corp. She was formerly the President of privately owned Gimlex Gold Mines Ltd., one the Yukon's largest placer mining operations. Ms. Christie has been a board member of PDAC, AMEBC and other industry associations and was a founding board member of the Yukon Environmental and Socio-Economic Assessment Board. She is active in non-profits and charities, including being President of a registered charity "Every Student, Every Day" that works to improve attendance in Yukon schools.
Kenneth Williamson - Director
Mr. Williamson is a professional director with over 40 years of experience in natural resources and investment banking, where his focus has been on capital markets and mergers and acquisitions. Mr. Williamson worked in the oil and gas sector before transitioning into investment banking at Midland Walwyn/Merrill Lynch Canada Inc. where he was Vice-Chairman of Investment Banking until 1998. Mr. Williamson has held various positions on Boards throughout his career, including Eicon Technology Corporation, Glamis Gold Ltd., BioteQ Environmental Technologies Inc., Uranium One Inc., BlackRock Ventures Inc., Quadra FNX Mining Ltd., Tahoe Resources Inc. and Goldcorp Inc. Mr. Williamson is a member of the National Association of Corporate Directors (NACD), Institute of Corporate Directors (ICD) and the Professional Engineers of Ontario (PEO).
Mr. Williamson has a Bachelor of Applied Sciences degree from University of Toronto and an MBA from University of Western Ontario.
Ken Engquist - Chief Operating Officer
Mr. Engquist brings nearly 30 years of leadership and extensive development experience overseeing the de-risking and advancement of numerous mining projects from early-stage exploration through start-up and operations. Most recently, he led operations, technical studies, work programs, permitting, and stakeholder relations as COO of First Mining Gold. Some recent development projects of his include First Mining's Springpole gold project, Tinka Resources' Ayawilca zinc project, and South32's Hermosa zinc project. He holds a B.Sc. in Engineering from Michigan Technological University .
Mr. Engquist's significant large copper deposit experience will be a great asset to the Company as it continues to move the Casino project forward. During his career he led the infrastructure engineering for the underground design of the Oyu Tolgoi mine in Mongolia for Rio Tinto and all aspects of the development of the Timok copper project in Serbia for Nevsun.
Request an Investor Kit
EXCITING upcoming projects!
IN-DEPTH reliable insights!
SUCCESSFUL growth strategies!
VALUE-BASED content!
Western Copper and Gold