Green River Gold
CSE:CCR
Developing Prospective Gold Projects in the Cariboo Gold District of BC
Company Highlights
Green River Gold's highly prospective and potentially high-grade projects feature excellent access to infrastructure, including roads, power and local skilled labor.
The Fontaine Lode Gold project is a fully owned gold project spanning 90 square kilometers with significant upside potential due to a lack of exploration.
The Quesnel Nickel Cobalt Talc project is an early-stage silver project that spans approximately 2,219 hectares.
The Kymar Silver project is a silver project spanning 1,440 hectares in southeastern British Columbia with several past-producing mines on site.
The company's projects border Osisko Development Corp.'s Cariboo Gold and Omineca Mining and Metals' Wingdam Gold project.
Green River Gold is led by a highly experienced management team with over 60 years of combined technical experience and over 30 years of capital market experience.
The company acquired a 100 percent right, title and interest in the KaLi Pegmatite Project located in Central British Columbia
Overview
The Cariboo gold district in British Columbia, Canada, was a world-class producer of gold, and site of the famous Cariboo Gold Rush between 1861 and 1867. The district produced approximately 3.8 million ounces (Moz) of gold after 1874, divided roughly evenly between hard rock gold and placer gold production valued at C$50 million.
Today, the Cariboo gold district remains a prospective and mining-friendly region with excellent infrastructure. Interest in the region has been renewed with recent transactions including the acquisition of Barkerville Gold Mines, now held by Osisko Development Corp. (TSXV:ODV).
Other notable names in the Cariboo gold district include Omineca Mining and Metals (TSXV:OMM) with its Wingdam Gold project, Imperial Metals' (TSE:III) Mount Polley mine and Taseko Mines' (TSX:TKO) Gibraltar mine. Mining companies with projects in the Cariboo gold district present investors with renewed discovery potential in a historically significant area.
According to Green River Gold (CSE:CCR) CEO Perry Little, "The hunt is on."
Green River Gold is exploring gold, as well as nickel, cobalt and talc, in the historically prolific Cariboo gold district. The company's highly prospective and potentially high-grade project features excellent access to infrastructure, including roads, power and skilled workers.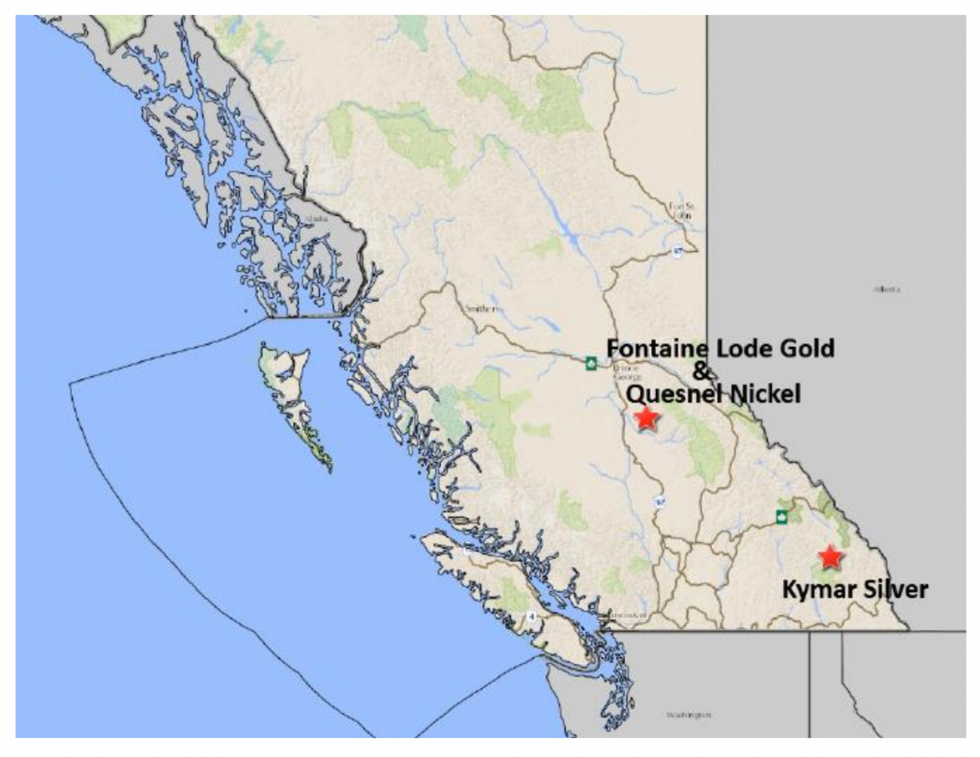 The fully owned Fontaine Lode Gold project spans 8,900 hectares and is located 12 kilometers from Barkerville which was the epicenter of the Cariboo Gold Rush in 1860. The Fontaine Lode Gold project is contiguous to Osisko's Cariboo Gold Project, which is anticipated to begin production in the latter half of 2023.
The Quesnel Nickel Cobalt Talc project is contiguous to the early-stage Fontaine Lode Gold project that spans approximately 2,219 hectares. The project has similar geological features to FPX Nickel's (TSXV:FPX) Decar Nickel District project, which some consider the third top nickel project in the world. Historic work on the Quesnel Nickel Cobalt Talc project suggests significant potential for all three minerals. In 2021, nine shallow holes were drilled revealing anomalous amounts of nickel, chromium and magnesium along with talc. Ongoing drilling showed two deeper holes with similar results.
The
Kymar Silver project
includes two mineral tenures spanning 1,440 hectares in southeastern British Columbia. It is located 28 kilometers west of Invermere in the Golden Mining Division in British Columbia. A historical bulk sample of Kymar Silver revealed high average grades of 2,000 g/t silver, 57 percent lead, 0.8 percent copper and 3.4 g/t gold. The property also features several past-producing artisanal mines.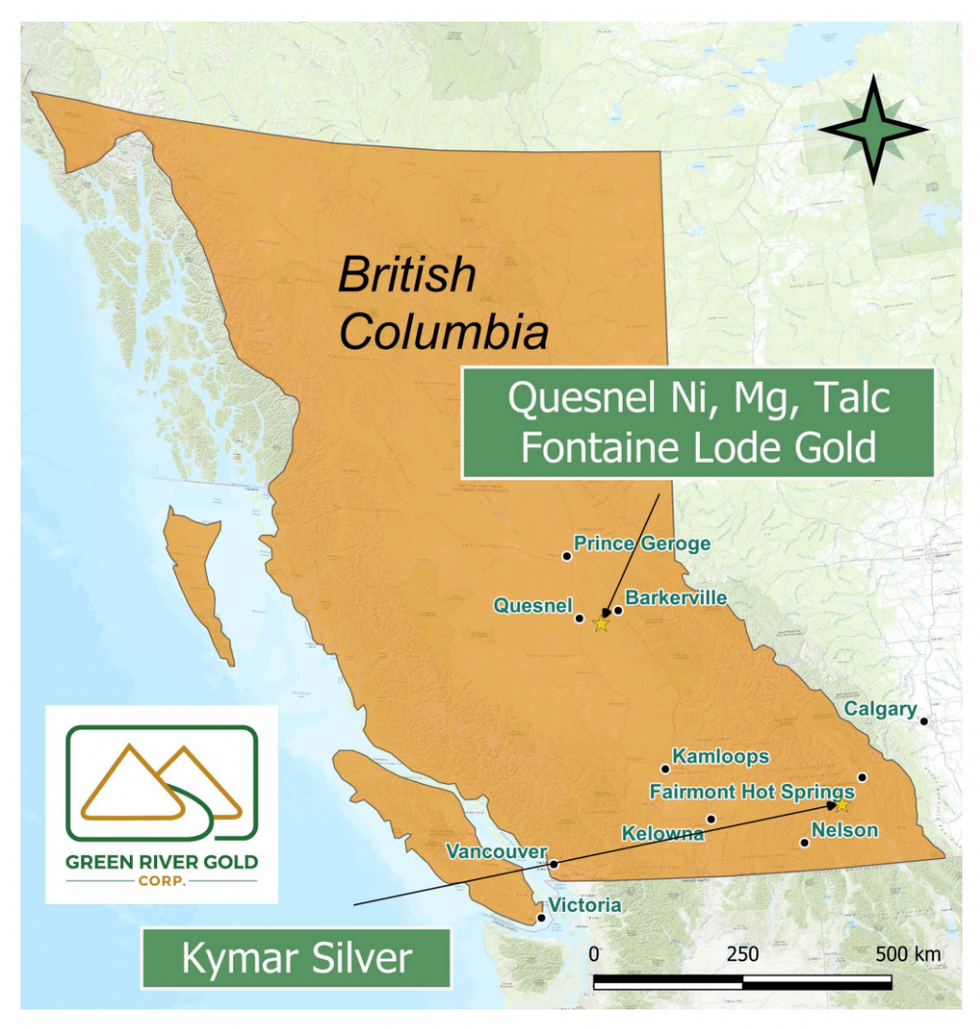 Green River Gold has strategic positioning in highly prospective geological areas near past-producing mines. The Fontaine Lode Gold project features similar geology to Osisko Development Corp.'s Cariboo Gold project which it borders. The Quesnel Nickel Cobalt Talc project also borders Omineca Mining and Metals' Wingdam Gold project.
In an interview, CEO Perry Little shared, "Every hole drilled and every bit of exploration done by Osisko, Omineca or Green River will lead to a greater understanding of the regional geology."
Currently, Green River Gold is conducting exploration activities on its properties including bedrock mapping, geochemical exploration, ground geophysics and backpack drilling. Green River Gold is also in the process of applying for permits to commence reverse circulation and diamond drilling on its properties. The company is committed to producing a NI 43-101 technical report in a timely manner.
In 2023, the company acquired a 100-percent right, title and interest in the KaLi Pegmatite Project (KaLi), which consists of 1,059.5 hectares of land that dates back to the early 1960s when Noranda Exploration conducted the first comprehensive soil geochem survey over an approximate 5 kilometers by 1.5 kilometers wide area. Two other grassroots surveys were conducted by Amoco in 1974 and Norseman Mining Corp. in 1980 and in 1981, Placer Development Ltd. performed geochemical and geophysical surveys near the southwestern extent of the property. Exploration in the area was initially focused on molybdenum without specifically targeting lithium-bearing pegmatites in the area. The company's updates and proposed lithium exploration plans are underway.
Green River Gold is led by a highly experienced management team with over 60 years of combined technical experience and over 30 years of capital market experience. CEO Perry Little has an impressive 28-year-long successful career with extensive experience in financing junior resource companies and trading in the public markets.
Company Highlights
Green River Gold's highly prospective and potentially high-grade projects feature excellent access to infrastructure, including roads, power and local skilled labor.
The Fontaine Lode Gold project is a fully owned gold project spanning 90 square kilometers with significant upside potential due to a lack of exploration.
The Quesnel Nickel Cobalt Talc project is an early-stage silver project that spans approximately 2,219 hectares.
The Kymar Silver project is a silver project spanning 1,440 hectares in southeastern British Columbia with several past-producing mines on site.
The company's projects border Osisko Development Corp.'s Cariboo Gold and Omineca Mining and Metals' Wingdam Gold project.
Green River Gold is led by a highly experienced management team with over 60 years of combined technical experience and over 30 years of capital market experience.
The company acquired a 100 percent right, title and interest in the KaLi Pegmatite Project located in Central British Columbia
Get access to more exclusive Gold Investing Stock profiles here
Investing News Network websites or approved third-party tools use cookies. Please refer to the cookie policy for collected data, privacy and GDPR compliance. By continuing to browse the site, you agree to our use of cookies.