Overview
The international community is in the midst of a battery revolution. Shares of electric vehicle maker Tesla (NASDAQ:TSLA) surged 695 percent in 2020, making it one of the most valuable companies in the world and showcasing the promising growth narrative of the electric vehicle boom.
The revolution for electric powered cars is not only being led by Tesla but many other car companies including (NYSE:NIO), which is expected to increase production capacity from around 60,000 vehicles a year to 150,000 by the end of this year. Volkswagen (OTC Pink:VWAGY), General Motors (NYSE:GM), Nissan (OTC Pink:NSANY), Hyundai (OTC Pink:HYMTF) and BMW are also investing heavily into the boom.
With the rising movement towards a sustainable and electric-powered world, the lithium that will be needed to support this rapid transition has the potential to become one of the most valuable resources in the world.
At the forefront of this rapid growth is Argentina, the world's third-largest lithium producer.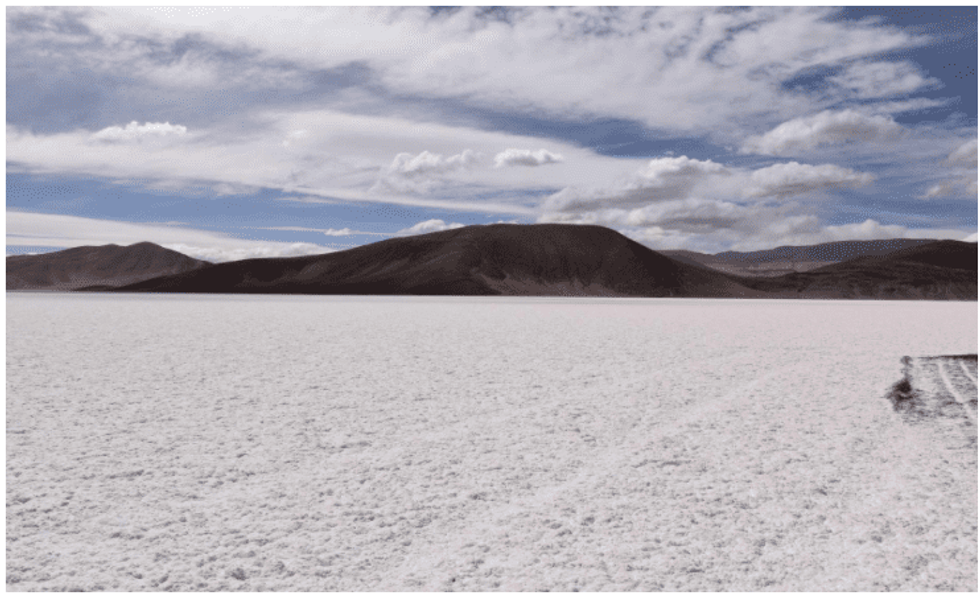 Located in the famous Lithium Triangle, this under-explored country is becoming a major host for investor-friendly projects ready for potentially high yielding lithium to power the future of energy.
This includes Alpha Lithium (TSXV:ALLI, OTC:APHLF, Frankfurt:2P62), which could be one of the last and big lithium greenfield project opportunities in this world-famous and highly productive region.
Alpha Lithium is a development company that is focused on highly prospective lithium production of its Tolillar Salar project in Salta province, Argentina.
The company has been able to leverage its 100 percent ownership and work towards mimicking the successes of its highly established lithium producing neighbor. There is promising potential for Alpha Lithium to thrive as the company is surrounded by notable players.
Alpha Lithium's flagship Tolillar Solar project is located in the northwest region of Argentina near the heart of the Lithium Triangle. Its highly accessible infrastructure connects the project site to Salta and San Antonio de Los Cobres by paved road networks, natural gas resources and a local skilled workforce.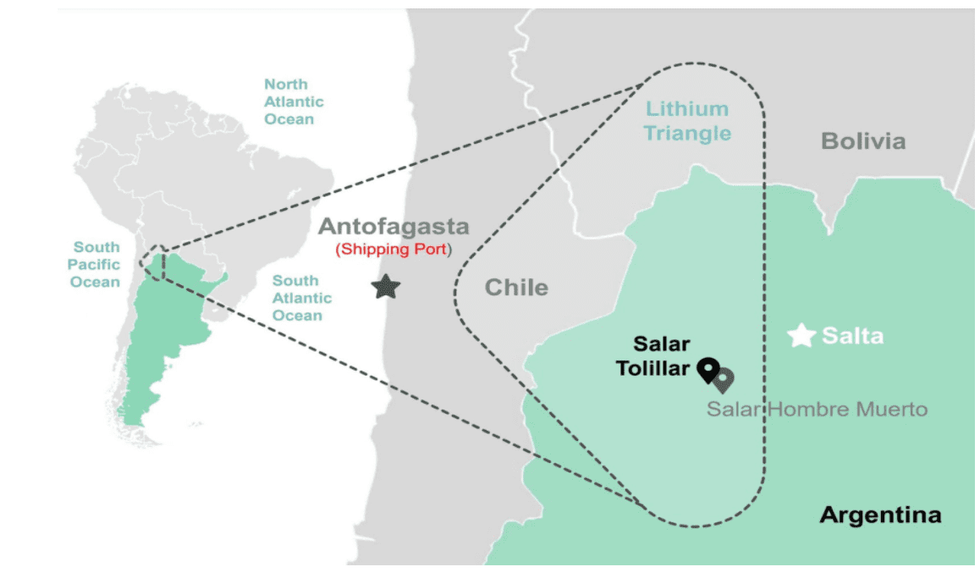 In two geophysical surveying campaigns, the company discovered structural trends that mimicked the Salar del Hombre Muerto horizon. This basin hosts one of the longest operating lithium brine producers in the world with over 25 years of active extraction.
"We consider the geological similarities between the Tolillar Salar and other nearby salars like Hombre Muerto to be very encouraging," said Brad Nichol, President and CEO of Alpha Lithium.
Additionally, the project's discovery and exploration plans are especially exciting for Alpha Lithium due to the high producing mining companies situated near Tolillar Salar.
Local operations include Livent Corporation (NYSE:LTHM) with a market cap of approximately US$3.2 billion and POSCO (NYSE:PKX) with an approximate market cap of A$23.2 billion.
Alpha Lithium presents a unique entry opportunity for investors as an emerging player in the lithium production space.
Global demand for lithium is expected to rise from an estimated 47,300 tonnes in 2020 to 117,400 tonnes in 2024, according to a GlobalData report.
Vinneth Bajaj, a senior mining analyst for GlobalData, said lithium demand will be driven by a surge in EV sales, with annual production expected to go from 3.4 million vehicles in 2020 to 12.7 million in 2024.
Lithium-ion battery production is also forecast to rise from 95.3 gigawatt-hours (GWh) in 2020 to 410.5 GWh over the same period.
Alpha Lithium has recently received promising VES geophysical survey results at its Tolillar lithium project and is preparing permit applications for exploration.
These achievements put Alpha Lithium on track for project expansion and execution of the company's well-engineered six-phase approach for developing its major emerging lithium asset.
Timeline – A Six Phased Approach
Alpha Lithium's Company Highlights
Alpha Lithium is an emerging lithium development company focused on exploring its highly prospective under-developed lithium assets in Salta province, Argentina.
The company currently owns 100 percent of its salar with over US$10 million in funding.
The flagship Tolillar Salar project is located near the heart of the Lithium Triangle and is surrounded by multi-billion dollar lithium producers with decades of active lithium production.
The project site's infrastructure strategically positions the project nearby accessible electricity lines, paved road networks, natural gas resources and a local skilled workforce.
Two geophysical surveys have supported theories that the Tolillar Salar property mimicked structural trends of the Salar del Hombres Muerto, one of the world's longest producing lithium brine basins.
Alpha Lithium is primed for project expansion and permit acquisition as drilling campaigns are presently underway.
Alpha Lithium's Key Projects
The Tolillar Salar Project
The Tolillar Salar property covers 27,500 hectares and consists of 10 exploration concessions registered in the Salar de Tolillar basin in Argentina's Salta province. With a limited exploration history and a strategic location nearby several lithium producing heavyweights, the Tolillar Salar project puts Alpha Lithium in a unique first-mover position for significant mining success.
The Tolillar Salar occupies an internally drained basin with much of the property's rock formation dating back to the Ordovician period. This geological makeup has created a sediment profile that includes younger continental sediments, salt crusts and evaporite deposits. Due to the property's close proximity to the Hombre de Muerto Salar, a premier lithium brine basin, the project site is expected to yield high-grade lithium discoveries with low impurities.
Early stage investigations have already revealed lithium concentrations up to 504 mg/L in a sampling campaign from 2015. With drilling licenses approved, Alpha Lithium is ready to commence an advanced drill program.
As of 2020, the company has conducted two substantial geophysics surveying programs and accomplished development goals under budget and ahead of schedule. This trend in lithium exploration shows promise for the future of the project.
Location
Alpha Lithium is located less than 10 miles away from Livent, which has a market cap of over $3 billion and over 20 years of production from the nearby property. The company is strategically located about 10 kilometers from Livent's high-quality/low impurity Fenix Project.
Immediately adjacent to Livent is South Korean company Posco, with a staggering market cap of around $20 billion. Posco has been very busy in the area, expanding on their lithium project that they bought from Australian lithium miner Galaxy Resources for $280 million in 2018.
Galaxy Resources is nearby as well, and its Sal de Vida project is one of the world's largest and highest quality undeveloped lithium brine deposits with significant expansion potential.
The Tolillar project area has never been extensively explored yet is uniquely located close to a concentration of major players representing some of the largest producers of lithium who collectively service a large percentage of the growing global demand.
The world is going to need more lithium mines as there is an unprecedented lithium-ion battery demand to fuel electric vehicles and energy-hungry devices.
With a project located in the treasure of the Lithium Triangle in South America, Alpha Lithium could be sitting on what could potentially be a very big lithium discovery.
The management team at Alpha Lithium comprises industry professionals and experienced stakeholders with years of expertise in mining, exploration and capital markets. This well-connected team employs a de-risked proven approach to global lithium mining that primes the company for significant growth.
Alpha Lithium's Management Team
Brad Nichol, P. Eng., MBA — President & CEO
Brad Nichol is an international entrepreneur who has served and advised corporations on strategy and finance for over 25 years. He has served as both senior executive and director of several public and private enterprises across the finance and resource sectors throughout his career. Through multiple rounds of private and public project financing, he has led successive organizations, initiated and executed dual listings, and established key international and domestic financial relations. Nichols also has significant experience in various business functions including financial, operational, HR, investor relations and legal and regulatory processes.
Previously, Nichol worked at Schlumberger, the world's largest oil and gas services firm, in various technical, managerial, marketing and sales roles in North America, South America and Europe. Nichol left Schlumberger to pursue his MBA at one of the world's top-ranked business schools, the London Business School in the UK, and he graduated with honors in 2003. Nichol also holds a BSc. in Mechanical Engineering from the University of Alberta and has been a registered Professional Engineer since 1994.
David Guerrero — Country Manager
David Guerrero brings almost 20 years of international experience in the mining industry, 10 of which are specifically related to lithium as a specialty product. He has held various roles with mining major Rio Tinto as well as senior management positions with Canadian Lithium 1 and with Australia-based Galaxy Resources, at which he undertook a critical functional role in a recent US$280 million M&A transaction with giant Korean steelmaker POSCO for mineral resources at the Salar del Hombre Muerto, the best quality brine producing district in Argentina. He was also the former president of the Salta Mining Providers Chamber and the AUSCHAM Argentina chapter's vice president. Guerrero brings indispensable local knowledge and communal leadership in Argentina's Northern Region.
Nathan Steinke— CFO
Nathan Steinke is a highly respected financial professional with over 15 years of experience for public and private companies in the international resource sector. Since 2003, Steinke's responsibilities have included all financial aspects of the companies, including debt and equity financing, corporate structure design and management, cash flow management and forecasting, legal and regulatory compliance, stakeholder engagement and reporting, dual listing execution and management, and risk management.
Foster Wilson — Director
Foster Wilson has over 30 years of experience in explo­ration and development, including reserve drilling and estimation, feasibility studies, mine permitting and development. He has worked in various capaci­ties for Placer Dome, Echo Bay, American Bonanza Gold and different junior exploration companies. Foster also currently serves as President of Mesa Exploration.
Sean Charland — Director & Corporate Secretary
Sean Charland is a seasoned communications professional with experience in raising capital and marketing resource exploration companies. His network of contacts within the financial community extends across North America and Europe. Charland also serves as a Director of Maple Gold Mines Ltd., Arctic Star Exploration Corp., Eyecarrot Innovations Corp. and Voltaic Minerals Corp.
Andrew Hallett — Director
Andrew Hallett is a commodity transaction specialist with over 10 years of cross-commodity investment experience within investment banking, trading, and asset management. Hallett is currently a Partner within Rice Capital Partners, an investment advisor specialized in alternative investments, focusing on upstream metals and mining investments in critical raw materials. Hallett received a BA in Economics from the Augustana Faculty of the University of Alberta and an MSc in Finance from the London School of Economics. He was previously a director within the Commodities Investments group at BTG Pactual Commodities, responsible for all principal investments and structured finance transactions in metals and mining and energy. His prior experience includes commodity investment roles within Global Markets at Deutsche Bank as a senior structured originator and as a director at Natsource Asset Management.
Chris Cooper — Director
Chris Cooper has over 20 years of management and finance experience in the oil and gas, mining and technology industries. Cooper received his B.A. from Hofstra University and his M.B.A. from Dowling College, both in New York State. He has been involved in the creation and funding of several oil and gas issuers, including Choice Resources Corp., an intermediate oil and gas producer, before it was taken over in August 2007 by Buffalo Resources Corp. Cooper also sits on the board of other junior public companies, including Counterpath Corporation, Westridge Resources Inc, Bullion Gold Resources Corp. and Planet Mining Exploration Inc. He has sat on the audit committee of many public companies in several different industry sectors and has a broad, comprehensive knowledge of financial reports.
Darryl Jones — Director
Darryl Jones has over 15 years of capital market experience and an estab­lished financial network. Jones was an investment advisor with PI Financial Corp Canada and Raymond James Ltd Canada. He was responsible for raising significant risk capital for growth companies in all sectors, focusing on natural resources.
Pedro Mauricio Torres — Technical Advisor
Pedro Mauricio Torres is a metallurgical Engineer with 17 years of experience in Operation, Process and Projects of Chemical Plants. He has 10 years of experience in SQM SALAR, where he participated in developing the new Lithium Hydroxide Plant, Expansion of Lithium Carbonate Plant to 70,000 tonnes per year. In recent years, Torres has also worked as Process Advisor for Galaxy Lithium, Tianqi Lithium and Eramet Chilean Lithium Salars.
Adrian Sergio Arias — Technical Advisor
Adrian Sergio Arias has over 22 years of experience in the operation of various chemical plants. Arias has dedicated the last seven years to developing technologies and process improvements for the processing of lithium brines. He has also worked in EXAR with the Canadian Lithium American Company to develop the project of Lithium Cauchari and recently took on the position of process manager of Galaxy Lithium SA in the Sal de Vida Project in the Salar del Hombre Muerto.
Dr. Ron Molnar — Advisor, Project Leader – South America
Dr. Molnar has also been selected as the project leader and qualified person ("QP") to oversee the development of a proposed lithium processing program as part of the Company's strategic commercialization plans for its growing South American assets. He has been a valued member of the technical team developing and commissioning a first-of-a-kind industrial-scale direct lithium extraction demonstration plant in North America.
Dr. Molnar's career as a professional metallurgical engineer (Ontario P.E.# 100111288) specializing in solvent-extraction and ion-exchange processes has spanned over 35 years' experience in hydrometallurgical bench and pilot plant testing. He has built and operated more than 60 pilot plant circuits extracting a wide range of metallic elements and has also designed and built over 20 custom solvent extraction pilot plant circuits for use in specific projects and general testing. His efforts include test program design, management and supervision, pilot plant design, management, and operation (including operator training), as well as data analysis for bench-scale and pilot plant programs.
---
*Disclaimer: This profile is sponsored by Alpha Lithium (TSXV:ALLI). This profile provides information which was sourced by the Investing News Network (INN) and approved by Alpha Lithium in order to help investors learn more about the company. Alpha Lithium is a client of INN. The company's campaign fees pay for INN to create and update this profile.
INN does not provide investment advice and the information on this profile should not be considered a recommendation to buy or sell any security. INN does not endorse or recommend the business, products, services or securities of any company profiled.
The information contained here is for information purposes only and is not to be construed as an offer or solicitation for the sale or purchase of securities. Readers should conduct their own research for all information publicly available concerning the company. Prior to making any investment decision, it is recommended that readers consult directly with Alpha Lithium and seek advice from a qualified investment advisor.
Request an Investor Kit
EXCITING upcoming projects!
IN-DEPTH reliable insights!
SUCCESSFUL growth strategies!
VALUE-BASED content!
Alpha Lithium