Empress Royalty
TSXV:EMPR
Precious Metals Streaming and Royalty Investments
​Company Highlights
Diversified portfolio of investments in precious metals, focusing on quality opportunities.
The company is forecasting revenue of US$7 million in 2023 and US$54 million over the next five years.
Board members and management completed more than US$6 billion in mining finance transactions, enabling deal flow access.
Developing a robust pipeline, evaluating US$75 million of potential investments.
Strategic relationships with Endeavour Financial and Terra Capital, who provide global mining finance networks to generate deal flow.
Empress is receiving cash flow from three investments: Sierra Antapite, Tahuehueto and Manica
Overview
"The royalty business is a unique and amazing business because you get leverage … a gold royalty company is a leverage tool a million miles long," said EB Tucker, Author of "Why Gold? Why Now?"
Empress Royalty (TSXV:
EMPR
,OTCQX:EMPYF) is a royalty and streaming creation company that provides investors with a strategic approach to investing in gold and silver. Since listing in December 2020, Empress has built a diversified portfolio of precious metal investments and is actively investing in mining companies with development and production stage projects that require additional non-dilutive capital. Empress applies a financially disciplined approach to investing in these cost-effective operations, with strong, experienced management teams and excellent exploration potential. The company has strategic partnerships with Endeavour Financial and Terra Capital which allow Empress to not only access global investment opportunities but also bring unique mining finance expertise, deal structuring and access to capital markets.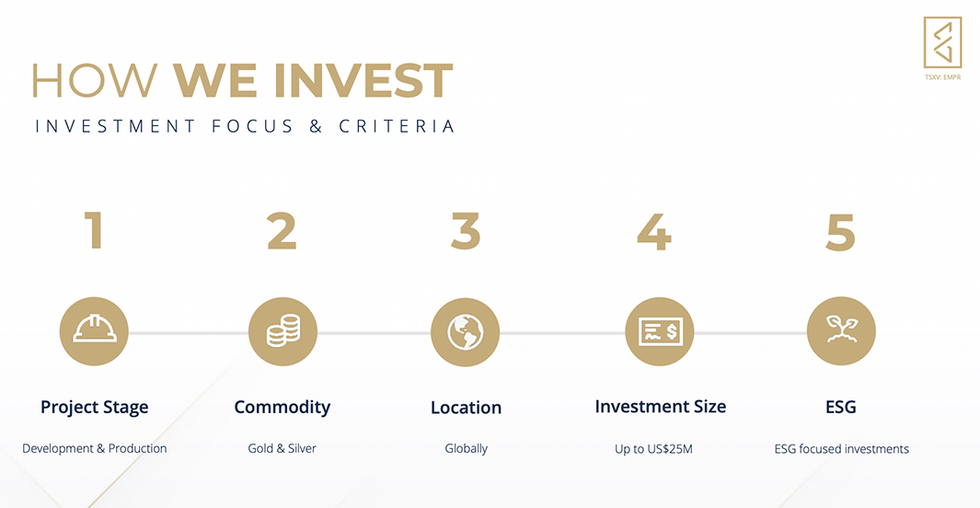 A royalty allows Empress to receive payment based on a percentage of gold or silver produced at a mine, or the revenues or profits generated from the sale of those minerals at a mine, in exchange for an initial investment. A metal stream provides Empress the right to purchase a portion of one or more metals produced from a mine in exchange for non-dilutive capital, at a price determined for the life of the transaction by the purchase agreement.
The Empress business model capitalizes on the stable cash flow and long-term capital gains of streaming and royalty investments in the mining industry. Focusing on gold and silver projects globally, Empress aims to create a diverse and robust portfolio of investment opportunities that will create value for its shareholders, as well as its strategic mining industry partners. By following this strategy, Empress is able to invest in mining companies without diluting their shareholders, while also generating consistent revenue for its shareholders.
In a recent interview, Empress CEO Alexandra Woodyer Sherron said the portfolio contains three producing mines located in Peru, Mexico and Mozambique, which will allow them to generate US$7 million in revenue by the end of 2023 and US$54 million in the next five years.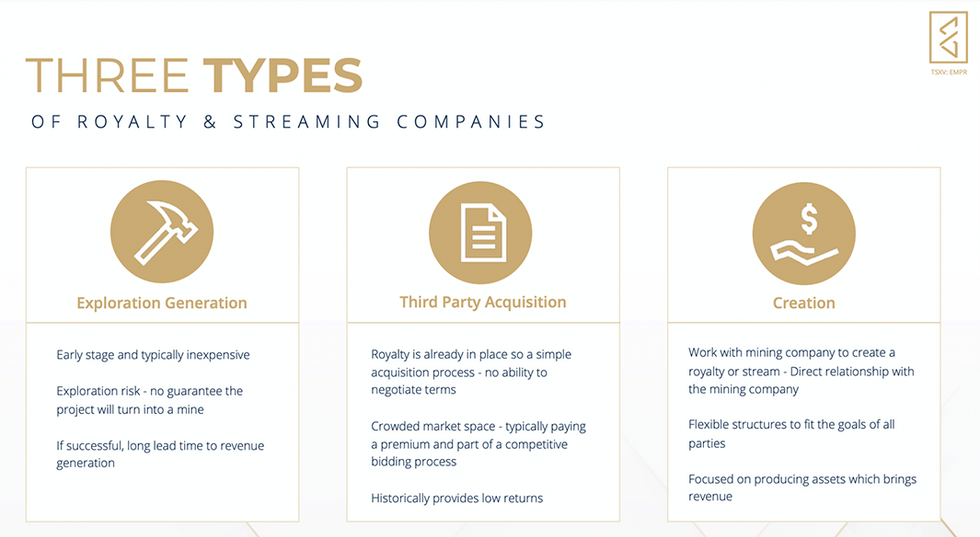 "We're on the creation side so we work with mining companies to get them into production, expand upon the production capacity, like the one in Peru, and we have a direct relationship so we're very involved with the company," Woodyer Sherron said.
Company Highlights
Diversified portfolio of investments in precious metals, focusing on quality opportunities.
The company is forecasting revenue of US$7 million in 2023 and US$54 million over the next five years.
Board members and management completed more than US$6 billion in mining finance transactions, enabling deal flow access.
Developing a robust pipeline, evaluating US$75 million of potential investments.
Strategic relationships with Endeavour Financial and Terra Capital, who provide global mining finance networks to generate deal flow.
Empress is receiving cash flow from three investments: Sierra Antapite, Tahuehueto and Manica
Get access to more exclusive Gold Investing Stock profiles here
Investing News Network websites or approved third-party tools use cookies. Please refer to the cookie policy for collected data, privacy and GDPR compliance. By continuing to browse the site, you agree to our use of cookies.