Overview
The export of Liquid Natural Gas (LNG) in the United States has dramatically grown since 2016. Analysts report that U.S. LNG exports set an all-time record in March 2021 at 10.5Bcf/d and averaged 9.2Bcf/d the following month leading to an increase demand for natural gas.
With projected U.S. consumption of natural gas to hit unprecedented averages of 82.6 billion cubic feet per day in 2021, investors looking to gain exposure in this growing space could see significant upside potential by investing in emerging players in oil and natural gas production.
Southern Energy (TSXV:SOU) is Canadian listed, primarily natural gas company focused on acquiring and developing conventional natural gas and light oil resources in the southeast U.S. Gulf States of Mississippi, Louisiana, and East Texas.
Southern Energy's core asset base consists of 2,300 boe/d of high cash margin, low decline stable production, and a combined area of 33,000 acres held by production. Its main Mechanicsburg, Gwinville and greater Williamsburg assets host exceptional development upsides, including large scale, multi-zone expansion potential within company owned infrastructure.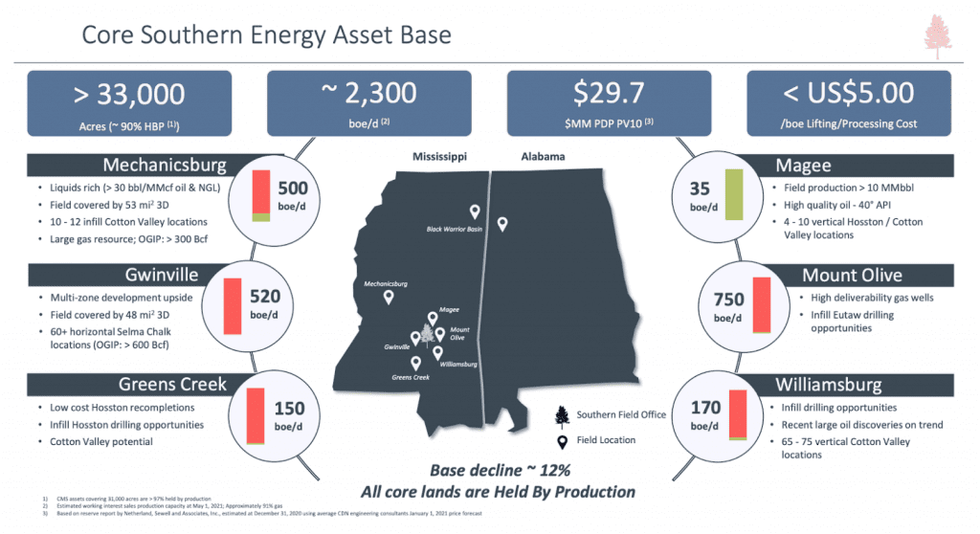 Southern's emphasis on incorporating technological advancement in its development plans gives the company a competitive edge. In the past 5 years management has put together a massive proprietary digital database of over 25,000 wells within the Gulf Coast focus area, which allows the company to geologically map areas much quicker and across millions of acres at one time. This highly valuable data also optimizes acquisition evaluation workflow and the company has evaluated over 100 assets for possible acquisition.
The company anticipates significant growth in the next 18 to 24 months with the completion of strategic and transformative acquisitions in the focus area. Southern has conducted extensive groundwork to access capital in the global equity markets and has engaged with key high profile advisors to access these markets.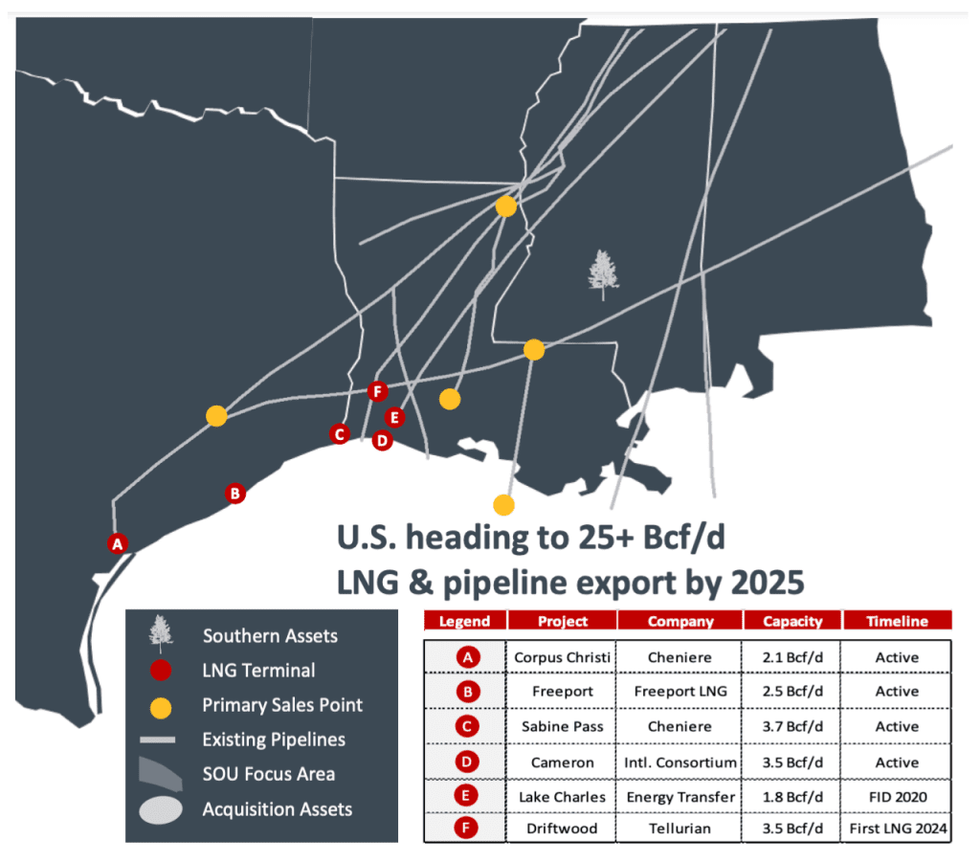 In April 2021, Southern closed a CAD$5.5 million private placement priced at CAD$0.04 per share with a full warrant for two years priced at CAD0.04 per share unit. This placement involved existing and new investors alongside management participation in the financing. The company intends to use the proceeds to complete its restructuring transiaction and for general corporate purposes.
Southern Energy's core values emphasize dedication to the environment, safety, stakeholder satisfaction and governance. The company works actively with state regulators to design best practices and policies in areas of reducing air emissions and fresh water usage. Southern has an impeccable saftey record since management began operations in the area in 2013. A focus on governance is also a key to success for Southern with independent and diverse board oversight and regular stakeholder engagement.
Southern Energy's management team has a long and successful track record of working together and creating significant shareholder value through strategic acquisition and efficient development of existing conventional oil and natural gas fields..The team is working to utilize modern development techniques on mature, low decline assets. Together, they prime the company for significant success and economic growth.
Company Highlights
Southern Energy 100 percent focused on consolidating and developing its Gulf Coast oil and natural gas operations, where they leverage exceptional resource pricing, low-risk and high cash margin potential.
The company currently operates in two counties in Alabama, twelve countries in Mississippi and holds a high working interest in more than 30,000 net acres of favorable land positioning.
Southern has a robust core asset base consisting of the main Mechanicsburg, Gwinville and Green Creeks assets and highly prospective Magee, Mount Olive and Williamsburg targets.
As an early-stage company, Southern hosts exceptional growth potential and expansion opportunities, including projected listing on London markets in the near future. The company could see growth from its CAD$20 million market capitalization to upwards of CAD$200 million.
Southern Energy leverages strong institutional investor support for its business plan execution and projected international expansion in the future.
The company has an expert management and technical team with extensive experience in profitably developing assets with horizontal drilling and modern unconventional completion techniques and enhanced oil recovery methods.
Key Projects
Southeast Gulf State Oil and Natural Gas Operations
Southern Energy operates in two counties in Alabama, twelve counties in Mississippi and holds a high working interest in more than 60,000 net acres. Its core asset base consists of the main three Mechanicsburg, Gwinville and Greens Creek assets, as well as the highly prospective Magee, Mount Olive and Williamsburg targets.
Mechanicsburg hosts liquids-rich resources approximately at over 30bbl/MMcf of oil and liquid natural gas.
Gwinville hosts multi-zone development upsides with over 60 horizontal Selma Chalk locations.
Greens Creek hosts low-cost Hosston recompletions, infill Hosston drilling opportunities and Cotton Valley potential.
Magee has a field production potential of over 10MMbbl and high-quality oil opportunities.
Mount Olive hosts high deliverability gas wells and infill Eutaw drilling opportunities.
Williamsburg hosts infill drilling opportunities and has revealed large oil discoveries on-trend.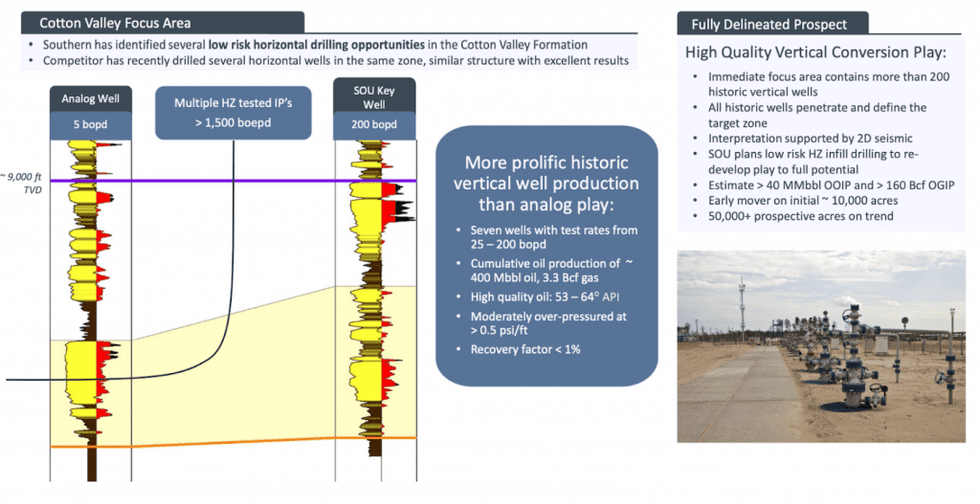 Southern Energy has a defined plan to build its Cotton Valley assets in a regional fairway using its proprietary database. The low-risk, prolific hydrocarbon trend displays consistent 'macro' trapping elements throughout the structure and a proven vertical production in Mississippi with low-cost completions transitioning into horizontal drilling, multi-stage completion technques in Louisiana and East Texas. Southern has also identified several low-risk horizontal redevelopment plays along this trend.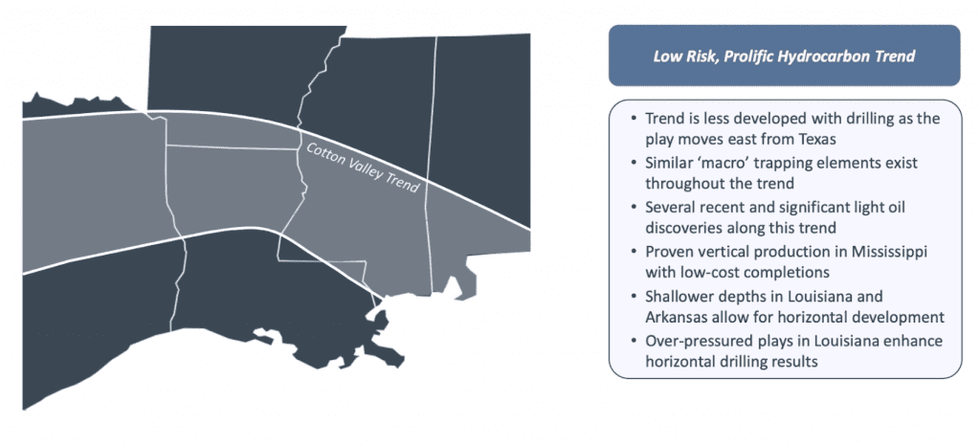 The company remains focused on controlling costs and developing its scalable large resource assets. Through acquisitions and strategic investor partnerships, Southern Energy intends to continue consolidating its low-decline, high-growth potential assets in the Gulf Coast area.
Management Team
Ian Atkinson — P.Eng., President & CEO
Ian Atkinson is a petroleum engineer with over 25 years of technical, executive and board of directors experience in the energy industry. He is the founder and senior executive officer of Athabasca Oil Corporation. Atkinson previously held engineering, operations, acquisitions and executive positions at Talisman Energy Inc., Renaissance Energy Ltd. and Morpheus Energy.
Calvin Yau — CA, CPA, VP of Finance & CFO
Calvin Yau has over 15 years of financial experience in the oil and gas industry. He has held previous positions of increasing responsibility at Molopo Energy, Waldron Energy, Bronco Energy, and Daylight Resources. Yau is also a member of the Institute of Chartered Accountants of Alberta.
Chris Birchard, P.Geol. — VP of Exploration
Chris Birchard has over 20 years of exploration and management experience in the oil and gas industry. He was the former senior geologist and team lead at Athabasca Oil Corporation and VP of Exploration at Bellamont Exploration Ltd. Birchard has held previous technical positions at Espoir Exploration Corp., Keywest Energy Ltd., Devon Canada and Anderson Exploration Ltd.
Erin Buschert — VP of Land
Erin Buschert has over 20 years of experience in mineral & surface land, mergers & acquisitions and contract negotiations. She was the former manager of Land for Saskatchewan and Manitoba at Crescent Point Energy Corp. Buschert has held previous positions of increasing responsibility at Talisman Energy, TriStar Oil & Gas and ARC Resources Ltd.
Buschert is a member of the American Association of Petroleum Landmen (AAPL), the Canadian Association of Petroleum Landmen (CAPL), the Canadian Association of Petroleum Land Administrators (CAPLA), and the Petroleum and Acquisition Divestment Association (PADA).
Jim McFadyen — VP of Operations
Jim McFadyen has over 20 years of operational experience in the oil and gas industry. He was the former operations manager at Athabasca Oil Corporation (Light Oil) and Galleon Energy Inc. Mcfadyen has also held previous leadership and operational roles at Fairborne Energy and Renaissance Energy Ltd.
Gary McMurren, P.Eng. — VP of Engineering
Gary McMurren has over 20 years of engineering, operational and management experience in the oil and gas industry. He was the former director of Light Oil at Athabasca. McMurren also held previous engineering and operational roles at Galleon Energy Inc., ARC Resources Ltd. and Talisman Energy Inc.
Request an Investor Kit
EXCITING upcoming projects!
IN-DEPTH reliable insights!
SUCCESSFUL growth strategies!
VALUE-BASED content!
Southern Energy