West High Yield (W.H.Y.) Resources Ltd. is pleased to announce that it has signed a letter of intent with APG Galaxy Trade and Technology, LLC for the purchase and sale of magnesium serpentine ore produced by West High Yield at its Record Ridge magnesium deposit located near Rossland, British Columbia, Canada.
West High Yield (W.H.Y.) Resources Ltd. (TSXV: WHY) ("West High Yield" or the "Company") is pleased to announce that it has signed a letter of intent (the "LOI") with APG Galaxy Trade and Technology, LLC, a U.S.-based company focused on the acquisition and production of magnesium and other precious metals ("Galaxy"), for the purchase and sale of magnesium serpentine ore (the "Ore") produced by West High Yield at its Record Ridge magnesium deposit (the "Deposit") located near Rossland, British Columbia, Canada (the "Transaction").
---
The LOI is non-binding as the parties work towards the signing of a binding definitive agreement (the "Definitive Agreement") in respect of the Transaction. The LOI contemplates Galaxy purchasing a minimum of 200,000 metric tonnes ("Mts") of the Ore per annum during the term of the Definitive Agreement. The purchase price will be USD$500 per Mt of the Ore during the first three (3) year period of the Definitive Agreement, and shall be subject to adjustment for the remaining term of the Definitive Agreement based on factors including but not limited to production costs and the Consumer Price Index of Canada.
The Transaction is subject to, among other items, standard conditions precedent in favour of each of Galaxy and the Company, individually, including the receipt by the Company of all necessary government and regulatory approvals and permits to extract the Ore from the Deposit. The Company has agreed to an exclusivity period with Galaxy for the sale of the minimum quantity of the Ore until all of its conditions have been waived or satisfied in full, during which it will negotiate exclusively with Galaxy with a view to settling the Definitive Agreement.
The Company will issue a news release updating this information and providing more detail on the parties and finalized terms once the Definitive Agreement has been entered into.
Frank Marasco Jr., President and CEO of West High Yield states: "The Company has been looking for interested and capable partners to purchase the initial mined inventory of our critical mineral rich ore and generate positive cash flow for the Company. We appreciate Galaxy's magnesium experience and customer demand, and we are pleased to have reached this milestone in advancing our negotiations with Galaxy towards a comprehensive definitive agreement. I consider this LOI as a critical step in building a strategic collaboration with Galaxy for the objective of securing a future market for a range of magnesium products that could be produced from the Record Ridge project."
Michael North, Board Chairman and CEO of Galaxy, states: "The magnesium serpentine ore controlled by West High Yield in British Columbia is one of the largest and richest verified deposits of its type in the world. Today, Galaxy is pleased to take the first step in a challenging process, intended to deliver this important natural resource from Canada to world markets and meet the requiements of the automotive, aerospace, energy, construction, nutritional, consumer products and pharmaceutical fields. Many industries need lighter, greener, more efficient materials right away, in order to meet climate change and carbon reduction goals. With this Letter of Intent, Galaxy initiates a demanding series of research, engineering and business development strategies that, if successful, may facilitate an efficient supply chain of cost-effective pure magnesium and alloy products for years to come. We look forward to further collaboration between Galaxy and West High Yield."
About APG Galaxy Trade and Technology, LLC
Galaxy is a direct source of magnesium, from mine to manufacturer, evolutionizing entire industries with light, strong, versatile, durable and energy-efficient magnesium. An international company based in the United States, Galaxy is streamlining global supply chains, offering both standard and custom alloys for unparalleled performance. Galaxy is helping to move the global economy from heavy metals to light metals of the future: clean, green, less carbon-intensive, bending the curve on climate change.
About West High Yield
West High Yield is a publicly traded junior mining exploration and development company focused on the acquisition, exploration, and development of mineral resource properties in Canada with a primary objective to develop its Record Ridge magnesium deposit using green processing techniques to minimize waste and CO2 emissions.
Contact Information:
West High Yield (W.H.Y.) Resources Ltd.
Frank Marasco Jr., President and Chief Executive Officer
Telephone: (403) 660-3488 Facsimile: (403) 206-7159
Email: frank@whyresources.com
Cautionary Note Regarding Forward-looking Information
This press release contains forward-looking statements and forward-looking information within the meaning of Canadian securities legislation. The forward-looking statements and information are based on certain key expectations and assumptions made by the Company. Although the Company believes that the expectations and assumptions on which such forward-looking statements and information are based are reasonable, undue reliance should not be placed on the forward-looking statements and information because the Company can give no assurance that they will prove to be correct.
Forward-looking information is based on the opinions and estimates of management at the date the statements are made, and are subject to a variety of risks and uncertainties and other factors that could cause actual events or results to differ materially from those anticipated in the forward-looking information. Some of the risks and other factors that could cause the results to differ materially from those expressed in the forward-looking information include, but are not limited to: general economic conditions in Canada and globally; industry conditions, including governmental regulation; failure to obtain industry partner and other third party consents and approvals, if and when required; the availability of capital on acceptable terms; the need to obtain required approvals from regulatory authorities; and other factors. Readers are cautioned that this list of risk factors should not be construed as exhaustive.
Readers are cautioned not to place undue reliance on this forward-looking information, which is given as of the date hereof, and to not use such forward-looking information for anything other than its intended purpose. The Company undertakes no obligation to update publicly or revise any forward-looking information, whether as a result of new information, future events or otherwise, except as required by applicable law.
This press release does not constitute an offer to sell or a solicitation of an offer to buy any securities in the United States. The securities of the Company will not be registered under the United States Securities Act of 1933, as amended (the "U.S. Securities Act") and may not be offered or sold within the United States or to, or for the account or benefit of U.S. persons except in certain transactions exempt from the registration requirements of the U.S. Securities Act.
NEITHER THE TSX VENTURE EXCHANGE NOR ITS REGULATION SERVICES PROVIDER (AS THAT TERM IS DEFINED IN THE POLICIES OF THE TSX VENTURE EXCHANGE) ACCEPTS RESPONSIBILITY FOR THE ADEQUACY OF THIS RELEASE.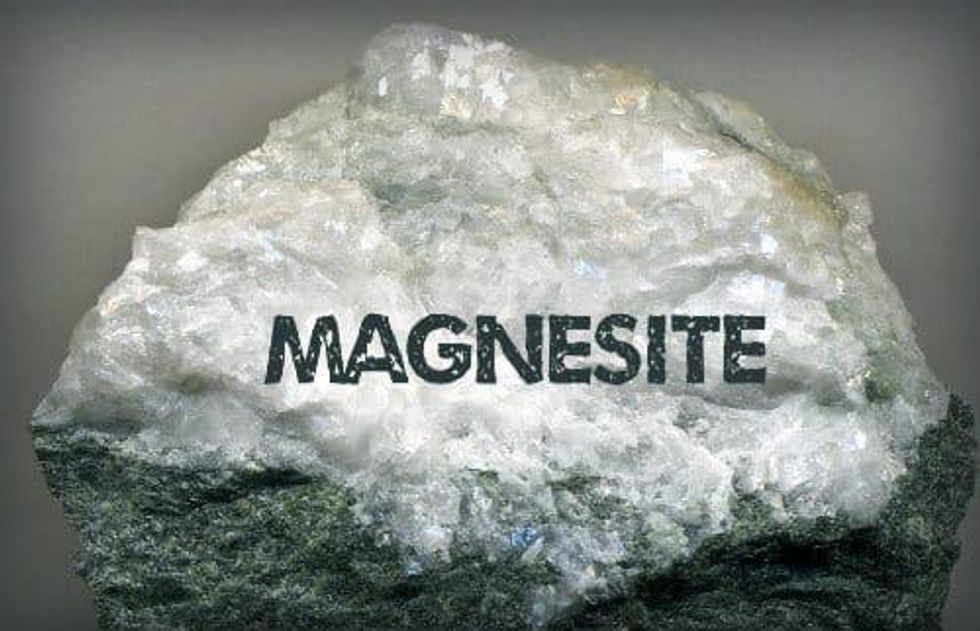 Magnesium, a key industrial metal, can be recovered from a range of different host materials, with magnesite being just one key source of magnesium compounds.
The US Geological Survey estimates that worldwide magnesite and brucite resources stand at 12 billion metric tons (MT) and several million MT, respectively, while resources for dolomite, forsterite and magnesite-bearing evaporite minerals are estimated to have resources of billions of tons.
The US Geological Survey also looks specifically at magnesite production and reserves, noting that worldwide production reached 26 million MT in 2020, with reserves sitting at 7.6 billion MT. But what are the top countries for magnesite mining? Here's a look at the nations that made the list.
1. China
Mine production: 18 million MT
China is the world's top country for magnesite mining by far, accounting for roughly 66 percent of global output. The country's production decreased slightly last year compared to 19 million MT in 2019. The Asian nation is imposing stricter laws in favor of reducing pollution; that said, more production at the Qinghai Salt Lake smelter plant could counterbalance any reductions.
Prices for magnesium increased marginally last year due to higher demand from the auto industry. In the years to come, prices could also be favorably affected by a dip in supply from China.
2. Russia
Mine production: 1.5 million MT
Russia shares second place with Brazil. Production from magnesite mining in Russia has stayed flat in recent years. New capacity is expected to come online in the country in the future.
In 2020, Russian Mining Chemical Company (RMCC), a private brucite producer, completed the first stage of development of one of the world's largest deposits of brucite, located in the Russian Far East. The deposit hosts preliminary estimated reserves of around 25 million MT of brucite. RMCC plans to start production in 2025.
3. Brazil
Mine production: 1.5 million MT
Like Russia, Brazil's magnesite production has remained flat in recent years, although it has increased by 400,000 MT since 2016. This rise is largely due to the 2017 merger of RHI of Austria and Magnesita Refratários of Brazil to form RHI Magnesita, which then became the world's largest refractories producer.
Following the merger, RHI Magnesita made its first significant new investment in 2019 of US$92 million. The company is reported to own the largest magnesite reserve outside of China.
4. Turkey
Mine production: 1.1 million MT
Next up on this list of top countries for magnesite mining is Turkey, whose magnesite output came to 1.1 million MT in 2020; that's 400,000 MT fewer than it produced in 2019. Magnesite production in the country has significantly decreased in recent years, falling from 2.7 million MT in 2017.
According to Industrial Minerals, Turkey has a long history of magnesite mining, both for export and for use at domestic refractories. Akdeniz Mineral Resources, a joint venture with private company Grecian Magnesite, is a large producer and exporter of caustic calcined magnesite products in Turkey.
The company recently completed the construction of a new magnesite processing line, and commercial production commenced in Q4 2020.
5. Austria
Mine production: 760,000 MT
Austria saw a slight decrease in magnesite mining in 2020, putting out 760,000 MT compared to 780,000 MT in 2019. Austrian magnesite producer Styromag operates five mines in the country; it produces roughly 120,000 MT of material per year.
6. Spain
Mine production: 600,000 MT
Spain's magnesite output has doubled in the past four years, coming in at 600,000 MT in 2020 compared to 300,000 MT in 2016. Spain's Magnesitas Navarras is a leading European magnesia producer.
7. Greece
Mine production: 500,000 MT
Greece produced 500,000 MT of magnesite in 2020, a decrease of 30,000 MT from the year before. The country is home to one of the top magnesia producers in the world, Grecian Magnesite, which has facilities in Spain, Turkey and the Netherlands. Greece's magnesite mines and production facilities are located in the Chalkidiki peninsula in Northern Greece.
8. Slovakia
Mine production: 460,000 MT
Slovakia produced 460,000 MT of magnesite in 2020, a slight decrease of 15,000 MT versus what it produced a year earlier. Slovakian producer SLOVMAG is majority owned by Russia's Magnezit Group. It specializes in mining magnesite ore and producing refractory products from sintered magnesia.
9. Australia
Mine production: 310,000 MT
Australia recorded a slight decrease in magnesite-mining output in 2020 — its production fell to 310,000 MT from 320,000 MT the previous year.
Queensland Magnesium is responsible for the bulk of Australia's magnesite production. Some examples of magnesite-focused junior mining companies operating in Australia include Korab Resources (ASX:KOR) and Volatus Capital (CSE:VC).
10. India
Mine production: 150,000 MT
Rounding out the list, India put out 150,000 MT of magnesite in 2020, on par with the previous year. The state of Tamil Nadu is responsible for three-quarters of the country's magnesite production, with the state of Uttarakhand representing nearly all of the remaining quarter.
Looking forward, Statista estimates that approximately 286 million rupees worth of magnesite will produced in India for 2021.
Don't forget to follow us @INN_Resource for real-time news updates!

Securities Disclosure: I, Melissa Pistilli, hold no direct investment interest in any company mentioned in this article.
Keep reading...
Show less
TOP STOCKS
Aion Therapeutic
0.10
-0.01
Investing News Network websites or approved third-party tools use cookies. Please refer to the cookie policy for collected data, privacy and GDPR compliance. By continuing to browse the site, you agree to our use of cookies.