Developing Canada's Premier Copper-Gold Mine
This Western Copper and Gold profile is part of a paid investor education campaign.*
Overview
Western Copper and Gold Corporation (TSX:WRN, NYSE AMERICAN:WRN) is focused on developing the Casino project, Canada's premier, copper-gold project. The deposit is favorably located in Canada's Yukon Territory which ranks among the top ten most attractive mining investment jurisdictions in the world.
Western Copper and Gold is led by a highly knowledgeable management team with a proven record of success (Western Copper and Gold is a spinout of Western Silver Corporation which was acquired by Glamis Gold for $1.6 billion, which was subsequently bought by Goldcorp) and supported by a highly qualified team of engineers dedicated to bringing Casino into production.
One of the most economic copper projects in the Americas!
"Casino is a rare asset in that is sizeable, economic, well-advanced and located in a great jurisdiction. Casino is well-positioned as we head into a copper starved market that is scrambling to find new copper deposits and projects," stated Paul West-Sells, President & CEO of Western Copper and Gold
Company Highlights
Significant resource initially producing 100,000 tpa copper and 400,000 oz/year gold
Economic at spot prices
Long mine life of 22 years – potentially longer
Negative cash costs
Located in the Yukon, Canada with significant government support
2-3 years from being fully permitted
Casino Project in Yukon Territory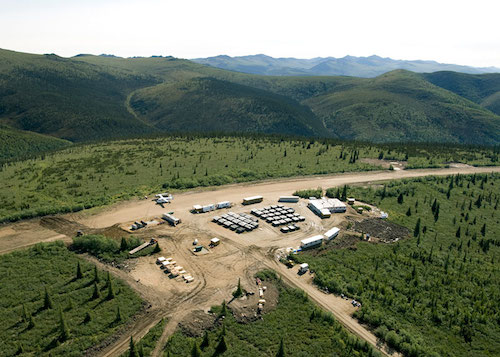 The Casino Project is a large porphyry-type copper-gold-molybdenum deposit located 560 kilometers from the year-round port of Skagway, Alaska and 380 kilometers from the capital city of Whitehorse in the Yukon Territory of Canada.
The Yukon Territory is always ranked as one of the most attractive mining investment jurisdictions in the world and has attracted investment by major mining companies over the last few years. Additional investment in the Territory has been spurred by recent infrastructure funding from the regional and federal governments. As part of the funding, in September 2017, the territorial and federal governments announced a ~$130 million funding project to upgrade and subsidize a large portion of the Casino access road.
"Since 2006, we have been working with the Federal, Territorial and First Nations Governments and top environmental consultants to ensure that the planned road leading into the Casino site will have the lowest possible environmental impact and will ensure maximum benefit for local communities and First Nations," said West-Sells.
Feasibility Study: Excellent Economics
The 2013 Feasibility Study shows the project has excellent economics (20.1 percent IRR and a $1.83 billion NPV after-tax) using its base case commodity prices ($1,400 per oz gold and $3.00 per lb copper) due in large part to a best-in-class strip-ratio and initial high-grades.
One of the largest undeveloped copper-gold deposits in Canada, Casino contains a NI 43-101 compliant Proven and Probable Reserve of 8.9 million ounces of gold and 4.5 billion pounds of copper contained in 1.12 billion tonnes of ore. The project holds plenty of upside potential as well, with additional Inferred Resources of 9.0 million ounces of gold and 5.4 billion pounds of copper.
The project has an initial mine life of 22 years at 120,000 tonnes per day throughput, with the potential for an additional 25+ years if the Inferred Resource is mined as well. The deposit is naturally hedged with copper accounting for approximately for 46 percent and gold contributing 34% percent of the projected revenue.
The Feasibility Study is based on a conventional open-pit mine, concentrator complex and heap leach operation. The study shows an initial capital investment of $2.46 billion, which is in-line with other copper projects of this size. Combined mining and milling operating costs are estimated at $8.52 per tonne ore milled, with a net smelter return of $31.59 per tonne for the first four years and $22.59 per tonne for the life of the mine.
While the capital and operating costs are excellent, it's the low strip-ratio that's truly impressive. A strip-ratio of less than 1:1 is considered low in the industry. The Casino Project has a predicted strip ratio of 0.49:1 for the first four years of operation and a strip ratio of 0.59:1 for the life of mine.
"This project is economic at spot prices. And that's one of the main aspects of what separates Casino from other developing projects. We are not positioning this for a recovery in commodity prices – Casino is economic at this point in this cycle," explained West-Sells.
A review of the feasibility study in 2017 indicated that the economic metrics (e.g. IRR and NPV) at current prices and exchange rates was comparable to the base case metrics.
Engineering and Construction
Western Copper and Gold is actively advancing key aspects of the engineering work at Casino. The Company signed an agreement with M3 Engineering and Technology to build the mine and has a letter of intent with the engineering firm for the operations and management of the mine once in production (see September 9, 2014 news release).
Western Copper and Gold has also secured a memorandum of understanding with Siemens concerning operations, equipment supply and funding for a power plant and other electrical equipment required for mining and processing facilities. In addition, initial agreements have been made with potential suppliers of liquefied natural gas.
Delivering Copper at the Right Time
As a result of underinvestment in new projects, declining grades at existing mines and a myriad of recent production issues, the copper market is headed toward a supply deficit beginning in 2016/2017 with a forecasted 10 million tonne deficit by 2028.
Upcoming Catalysts
Permitting
In November 2018, the company announced the completion of its Best Available Tailings technology study for the project, which was conducted with First Nation, YESAB and Yukon government participation.
The design enhancements include:
Significantly reduced water storage within the Facility during operations;

A reduction in the height and slope of the embankment;

Relocation of potentially acid generating tailings to the rear of the Facility, confined by waste rock; and

Minimized long-term water storage in the Facility at mine closure.
This 18-month long process was conducted to review the tailings and mine waste disposal plan and is a significant component of the environmental assessment application. It reviewed 11 locations and five different technologies and assessed them from an environmental, technical, economic and social point of view. The selected option impounds tailings and mine waste in a facility limited by an embankment constructed by cyclone tailings material. It is similar to that which was proposed in the original feasibility study, with proposed design enhancements including reduced water storage during operations, reduced height and slope of the embankment, relocation of potentially acid-generating tailings and minimized long-term water storage at mine closure.
Management
Dale Corman, B.Sc, P.Eng.— Executive Chairman
Mr. Corman has 40 years of experience as a senior corporate officer of publicly-listed companies as well as extensive expertise in mineral exploration & development, financing, property evaluation and acquisition. He was formerly Chairman & CEO of Western Silver Corporation.
Paul West-Sells, Ph.D. — President & CEO
Dr. West-Sells has over 20 years' experience in the mining industry. After obtaining his Ph.D. from the University of British Columbia in Metallurgical Engineering, he worked with BHP, Placer Dome, and Barrick in increasingly senior roles in Research and Development and Project Development. Since 2006, Dr. West-Sells has worked for Western Copper and Gold, holding a number of technical and executive positions. Currently, as the President and CEO of Western Copper and Gold, Dr. West-Sells oversees the day to day operations of the company. Dr. West-Sells currently sits on the Yukon Minerals Advisory Board and the Centre for Northern Innovation in Mining Governing Council.
Varun Prasad — Interim CFO
Mr. Prasad has been with Western Copper and Gold since 2011. He worked closely with the CFO on financial and regulatory manners, assisted in the preparation of financial statements, and was responsible for accounts payable.  Mr. Prasad holds a B.A Technology (Accounting) from British Columbia Institute of Technology and is on track to earn his CPA designation in 2015.  He is an avid sports fan and fitness buff.
Cameron Brown, P.Eng. — VP Engineering
Mr. Brown has 40 years of experience in mineral processing. He has been responsible for plant maintenance, project management and engineering of major base and precious metal projects. He was formerly Project Manager for Bechtel Engineering and Western Silver Corporation.
Kenneth Williamson – Director
Mr. Williamson is a professional director with over 40 years of experience in natural resources and investment banking, where his focus has been on capital markets and mergers and acquisitions. Mr. Williamson worked in the oil and gas sector before transitioning into investment banking at Midland Walwyn/Merrill Lynch Canada Inc. where he was Vice-Chairman of Investment Banking until 1998.  Mr. Williamson has held various positions on Boards throughout his career, including Eicon Technology Corporation, Glamis Gold Ltd., BioteQ Environmental Technologies Inc., Uranium One Inc., BlackRock Ventures Inc., Quadra FNX Mining Ltd., Tahoe Resources Inc. and Goldcorp Inc. Mr. Williamson is a member of the National Association of Corporate Directors (NACD), Institute of Corporate Directors (ICD) and the Professional Engineers of Ontario (PEO).
Mr. Williamson has a Bachelor of Applied Sciences degree from University of Toronto and an MBA from University of Western Ontario.
Robert Gayton, B.Comm., PhD, FCA – Director
After earning his chartered accountant designation at Peat Marwick (now KPMG) in 1965, Dr. Gayton joined the Faculty of Business Administration at the University of British Columbia, beginning 10 years in the academic world. Dr. Gayton rejoined Peat Marwick Mitchell in 1974 and became a partner in 1976 where he provided audit and consulting services to private and public company clients for 11 years.  Dr. Gayton has directed the accounting and financial matters of public companies in the resource and non-resource fields since 1987. Dr. Gayton is also a Director of Amerigo Resources Ltd. (TSX:ARG) and B2 Gold Corp. (TSX:BTO). Dr. Gayton holds a Bachelor of Commerce degree from the University of British Columbia and a PhD in business from the University of California, Berkeley.
Klaus Zeitler, PhD – Director
Dr. Zeitler was the founder and CEO of Inmet from 1987 – 1996. Dr. Zeitler was Senior Vice President of Teck Cominco Limited from 1997 until 2002, and previously was on the Board of Directors of Teck Corp., Tahoe Resources and Cominco Limited. Dr. Zeitler is the Executive Chairman, and director of Amerigo Resources, and he is the Chairman and director of Los Andes Copper Ltd. (TSX-V: LA).
Archie Lang – Director
Archie Lang is a life-long northerner with an expertise in economic development.  Mr. Lang is a former two term elected member of the Yukon Legislative Assembly who was appointed as Minister of Energy Mines and Resources (2002-2008), Minister of Highway and Public Works (2008-2011) and Minister of Community Services (2008-2011).  He is experienced in developing and managing projects in consultation and partnership with all levels of government, including First Nations.
---
*Disclaimer: The profile provides information which was sourced and approved by Western Copper and Gold Corporation in order to help investors learn more about the company. Western Copper and Gold Corporation is a client of the Investing News Network (INN). The company's campaign fees pay for INN to create and update this profile page, to which links are placed on Investingnews.com and channel newsletters.
The company description, investment highlights and catalysts were sourced by INN and approved by the company. INN does not guarantee the accuracy or thoroughness of the information contained on this page.
INN does not provide investment advice and the information on Investingnews.com profile should not be considered a recommendation to buy or sell any security.
INN does not endorse or recommend the business, products, services or securities of any company profiled.
Readers should conduct their own research for all information publicly available concerning the company.