This profile is part of an investor education campaign. The profile provides detailed information which was sourced and approved by Trevali Mining in order to help investors make better investment decisions. The Company's support of Investing News Network ensures we can continue to bring you unbiased, independent news and information.
Resource Investing News Featured Stock
Overview
Trevali Mining Corporation (TSX:TV) is a primary zinc producer with two commercially operating mines in the Americas; the Santander Mine in Peru and the Caribou Mine in New Brunswick, Canada. The company is also working to evaluate potential operations at the Halfmile Mine and Stratmat Deposit, both located in the same mining camp as the Caribou Mine.
Trevali Mining declared commercial production at its second zinc mine, the Caribou Mine, in July 2016 and is ramping towards nameplate throughput of 3,000 tonnes per day. In its first quarter of commercial production (Q3 2016), Caribou produced 15.8 million payable pounds of zinc, 5.6 million payable pounds of lead, and 170,345 payable ounces of silver. Site cash costs for the quarter averaged US $0.46 per pound of zinc equivalent.
The Santander Mine in Peru is a 2,000 tonne per day underground mine and mill complex which includes production from three major deposits with significant exploration potential to expand the current resource. Trevali brought its Santander into full commercial production in 2014 and the mine is now strongly cash flow positive and consistently operating at 15-20 percent above its nameplate throughput. The company is on-track for record annual zinc production from the Santander Mine in 2016.
Ongoing underground exploration work at Santander continues to discover new high-grade zinc-lead-silver mineralization including the most recently discovered zone that assayed 6.95 meters of 14.5 percent zinc, 7.3 percent lead and 5.42 oz/t silver. The results have also shown that all the main Magistral bodies are connected into one main ore body. The higher grades are expected to lead to increased production by late 2017/early 2018.
In 2016, Trevali Mining focused on optimizing operations at both its mines resulting in decreased costs and significantly higher revenues. The company's Q3 2016 financials included a record EBITDA of $14.8 million (up 80 percent from Q2), with income from operations of $10.6 million and a net profit of $2.4 million. As of the third quarter, the company had a total cash position of $16.9 million. Trevali is looking to continue its cash flow positive trend into 2017 with further optimization plans and full nameplate operating capacity at Caribou.
Caribou zinc mine in the Bathurst mining camp of New Brunswick has intersected significant massive sulphide mineralization approximately 350 metres outside the currently defined measured and indicated resource. The company is forecasting quarter over quarter improvements as production ramps up at Caribou. A Preliminary Economic Assessment (PEA) study is underway to evaluate the potential to combine the fully-permitted Halfmile Mine with the Stratmat Deposit to develop a third mining complex for Trevali's production portfolio. The PEA is expected for completion in Q1 2017. Trevali is also planning in 2017 to conduct studies evaluating the potential to expand operations at the Santander mill to 4,000 tonnes per day.
Investment Highlights
The primary zinc producer on the TSX.
Strong leverage to zinc with approximately 65-70 percent of revenue derived from zinc production.
Total 2016 production from both mines expected to reach ~125 million pounds of zinc contained in concentrates; 2017 total production is forecast to reach ~160 million pounds of zinc contained in concentrates.
Zinc is the top performing commodity of 2016 and its fundamentals remain very bullish.
Study underway on potential development of Halfmile Mine and Stratmat Deposit in New Brunswick.
All deposits remain open for expansion with potential to increase current resources.
Cash flow positive with an EBITDA of $14.8 million and a total cash position of $16.9 million in Q3-2016.
Management has cultivated a strong institutional shareholder base with +50 percent of share structure institutionally held.
Glencore Plc.—world leading zinc miner, refiner, and commodity trader— is a strategic partner-shareholder and purchases all of the company's concentrate production at market price.
Free for Immediate Download
Dundee Capital Trevali Research Update May 2016
Zinc Market Fundamentals Price Positive
As the primary zinc producer on the TSX, Trevali is well-positioned to take advantage of strengthening fundamentals in the zinc market. Continued demand growth globally alongside a deepening supply deficit has led market analysts to forecast increasing zinc prices over the next several years.
According to a recent industry review by the International Lead and Zinc Study Group (ILZSG), in 2016 world usage of refined zinc metal is expected to increase by 3.5 percent to 14.33 million tonnes while overall global zinc mine output is expected to fall by 1.4 percent to 13.27 million tonnes. In reaction to this trend, in mid-November 2016, the zinc price rallied as high as $1.17 per pound (US$2580 per tonne). In fact, zinc was the top performing commodity year-to-date in 2016. Based on historical performance, the ILZSG believes there is significant upside remaining as zinc inventory levels continue to drop.
Caribou Mine Now in Commercial Zinc Production
The Caribou Mine is located in the Bathurst Mining Camp of northeastern New Brunswick, Canada. Trevali has succeeded in securing the major projects within the camp including the Halfmile Mine and the Stratmat Deposit. These polymetallic massive sulphide deposits are rich in zinc and also contain significant amounts of lead, silver, copper and gold. All three remain open for expansion.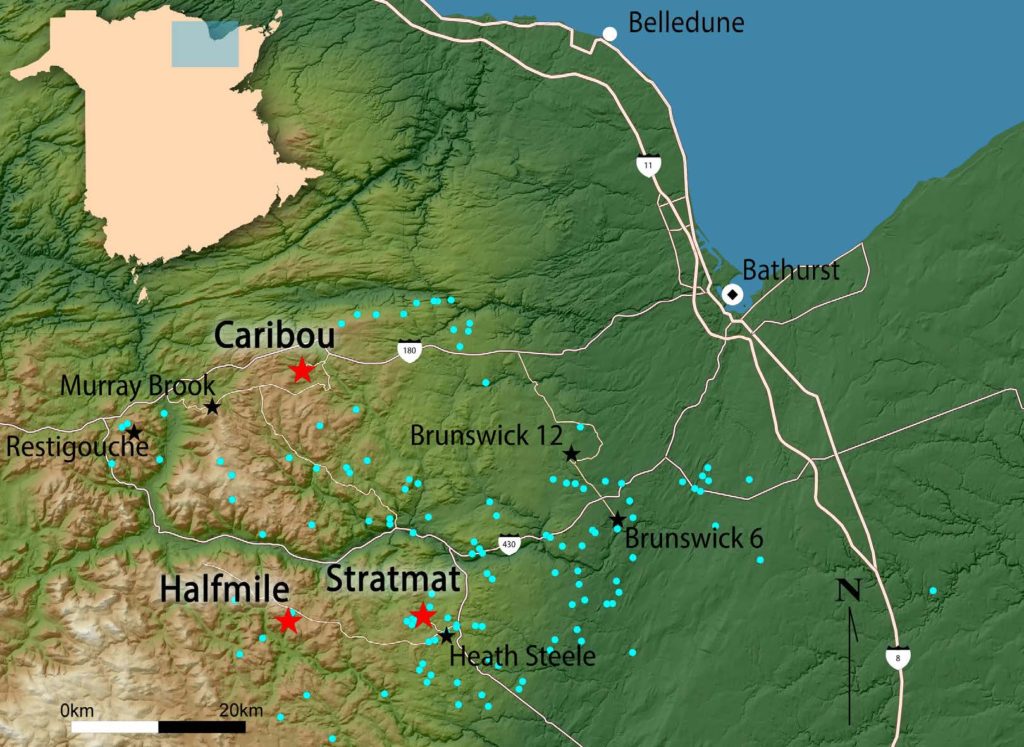 Resources of Caribou, Halfmile and Stratmat Deposits*

Tonnes

Zn%

Cu%

Pb%

Ag (g/t)

Au (g/t)

CARIBOU

Measured & Indicated

7,230,000

6.99

0.43

2.93

84.4

0.9

Inferred

3,660,000

6.95

0.32

2.81

78.3

1.2

HALFMILE

Indicated

6,262,043

8.13

0.22

2.58

30.8

n/a

Inferred

6,078,200

6.69

0.14

1.83

20.5

n/a

STRATMAT

Indicated

4,700,000

5.31

0.41

2.07

48.5

0.6

Inferred

2,400,000

4.76

0.70

2.07

38.8

0.4
Operations at the Caribou Mine include a 3,000 tonne per day mill complex, flotation recovery plant, 13 kilometers of underground development, metallurgical and geochemical laboratories and a fully-permitted tailings treatment facility.
Commercial production commenced at Caribou in 2016
The Caribou mill was commissioned in Q2 2015 with initial zinc and lead concentrate production and shipments commencing in mid-2015. Commercial production was achieved as of July 1, 2016.
H2-2016 (July 1 to Dec. 31, 2016) production guidance for Caribou includes:
Zinc: 37-41 million payable pounds at average head grade of 5.9-6.2 percent zinc.
Lead: 14-15 million payable pounds at average head grade of 2.5-2.7 percent lead.
Silver: 380,000-420,000 payable ounces at average head grade of 1.9-2.0 oz/t silver.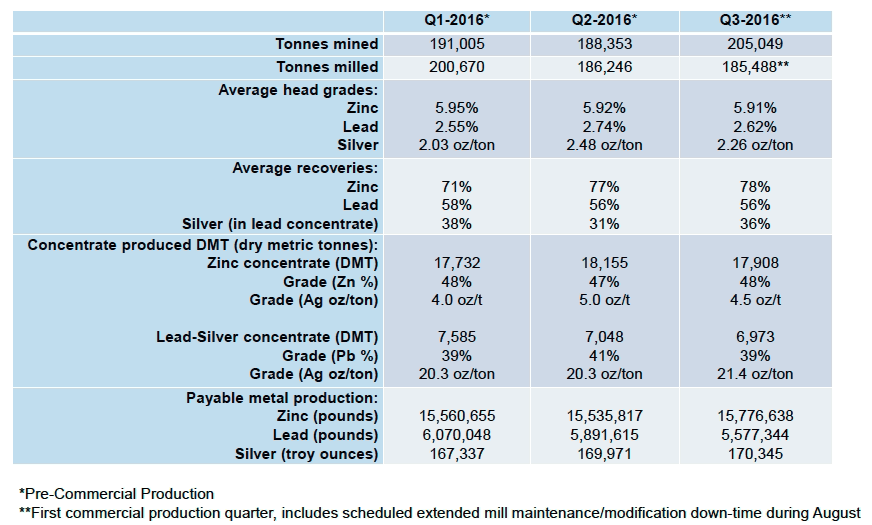 The Caribou deposit remains open and includes copper feeder zones that have never previously been targeted. Recent deep drilling encountered massive sulphides approximately 450 meters below the current defined resource.Caribou exploration potential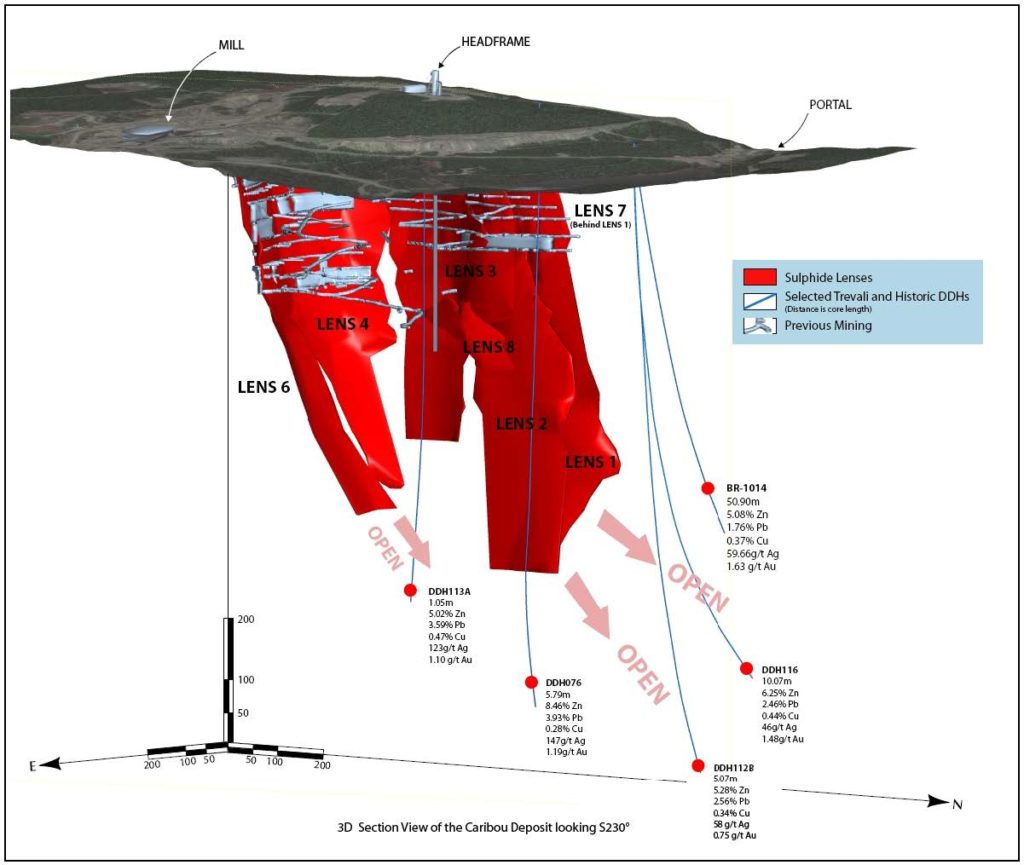 Potential Upside: Halfmile and Stratmat Deposits
The Halfmile Mine is a fully-permitted underground mine with production levels already in place. Trial underground mining and production was undertaken in 2012 with more than 100,000 tonnes of mineralized material processed at the Brunswick 12 Mill. The trial mining provided useful metallurgical and recovery data, which will be incorporated in a preliminary economic assessment (PEA) update currently underway on a potential combined Halfmile-Stratmat development plan.
About 20 kilometers east of the Halfmile Mine, Stratmat is a near-surface zinc-lead-silver-copper-gold deposit which remains open for expansion along strike and at depth.
An updated resource estimate was released in May 2015 in anticipation of the PEA update. The Stratmat deposit contains an estimated indicated resource of 4.7 million tonnes grading 5.31 percent zinc, 2.07 percent lead, 0.41 percent copper, 48.52 grams per ton silver and 0.59 grams per ton gold, and an inferred resource of 2.40 million tonnes grading 4.76 percent zinc, 2.07 percent lead, 0.70 percent copper, 38.82 grams per ton silver and 0.42 grams per ton gold; using a 5 percent zinc equivalent cutoff.
Santander Mine Running at Solid State
The Santander zinc-lead-silver mine and mill complex is located 215 kilometers northeast of Lima in the Central Peruvian Polymetallic Belt. The 2,000 tonne per day operation includes more than 15 kilometers of underground development in the Magistral North, Magistral Central and Magistral South deposits via three separate portals and ramp systems.
On-track for record production levels in 2016
2016 metal production guidance:
Zinc: 57-60 million pounds payable production at average head grade of 4.2-4.4 percent zinc.
Lead: 20-23 million pounds payable production at average head grade of 1.7-2.0 percent lead.
Silver: 800,000-1,000,000 ounces payable production at average head grade of 1.5-1.8 oz/t silver.
Total site cash costs of US$35-38/tonne milled.
Santander mine production exceeded guidance in both 2014 and 2015, and 2016 output is on-track for record production levels.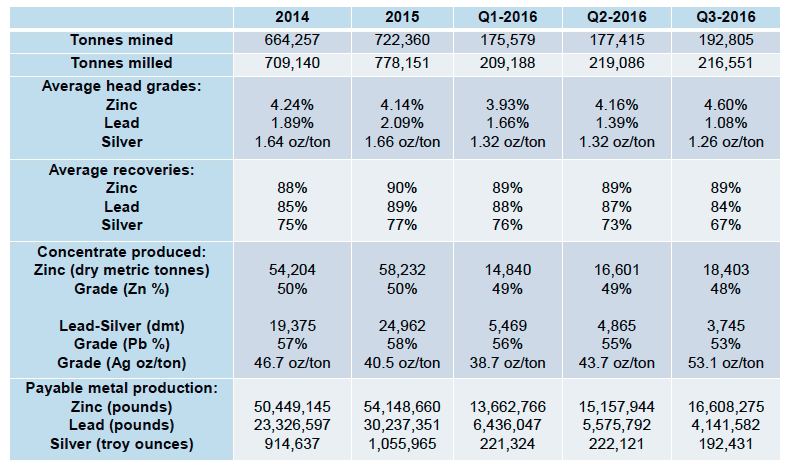 Significant potential exists to expand the current resource at Santander. The Magistral deposits remain open and downhole geophysics indicate that mineralization extends to depth. In addition, the recent discoveries of the Rosa, Fatima and Oyon zones bear similar zinc grades to the Magistral deposits and higher lead-silver grades. The new zones are in close proximity to the existing underground development and are now supplying mill feed.
Santander expansion potential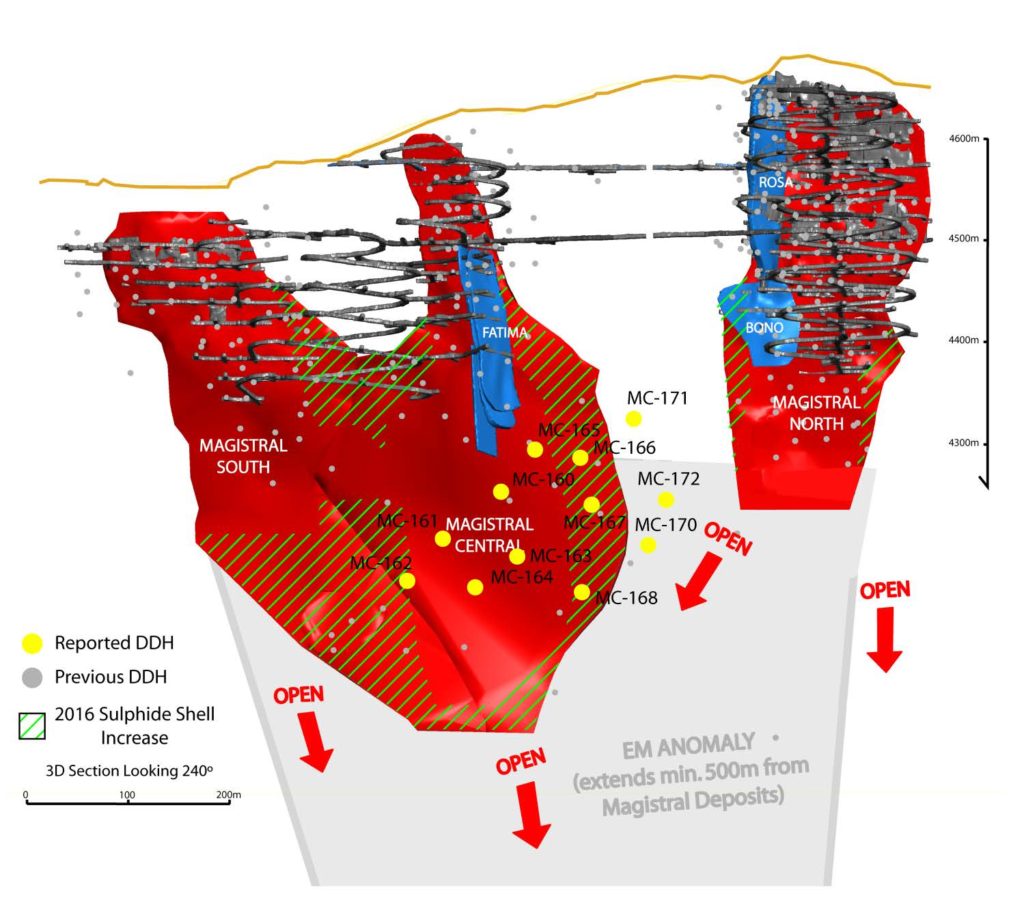 Management
Dr. Mark Cruise – President, CEO and Director
Dr. Mark Cruise is a base metal deposit specialist with over 20 years of project experience from grass-roots exploration through resource definition to permitting and production in Europe and the America's on behalf of Pasminco Exploration, Anglo American and TSX-listed companies. He has Geology Ph.D. on the Irish zinc-lead orefield and was a member of Anglo American's Lisheen Zinc-Lead Mine feasibility/technical team in Ireland. Cruise co-founded Trevali in 2007 to position the company for anticipated global zinc deficits.
Anna Ladd – Chief Financial Officer
Anna Ladd has over 15 years' experience in the finance and mining industry. She served as VP Finance and CFO of Sulliden Gold, Crowflight Minerals, Kria Resources and other privately held exploration companies, in addition to senior positions with mining companies including Kinross Gold Corporation and has also worked in Thompson and Sudbury operations for Vale Inco. Ladd is a Certified Public Accountant and received her Master's of Arts in Economics from Queen's University, and a Bachelor of Commerce degree in Finance from the University of British Columbia.
Paul Keller – Chief Operating Officer
Paul Keller has more than 28 years of mine operations experience in Canada, most recently as Manager of Technical Services for a major Canadian mining contractor where he led a team of engineers and designers on various mining contracts for major mining companies. Keller began his career with Rio Algom Limited and has also worked in various management roles with Barrick Gold's Hemlo mine in operations, engineering and maintenance.
Steve Stakiw – Vice-President of Corporate Communications
Steve Stakiw is a geologist with over 25 years of mineral exploration industry, and research & finance market experience. He has held a senior management role with a leading mining research and investment publication and has consulted to resource-focused investment funds.