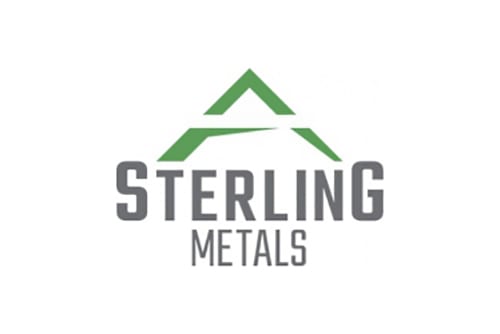 Sterling Metals
New Silver Discoveries in Newfoundland
Overview
Mining is one of the biggest industries in Canada, generating C$97 billion in 2018 — or 5 percent of the country's GDP. The country is one of the world's largest producers of uranium and gold but at one time, over 100 years ago, it was a top silver producer as well. In the early 1900s the country boasted two of the greatest silver discoveries in the world. Keno Hill, in the Yukon, and the Cobalt District in Ontario, contributed over 15 percent of the world's silver. Since then, there has not been a discovery that comes close to equaling the significance of these two deposits and Canada no longer finds itself in the top 10 of silver producing countries worldwide.
In recent years, preliminary work has been completed on a small project in Newfoundland that has led to comparisons with these great silver districts from the past. Sterling Metals (TSXV:SAG) is a mineral exploration company currently exploring this exciting new potential district. Named after the shape of a pond on the project which local lore suggested resembled a Sail, the company presently has the option to earn a 100 percent interest after C$500,000 in spending by September 23, 2021 and another C$1 million by September 23, 2023.
Sterling Metals CEO Mathew Wilson describes the Sail Pond project as "A completely new discovery that while early, shows a potential district sized footprint with world class silver and copper grades on surface along at least a 12 kilometer strike."

Over the last three years, approximately C$1.5 million has been spent preparing this project for drilling. Work is currently being completed by its partner Goldspot Discoveries (TSXV:SPOT) to use advanced technology to combine the datasets and determine the best drill locations. This drilling will hope to uncover the source of the surface footprint, of which grab samples have yielded up to 6,784 grams per tonne of silver equivalent. The company is fully funded for an aggressive initial drill program this spring and projects to earn 100 percent of this project this year.
Currently, Sterling Metals' shareholder portfolio includes Altius Minerals (TSX:ALS), which serves as a 19 percent shareholder and partner, as well as many close insiders, company management and institutional owners which make up approximately 50 percent of the current shares outstanding.
Sterling Metals' experienced and dedicated management team has primed the company to take advantage of Newfoundland's favorable silver and copper macro environment. With years of combined experience in the mining, energy and finance sectors, the team is ready to advance its rare and exciting silver exploration project.
Sterling Metals' Company Highlights
Sterling Metals is a mineral exploration company primarily focused on exploration and mining opportunities in Canada.
The company is currently working on advancing its flagship Sail Pond silver and base metals project in Newfoundland. The 13,500 hectare asset has never been drilled and hosts unique high-grade silver and base metal potential over a 12 kilometer strike length
Since 2017, there has been approximately C$1.5 million on the project via surface sampling, trenching and geophysics which has led to drill targets which will be drilled in the spring of 2021.
The company has the option to earn 100 percent ownership of the Sail Pond project by spending C$1.5 million over 3 years and granting a 2 percent NSR
Initial work combines a district sized soil footprint with high grade grab samples up to 4526 g/t silver, 14.9 percent copper, 0.9 g/t gold, 7.5 percent lead, 9.6 percent zinc and 5 percent antimony.
With 41 million shares outstanding and a large insider ownership, the company is fully funded for its initial drill program this spring which will take advantage of Newfoundland's favorable mining and economic conditions.
Sterling Metals' Key Project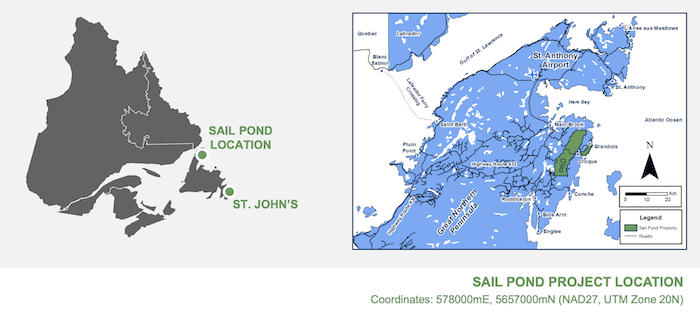 Sail Pond Project
The Sail Pond flagship asset spans 13,500 hectares and is located on the Great Northern Peninsula of Newfoundland, Canada. The property is highly accessible from various natural resource networks, paved highways and the St. Anthony regional airport on the province's northern-most tip.
The property's geological landscape hosts high-grade silver, copper, lead and zinc associated with quartz-carbonate veining. In January 2021, the company reported rock grab samples assaying 6,783.2 g/t and 3,172 g/t silver equivalents collected from an initial prospecting program. These findings help support estimates of high-grade mineralization across the entire 12 kilometer strike and efforts to advance future drill target generation.
Currently, Sterling Metals has two defined target zones over a combined strike-length of 9 kilometers. Along with high-grade silver, SEM and multi-element analysis have revealed grades of 0.9 g/t gold, 14.9 percent copper, 7.5 percent lead, 5.0 percent antimony and 9.6 percent zinc. Sail Pond's diverse mineralization portfolio and lack of drill history present unique and promising exploration opportunities for Sterling Metals.
Future plans include continuing to prepare Sail Pond for future drilling programs through potential target identification and commencement of rig operations. With an option to own 100 percent of the property, the company is primed for significant advancement of this flagship silver and base metal project.
Sterling Metals' Management Team
Mathew Wilson, CEO & Director
Mr. Wilson has spent the last 11 years as an active venture investor and executive. Over the last three years, Mathew led the company through a 10,000 meter exploration program and mine restart in Paraguay, an asset sale, and a rebrand and refocus from a South American gold production and exploration company to the Canadian focused silver and base metal company, Sterling Metals. Prior to his work as an executive, Mathew was a Principal at Pinetree Capital, a diversified investment fund focused primarily on the small cap mining sector. Mathew has acted as CEO for private venture capital companies and as a director for public TSX venture listed companies. Mathew holds a Masters in Finance from Queens University and is a CFA Charterholder.
Richard Patricio, Director
Richard Patricio is the CEO and President of Mega Uranium Ltd., a uranium-focused investment and development company with assets in Canada and Australia. He is a qualified lawyer (Ontario) with over 15 years of experience working with and for public companies. He has built several mining companies with global operations and spent 10 years with a TSX-listed investment company focused on the resource and early-stage investment space. Patricio holds and has held senior officer and director positions in several mining companies listed on the TSX, ASX, NYSE and AIM exchanges. Patricio received his law degree from Osgoode Hall and was called to the Ontario bar in 2000.
Stephen Keith, Director
Stephen Keith has over 20 years of experience working with mining and energy projects from concept to feasibility study, engineering design, project management and construction through financing and acquisitions. He has worked on projects in more than 30 countries, with an emphasis on the Americas, having been involved in more than C$2 billion in financing and merger and acquisition transactions for natural resource projects. Currently, Keith is the founding partner at Strategy4Growth, a private advisory firm assisting resource companies to bridge the gap between projects in Latin America and the global financial markets and is CEO of 4B Mining, an iron ore/ manganese developer in Brazil. Keith is currently on the Board of Directors of Aura Minerals as lead director and chairman of the Audit Committee.
Dennis Logan, CFO
Dennis Logan has over 25 years of financial advisory and senior financial management and accounting experience, having spent 17 years in Investment Banking before transitioning into Public Company CFO Roles. Logan currently serves as the CFO of Planet 13 holdings, the chair of the Audit Committee of Eurocontrol Technics Group Ltd. and Magna Terra Minerals Inc. and serves as a part-time CFO BTU Metals Corp. Previously, Logan served as the CFO, director and corporate secretary of Almonty Industries Inc., a publicly traded tungsten mining and processing company. Logan is a CPA, CA, and started his finance and accounting career with Ernst & Young LLP.
Advisory Board
Denis Laviolette
Over the last 15 years Mr. Laviolette has worked as a production and exploration geologist in Timmins, Kirkland Lake, Red Lake, Norway, and Ghana. After his time in the field, he worked as a mining analyst with Pinetree Capital. Most recently, Mr. Laviolette has acted as founder and President of New Found Gold and founder and Executive Chairman of Goldspot Resources. Mr. Laviolette remains at the cusp of technology and exploration success as Goldspot levers its advanced AI technology for advanced target generation. Sterling Metals will be levering the Goldspot technology, Mr. Laviolette's understanding of a successful Newfoundland exploration program, and his extensive geological knowledge as it advances its project forward.
Kelly Malcolm
Mr. Malcolm is a Professional Geologist (Ontario) with extensive exploration experience focused on precious metal exploration. He is currently Vice President Exploration at Amex Exploration Inc., which has made several discoveries on the Perron project in Quebec. He was involved in the discovery and delineation of Detour Gold's high grade 58N gold deposit, and acts as director, advisor, or management for several public and private mineral exploration companies. He holds a BSc in geology and a BA in economics from Laurentian University. Sterling will rely on Mr. Malcolm and his extensive experience in successfully leading exploration programs on some of the most exciting new discoveries in Canada over the last several years.
Mark Raguz
Mr. Raguz manages the royalty portfolio at Altius Minerals Corporation. Prior to his current role, he was Vice President, Investment banking at several leading full-service boutique investment dealers. He was previously a mining and metals analyst in both buy-side and sell-side research. He has served as a director of various TSX Venture listed companies. Mr. Raguz holds a Bachelor of Applied Science from the Lassonde Mineral Engineering Program at the University of Toronto. Sterling has already benefited greatly from its partnership with Altius Minerals Corporation as it advances its Sail Pond asset forward in Northwest Newfoundland. Sterling will further lever its partnership by drawing on his 12 years of successful and diverse exploration experience.
---
*Disclaimer: This profile is sponsored by Sterling Metals (TSXV:SAG). This profile provides information which was sourced by the Investing News Network (INN) and approved by Sterling Metals in order to help investors learn more about the company. Sterling Metals is a client of INN. The company's campaign fees pay for INN to create and update this profile.
INN does not provide investment advice and the information on this profile should not be considered a recommendation to buy or sell any security. INN does not endorse or recommend the business, products, services or securities of any company profiled.
The information contained here is for information purposes only and is not to be construed as an offer or solicitation for the sale or purchase of securities. Readers should conduct their own research for all information publicly available concerning the company. Prior to making any investment decision, it is recommended that readers consult directly with Sterling Metals and seek advice from a qualified investment advisor.