This profile is part of a paid investor education campaign.*
Resource Investing News Featured Stock
Overview
Macarthur Minerals Ltd (TSXV:MMS) is an Australian resources company focused on the identification and exploration of conglomerate gold and high-grade lithium in Australia's Pilbara region. The company is also developing two iron ore projects in Western Australia and has lithium exploration interests in Nevada.
Historically focused on iron ore, Macarthur Minerals has diversified into lithium and gold, most recently becoming involved in the conglomerate gold rush in Western Australia's Pilbara region. Conglomerate gold was first identified in the area by Artemis Resources Limited (ASX:ARV). It presents as gold nuggets in the shape and size of watermelon seeds and exists within a craton of metamorphic and igneous rock akin to the Witwatersrand Basin in South Africa.
The company entered the Pilbara with an initial focus on lithium exploration; however, following the emergence of the conglomerate gold story, Macarthur Minerals has identified the potential for conglomerate-hosted gold and uncovered the presence of gold on its own  acreage.  Macarthur Minerals is conducting exploration for both minerals in parallel, which have been found to co-occur such as at Kidman Resources' Mt Holland project.
Macarthur Minerals currently holds 16 exploration licenses (or claims) in the Pilbara for an area of approximately 1,300 km2. Exploration licenses for 11 out of 16 of these have been granted. A key point of differentiation to other exploration companies in this area is that the majority of Macarthur Minerals' exploration licenses have been granted (as opposed to being applications pending grant).
Macarthur Minerals has entered into an agreement for Artemis Resources to earn up to 80 percent interest in two of its Pilbara exploration licenses. Artemis Resources is conducting exploration on these properties to determine target drilling areas and confirm the presence of conglomerate gold occurrences.
Macarthur Minerals also has two advanced iron ore projects in the southern region of Western Australia in which it has invested a total AU$61 million. The Ularring hematite project and the Moonshine magnetite project each have NI 43-101-compliant resource estimates and Macarthur Minerals is looking into developing them as the global iron ore market improves.  A Preliminary Feasibility¹ was completed in 2012 for the Ularring project, although requires updating.
Outside of Australia, Macarthur Minerals also has a lithium brine project in Nevada's Railroad Valley. The Reynolds Springs project is in the exploration stage and shown promising results from soil sediments recording up to 405 ppm lithium.
The Macarthur Minerals management team has significant experience in the mining industry and its board includes Artemis Resources executive David Lenigas. Over seven percent of the company's shares are held by management with another 15 per cent held by  a strategic shareholder, Cadence Minerals Plc (previously Rare Earth Minerals).
¹NI 43-101 Technical Report filed 1 October, 2012, titled "NI 43-101 Technical Report, Macarthur Minerals Limited, Pre-Feasibility Study, Ularring Hematite Project, Western Australia."
Investment Highlights
● 1,300 square kilometers in Pilbara region experiencing the conglomerate gold rush
● Highly prospective gold exploration licenses, two of which Artemis Resources will earn up to 80% interest.
● Lithium prospects in Pilbara region that can be explored in parallel to gold exploration
● Two iron ore projects with inferred and indicated resource estimates with environmental approval.
● Lithium claims in Nevada with sample results of up to 405 ppm lithium
● C$1.9 financing to be completed by December 2017
● Strong and capable executive team and board including Artemis Resources, executive David Lenigas
Pilbara Gold and Lithium Projects
Macarthur Minerals owns 16 exploration licenses that collectively make up 1,300 square kilometers in Western Australia's Pilbara region, known for its emerging conglomerate gold rush. While these properties were originally purchased with lithium exploration in mind, Macarthur Minerals has since used historical data to identify that some of the exploration licenses are also highly prospective for conglomerate gold, gold and lithium mineralization.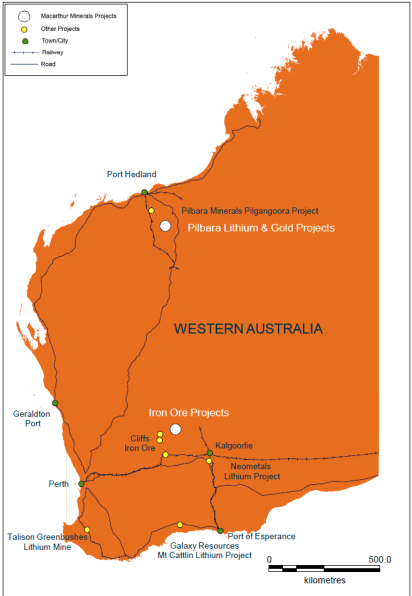 Conglomerate Gold in Pilbara
Interest in the Pilbara region has grown significantly in the last year following the discovery of gold nuggets in conglomerate resembling those found in the Witwatersrand Basin. The discovery, made by Artemis Resources, has spurred a gold rush in the Pilbara that has attracted a number of major companies, including Novo Resources Corp (TSXV:NVO) and Kirkland Lake Gold Ltd (TSX:KL, ASX:KLA).
Since the discovery, Artemis Resources has seen exceptional growth in its market cap (+717 percent) and it has entered into a joint venture with the Canadian based Novo Resources for their Pilbara properties. Together, the companies have raised AU$12 million from institutional investors, including clients of Sprott Capital Partners. Following this, Kirkland Lake Gold also invested C$56 million into Novo, tying all three big players into the region. All in all, the Pilbara is proving to be an extremely profitable gold jurisdiction.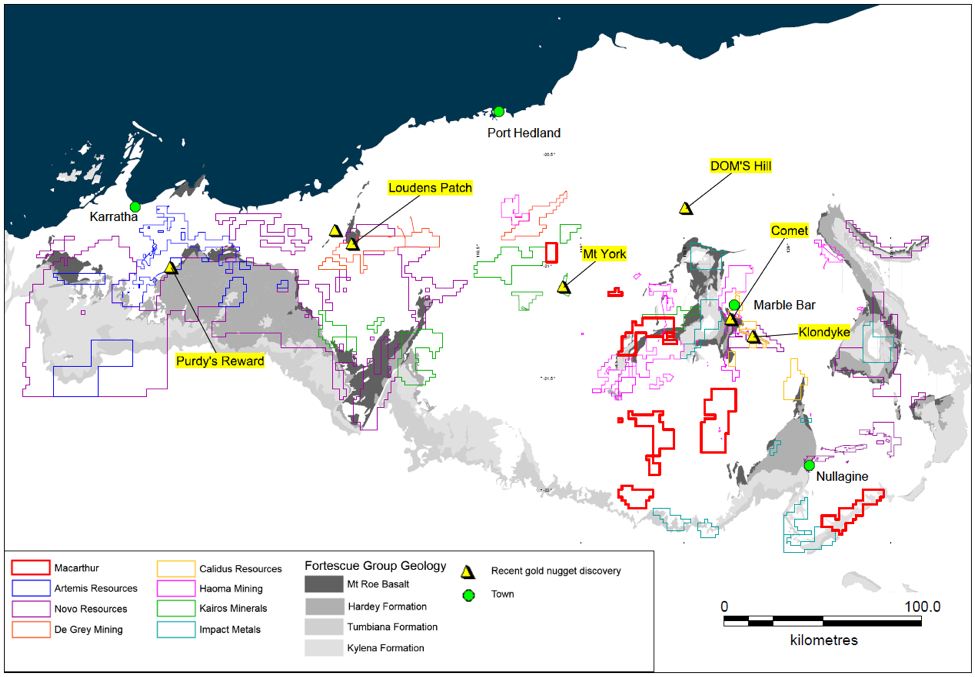 Macarthur Gold Tenements in Pilbara
Macarthur Minerals' exploration licenses in the Pilbara region are located to the west of Millennium Minerals Limited's (ASX:MOY) gold project and Novo Resources' Beatons Creek gold project. The land parcels are also located to the south and west of Calidus Resources Limited's (ASX:CAI) Klondyke project, which has similar greenstone geology.
The targets for conglomerate gold in the region sit below the Mount Roe Basalt, on which Macarthur Minerals has three of its exploration licenses. In the two larger exploration licenses of this grouping, Macarthur Minerals has entered into a JV with Artemis Resources to earn up to an 80 percent interest. These two exploration licenses cover 265 square kilometers and Artemis Resources will be conducting site visits, mapping, sampling and ground geophysics as part of its initial exploration initiatives.
In addition to the initial work being done on the Mount Roe Basalt exploration licenses, Macarthur Minerals has also undertaken initial exploration work with Artemis Resources on their Hillside Gold Project. Initial results from a reconnaissance trip showed potential for gold mineralisation associated with a shear zone structure.  Historical sampling results show up to 411 g/t gold and 7.8 percent copper, as well as 700 ounces of gold recently extracted by prospectors including recovery of surface based gold nuggets. Within this project, Macarthur Minerals will conduct initial exploration activities for both gold and lithium in order to determine its drill targets.
Macarthur Minerals recently announced that it has entered into heritage agreements with two native title groups, clearing the pathway for exploration on Macarthur Minerals' Pilbara exploration licenses. As this was the final step in the exploration license application process, Macarthur Minerals expects to be fully permitted for exploration in the very near future. To date, 11 out of 16 exploration licenses have been granted with the final five expected to grant shortly.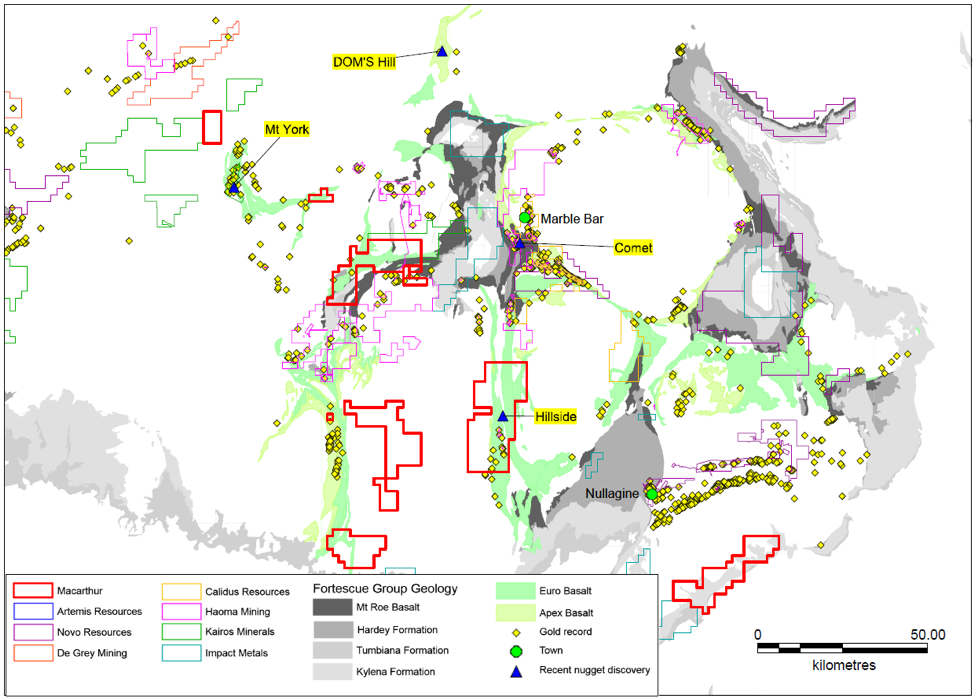 Lithium in Pilbara
In parallel to the gold exploration work being done on the Pilbara exploration licenses, Macarthur Minerals is planning exploration for hard-rock lithium. The exploration licenses sit within a highly prospective lithium region that includes the Pilbara Minerals Ltd (ASX:PLS) property with a JORC mineral reserve estimate of 80.3 million tonnes at 1.27 percent lithium oxide and the Altura Mining Ltd (ASX:AJM) with a resource of 34.2 Mt at 1.04 percent lithium oxide. Altura Mining's project is due to be commissioned in the first quarter of 2018 and Pilbara Minerals' project is due to commissioned in the second quarter of 2018.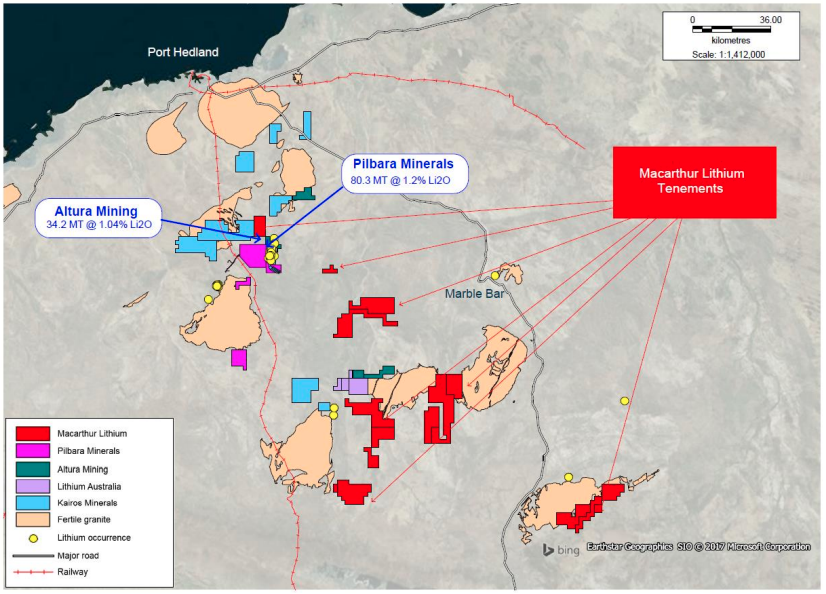 Since the acquisition of the exploration licenses, Macarthur Minerals has conducted several heliborne reconnaissance programs over the exploration licenses to identify areas with outcropping pegmatites that may host lithium mineralisation. These programs discovered pegmatites with minerals that indicate rare element lithium-caesium-tantalum pegmatites.
Assays from rock chip sampling on Macarthur Mineral's Tambourah Lithium Project in the Pilbara, returned very promising results of up to 1.47% lithium (Li2O), confirming the presence of lithium bearing pegmatites.
Macarthur Minerals will begin with ground survey work, mapping, sampling and geophysics that will help determine drill targets for lithium on the tenements. Additionally, Macarthur Minerals is also exploring joint venture opportunities for one of the tenements adjacent to the Pilbara Minerals and Altura Mining properties.
Iron Ore Projects
Macarthur Minerals owns two iron ore projects, the Ularring hematite project and the Moonshine magnetite project, in the Yilgarn region of Western Australia. The projects co-occur on 15 granted mining leases covering a total of 62 square kilometers with a 33-kilometer strike of outcropping banded iron formation.
The region is known for multiple hematite and magnetite iron ore deposits and is home to two operating iron ore mines in close proximity to Macarthur Minerals' iron projects. Macarthur Minerals' projects are located 175 kilometers northwest of Kalgoorlie and within 120 km of railway access to the Port of Esperance. The Port is owned by the Western Australian Government and currently licensed to export 11.5 million tonnes of iron ore per annum. The port has also agreed to expand its capacity to 20 million tonnes per annum pending third party funding.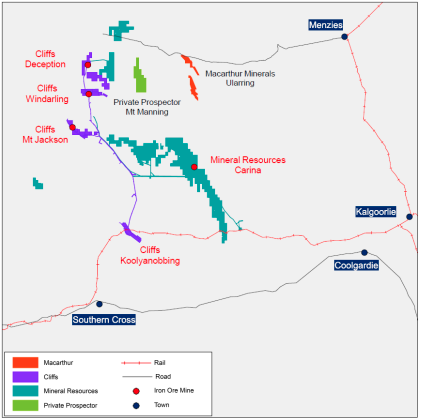 Resource Estimates
The Ularring Hematite Project has an indicated mineral resource of 54.46 million tonnes at 47.2 percent iron and an inferred resource of 25.99 million tonnes at 45.5 percent iron. Having received environmental approval to establish an iron ore mine, Macarthur Minerals plans to further develop the project based on existing export infrastructure in the region. A Preliminary Feasibility² was completed in 2012, although requires updating.
The Moonshine magnetite project has an inferred mineral resource consisting of 1,316 million tonnes at 30.1 percent iron and a PEA for the property was completed in 2011.
²NI 43-101 Technical Report filed 1 October, 2012, titled "NI 43-101 Technical Report, Macarthur Minerals Minerals Limited, Pre-Feasibility Study, Ularring Hematite Project, Western Australia."
Lithium Projects in Nevada
As well as its Western Australia projects and exploration licenses, Macarthur Minerals also owns the Reynolds Springs lithium brine project in Nevada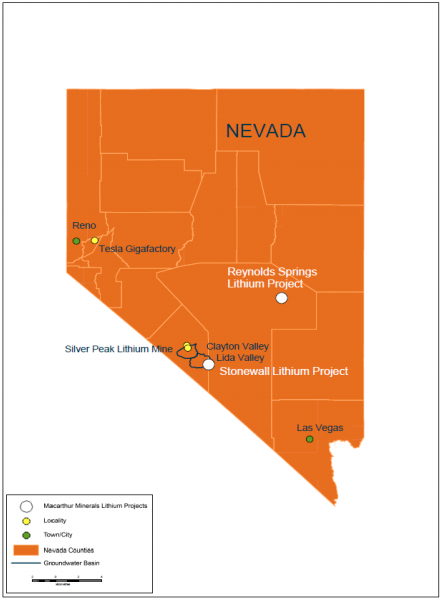 Reynolds Springs Project
The Reynolds Springs project is located in the Railroad Valley, a Nevada region known historically for some of the highest lithium records outside of Clayton Valley. The project sits 290 kilometers north of Las Vegas and 530 kilometers away from the Tesla Gigafactory.
The most recent work conducted on the claims includes a geochemical soil sampling program in which 206 soil samples were collected. Results from this program included grades of up to 405 ppm lithium.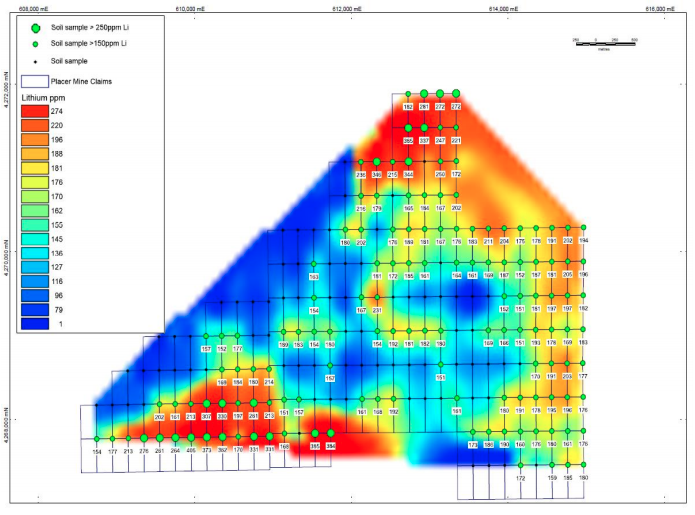 Macarthur Minerals is currently seeking joint venture opportunities for its Nevada project.
Management
David Taplin—Joint CEO and Director
David Taplin has held positions as chief financial officer, company secretary, general counsel and in corporate development for several ASX, TSX and TSXV companies and government-owned corporations, with a particular focus on mining, gas and electricity over a period of 25 years. He has worked extensively in corporate law, corporate governance and corporate finance both in Australia and internationally. He has regularly instructed courses in corporate governance at some of Australia's leading business schools and professional institutions.
Taplin holds a Bachelor of Law, Master of Business Administration (AGSM), Graduate Diploma of Applied Corporate Governance, Graduate Diploma of Business Management, and is a solicitor, CPA, Chartered Secretary (ACIS and FGIA) and member of the Australian Institute of Company Directors.
Joe Phillips—Joint CEO and Director
Joe Phillips was previously the Company's CEO in 2015 and was responsible for the original funding and development of the Company's significant iron ore assets, having completed its 2012 prefeasibility study for the Ularring Hematite Project and obtaining environmental approvals.
He was educated at the University of Queensland and he combines strong project management skills with a discipline in economics and a detailed understanding of the operation of public administrations and the elected governments in Australia.
Cameron McCall—Executive Chairman
Cameron McCall has a wealth of experience across the financial services and commercial property industries within Australia and internationally. He has been providing investment advice, equity capital raising and share trading for over 17 years to corporate entities and private clients at Hartley's Limited and Macquarie Bank Limited. He has, during his 40 year career, built an extensive network of international and Australian based high net worth individuals and corporate entities.
McCall is currently running a corporate advisory business providing advice on asset acquisition and capital raising to international and Australian based organisations.
David Lenigas—Independent Director
David Lengias is a Mining Engineer, with extensive experience in the lithium business, having retired as the Executive Chairman of Cadence Minerals plc (AIM: KDNC) (previously Rare Earth Minerals plc). Cadence is a London and New York listed Investment Company, which has a number of strategic investments in lithium projects around the world.
He is Executive Chairman of LGC Capital Ltd listed on the TSX-V (TSX-V: QBA). In addition, he is the Executive Chairman of a bespoke agri-logistics company; London listed AfriAg plc (ISDX: AFRI) and Executive Chairman of UK oil company, Doriemus plc (ISDX: DOR). He is also director of ASX listed companies, Southern Hemisphere Mining Limited  (ASX:SUH) Auroch Minerals Limited (ASX:AUO) and Artemis Resources Limited (ASX:ARV).
Alan Phillips—Non-Executive Director
Alan Phillips has been a senior executive, director and chairman of ASX, TSX-V, TSX and AIM listed companies over a period of 40 years. He has experience in a broad range of industries, but predominantly in the mining and exploration of copper, gold, ethanol and iron ore and technology sectors.
---
*Disclaimer: The profile provides information which was sourced and approved by Macarthur Minerals in order to help investors learn more about the company. Macarthur Minerals is a client of the Investing News Network (INN). The company's campaign fees pay for INN to create and update this profile page, to which links are placed on Investingnews.com and channel newsletters.
The company description, investment highlights and catalysts were sourced by INN and approved by the company. INN does not guarantee the accuracy or thoroughness of the information contained on this page.
INN does not provide investment advice and the information on Investingnews.com profile should not be considered a recommendation to buy or sell any security.
INN does not endorse or recommend the business, products, services or securities of any company profiled.
Readers should conduct their own research for all information publicly available concerning the company.