Critical Elements Lithium Corporation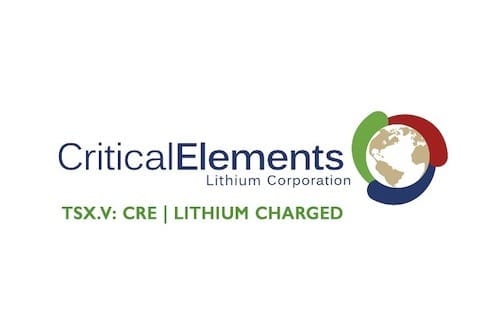 Supplying Lithium and Tantalum for 21st Century Markets
Overview
Critical Elements Lithium Corporation (TSXV:CRE, OTCQX:CRECF, FWB:F12) is a Canadian resource exploration and development company focused on advancing its Rose lithium–tantalum project in mining-friendly Quebec, Canada.
The Rose lithium-tantalum deposit, one of the largest conflict-free tantalum resources in the world, can supply multiple lithium markets because of its unique purity and its low production cost. The Rose lithium-tantalum deposit has an updated NI 43-101 resource estimate that outlines an inferred resource of 31.9 million tonnes grading 1.04 percent lithium oxide equivalent and 148 ppm of tantalum pentoxide with an inferred resource of 2.8 million tonnes grading 0.92 percent lithium oxide equivalent and 145 ppm of tantalum pentoxide.
Following a positive feasibility study, Critical Elements is now ready to advance to the next stage of development for its Rose lithium-tantalum project. The feasibility study was, in part, informed by the results of a bulk sampling and pilot plant study. The results released in April 2017 demonstrated that the conversion of the resources from the Rose lithium-tantalum deposit into the spodumene crystalline phase is easily achievable, with lithium grades up to 6.56 percent. Extraction was achieved at high conversion rates for chemical and technical-grade spodumene, yielding 83.4 percent with a concentration grade of 6.41 percent for Rose and recovery averaged 81.9 percent with a concentration grade of 6.56 percent for Rose South. The high yield confirms the low-impurity profile of the Rose ore, allowing for the production of battery-quality lithium carbonate at a competitive cost and without additional purification steps.
Most recent testing at the Rose lithium-tantalum pilot plant has resulted in the production of battery-grade lithium hydroxide. Critical Elements was able to demonstrate that its plant can achieve extraction rates of 93 percent, which is higher than the market benchmark of 70 percent to 75 percent. The plant's overall recovery from spodumene to battery-grade lithium hydroxide is 80 percent and is again higher than the market benchmark of 65 percent.
Tantalum is used in a wide variety of applications across the electronics, medicine, engineering and energy-generation industries. Since 1995, the market for tantalum has experienced average yearly growth in demand of about eight to 12 percent. End users are facing increasing market pressure to secure conflict-free sources of tantalum, further tightening global supply.
Critical Elements is focused on developing supply for these markets at its Rose lithium-tantalum project. The unique geological properties of this deposit give it the potential to supply multiple markets, including battery-grade materials, ceramics, glass and tantalum.
Critical Elements' Company Highlights
The positive feasibility study shows a pre-tax NPV eight percent of $1.257 billion and pre-tax IRR of 48.2 percent
100 percent offtake product
Higher lithium recoveries in concentration and carbonation compared to peers
Achieved 99.98 percent lithium carbonate
No uranium or thorium contaminants in the deposit
Low iron content of 0.13 percent iron oxide
$300-million government tax credit for second to third mineral transformation
JV partnership in Quebec