The profile below is part of a campaign paid for by Critical Elements Corporation. This profile provides detailed information, helping investors make better investment decisions. Critical Elements Corporation support of Resource Investing News ensures we can continue to bring you unbiased, independent news and information.
Resource Investing News Featured Stock
Overview
Critical Elements (TSXV:CRE,OTCQX:CRECF,FWB:F12)is a Canadian resource exploration company focused on advancing its Rose Lithium-Tantalum Project in mining-friendly Quebec, Canada.
The Rose deposit, one of the largest conflict-free tantalum resources in the world, can supply multiple lithium markets because of its unique purity and its low production cost. The Rose deposit has an indicated resource of 26,500,000 tonnes containing 259,700 tonnes of lithium oxide and 9,514,317 pounds of tantalum pentoxide, and an inferred resource of 10,700,000 tonnes containing 92,020 tonnes of lithium oxide and 3,417,400 pounds of tantalum pentoxide.
Following a positive preliminary economic assessment (PEA), Critical Elements is now advancing through a feasibility study on the project, which is slated for completion in the summer of 2017.
The results of the bulk sampling and pilot plant will inform the feasibility study. The results released in April 2017 demonstrated that the conversion of the resources from the Rose deposit into the spodumene crystalline phase is easily achievable, with lithium grades up to 6.56 percent. Extraction was achieved at very high conversion rates for Chemical and Technical Grade Spodumene, yielding 83.4 percent with a concentration grade of 6.41 percent for Rose and recovery averaged 81.9 percent with a concentration grade of 6.56 percent for Rose South. The high yield confirms the low-impurity profile of the Rose ore, allowing for the production of battery quality lithium carbonate at a competitive cost and without additional purification steps.
Critical Elements recently signed a collaboration agreement, that includes a take-or-pay offtake agreement at customer market prices, with German chemical company HELM AG for all production from the Rose deposit.
"We are the only lithium company with an offtake commitment from a large global sales and distribution partner for 100 percent of production at customer market prices. This allows us to get the best market prices," said Jean-Sébastien Lavallée, President and CEO of Critical Elements. "Our high-purity, low-contaminant spodumene concentrate will allow us to supply both the battery market and the glass and ceramics market. Our tantalum resource lends further diversification to the markets we can serve."
Critical Elements has also partnering with other companies working lithium projects in Quebec, including the Lemare Project where a 1,312-meters drilling program to define a JORC Code-compliant resource is underway.
Strategic metals: Lithium and Tantalum
Emerging as critically important resources for 21st century technology, lithium and tantalum are expected to see unprecedented demand in the near future. The battery-grade market represents approximately one-third of the total global end-use market for lithium, while the ceramic and glass market accounts for another one-third. Both of these markets have high entry barriers as end users expect high-purity, low-contaminant products.
Available supply of Spodumene technical grade to the glass and ceramic market has been limited due to recent mine closures that have left only one major low-iron spodumene source, the Greenbushes deposit in Australia. While supply for battery-grade lithium has been short, prices have been growing significantly, whereas  analysts predict double-digit growth over the next five years.
Tantalum is used in a wide variety of applications across the electronics, medicine, engineering and energy-generation industries. Nearly half of tantalum consumption comes from the electronics industry. Since 1995, the market for tantalum has experienced average yearly growth in demand of about eight to 12 percent. End users are facing increasing market pressure to secure conflict-free sources of tantalum, further tightening global supply.
Critical Elements is focused on developing supply for these markets at its Rose Lithium-Tantalum Project. The unique geological properties of this deposit give it the potential to supply multiple markets, including battery grade, ceramic and glass and tantalum.
Investment Highlights
Quebec is ranked 6th in the world for mining investments
100 percent offtake product
Lowest market cap compared to peers
Higher lithium recoveries in concentration and carbonation compared to peers
Achieved 99.98 percent lithium carbonate electric vehicle battery grade
No uranium or thorium contaminants in the deposit
Low iron content of 0.13 percent iron oxide
High-demand tantalum byproduct compared to large potash supply from other lithium projects
PDA signed with Eastmain Cree Community
$300-million government tax credit for 2nd-3rd mineral transformation
Positive PEA shows an after-tax net NPV of C$279 million at an eight-percent discount rate
Feasibility study underway
Multiple JV partnerships in Quebec
Key Property: Rose Lithium-Tantalum Project
The Rose Lithium-Tantalum Project is located in the James Bay area of Quebec, Canada about 22 miles north of Nemiscau and 47 miles due south of Goldcorp's Eleonore gold deposit. Excellent infrastructure is in place locally and regionally, including 100-ton capacity road access, an airport, a mining camp and a power line directly on the project property.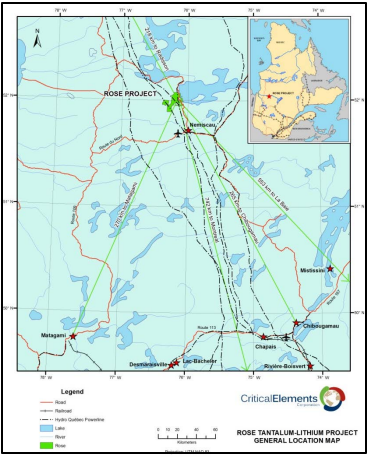 The Rose Lithium-Tantalum Project is located in the Quebec Plan Nord designated area, where the government is fast-tracking the construction of new infrastructure, accelerating permitting and assisting with project financing. The project covers about 109 square miles of active mining titles in the northeastern part of the Archean Superior Province of the Canadian Shield craton and within the southern portion of the Middle and Lower Eastmain Greenstone Belt.
Resource Estimate
The Rose deposit has an updated NI 43-101 resource estimate of 26,500,000 tonnes of indicated resources containing 1.30 percent lithium oxide equivalent or 0.98 percent lithium oxide, and 9,514,317 pounds of tantalum pentoxide; and 10,700,000 tonnes of inferred resources containing 1.14 percent lithium oxide equivalent or 0.86 percent lithium oxide, and 3,417,400 pounds of tantalum pentoxide.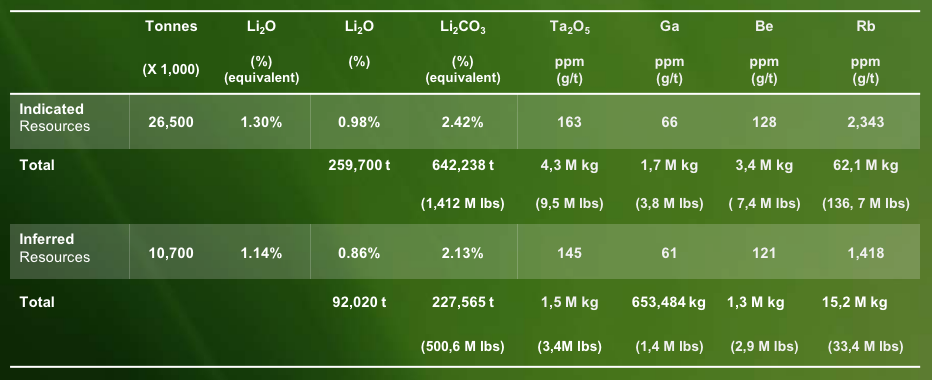 Preliminary Economic Assessment
The 2011 PEA for the Rose lithium-tantalum project was based on price forecasts of US$118 per pound for tantalum pentoxide contained in a tantalite concentrate and US$6,000 per tonne for lithium carbonate. The parameters for the PEA include a 1.5-million-tonne-per-year open-pit mine, a 4,600-tonne-per-day capacity concentrator and a lithium conversion plant.
Highlights from the PEA include:
An after-tax IRR of 25 percent
An after-tax NPV of C$279 million at an 8-percent discount rate at Lithium carbonate prices of 6,000 USD per mt
A payback period of 4.1 years
A mine life of 17 years
Estimated capital cost of C$268.6 million
Operating costs of C$67.65 per tonne of ore milled
Ongoing capital investments of C$36.8 million
Excellent recoveries and battery-grade purity
One of several sources of hard rock lithium, Spodumene are targeting to get on stream in the next five years together with new brine sources in South America, in order to satisfy the fast growing market demand from battery applications.
Hard-rock spodumene deposits are predictable to develop as the resource can be easier defined. But unlike brines — where crews can wait years for evaporation to concentrate the lithium chloride — spodumene mines can begin producing in a matter of days once a mill is built. In addition, spodumene lithium can be of higher quality — with fewer problematic impurities, like iron.
Intensive metallurgical testing and flow sheet optimization work has shown that Critical Element's Rose Lithium-Tantalum project demonstrates a significant advantage over other known lithium deposits based on its ability to produce premium-purity lithium carbonate at a low cost.
During flotation testing, recoveries reached up to 91.9 percent lithium with a concentration grade of 6.43 percent lithium; recoveries averaged 90.88 percent with a concentration grade of 6.2 percent lithium.
Results from recent hydrometallurgical testing for the conversion of Spodumene to Lithium carbonate have shown an overall recovery rate of up to 88.4 percent with an overall purity of 99.9percent—surpassing the requirements for battery-grade lithium carbonate. The high purity percentage is due in large part of the low impurity profile of Critical Elements Spodumene in combination with the use of a sodium carbonate alkaline process rather than the industry-standard sulfuric acid process. The sodium carbonate alkaline process poses a much lower environmental risk and is much more successful in dissolving impurities at the leaching stage.
Pilot Plant Study Supports Proposed Large-scale Production
In late 2016, Critical Elements initiated a bulk sampling program of 50 tons of material from two different zones of the deposit, Rose and Rose South, for subsequent pilot plant testing. The results of the pilot project will be used to decide the plant equipment for large-scale production.
The proposed plant design includes simple grinding, and magnetic and gravity separation. Critical Elements innovates by introducing circulating fluid beds, common in many other industries, such as aluminum, but rare in lithium extraction, where rotary kilns are preferred. Fluid-bed calcination would cut down on energy use and modestly reduce capital costs, helping the company deliver high-quality lithium at low cost.
In April 2017, Critical Elements announced the successful completion of its pilot work, with results in spodumene concentrates grading up to 6.56 percent lithium. From Rose, recovery rates averaged 83.4 percent with a concentration grade of 6.41 percent. From Rose South, the recovery averaged 81.9 percent with a concentration grade of 6.56 percent.
In May 2017, Critical elements announced the subsequent completion of its pilot work for the thermal conversion of alpha to beta spodumene followed by the conversion to Lithium carbonate battery quality achieving a high quality product 99.9 % at superior recovery rates without the need to apply additional cost intensive purification steps.
"The high yield we achieved during extraction confirms the low-impurity profile of our ore, which is what allows us to produce battery quality lithium carbonate at a competitive cost, without additional purification steps," said Lavallée, who additionally noted the pilot work achieved conversion rates for alpha spodumene of 97 percent or better, followed by the conversion to Lithium carbonate battery grade quality with total recovery rates of 88.4%. Including modeling results done by Outotec for the flotation process of Spodumene total recovery rates are 92%, well above the industry standard of 60 to 65% percent.
Tantalum by-product more economical than potash
Most of the world's supply of lithium comes from deposits with a significant potash co-product. The Rose deposit, however, possesses a unique combination of tantalum and lithium mineralization. The tantalum found in the Rose deposit gives the project additional byproduct diversification and makes it one of the few economic, conflict-free, industrial-scale tantalum sources in the world.
The most recently reported metallurgical results from pilot work for tantalum at the Rose deposit show tantalite magnetic recoveries as high as 69 percent with an average of 64 percent, up significantly from the 50 percent recoveries reported in the 2011 PEA. Recent tantalum mine closures in Canada, Mozambique and Australia are creating a major shortage of supply from which Critical Elements might benefit.
Offtake agreement and feasibility study
Critical Elements announced in June 2016 it has entered into an agreement with German chemical company HELM AG to provide up to $4.5 million in feasibility study funding for the Rose Lithium-Tantalum Project. Under the take- or pay-offtake agreement, HELM has the exclusive right to purchase all produced products including spodumene concentrate, lithium chemicals, mica and tantalum concentrate. HELM has agreed to assist Critical Elements and provide technical support in preparing and completing the feasibility study, as well as providing logistical and sales support for distribution and sale of future mineral products generated through the project.
Critical Elements has agreed to grant HELM an option to acquire an ownership interest of up to 25 percent in the project by paying for a portion of mine construction costs. "This financing is a significant step forward for Critical, as we are now fully funded to complete our bankable feasibility study," said Lavallée.
Closing of First Drawdown
In order to fund its feasibility study on the Rose Lithium-Tantalum Project, Critical Elements announced it has closed the transaction for its first five-year-term $1.5 million drawdown under the credit facility agreement with HELM.
Joint-Venture Partnerships
Lemare Lithium Project
The Lemare Lithium Project is a joint venture between Critical Elements and Platypus Minerals. The 43-square-mile project is located in Quebec's James Bay area, a district containing several advanced-stage lithium deposits. The property hosts a 1.2-kilometer strike length of spodumene-prospective pegmatite.
The Lemare project is secured by a February 2016 option agreement by Critical Elements and Platypus subsidiary Lepidico Ltd., in which Platypus earns up to 75 percent of the project. To earn an initial 50 percent interest, Platypus is to fund $800,000 for exploration costs by the end of 2016, and invest an additional $1.2 million by the end of 2017. Platypus may then earn a further 25 percent interest in Lemare by paying $2.5 million to Critical Elements and completing a definitive feasibility study and environmental study by June 2020.
The presence of high-grade lithium at Lemare has been confirmed through channel sampling and drilling during a stage one exploration program. Consistent grades of 2 percent to 3 percent were encountered along a 600-nmeter long zone, representing new highly prospective mineralization and an attractive target.
The company plans further prospecting, trenching and detailed mapping in the South West zone to determine the length and width of the pegmatite ahead of drilling.
Duval Lithium Project
The Duval Lithium project is a joint venture between Critical Elements and Enforcer Gold located in northern Quebec The project is contiguous to and along strike with Nemaska's Whabouchi project, which recently encountered a new lithium-bearing zone in the southwestern end of the planned pit area.
While there has been no historic Lithium-focused exploration on the Duval property, the continuation along strike and onto similar geological property as Whabouchi shows potential to locate lithium. An updated NI 43-101 report is planned for the property following Phase One of exploration.
Management
Jean-Sébastien Lavallée—Chief Executive Officer
Jean-Sébastien Lavallée, P. Geo., is the president and chief executive officer of Critical Elements, a Canadian mining exploration company since 2009. He has been also active in mining exploration since 1994. He is the vice-president of Consul-Teck Exploration, a consulting firm in Val-d'Or founded in 2003 that specializes in mining exploration in northern areas. Most of the firm's mandates involve the generation and execution of projects in remote areas. Lavallée has worked as a geologist for many companies, including Eloro Resources, Uracan Resources, Agnico-Eagle Mines, Noranda Minerals, Champion Minerals, Matamec Explorations and Atlanta Gold. Having been responsible for the planning and execution of many exploration programs in recent years, Lavallée has acquired solid experience in exploration project development.
Dr. Steffen Haber—President 
Dr. Haber was President and Chief Executive Officer of Rockwood Lithium GmbH when Chemetall GmbH was legally split off in 2012. From 2011 to 2012, he was Managing Director of Chemetall GmbH and since 2007 President of Chemetall's Lithium business. Prior to joining Chemetall GmbH, Dr. Haber worked in different executive positions for Sanofi-Aventis SA and its predecessor companies, in France. Dr. Haber completed his doctorate in organic chemistry at the University of Kaiserslautern, Germany, in 1991 and added one year as a Post-Doc at Ecole Polytechnique in Paris. In 1997, Dr. Haber earned his Bachelor of Science in Management from the International School of Management in San Diego, in the United States. Dr. Haber is a fellow of the International Directors Program of INSEAD.
Jean-François Meilleur—Vice-President
Jean-François Meilleur is presently president and co-owner of Paradox Public Relations. His accomplishments include playing a key role in raising funds for many projects. Meilleur holds a Bachelor's degree from the HEC business school (Hautes Études Commerciales) in Montreal, with a specialization in marketing and finance. He previously worked as a trader at Swiftrade, and has extensive knowledge of financial markets.
Nathalie Laurin—Secretary and Chief Financial Officer
Nathalie Laurin has more than 25 years of experience in administration and accounting. During her career, she has held a range of jobs that have gained her experience in the financial industry, project management and in the natural resource sector. She has been self-employed since 2006, handling bookkeeping, audit file preparation and management of legal, regulatory and administrative matters. 
Richard Saint-Jean—Director
Richard Saint-Jean is a metallurgist technician with over 20 years of mining experience. He is currently the general director for BlackRock Metals, a private iron ore mining company. Previously, Saint-Jean was mill manager for the Troilus open-pit gold/copper mine in Chibougamau, where he worked for over 14 years. He has worked on four mill startups: Meston Resources, the Graphicor mine, the Cambior mine and the Troilus mine. At Troilus, he participated in the two mill expansions as well as the closure plan. Saint-Jean has worked closely with First Nations, including the Cree communities, for over 15 years. 
Jean-Raymond Lavallée—Director
Jean-Raymond Lavallée has more than 30 years of experience in mining exploration, and has been a contractor, consultant and manager for several mining companies, such as Louvem, Soquem, James-Bay Development, Sullivan Consolidated, Cache Explorations, Parquet Resources, Dumont Nickel, Westminer Canada, Baribec Management, Exploration Ojibway and others. He was also controller for Mines Expert during the construction of the Doyon mine. Lavallée is currently president of Consul-Teck Exploration, a consulting firm of Val-d'Or founded in 2003 that specializes in mining exploration in northern areas.
Marc Simpson—Director
Marc Simpson is president and chief executive officer of Uracan Resources. Simpson has worked in the mining and exploration industry for over 23 years. He has worked for junior, mid-tier and senior mining companies on projects both in Canada and worldwide, including Bema Gold (sold to Kinross for C$3.5 billion in 2007), B2Gold and Echo Bay Mines. Simpson has been involved in exploration and mining projects, from grassroots exploration through to mine development and production. He obtained his B.Sc. in geology from the University of Manitoba and is a member of the Association of Professional Engineers and Geoscientists of British Columbia and the Association of Professional Engineers and Geoscientists of the Province of Manitoba.
Matthew Lauriston Starnes—Director
Matthew Lauriston Starnes is a lawyer with over 17 years of experience and the capacity to work in all areas of law, including civil law, common law, contract negotiation and drafting, arbitration, taxes and permits and government relations. Starnes is currently legal counsel for Sumitomo's Mineral Resources Division in Tokyo, Japan. Among other things, he was responsible for negotiating the joint-venture agreement with a Canadian partner, the financing agreement with Japanese lenders and the offtake and distribution agreements with Japanese and other worldwide buyers for the Sierra Gorda project in Chile.
He was also responsible for negotiating power, railway, port and transportation infrastructure agreements and helping the proponents establish good governance procedures for the project. He is also part of the team for the Ambatovy project in Madagascar, where he participated in preparing for completion, settlement negotiation with Korean contractors and sits on a number of committees. Prior to joining Sumitomo, he also was the general counsel and deputy chief executive officer for the Ambatovy project. Starnes has also practiced as a corporate lawyer with major law firms in Montreal.