Overview
Nickel plays a vital role in electric vehicle (EV) and battery manufacturing, a sector that sees rapid expansion year after year. Market research projects a growing nickel demand to reach upwards of 1.3 million metric tonnes per annum by 2030 as nickel content in electric vehicles increases to over 40 kilograms per car battery.
Despite its significant role in powering a global shift to greener energies, analysts also project an undersupply of nickel for the next several years due to decreasing production and a lack of new active mines. Mining companies operating high-grade nickel projects offer investors exposure to a market that has great economic growth and success potential.
One such company is FPX Nickel (TSXV: FPX) (OTXQB: FPOCF), focused on exploring and developing its wholly-owned advanced development-stage Tier 1 Baptiste project in the Decar Nickel District in central British Columbia. The company's project developments demonstrate the Decar Nickel District's potential to supply high-concentration nickel and cobalt sulfates suitable for the growing electric vehicle battery industry as well as more traditional markets for nickel such as stainless steel.

The Decar Nickel District hosts the Baptiste project, which leverages an existing 2020 Preliminary Economic Assessment (PEA) and mineral resource estimate. Together, these NI 43-101 compliant reports show the Baptiste project has the potential to become one of the world's largest-scale, lowest-cost nickel producers. The positive geological interpretation of the Van target at Decar offers further blue sky potential for the Decar property.
The Decar Nickel District project has the potential to mimic the successes of its geographic neighbors such as New Gold's (TSX:NGD, NYSEMKT:NGD) CAD$1.8 billion Blackwater Gold open-pit project, which recently received federal and provincial environmental assessment certificates, a key milestone on the path to becoming a fully-permitted mine.
FPX Nickel released an updated PEA for the Baptiste project in 2020. According to the report, at the PEA base case of US$7.75 /lb nickel, the Baptiste Project is expected to generate an after-tax net present value of US$1.7 billion and an after-tax internal rate of return of 18.3 percent.
Additionally, the company closed $16.1 million in a bought deal public offering in April 2021. FPX Nickel intends to put net proceeds of the financing towards the exploration and development of the Baptiste nickel project.
The Baptiste project presents FPX Nickel with the potential to produce refined nickel with a significantly lower carbon footprint than other sources of production in the global nickel industry. Recent leach testing of awaruite nickel concentrates produced from Baptiste achieved nickel recoveries of 98.8 percent to 99.5 percent in producing a high-purity chemical solution containing 69.4 to 70.1 g/L nickel.
One of FPX Nickel's long-term goals for the Baptiste project is to build a carbon-neutral mining operation. In keeping with that goal, FPX Nickel and mining companies such as Anglo American majority-owned (LSE:AAL,OTCQX:AAUKF) DeBeers and Canada's Government has co-founded a multi-university led research program aimed at studying carbon capture and storage at mining sites.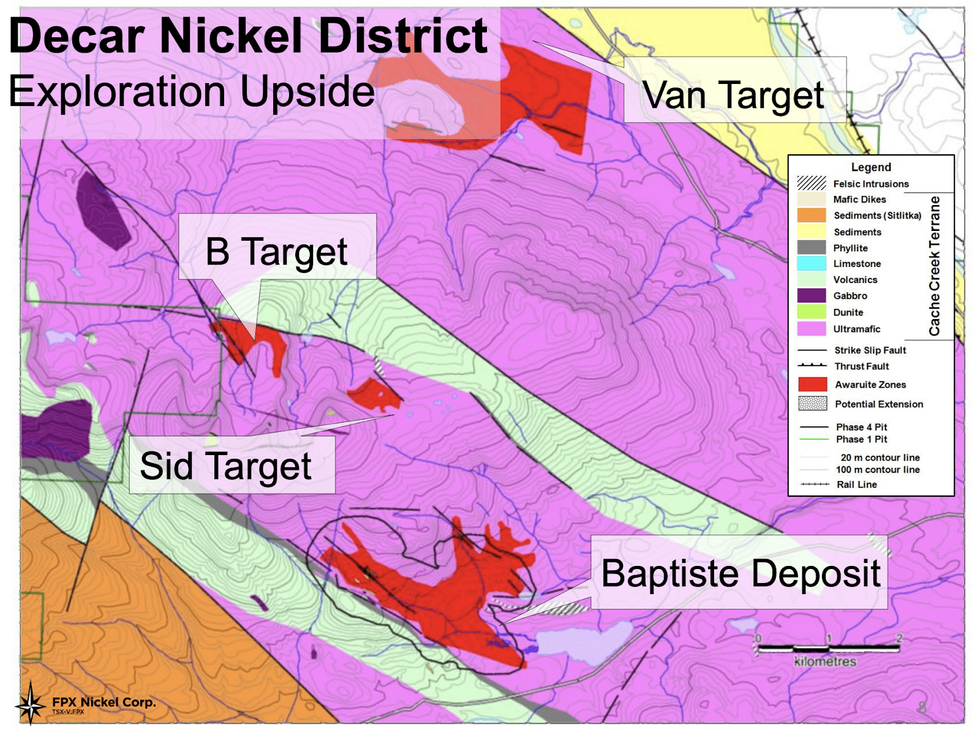 FPX Nickel's management team consists of highly experienced capital markets and mining professionals, including chairman of the Board, Dr. Peter Bradshaw and director Rob Pease. With nearly five decades of mineral exploration experience across 30 countries, Dr. Bradshaw has made numerous key discoveries earning him the honorable distinction of being a Member of the Canadian Mining Hall of Fame.
Additionally, geologist Rob Pease has more than 30 years of experience in exploration, mine development and construction, including as the former CEO of Terrane Metals during the development of the Mt. Milligan copper-gold mine was later acquired by Thompson Creek for C$650 million. Pease also served as the former director of Richfield Ventures, which was acquired along with the Blackwater Gold project by New Gold for CAD$500 million.
Company Highlights
FPX Nickel is a Canadian resource company focused on exploring and developing its wholly-owned advanced development-stage Baptiste nickel project in the Decar Nickel District, central British Columbia.
The company favorably leverages a low-cost operation and mining best practices. It operates one of the few major nickel deposits in the mining-friendly jurisdiction of British Columbia.
The Baptiste property hosts high-grade nickel mineralization with low impurities and little to no sulfides. This production-quality asset has potential applications for direct feed to stainless steel or the electric vehicle battery market, with recoveries coming in at 98.8 percent to 99.5 percent.
FPX Nickel operates a tight share structure consisting largely of management and other strategic high net-worth and institutional shareholders at approximately 18.5 percent and 35 percent holding, respectively.
Baptiste's amended PEA highlights the project's potential to be among the world's lowest-cost nickel mines in operating costs and capital intensity.
Key Projects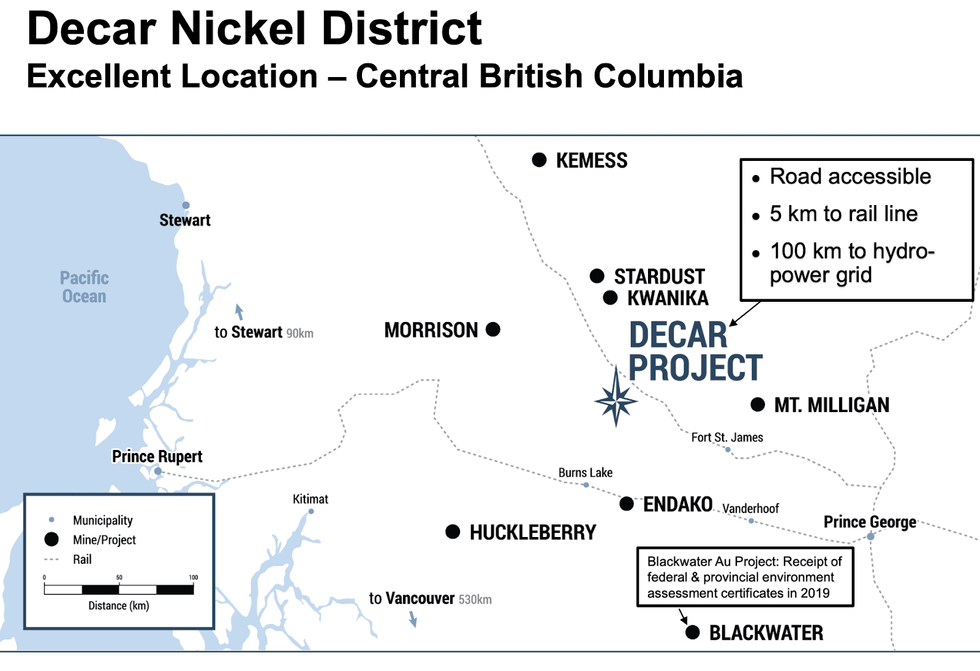 Decar Nickel District – Baptiste Project
The Decar Nickel District covers 245 square kilometers and 80 kilometers west of the Mt. Milligan mine, central British Columbia. The property hosts the highly prospective Baptiste nickel project, which has the potential to become the world's best development-stage nickel project. The asset is accessible via logging and paved road, with railway and hydropower nearby.
In February 2021, the company released results from initial field tests, demonstrating the potential for significant direct air carbon capture in the tailings on the property. "These exciting results mark an important step in our objective to develop Baptiste as the world's first large-scale, carbon-neutral nickel operation," commented FPX Nickel president and CEO Martin Turenne.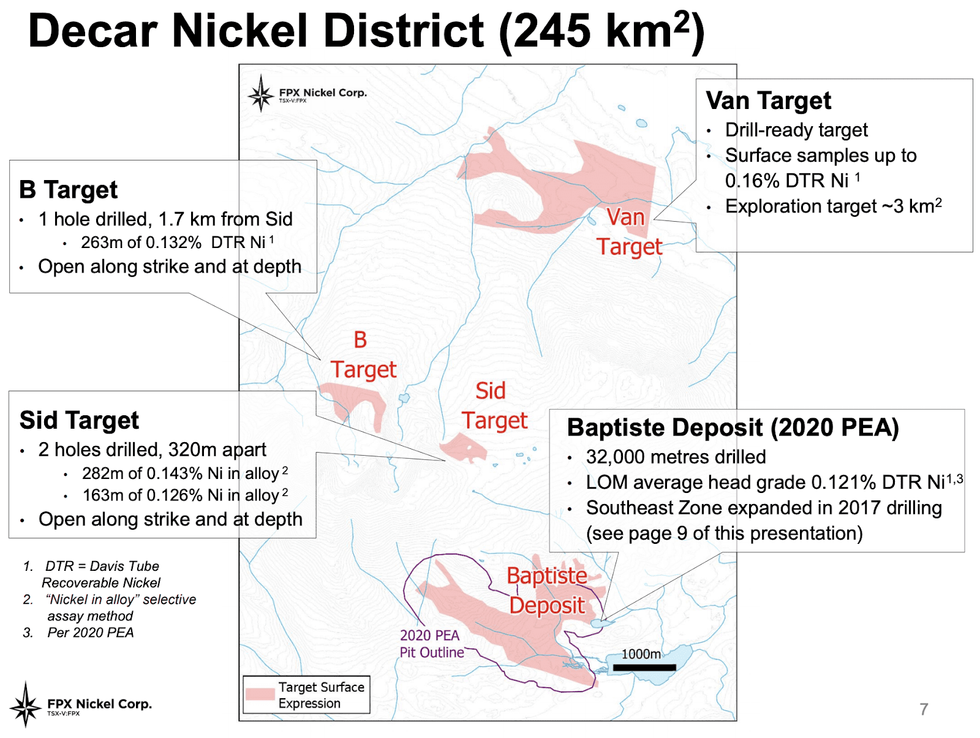 Baptiste hosts nickel-iron alloy mineralization, bulk-tonnage potential and open-pit nickel mining possibilities across its four primary targets. Exploration has also indicated resources at an average grade of 0.123 percent DTR nickel for 2.3 million tonnes and 391 million tonnes of inferred resources with an average grade of 0.115 percent DTR nickel. Its main Van target is drill-ready with advantageously mild-pressure leaching conditions.
Since 2010, FPX Nickel has spent approximately CAD$25 million in the exploration and development of Decar. The company put this funding towards surface sampling, PEA reporting, processing plant construction and diamond drilling campaigns.
Management Team
Martin Turenne, CA - President, CEO & Director
Martin Turenne is a senior executive with over 15 years of experience in the commodities industry, including over five years in the mining industry. He has extensive leadership experience in strategic management, fundraising, economic analysis, financial reporting, regulatory compliance and corporate tax. Turenne formerly served as CFO of First Point Minerals Corp. from 2012 to 2015 and in positions at KPMG LLP and Methanex Corporation. He is a member of the Canadian Institute of Chartered Accountants.
Erin Wilson P. Geo - Principal Geologist
Ms. Wilson has over 18 years' experience in exploration, resource and mine geology. In her previous role as the Chief Mine Geologist for Pure Gold Mining, she had oversight and responsibility for mine site geological and block models, working with senior management in developing geological work programs and managing a strong safety culture in compliance with company policies and occupational health and safety regulations. Prior to joining Pure Gold Mining, Ms. Wilson worked in a number of roles for Goldcorp and Newmont at the Red Lake Gold Mines for nine years. As the lead Exploration Geologist and Production Geologist at the Couchenour Project, she developed and managed multi-million dollar work programs, supervising geological site personnel and integrating drill results for the growth of mineral reserves and resources at the project.
Trevor Rabb, P.Geo. - Consulting Geologist
Trevor Rabb is a professional geologist with over ten years of experience in mineral exploration, including over five years specializing in nickel-iron alloy deposits. Rabb formerly served as First Point's senior geologist and VP of Exploration from 2010 to 2016. He was a crucial player in exploration discoveries for First Point's Decar, Mich, Wale and Klow properties.
Christopher Mitchell, P.Eng., MBA - CFO & Corporate Secretary
Christopher Mitchell is a business consultant with more than 40 years of experience in the mineral industry. He served as senior VP of Viceroy Resource Corp., executive VP and CFO of Orvana Minerals Corp. Mitchell holds MBA and M.Sc. degrees, University of British Columbia and is a member of the Association of Professional Engineers of British Columbia. He is also a director of Endurance Gold Corp.
Dr. Peter M. D. Bradshaw, P.Eng. - Chairman
Dr. Peter Bradshaw is a geologist with 45 years of international mineral exploration experience in over 30 countries with Barringer Research, Placer Dome and Orvana Minerals. He is a member of the Canadian Mining Hall of Fame. Dr. Bradshaw's key discoveries and projects he was directly involved with include: Porgera Gold Mine, Papua New Guinea; Kidston Gold Mine, Queensland, Australia; Misima Gold Mine, Papua New Guinea; Big Bell Gold Mine, Western Australia; Omai Gold Mine, Guyana; Decar Nickel Project, British Columbia, Canada; director of Aquila Resources; co-founder and first chairman of the Mineral Deposit Research Unit, University of British Columbia.
Rob Pease, P. Geo. - Director
Rob Pease is a geologist with over 30 years of experience in exploration, mine development and construction. He served as the former CEO of Terrane Metals, acquired by Thompson Creek for CAD$650 million. Pease also served as the former director of Richfield Ventures, acquired by New Gold for CAD$500 million. He is a Director of Pure Gold Mining Inc. and Liberty Gold Corp.
William H. Myckatyn - Director
William Myckatyn is a mining engineer with over 34 years of experience in the mining industry. Myckatyn is the founder and CEO of Quadra Mining Ltd. He served as chairman and subsequently co-chairman of Quadra FNX Mining until its takeover in 2012. Prior, Myckatyn was chairman, president and CEO of Dayton Mining Corp., where he led the restructuring and merger with Pacific Rim Mining Corp. He also served as the former president and CEO of Princeton Mining and Gibraltar Mines Ltd. For over 17 years, he worked for various operations controlled by Placer Dome Inc. and its associated predecessor companies, including four separate mines in Australia and the Philippines. He is a director of San Marco Resources and OceanaGold.
Peter Marshall, P. Eng. - Director
Peter Marshall is a mining engineer with 30 years of experience in mine development and construction. Marshall was formerly VP of Project Development at New Gold and SVP Project Development at Terrane Metals. He has extensive mine development experience in central British Columbia, including completing the Blackwater gold project feasibility study and development and early construction of Mt. Milligan copper-gold mine, acquired by Thompson Creek for CAD$650 million in 2010.
James S. Gilbert, MBA - Director
James Gilbert has more than 30 years of investment and transaction execution experience, with more than 20 years focused on the international mining and metals industry. Gilbert held senior management positions with Rothschild, Gerald Metals Inc. and Minera S.A., a private mining investment company. His experience covers mergers and acquisitions, debt and equity financing, off-take and specialty refining agreements, joint venture negotiations and strategic marketing. He was formerly director of AQM Copper Inc., acquired by Teck Resources in 2016.
Dr. John A. McDonald, P.Geo. - Director
Dr. John McDonald is a geologist with more than 40 years of international experience as both a professor and mineral explorer. He served as VP of Exploration for both Diamondex and Winspear Diamonds Inc. He and his technical team were directly responsible for discovering and developing the Snap Lake diamond deposit. De Beers acquired Winspear's majority ownership in the Snap Lake deposit for US$305 million in 2000. In 2000, McDonald received the HH "Spud" Huestis Award for excellence in prospecting and mineral exploration from the B.C. and Yukon Chamber of Mines. In January 2008, he received the Hugo Dummett Diamond Award for Excellence in Diamond Exploration and Development. He is a director of Canterra Minerals Corp., Hudson Resources Inc.and Independence Gold Corp.
Anne Currie - Director
Anne Currie is a recognized leader in the permitting of major Canadian mining projects, with over 30 years of experience in the private and public sector, including as a former senior partner with the leading global consultancy Environmental Resources Management (" ERM "), and in her prior role as British Columbia's Chief Gold Commissioner, the chief regulatory authority for the Mineral Tenure Act. Exceptional track record in steering the environmental assessment and permitting processes for major mining projects in British Columbia, including for the KSM, Brucejack, Kemess Underground, and Blackwater projects
Randy MacGillivray - Manager, Environment and Government Affairs
Mr. MacGillivray has over 25 years' experience in permitting and community consultation and engagement activities at mining projects and operations in British Columbia and abroad. In his previous role at Centerra Gold's Mount Milligan Mine and Kemess project in British Columbia , he was responsible for negotiating, implementing and maintaining compliance with Impact Benefit Agreement commitments and Environmental Assessment Certificate conditions. This experience included developing and leading joint implementation and environmental management committees with impacted First Nations in central and northern B.C. Prior to joining Centerra, Mr. MacGillivray occupied several senior environmental and community engagement roles in the mining industry, including as Director, Environment and Sustainability for Thompson Creek Metals Company, as Manager, Environment for Coeur Mining and as Environmental Superintendent for Barrick Gold's Eskay Creek and Snip Mines in northwestern B.C. Mr. MacGillivray holds a Bachelor of Science in Geology from the University of British Columbia .
Kyle Marte, P. Eng. - Principal Metallurgist
Mr. Marte, formerly Senior Process Engineer with Fluor Canada Ltd. specializing in the metallurgical recovery of base and battery metals, will lead the advancement of the metallurgical understanding of FPX's projects, including the PEA-stage Baptiste Nickel Project in central British Columbia. He has 15 years' mining industry experience in mineral processing and hydrometallurgy. In his role as Senior Process Engineer for Fluor, he led the metallurgical development for several base and battery metal projects for clients including, South32, ioneer, Albermarle, and Freeport McMoRan. Prior to joining Fluor, Mr. Marte acted as Senior Process Engineer at Wood (formerly Amec Foster Wheeler), where he led and/or supported process engineering for clients including Teck, Rio Tinto and Lundin Mining. Earlier in his career, he was the Lead Process Engineer for the Baja Mining Owner's Team on the Boleo project, supporting detailed design and commissioning of a whole-ore refinery producing copper cathode, cobalt cathode, and zinc sulphate salts.
Request an Investor Kit
EXCITING upcoming projects!
IN-DEPTH reliable insights!
SUCCESSFUL growth strategies!
VALUE-BASED content!
FPX Nickel