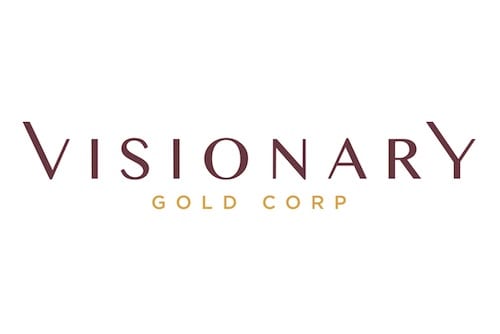 Visionary Gold
Unlocking Value in the Under-Explored Past Producing Gold Belts of Wyoming
Overview
Visionary Gold Corp (TSXV:VIZ) is a new Vancouver-based mineral exploration company focused on precious metals discovery and development. The company is currently operating in the historically productive Lewiston gold district of Fremont County, Wyoming, a district that has a strong gold mining history but has never been explored using modern techniques.
Visionary has a first-mover advantage having recently staked and acquired projects within the historic Miner's Delight District. The Company's focus is on the Wolf Gold Project where the company has worked tirelessly characterizing high-grade orogenic gold mineralization around a past producing mine and identifying new drill targets along a prolific regional shear zone.
Visionary has maintained a tight share capital structure and is poised to make a major discovery in Wyoming. The Company is developing promising targets on a large land package in the vast gold belt and offers investors a fresh opportunity to be a part of a new gold discovery with district scale potential in sight. The orogenic style of mineralization in the Miners Delight Basin is significant as orogenic gold deposits have produced an overwhelming majority of the total gold mined in world history. Well known mines such as the Homestake Mine in neighboring South Dakota and the world renowned Red Lake gold district in Ontario, Canada also share this style of mineralization.
Gold in Wyoming
Wyoming is more than just America's "Cowboy State." While state natives take pride in their adopted nickname, the jurisdiction also plays an essential role in America's overall natural resource and mineral economies. While the state has been successful in developing its uranium, coal and oil and gas for over a century, Wyoming is now experiencing a revitalization of another natural resource — gold.
Between 1864 and 1956, Wyoming saw a surge in gold discovery and production in its prolific late-Archean orogenic gold mines, but little exploration has been conducted since then. Now, emerging mineral companies are discovering new gold resources within orogenic gold-bearing structures that once generated millions in revenue. In the near future, mineral and gold production could again play an important role in Wyoming's economy, especially with declining interest in fossil fuel production and increasing global shifts to clean energy.
Geologic Setting
Visionary's Wolf Gold Project sits in the Miner's Delight Basin, a late-Archean sedimentary basin know for high-grade gold production. Amidst the many past producing mines, the company is developing new targets which have never been drilled. With a well-planned exploration model, the company is poised to make new gold discoveries within its 10.25 km² land package in the Lewiston District.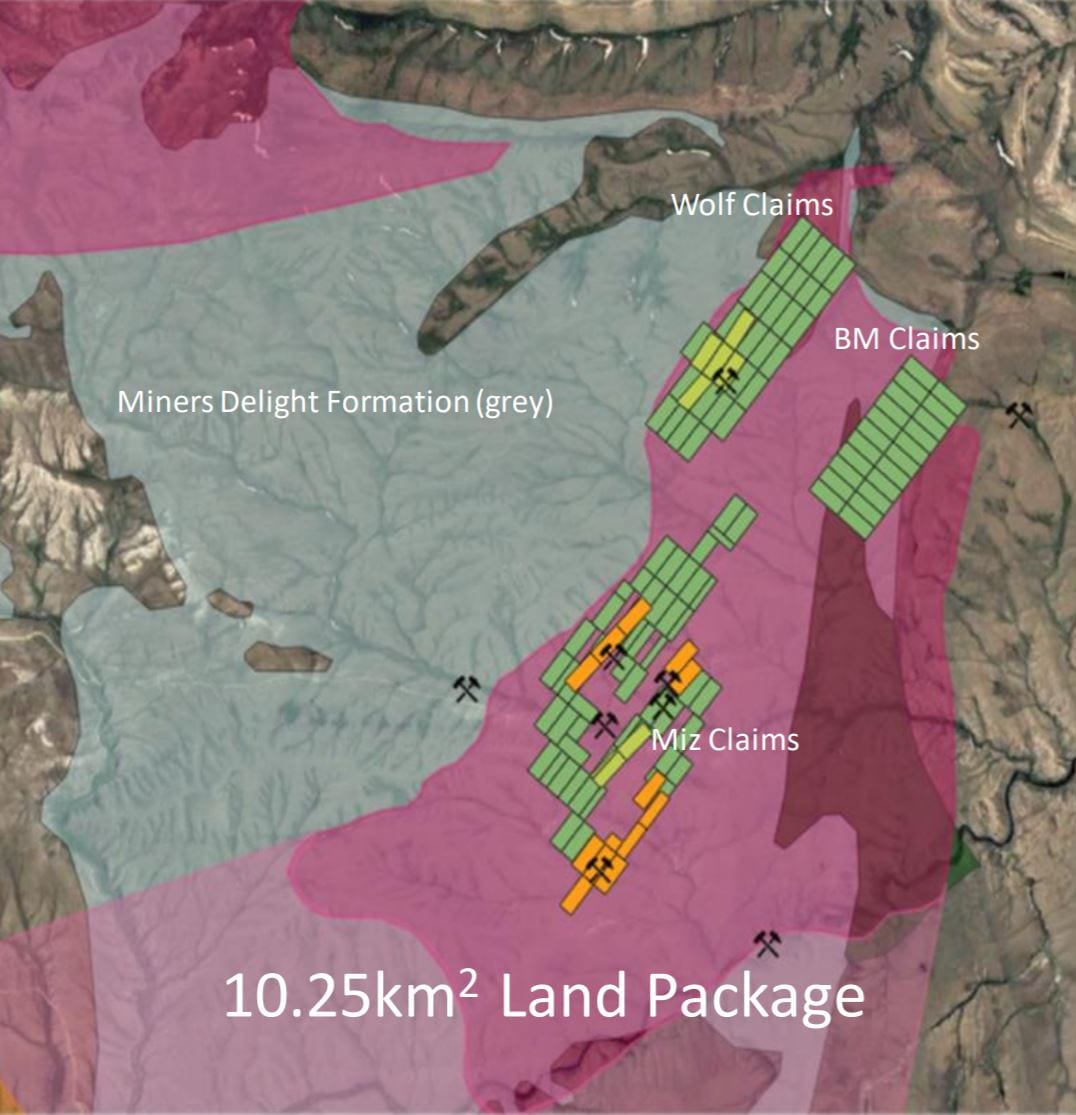 2020 Exploration Success
In 2020, Visionary began initial exploration at its Wolf Gold Project, which sits on a large altered and gold mineralized shear zone that had been mapped for over 1km along strike showing potential widths of up to 50 metres. Exploration success began immediately, as rock outcrops around Visionary's Wolf Mine, located in the middle of the shear zone, yielded high-grade values of up to 20 grams per tonne gold, clearly illustrating the high-grade nature of gold mineralization at surface. A geophysical survey also interpreted a chargeability anomaly below the high-grade surface samples, indicating the presence of potential mineralization in bedrock below. In December 2020, the Company also announced results from a geochemical soil survey showing that gold mineralization is present at surface for nearly 2.5km, which was almost 1.5km greater than initially predicted. "We are encouraged that a strong gold geochemical anomaly corresponds with the Wolf Shear Zone and extends further northeast than expected," Visionary Gold CEO Wes Adams commented.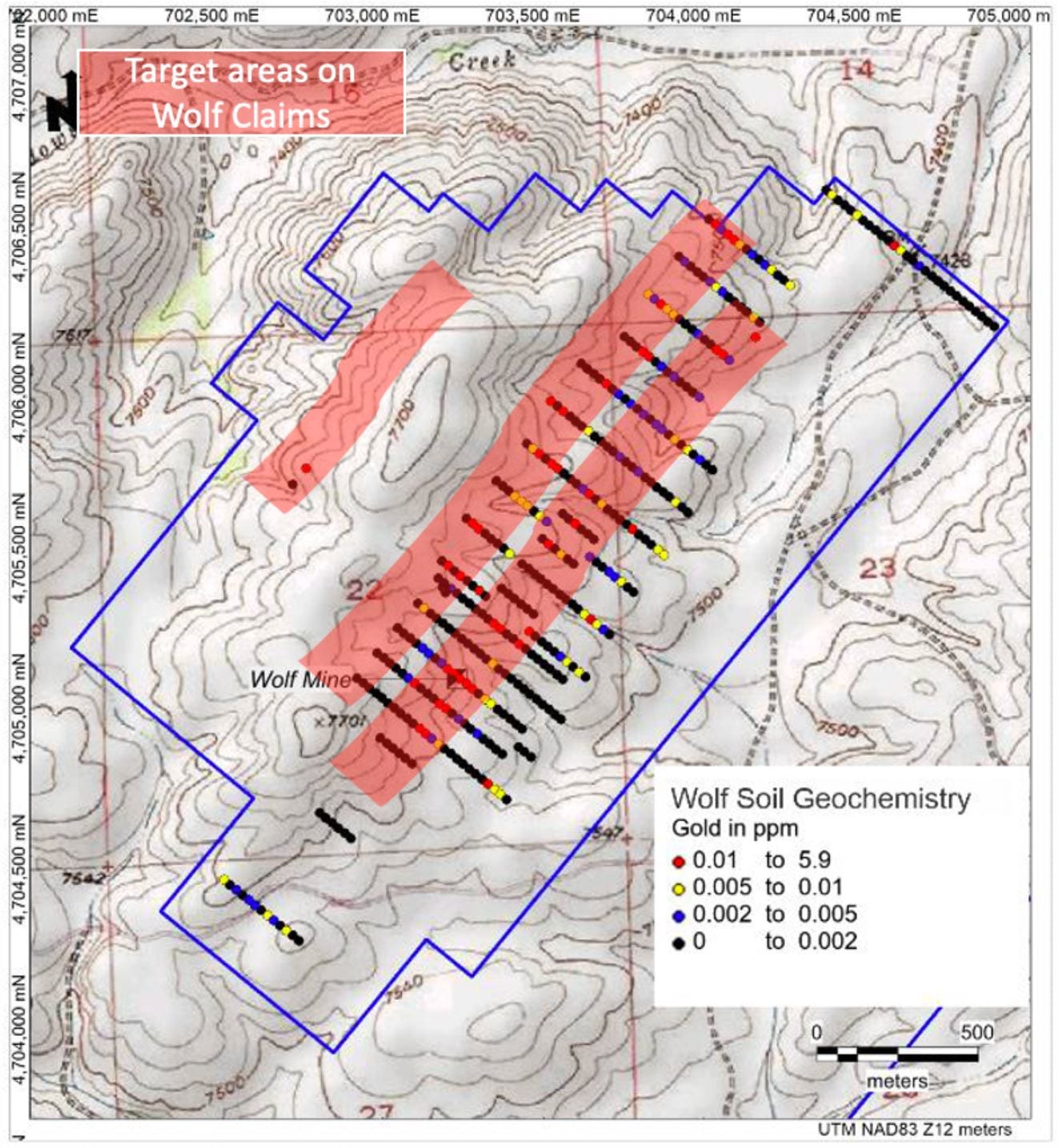 With modern exploration techniques, such as geophysical surveying in conjunction with geochemical sampling and structural geology mapping, Visionary is strategically positioned to identify new drill targets on its large land package and on new grounds it might acquire in the vicinity. The application of these exploration techniques has already identified a very strong initial target below the Wolf Mine, which the company plans to test with an initial drill program in 2021, marking the first drill hole ever in the Lewiston Gold District.
Visionary Gold's Share Capital Structure
Unlike many junior gold companies, management and insiders have financed the lion's share of the companies work to date, meaning that prospective investors would be investing "with" instead of just "in" the management team. After a recent re-launch and re-branding in conjunction with its acquisition of the Wolf Gold Project, Visionary aims to be good stewards of investor capital as it creates value for its tight-knit group of shareholders. The company currently has no debt, or outstanding warrants, which is unique for an early stage exploration company and shows that management is mindful of shareholder dilution.
Visionary's board and management team is composed of multi-talented professionals with a comprehensive history of successes. With years of experience in precious metals mining, energy, corporate compliance and corporate finance, the team is well equipped to advance this junior gold company to exploration success and are also making a commitment to environmental stewardship identify and develop new gold targets.
Visionary Gold's Company Highlights
First mover into a past producing gold district with a history of high-grade production
Visionary has recently consolidated over 10km2 along the Lewiston orogenic gold trend.
2020 Sampling has identified targets along historically prolific trend
2020 exploration program is defining high priority targets with drilling expected to begin in 2021
Experienced board and management team with a history of success in mining
Wolf Gold Project
This flagship project is comprised of private lands and federal mining claims covering 10.25km2 hosting Visionary's initial drill target under the past producing Wolf Mine, which sits within the Wolf Shear Zone in the greater Miner's Delight Basin, an area known for high-grade past production of orogenic gold. While the first drilling is expected to take place in 2021 at the Wolf Mine, Visionary also considers its regional land holdings to be a target-rich environment, hosting multiple zones of known gold mineralization each of which the company intends to further investigate for additional drilling.
Initial exploration results released in December 2020 revealed rock chip samples of a fault gouge within the Wolf Shear Zone measuring 19.87 g/t gold and 20.63 g/t gold. Likewise, rock chip channel samples from the alteration envelope within the Wolf Shear Zone ranged from 2.63 g/t gold to 15.46 g/t gold.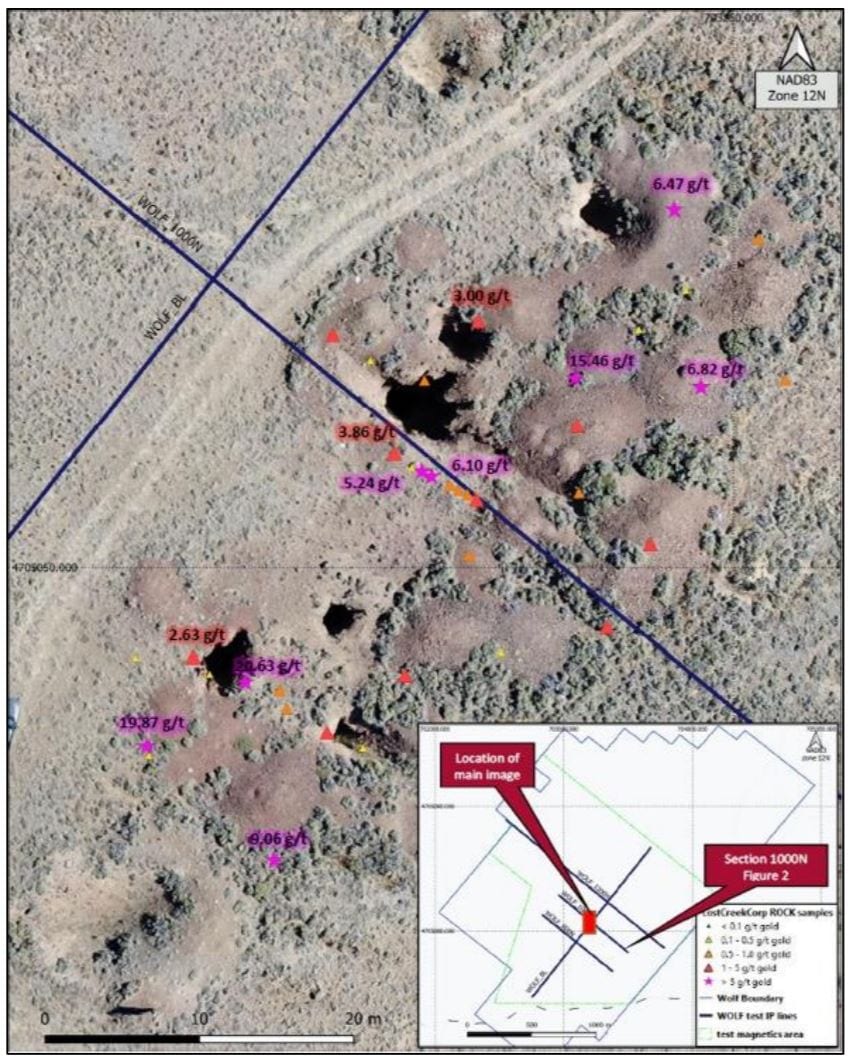 Visionary Gold intends to advance exploration efforts regionally in 2021 to generate new targets as it begins phase 1 drilling at the Wolf Mine.
Visionary Gold's Management Team
Wes Adams, CEO, Director
Wes Adams is a third-generation mining executive and has spent his career working exclusively in the precious metals mining and energy industries in operational and management roles. He started his career in Guyana, South America, as operations manager for a privately owned gold exploration company that discovered and developed the multi-million-ounce Toroparu deposit. After a successful reverse take-over, he joined Sandspring Resources, now branded as Gold X Mining, and helped raise nearly $100 million of public equity capital for the company.
In 2014, Adams moved to the Powder River Basin of Wyoming and founded an oil and gas services company called Energy Fuels Environmental, which he sold to a major midstream energy company in 2017.
Robert Doyle, CFO
Robert Doyle is a Chartered Professional Accountant, Chartered Accountant and senior vice president at Pacific Opportunity Capital Ltd, which specializes in providing management and financial consulting services to public and private companies. Doyle has more than 30 years of experience in mergers & acquisitions for succession planning in Canada and the US. He holds Bachelor of Science and Licentiate of Accounting degrees from the University of British Columbia and articled with Touche Ross & Co, now Deloitte LLP.
William Van Horne, Corporate Secretary
William Van Horne is a member of the Law Societies of Alberta and Ontario with 17 years of experience in corporate governance, corporate finance, mergers and acquisitions and securities regulation. He is currently a member of the Alberta and National Advisory Committees of the TSX Venture Exchange and acts as a director or officer of several private and public companies.
John Kanderka, Chairman of the Board of Directors
John Kanderka has 40 years of experience in the minerals and oil and gas sectors. His corporate experience spans acting as an officer and as a director for private and public companies in various roles, including strategic planning, corporate finance, management and administration. He has been a company founder and company builder with a wide array of experience in asset purchase and sale transactions, mergers, buyouts and reorganizations.
Darren Lindsay, Director
Darren Lindsay, PGeo (EGBC), is a professional geologist with over 20 years of experience in mineral exploration across four continents, focusing on Archean and Paleo-proterozoic gold systems with additional exploration experience for base metals and some specialty metals. He has held successful leadership and technical roles in junior and senior companies covering a range of grassroots greenfields to brownfields exploration, expansion and pre-feasibility projects. Lindsey also has experience with private junior exploration and mining projects and was part of a team to successfully list a new junior exploration company focused on gold in Ghana on the TSXV.
Lindsay was directly involved in belt-scale exploration, resource expansions and feasibility level studies of gold deposits in the Hope Bay Belt, Nunavut, as well as the Beardmore-Geraldton Belt and the Michipicoten Greenstone Belt, both in Ontario.
Marc Blythe, Director
Marc Blythe has a Master of Business Administration from La Trobe University in Melbourne and a Bachelor of Mining Engineering degree from the Western Australian School of Mines. Blythe is an independent mining consultant who provides diligence reviews and operational advice to mining companies and financiers. Previous roles include Vice President of Corporate Development at Nevsun Resources Ltd. from 2017 until its acquisition by Zijin Mining Group Ltd. for $1.9 billion in 2018. Blythe was President and CEO of Tarsis Resources Ltd. from 2007 until 2015 and concurrently was Vice President, Mining, of Almaden Minerals Ltd from 2006 to 2011. He previously served as a Corporate Senior Mining Engineer for Placer Dome Inc. based in Vancouver from 2004 until 2006, where he completed internal and external mine evaluation, including advising on potential acquisitions and mining technology implementation.
Blythe has also managed mines in Australia for Placer Dome and WMC. He has a strong understanding of mine feasibility and led two feasibility studies that resulted in successful operating mines, Raleigh mine and Bullant mine, located near Kalgoorlie, Australia. Blythe is a registered professional engineer in British Columbia and recently accepted the mining manager's position at Evolution Mining's Red Lake mine in Ontario.
Drew Clark, Director
Mr. Clark has been Vice President of Corporate Development for Metalla Royalty & Streaming Ltd. since 2017 where he has assisted in growing the company's portfolio from 18 royalties and streams to 62 in little over 3 years, during which time the company's market cap has increased more than 12-fold to over $600M. Mr. Clark has fifteen years of experience within the mining sector as a research analyst, investment banker and corporate development professional. Prior to his role at Metalla, he held the position of VP Corporate Finance covering royalty and streaming companies at a boutique Toronto-based investment bank. Mr. Clark's corporate development career includes Carlisle Goldfields and Premier Royalty Corp. which were acquired by Alamos Gold and Sandstorm Gold, respectively. Drew obtained his Bachelor of Commerce Degree from McGill University and is a CFA Charterholder.
---
*Disclaimer: This profile is sponsored by Visionary Gold (TSXV:VIZ). This profile provides information which was sourced by the Investing News Network (INN) and approved by Visionary Gold in order to help investors learn more about the company. Visionary Gold is a client of INN. The company's campaign fees pay for INN to create and update this profile.
INN does not provide investment advice and the information on this profile should not be considered a recommendation to buy or sell any security. INN does not endorse or recommend the business, products, services or securities of any company profiled.
The information contained here is for information purposes only and is not to be construed as an offer or solicitation for the sale or purchase of securities. Readers should conduct their own research for all information publicly available concerning the company. Prior to making any investment decision, it is recommended that readers consult directly with Visionary Gold and seek advice from a qualified investment advisor.