Overview
Quebec and Ontario are more than Canada's most populous provinces. These provinces are also hosts to some of the country's most prolific mining jurisdictions, combining the perfect storm of stability, government support in mining and high-grade mineralization discovery potential. Jumping onto investment opportunities in these provinces can present investors with a head start on the next new commodity cycle. With a forecasted call for a 30 percent return increase on commodities like copper and gold in 2021, investment interest in Canada's biggest provinces is very much warranted.
TomaGold (TSXV:LOT,OTCQB:TOGOF) is a well-funded mineral exploration company focused on acquiring and developing highly prospective gold mineral properties. The company combines an excellent asset profile with impressive strategic partnerships and trading volume.
The company currently has five gold projects under development near the Chibougamau mining camp in Northern Quebec: Obalski, Monster Lake East, Monster Lake West, Hazeur and Lac Doda. These assets leverage great infrastructure and resource networks within Northern Quebec's safe mining-friendly jurisdictions.
TomaGold's expertly chosen projects have fast-track potential, with many groundwork milestones already achieved. Ongoing GIS data collection and 3D modeling have helped determine overarching geochemical properties and recalibrate future drilling campaigns.
In January 2021, the company reported positive preliminary results from its 2,500-meter drilling program at its wholly owned flagship Obalski gold project. Discoveries of massive sulfides and pyrrhotite, pyrite and chalcopyrite passages point to potential high-grade silver, gold and copper discoveries.
Commencing drill campaigns for this property could present similar copper-gold mining success as seen in the project's past-producing history and neighboring development projects. The Obalski is strategically positioned near the highly prospective Philibert deposit and the Nelligan gold project currently operated by IAMGOLD (TSX:IMG) and Vanstar Mining Resources (TSXV:VSR).
TomaGold has a joint venture with Evolution Mining (ASX:EVN) and New Gold (TSX:NGD) that gives the company 24.5 percent interest in the resource-rich Baird property near the Red Lake mining camp in Ontario. Exploration work on the property from the 1980s returned assay values of 172 g/t gold over 1.2 meters and 19 g/t gold over 1.8 meters. TomaGold believes that additional high-grade gold discoveries merit further drilling campaigns set for early February 2021.
TomaGold is very well positioned for growth and project advancement as a junior mining company. It currently has over C$8 million in liquidity and cash for intended project funding and operates with a tight and deeply connected shareholder structure. Major shareholders include IAMGOLD, closely tied family offices, family members and management.
TomaGold's management team comprises world-class experts in capital markets, geology and mineral exploration. The company's solid technical team primes it for significant mining success and economic prosperity.
Company Highlights
TomaGold is a Canadian company focused on acquiring, exploring and developing highly prospective gold mineral properties. The company currently has interests in five gold properties close to the resource-rich Chibougamau mining camp in Northern Quebec.
The company's valuable project profile includes Lac Doda, Monster Lake East, Monster Lake West and Hazeur, as well as its flagship Obalski project.
TomaGold also has a joint venture and 24.5 percent ownership in the Baird property with Evolution Mining and New Gold. The property is located in the prolific Red Lake gold belt 14 kilometers southwest of the Goldcorp Red Lake mine.
The company is well-funded, with over C$8 million in cash and short-term investments. Funds are intended for project advancement and development.
TomaGold has strong management and stakeholder foundations. The company has a tight-knit shareholder portfolio with significant shareholders, including family offices, family members and the mining heavyweight IAMGOLD.
Key Projects
Obalski Project
TomaGold's wholly owned Obalski property hosts seven separated mineralized zones, one mining concession and one 85 meter shaft adjacent to two ramps. The property had seen limited exploration since the late 1980s when it was a considerable copper-gold producer. Covering approximately 345 hectares south of Chibougamau, Quebec, the project leverages strong government support, access roadways and rich resource networks close to major populous areas.
In 1964, United Obalski Mining mined 90,093 tonnes grading 3.0 g/t gold, 6.2 g/t silver and 1.53 percent copper. Since then, extensive drilling campaigns have resulted in 230 new open targets on the property for a total of more than 60,000 meters, most of which involves shallow drilling. A 2017 drill campaign later presented grades of 15.0 g/t gold, 46.8 g/t silver and 10.4 percent copper over 2 meters.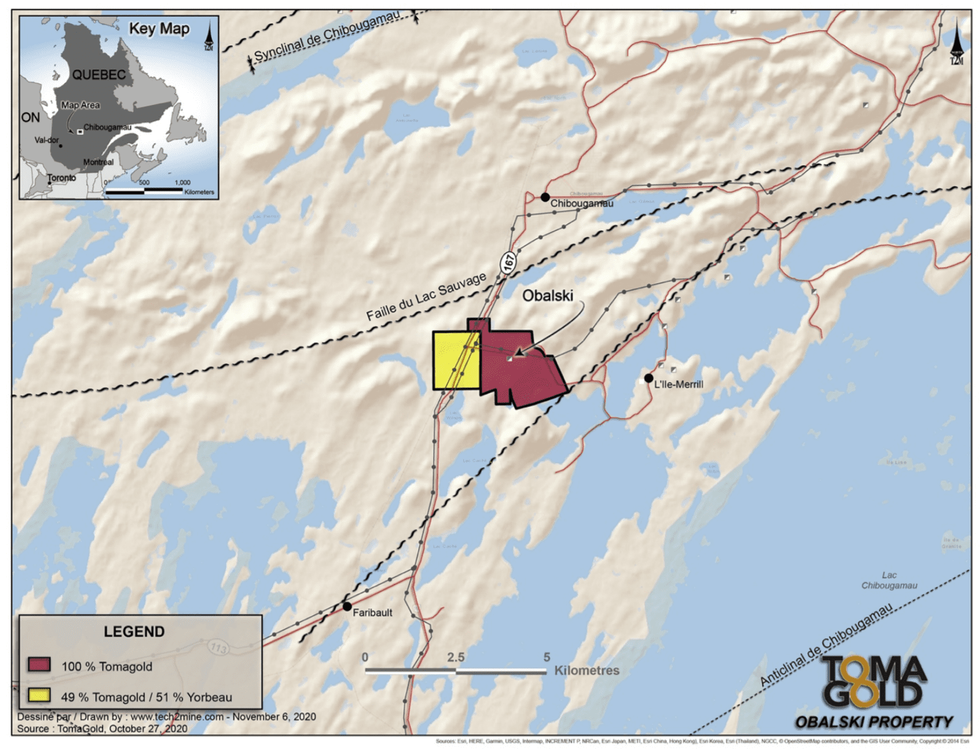 The property hosts widespread gold-copper mineralization with sulfide-rich quartz-carbonate veins and pyritized shear zones. This favorable geological profile primes the project for advanced development, including the continuation of a 2,500 drilling program to better define Obalski's main PO zone.
Lac Doda Project
The highly prospective Lac Doda project operates in the resource-rich Chibougamau mining camp in Northern Quebec. The property consists of eight mineral claims over an area of 4,478 hectares. Located approximately 20 kilometers southwest of the Monster Lake property, the Lac Doda property leverages many of the same existing infrastructure and geographical advantages.
TomaGold owns 100 percent interest in the project. In July 2020, the company announced an option agreement to sell up to 80 percent interest in the Lac Doda property to Goliath Resources (TSXV:GOT). This agreement presents an exciting stage in the project's growth.
Monster Lake East and Monster Lake West Properties
TomaGold strategically positions both projects to leverage the valuable mineralization of the Monster Lake property. Monster West consists of 21 mineral claims covering an area of 1,172.51 hectares and Monster East consists of 69 mineral claims covering an area of 4,269 hectares. The company owns 100 percent interest in both properties.
Monster Lake East is separated into three main sectors: Cookie Monster, Little Monster and Monster Island. A July 2018 IP survey revealed a large copper geochemical anomaly with a striking distance of several kilometers. Surveying also identified gold assay results just below 1 g/t gold and 14 potential high-priority gold and copper targets at depths of 100 to 350 meters.
Future plans include detailed airborne and ground geophysical surveying data compilation. TomaGold intends on using this analysis for drill recommendations and target generation for both properties.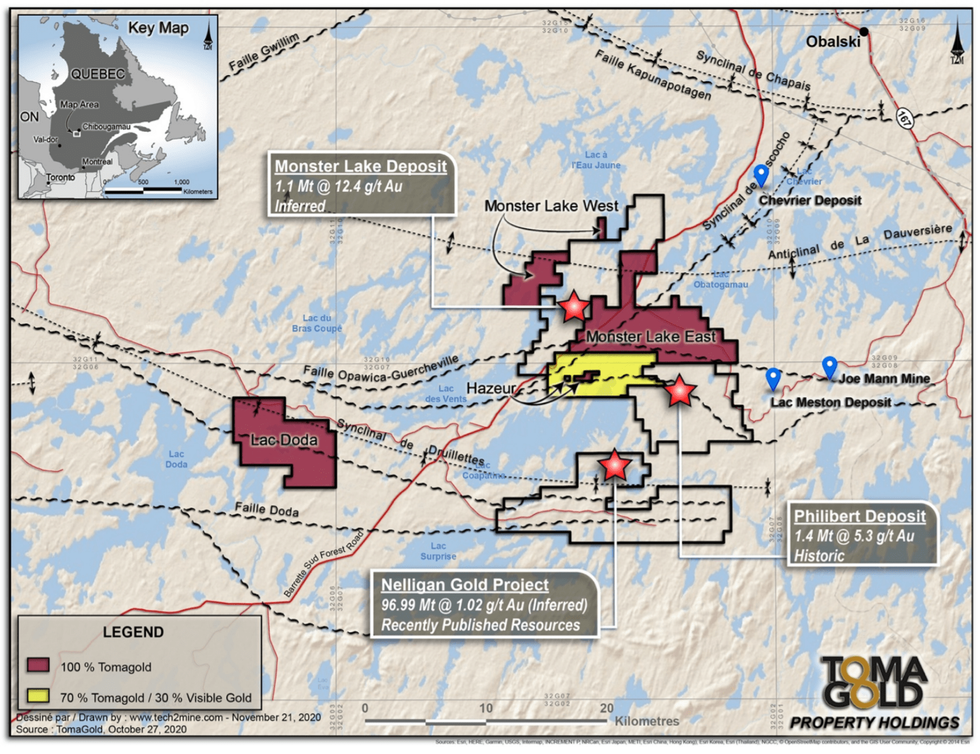 Hazeur Project
The Hazeur project consists of 61 mineral claims and covers 2,863 hectares along the southern border of the Monster Lake property. TomaGold currently has 70 percent interest in the property and is strategically positioned as the project operator. The project covers the Joe Mann-Guercheville corridor with numerous gold occurrences along the property's deformation zone.
Regional mineral grades include 0.24 g/t gold over 80.4 meters and 0.30 g/t gold over 70.0 meters. The company hopes to mimic some of its best drilling results of 24.55 g/t gold over 0.50 meters and 7.66 g/t gold over 1.25 meters in future development campaigns.
Since 2015, Hazeur has seen successful high-definition magnetic VTEM-type airborne surveying over the property and advanced drilling. This exploration reported significant gold intersections across seven drill holes. TomaGold intends to continue exciting exploration and property assessment of this valuable project into 2021.
Baird Property
TomaGold is currently in a joint venture with Evolution Mining and New Gold for the Baird property. The company holds a 24.5 percent interest in Baird, with Evolution owning a majority 51 percent as the project operator.
The Baird property lies in the prolific Red Lake gold belt 6 kilometers north of the Madsen Mine and 14 kilometers southwest of the Red Lake mine. The asset's geological profile includes volcanic rock coverage and the famous structural and alteration system characteristics of Red Lake and Campbell mines. This profile could explain the impressive assay values of 172 g/t gold over 1.2 meters and 19 g/t gold over 1.8 meters reported from early drilling programs.
TomaGold plans to continue property assessment and development work for early 2021.
Management Team
David Grondin — President & CEO
David Grondin has worked in the financial and mining sectors for over 20 years. He has been the president and CEO of TomaGold since December 2011 and is a director of AM Resources. He was also president and CEO of NQ Exploration Inc. and has acted as a financial analyst for CTI Capital Inc. Grondin has a bachelor degree in business administration (finance) from HEC Montréal and experience in initial public offerings, mergers and acquisitions and reverse takeovers.
Martin Nicoletti, CPA, CGA — CFO
Martin Nicoletti is a certified general accountant with more than 22 years of experience. He has been involved in global exploration activities with public junior mining companies since 2004. His duties include financial controls and financial reporting. He presently acts as CFO for several public companies.
André Jean, P.Eng — Director of Exploration, Quebec
André Jean was the chief engineer geologist for the Monster Lake project from its commencement until his departure in 2018. He has over 35 years of geology experience, having worked for multiple mining companies located in Quebec, Central and South America and Africa, including Les Mines Seleine, Louvem, Lac Minerals and Osisko. Jean graduated from Université du Québec à Chicoutimi in 1979 with a degree in geological engineering.
Caitlin Jeffs, P.Geo — Director of Exploration, Ontario & Rest of Canada
Caitlin Jeffs received her Honors B.Sc. in Geology from the University of British Columbia in 2002. Caitlin has worked for several junior and major companies since 2002 in both gold and base metal exploration. Most of her experience has been with Placer Dome CLA Inc. and Goldcorp Inc. managing all aspects of in-depth exploration projects and specializing in GIS technology and 3D modeling of ore bodies. She is a founding partner and 33 percent owner of Fladgate Exploration Consulting Corporation of Thunder Bay, ON, a full-service mineral exploration consulting firm.
Request an Investor Kit
EXCITING upcoming projects!
IN-DEPTH reliable insights!
SUCCESSFUL growth strategies!
VALUE-BASED content!
TomaGold