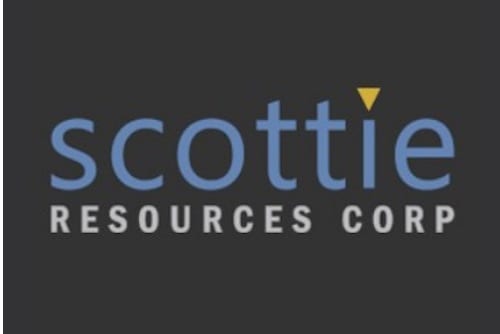 Scottie Resources
Strategic Exploration of BC's World-Class Golden Triangle
This Scottie Resources profile is part of a paid investor education campaign.*
Overview
The process of discovering, developing and mining gold can be costly when exploring in areas with unproven gold deposits. For many junior mining companies, success is directly tied to their ability to rapidly discover and mine gold. That's why one of the most reliable and cost-effective strategies involves tapping into proven gold mining regions to drive even more value out of historical deposits and nearby areas.
Scottie Resources (TSXV:SCOT,FWB:SR8) is an exploration company that is focused on the acquisition and evaluation of gold and silver properties located within British Columbia's world-class Golden Triangle, a 500 kilometer belt of mineralization in which over 130 million ounces of gold, 800 million ounces of silver and 40 billion pounds of copper have already been discovered, and there's likely much more left to find.
The company intends to strategically acquire undervalued, historic properties within the Golden Triangle while relying on modern exploration tools and techniques, including data interpretation and 3D modeling. Scottie Resources owns 100 percent interest in the Scottie gold mine and a number of other properties, all of which are located in the heart of the Golden Triangle, totaling 25,360 hectares of prospective ground.
The company's fully owned Scottie gold mine is a past-producing mine that operated between 1981 and 1985, generating 95,426 ounces of gold at an average recovered grade of 16.2 grams per tonne (g/t). The mine's success was achieved in spite of limited technology as well as little to no exploration drilling on the property. A number of high-grade mineralized veins have been identified at surface but have never been drilled. The deposit remains open along strike and at depth, indicating significant potential for multiple parallel mineralization structures.
The Scottie gold mine property benefits from significant infrastructure and access, including an existing underground mill, six portals, shafts, a rail system and seven kilometers of drifts. The property is fully road-accessible year-round through the Salmon Glacier Road and is a mere 1 kilometer west from the Brucejack mine extension of the Northwest Transmission Line (NTL). The property is 20 km south of Pretium's (TSX:PVG) Brucejack mine and 14 km north of Ascot's (TSX:AOT) Premier mine.
In July 2020, the company commenced a 7,000 meter gold exploration drill program that followed up on high-probability targets identified in the fall of 2019, including the Blueberry vein, Scottie gold mine and the Domino zone. In 2019, a 2,000 meter drill program intersected 7.44 g/t gold over 34.78 meters within the Blueberry vein. A single hole drilled along a step out from the Scottie gold mine returned 11.72 g/t gold over 10.95 meters. Located 2 kilometers west of the Scottie gold mine, first pass surficial sampling of the Domino zone returned nine samples over 5 g/t gold, including one sample grading 536 g/t gold, and a 5.3 meter chip sample averaging 10.5 g/t gold.
The 2020 exploration program returned multiple high-grade results both from drilling and surface sampling. In October 2020, the company reported initial drill results in the O-Zone of the Scottie gold mine, including findings of up to 109.4 g/t gold and 32.4 g/t silver over 2.53 meters. In December, the company discovered a new mineralization trend at the Blueberry zone with intercepts of up to 22.3 g/t gold over 6.1 m and 8.96 g/t gold over 13.7 m. In January, surficial sampling revealed three new high-grade gold showings at the Domino zone, and when combined with geophysical surveys, increased the extend of the known mineralized zone by almost 50 percent.
The Scottie Resources management team brings decades of experience across all aspects of mining and production, including expertise specific to the Golden Triangle in addition to a global track record of success.
Scottie Resources' Company Highlights
Scottie Resources is an exploration company focused on gold and silver properties within British Columbia's Golden Triangle, where over 130 million ounces of gold, 800 million ounces of silver and 40 billion pounds of copper have been discovered.
The company owns 100 percent interest in the Scottie gold mine and surrounding properties, totaling 25,360 hectares of highly prospective ground.
The company's fully owned Scottie gold mine is a past-producing mine that generated 95,426 ounces of gold at an average grade of 16.2 grams per tonne.
The mine benefits from significant infrastructure and access, including an existing underground mill.
In July 2020, the company commenced a 7,000 meter gold exploration drill program that followed up on high-grade targets identified the previous year.
Scottie Gold Mine Project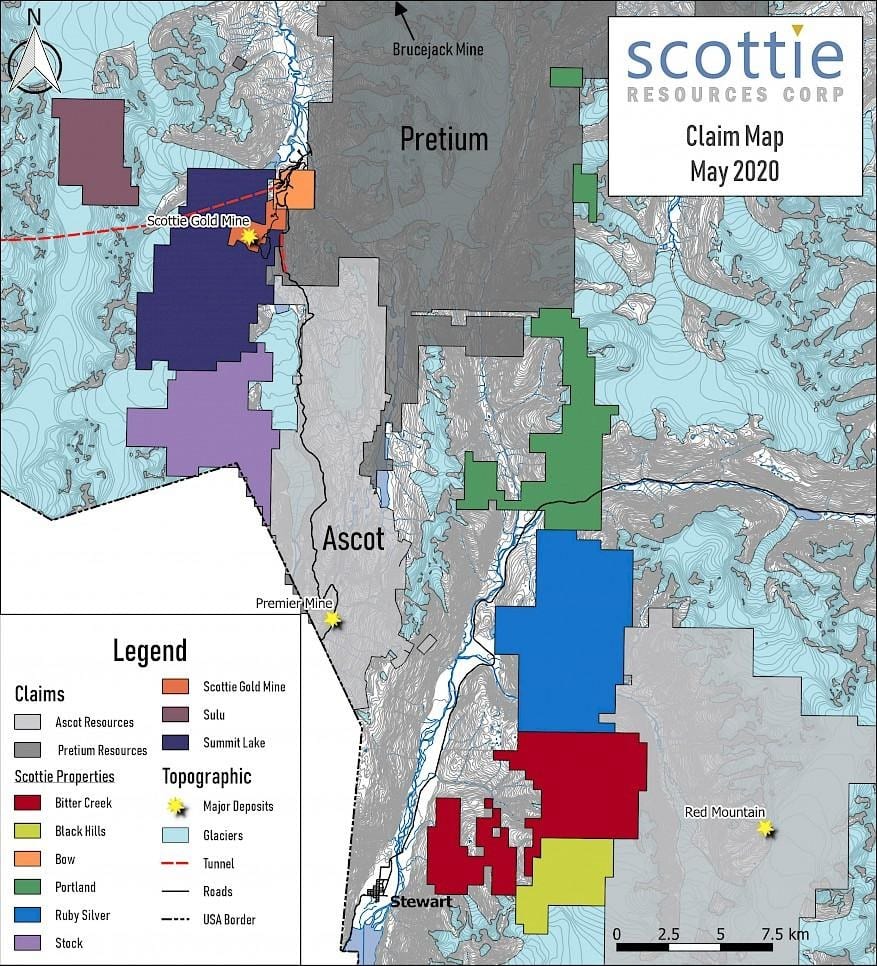 While the company's Scottie gold mine property consists of 319 hectares and 14 Crown-granted claims, Scottie Resources has acquired much of the surrounding area, totaling more than 25,000 hectares of highly prospective ground within British Columbia's world-class Golden Triangle.
Exploration
In July 2020, the company began a 5,000 meter gold exploration drill program that focused on high-probability targets, including the Blueberry zone, Scottie gold mine and the Domino zone. In advance of the 2020 drill program, the company's CEO, Bradley Rourke, commented, "Our exploration team has been working diligently on prioritizing our summer drill program and are excited to initiate a fully funded drill campaign. We have exceptional drill targets to test this year, which will follow up on the drill successes of last fall. We are particularly keen to expand the newly discovered high-grade Domino zone."
Following the results of the first ever drill program at the high-grade Domino zone, Bradley commented, "These drill results confirm our hypothesis of a high-grade gold mineralizing system occurring along strike from the past-producing Scottie gold mine. The 900 meter strike length of the Domino zone, combined with the 2 kilometer separation from the mine provides exceptional potential to host a large high-grade deposit. Drilling in 2021 will continue to target large high-grade dilatational zones, similar to the Scottie gold mine throughout the length of this structure."
Next Steps
The company is focused on completing a preliminary economic evaluation of existing tailings while continuing to expand existing resources by drilling high-impact targets within known zones and recently discovered veins.
Scottie Resources' Management Team
Bradley Rourke—President, Director and CEO
A Corporate Finance Executive with 30 years experience in mining, energy and real estate, Rourke holds a proven track record with successful start-up companies. His leadership experience and entrepreneurial approach have given new direction and scale to the Scottie Resources efforts in the Golden Triangle. Rourke sits on the board of AUX.V.
Thomas Mumford—VP Exploration
Dr. Mumford is a registered professional geologist with Engineers and Geoscientists – British Columbia (EGBC). Dr. Mumford has served as a lecturer at Carleton University and British Columbia Institute of Technology. He holds a B.Sc. and M.Sc. from University of New Brunswick, and was awarded the Leopold Gélinas medal for the best M.Sc. thesis from the GAC Volcanology and Igneous Petrology division. He also holds a Ph.D. from Carleton University focused on magmatic controls for the Thor Lake REE deposit in the Northwest Territories.
Ernest Mast—Director
Ernest (Ernie) Mast has over 20 years' experience in various technical and executive roles in the mining industry, across a wide range of commodities, geographies and development stages. Currently a consultant and the President and CEO of Doré Copper Mining Corp., he previously held the positions of President and CEO at Primero Mining, VP of Corporate Development at Copper Mountain, VP Operations at New Gold and President and CEO of Minera Panama, Inmet Mining's subsidiary, developing the $6B Cobre Panama project. Ernie began his career with Noranda and its affiliates, where he took on roles of increasing responsibility over a 20 year timeframe. Ernie has a Master's degree in metallurgical engineering from McGill University and also received post-secondary business training at Henley College in the UK and the Universidad Catolica in Chile.
John Williamson—Director
John Williamson is an independent consultant and mining entrepreneur with over 30 years of global experience. He has served as a founder, director or officer of over 20 listed companies in Canada and Australia. He is currently an Officer of Altiplano Resources Ltd. and a Director of QX Metals (formerly Alternative Earth Resources Inc.). Throughout his career he has discovered and/or evaluated numerous projects through feasibility and production. Williamson has a Bachelor of Science with a specialization in Geology from the University of Alberta, and he is a professional geologist registered with the Association of Professional Engineers, Geologists and Geophysicists of Alberta (APEGGA).
Steven Stein—Director
Steven Stein was a founding shareholder and an Officer of the Black Diamond Group — a leading North American provider of modular space solutions and workforce accommodations — from 2007 to 2016. Steve is currently a Director of the Black Diamond Group. From 1990 to 2005, Steven was actively involved in the operations and a founder of one of the predecessor companies of the Outland Group, one of Canada's largest logistics and camp businesses. Steven holds a Bachelor's degree from Queens University and is a graduate of the Institute of Corporate Directors.
Christina Boddy—Corporate Secretary
Christina Boddy, B.Sc., has acted as Corporate Secretary for a number of public companies in recent years, including Nevada Sunrise Gold Corporation, ALX Uranium Corp. and Aton Resources Inc. Boddy acts as a consultant to public and private companies through Rhodanthe Corporate Services, a BC-based private company.
Stephen Sulis—CFO
Stephen Sulis has previous experience in the financial sector with TD Canada Trust and is currently working with a number of public and private companies in the resource and technology industries providing accounting and consulting services. Sulis graduated with distinction at Capilano University, North Vancouver, and holds a bachelor's degree in business administration as well as an advanced diploma in international business studies.
*Disclaimer: This profile is sponsored by Scottie Resources (TSXV:SCOT,FWB:SR8). This profile provides information which was sourced by the Investing News Network (INN) and approved by Scottie Resources in order to help investors learn more about the company. Scottie Resources is a client of INN. The company's campaign fees pay for INN to create and update this profile.
INN does not provide investment advice and the information on this profile should not be considered a recommendation to buy or sell any security. INN does not endorse or recommend the business, products, services or securities of any company profiled.
The information contained here is for information purposes only and is not to be construed as an offer or solicitation for the sale or purchase of securities. Readers should conduct their own research for all information publicly available concerning the company. Prior to making any investment decision, it is recommended that readers consult directly with Gold Mountain Mining and seek advice from a qualified investment advisor.