Plateau Energy Metals Inc.
Enabling the New Energy Paradigm
This profile is part of a paid investor education campaign.*
Overview
Plateau Energy Metals Inc. (TSXV:PLU, OTCQB:PLUUF), a Canadian-Peruvian exploration and development company, is enabling a new energy paradigm through the exploration and development of its Falchani lithium project and its Macusani uranium project in southeastern Peru. The company, with mineral concessions covering over 930 square kilometers, controls all reported uranium resources known in Peru and has significant lithium resources, all of which are situated near infrastructure. To date, the company has only explored a fraction of its land package.
While Plateau started out exploring uranium, the company has since uncovered the Falchani lithium project, which has presented high-grade values of lithium. On March 4, 2019, the company released an updated resource for Falchani, which indicated (1) the high-grade lithium-rich tuff zone an indicated resource of 0.79 million tonnes of lithium carbonate equivalent with an average grade of 3,500 ppm Li and an inferred resource of 2.13 million tonnes of lithium carbonate equivalent with an average grade of 3,243 ppm Li, and (2) the lithium-rich tuff plus upper and lower breccia zone an indicated resource of 0.96 million tonnes lithium carbonate equivalent with an average grade of 2,954 ppm Li and an inferred resource of 3.75 million tonnes of lithium carbonate equivalent with an average grade of 2,706 ppm Li.
The company is now moving ahead with a preliminary economic assessment (PEA) expected in mid 2019. With the newly uncovered lithium project, Plateau plans to take advantage of a rapidly growing lithium market that is facing increased demand due to the rise in lithium-ion batteries and global electrification.
The Macusani uranium project, which the company was founded upon, released a resource estimate in 2015 which has measured and indicated resources of 52.9 million pounds of U3O8 at 248 ppm and an inferred resource of 72.1 million pounds of U3O8 at 251 ppm. In 2016, the company released an updated PEA which indicated robust after-tax economic returns of NPV (8 percent) US $603 million, IRR of over 40 percent and a rapid payback in 1.8 years. This is a low capital intensity, low cash cost, high-margin scalable project.
In 2019, Plateau has continues work in the region, moving forward on environmental assessment work, conducting optimization work programs, and pending those results, updating the current PEA. Plateau is well positioned to take advantage of the world's growing need for cleaner, safer and efficient sources of energy which uranium provides.
Plateau Energy Metals is led by a highly experienced team specializing in a range of skills (exploration, development and capital markets) across the various phases of project development. CEO Alex Holmes has spent more than 15 years working in the mining industry and was most recently partner and co-founder of Oxygen Capital Corp., leading business development activities for all affiliated companies, including True Gold Mining Inc. Laurence Stefan, President and COO, brings a wealth of experience in exploration and operations in Peru, coming from many years working with the largest South African mining companies.
Company Highlights
100 percent control of a 930-square-kilometer land package in stable jurisdiction of Peru's Macusani plateau

Excellent infrastructure (highway, water, power and labor)
In a very supportive mining jurisdiction

Active exploration of both lithium and uranium in the land package
Falchani lithium – a clean tech strategic asset

Large high-grade updated resource estimate recently published
Hard rock lithium deposit – a 'sold brine'
Further exploration with only 30 percent of the area drilled to date

Macusani uranium – a green energy enabler

A large well-defined uranium resource in an emerging uranium district
Robust PEA economics
Ability to fast track development to feasibility with a scalable, flexible growth plan

Key catalysts for 2H 2019:

Falchani – initial PEA
Macusani – optimization work, updated resource and an updated PEA
Key Projects
Plateau's Falchani lithium and Macusani uranium projects are in adjacent mineral claims that total 930 square kilometers or 95 percent of the Macusani plateau. Hosting all of the known lithium and all of the known uranium deposits in Peru, the project lies 650 kilometers southeast of Lima and has access to labor, water, inexpensive hydro-electric power and major transportation routes. Just to the east of the property is the Interoceanic Highway which links the project to Pacific and Atlantic ports. The San Gaban hydro generation station is 40 kilometers, as the crow flies (88 kilometres via highway) to the north and high voltage power lines run adjacent to the project area.
Falchani Lithium Project
While the Macusani project was launched primarily as a uranium-focused property, the company has since uncovered high-grade values of lithium. This new high-grade grassroots lithium discovery rapidly advanced from discovery in November 2017 to maiden resource mid-2018. Plateau has recently released an updated resource for the project and will be pushing the project through to PEA in the second half of 2019.
Resource estimate for Falchani
In March 2019, Plateau released an updated resource estimate that increased the resource by more than 90 percent. Highlights from the resource, based on a 1,000-ppm lithium cut-off grade, include resources for both the lithium-rich tuft sequence and the wider lithium-rich package including upper and lower breccia units.
The high-grade lithium-rich tuff showed an indicated resource of 0.79 million tonnes of lithium carbonate equivalent with an average grade of 3,500 ppm Li and an inferred resource of 2.13 million tonnes of lithium carbonate equivalent with an average grade of 3,243 ppm Li. The wider lithium-rich package, including upper and lower breccia units, displayed an indicated resource of 0.96 million tonnes lithium carbonate equivalent with an average grade of 2,954 ppm Li and an inferred resource of 3.75 million tonnes of lithium carbonate equivalent with an average grade of 2,706 ppm Li.
Ongoing lithium exploration
Since releasing its maiden resource estimate, Plateau continued to explore its Falchani project with a drill program at the Falchani West that led to the uncovering of the extensions of the Falchani East deposit and the March 2019 resource update. A number of additional target areas have been identified to the west and the deposit appears open to the north and northwest of Falchani West. Recent exploration results include announcements on September 20, 2018, October 9, 2018, November 19, 2018, January 30, 2019, and June 3, 2019.
"We have nearly doubled the Falchani lithium resource which brings our project into one of the largest hard rock lithium projects in the world," said Plateau CEO Alex Holmes. "We have much more room to grow and are in the midst of scoping out a scalable, long life project while keeping capital intensity and margins front of mind."
The latest drill plan includes:
Furthermore, the company announced DRA Global as the lead for the upcoming PEA, which is expected in the second half of 2019.
Metallurgy
On July 18, 2019, the company announced the successful results of a metallurgical study that indicated the potential to produce a high purity (> 99.74 percent to 99.82 percent) lithium carbonate product. The extensive test work on multiple up-front process steps, two preferred routes – tank leaching and sulfation baking – have been selected to focus on the extraction of lithium from the Falchani mineralized material. Specific flowsheets have been developed and tested for both process routes and have shown that a high purity lithium carbonate chemical product ("LC" or "Li2CO3") can be produced from each.
Highlights
All tested processes produced strong overall recoveries (mineralized material to LC) with reasonable reagent addition figures:

Tank Leach (95 °C): 77 percent – 81 percent overall recovery via a 24-hour up-front acid leach with total sulfuric acid addition of 370 kg per tonne of mineralized material, followed by conventional purification and precipitation of a high purity (99.74 percent) Li2CO3.
Sulfation Baking (200 °C): 72 percent – 82 percent overall recovery via a six (6) hour baking and acid recovery step with net sulfuric acid addition (after acid recycling) of 330 kg per tonne of mineralized material, followed by conventional purification and precipitation of a high purity (99.82 percent) Li2CO3.

Up-front roasting with sulfate and chloride reagents at 900 oC was examined, and although the resultant leach solutions contained very low levels of impurities, the extraction of lithium was limited to about 80 percent. Further test work following the PEA would be required to improve the extraction of lithium and provide an alternative to the two preferred process options examined as part of the trade-off study.
Lithium carbonate produced using both up-front tank leaching and sulfation baking process steps are of high purity battery grade (>99.5 percent) (refer to table below).
Conventional downstream process steps to yield a Li2CO3 product are employed for both tank leaching and sulfation baking routes.
Both processing routes are being optimized by DRA Global with input from ANSTO and M.Plan. Further optimization of these processing routes to be pursued following the PEA.
Trade-off study work, ahead of the PEA, has now been completed, which has focused on both the tank leach and sulfation baking processing routes.
Processing options identified for potential additional revenue streams from other products such as sulfate of potash ("SOP") fertilizer (K2SO4) (refer to flow sheet below).
Table: Lithium Carbonates – Tank Leaching vs Sulfation Baking/Volatilisation vs Livent Material
Tank Leach Process flowsheet
Sulfation Baking Process flowsheet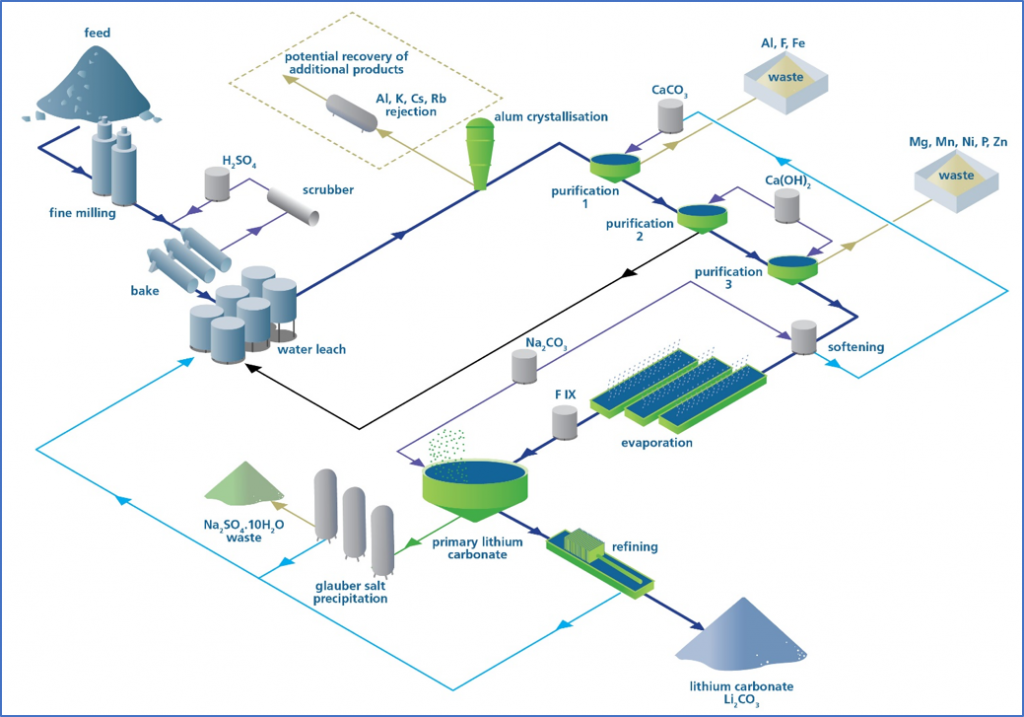 "We took the time to conduct a thorough and robust analysis of Falchani mineralization over the past eight months as a build up to our pending PEA," Alex Holmes, CEO of Plateau, commented. "We have been working closely with ANSTO, DRA and M.Plan to identify areas for potential optimization, some of which will be incorporated into the upcoming PEA. Further, the test work demonstrated the ability to reduce impurities to extremely low levels and produce a high value end-product at site, in Peru. Capturing most of the value chain will be one key differentiator for Falchani."
The metallurgical test work program was conducted at the ANSTO Minerals ("ANSTO") laboratories. Working alongside ANSTO were DRA Global, the lead for the upcoming Falchani PEA and M.Plan International Limited ("M.Plan"), owner's team advisor for Falchani.
Also on July 18, 2019, the company announced the completion of the trade-off study which utilized iterative results of the metallurgical test work over the past couple of months. Following receipt of the final results, the trade-off study focused on both the tank leach and sulfation bake up-front process steps. The downstream purification and precipitation steps employed with each of the up-front process options are similar. It was determined that, at present, the tank leach option will be the focus of the base case for the pending PEA. However, future optimization work will continue to examine the tank leach, sulfation bake and roasting process routes, as well as other potential by-product streams.
Macusani Uranium Project
In 2015, Plateau released an updated resource estimate for the Macusani uranium project.
At a 75 ppm cut-off the resource estimate is:

At a 200 ppm cut off the resource estimate is:
All Resources stated at 200 ppm U cutoff
(1) Kihitian Complex includes the Chilcuno Chico, Quebrada Blanca, Tuturumani and Tantamaco deposits updated, May 6, 2015
(2) Isivilla Complex includes the Isivilla, Calvario Real, Puncopata and Calvario I deposits, updated May 6, 2015
(3) Corani Complex includes the Calvario II, Calvario III and Nueva Corani deposits, updated May 6, 2015
(4) Colibri II-III and Tupuramani remain unchanged, last updated August 14, 2013
(5) Corachapi remains unchanged, last updated September 8, 2010
2016 Preliminary Economic Assessment
In January 2016, Plateau completed an updated PEA using the 2015 Resource Update. The strong PEA results further validate the merits of the company's consolidation and organic growth strategy to control all defined uranium resources in Peru.
Proposed Mine Plan and Process Design
More than 60 million pounds of production planned over 10 years.
The 2016 PEA proposes the construction of a conventional open pit mining operation with a centralized processing facility operating over a 10-year life with a throughput of approximately 30,000 tonnes per day. Heap leach processing will be used to extract uranium into a weakly acidic aqueous leach solution with uranium recovery through exchange and a solvent extraction acid recovery circuit.
The proposed mine plans include predominantly open pit mining with underground mining proposed for some of the deeper high-grade portions of the Kihitian complex to be accessed from the pit bottom.
The company is working on developing an updated and optimized PEA in the second half of 2019.
Further Upside Potential—Regional Exploration
In terms of regional exploration, significant upside potential remains at Macusani with the majority of the 930-square-kilometer exploration land package undrilled. Un-tested mineralized prospects have been identified at surface and will be evaluated in the coming year of work planned.
Path Forward
Plateau's plan is to move the Macusani uranium project further along the path to production by
Optimization work programs, and pending positive results, update the PEA
Await implementation of the legal framework for transport and export of uranium from the government of Peru (in progress)
Continue the environmental impact assessment process
Generate future exploration targets within and along the known uranium trend and within the larger property package
Outline a fast track to feasibility study upon implementation of the aforementioned legal framework
Following constructive meetings with government officials including leaders from the Ministry of Mines and Energy and the Peruvian Institute of Nuclear Energy, Plateau received approval for its environmental baseline study.
Plateau's Value Proposition
Plateau's value proposition is summarized as follows:
Leadership Team
Alex Holmes – CEO and Director
Alex Holmes has spent over 15 years working in the mining industry. Most recently, he was a partner and co-founder of Oxygen Capital Corp., leading business development activities for all affiliated companies, including True Gold Mining Inc. where he served as VP Business Development and co-founder. He played an instrumental role as part of the senior leadership team from initial asset acquisition in 2013, reserves and resources growth, advancing the project from PEA to feasibility study, through project finance and ultimately gold production in early 2016. Over that period, Holmes and team raised in excess of US$215 million to construct and operate True Gold's Karma mine. Previously, he led the mining teams at two independent Canadian investment banks and raised capital for and advised on transactions for numerous companies.
Dr. Laurence Stefan, M.Sc., Ph.D. — President, COO and Director
Dr. Laurence Stefan is a founder of Plateau Energy Metals and has served as its Managing Director in Peru since October 2007 when the Company went public. He is also the founder of the Colibri Group of Companies, a mineral service company based in Lima, Peru. Dr. Stefan previously worked at Gold Fields of South Africa and JCI (Pty) Ltd. with recent years spent mainly on South American projects. He has been involved in basic and specialized research in uranium metallurgical, recovery and enrichment programs at various gold-uranium mines along the Witwatersrand Basin in South Africa and Namibia.
Philip Gibbs, B.Compt., MBA, CPA, CMA – CFO
Philip Gibbs has extensive knowledge of the financial aspects of exchange listed mining and mineral exploration companies operating in Africa and South America. Mr. Gibbs currently serves as Chief Financial Officer of Cobalt BlockChain Inc. and Asante Gold Corporation and as Interim CEO and the CFO of Kilo Goldmines Ltd.
Alan Ferry — Chairman
Alan Ferry is an independent businessman with over 28 years of experience in the investment industry following a career as a geologist, mainly in uranium exploration. With significant experience in mining analysis, mineral economics and corporate finance, Mr. Ferry has served on the boards and audit committees of several publicly traded mining and exploration companies, and is currently a member of the board of directors of Avalon Advanced Materials Inc. He holds a B.Sc. (Honours) in Geological Sciences from Queen's University (1977) and holds a Chartered Financial Analyst designation (retired).
Ted O'Connor, P.Geo., M.Sc., B.Sc.— Director
Ted O'Connor is a Professional Geoscientist with more than 22 years of experience, predominantly in the uranium exploration industry. Prior to joining Plateau Energy Metals in 2014, Mr. O'Connor was  with Cameco, one of the world's largest uranium producers, where he was Director of Corporate Development.. In that role he was responsible for evaluating, directing and exploring for uranium deposits throughout North America, Australia, South America and Africa. O'Connor successfully led new project generation from early exploration through to discovery on multiple unconformity uranium projects. Prior to joining Cameco, Mr. O'Connor was an exploration field and underground mine geologist for major mining companies and junior explorers searching for gold, diamonds and base metals.
Wayne Drier – Director
Wayne Drier is a seasoned finance executive with over 20 years of corporate finance and capital markets experience within the global mining sector, spanning a wide range of commodities and jurisdictions. He is currently Chief Financial Officer of Ero Copper Corp., a TSX-listed copper company with operations in Brazil. Previous roles have included senior executive positions at Asanko Gold, Mantra Resources, Norilsk Nickel International and BHP Billiton. He holds a Bachelor of Business Science Honours degree from the University of Cape Town, South Africa.
Maryse Belanger — Director 
Maryse Belanger, currently President, COO and Director of Atlantic Gold Corporation, brings over 30 years of experience in the mining industry with strengths in operational excellence and efficiency. She has been CEO and Managing Director of Mirabela Nickel where she was responsible for the turnaround of the company and the reestablishment of the Santa Rita Nickel-Copper sulphide open pit mine in Brazil. Prior roles have included Senior Vice President, Technical Services at Goldcorp where she oversaw the global geology, mine planning and design, metallurgy, hydrology, tailings dam and geotechnical engineering functions, and Director, Technical Services for Kinross Gold Corporation for Brazil and Chile. She holds a Bachelor of Science degree in Geology and a graduate certificate in Geostatistics and is fluent in English, French, Spanish and Portuguese. She has been an active board member at Mirabela, True Gold Mining Inc., CEEC International Ltd. and is a member of Westcoast Women in Engineering, Science and Technology (WWEST).
Christian Milau — Director 
Christian Milau, currently CEO and Director of Equinox Gold Corp., is a chartered professional accountant with executive experience in acquisitions, financing, mine development, construction and operations. Mr. Milau was CEO of Trek Mining until it merged with Equinox Gold and prior to that was CEO of Luna Gold before it merged with JDL gold to form Trek Mining. His was also CEO of True Gold Mining, successfully negotiating and closing True Gold's sale and acquisition by Endeavour Mining Corp. for $240 million in April 2016. At True Gold, he was instrumental in the development of the Karma Gold Project where, under his leadership, True Gold was able to successfully negotiate agreements with the government and community in Burkina Faso, recommence construction, complete development, and reach production, all in under 12 months. In addition to his extensive background in finance and capital markets, Milau brings important operational, government and stakeholder relations experience, including successfully negotiating various community, security, fiscal and tax agreements. Prior to True Gold, Milau held senior positions at Endeavour Mining Corp., New Gold Inc., and in investment banking at BNP Paribas in London.
---
*Disclaimer: The profile provides information which was sourced and approved by Plateau Energy Metals Inc. (TSXV:PLU) in order to help investors learn more about the company. Plateau Energy Metals Inc. is a client of the Investing News Network (INN). The company's campaign fees pay for INN to create and update this profile page, to which links are placed on Investingnews.com and channel newsletters.
The company description, investment highlights and catalysts were sourced by INN and approved by the company. INN does not guarantee the accuracy or thoroughness of the information contained on this page.
INN does not provide investment advice and the information on Investingnews.com profile should not be considered a recommendation to buy or sell any security.
INN does not endorse or recommend the business, products, services or securities of any company profiled.
Readers should conduct their own research for all information publicly available concerning the company.