Overview
Pacific Empire Minerals Corp. (TSXV:PEMC,OTCQB:PEMSF) is a resource development company pursuing a unique hybrid generator model with a focus on the exploration and development of gold and copper resources in British Columbia.
Pacific Empire Minerals owns a portfolio of assets in British Columbia, including several projects of focus in addition to a number of pipeline projects. The company is currently focused on its copper and gold properties, particularly the Jean Marie property, the Pinnacle Porphyry project, and the Copper King property, all of which are located in British Columbia.
By focusing on projects located in British Columbia, Pacific Empire Minerals benefits from the province's straightforward permitting policy and friendly tax incentives that allow the company to drastically reduce its exploration and development costs.
Unlike traditional prospect generators that generally limit themselves to conducting initial exploration such as mapping and geophysics before seeking a joint venture or partner, Pacific Empire Minerals is pursuing a hybrid generator model through the use of its own proprietary reverse circulation drill. This approach allows the company to advance its own projects further than normal prospect generators, preserving value by conducting drill work itself. As a hybrid generator, Pacific Empire is also willing to consider partnerships at various stages of exploration depending on the circumstance.
Pacific Empire Minerals' RC drill allows the company to reduce its exploration and development costs, which has the potential to increase the company's overall odds of discovery. Pacific Empire Minerals' drill is cost-effective, allowing the company to drill up to 100 meters in a 10 hour shift with low environmental impact and no need for a water supply.
Pacific Empire Minerals is currently focused on the development of its copper and gold projects, which the company believes offer the most potential for growth. The company's Jean Marie project is of particular interest as the company believes it can be developed as a gold-enriched project rather than a copper-molybdenum project was the focus of historical exploration programs. "We always believed there was potential for significant gold mineralization at Jean Marie and these initial results clearly support this," Pacific Empire President and CEO Brad Peters said. "With a project of this scale, these results are a significant revelation for us and we will work to further expand and develop the potential for a gold-enriched copper deposit on this project. As we progress towards drilling in the fall, it is encouraging to uncover new mineralized areas concealed beneath shallow cover, at surface."
In addition to its own drilling work, Pacific Empire Minerals has secured a number of partner-funded agreements to drill its projects, including the Pinnacle Porphyry project, where 1111 Acquisition Corp. is expected to continue with exploration during the 2021 season. Under the terms of the agreement, 1111 has the option to earn 70 percent interest in the property by completing $5.7 million in exploration expenditures and making C$375,000 in cash payments to Pacific Empire. "Our hybrid business model gives shareholders the opportunity to have partner-funded drilling in addition to PEMC-funded drilling, resulting in multiple ongoing drill programs and opportunities for discovery," Peters said.
Under Pacific Empire Minerals' hybrid generator model, the company continuously pursues its own exploration activities as informed by advisor Dr. Paul Johnston, who brings considerable experience and knowledge of copper porphyry systems to the team. Johnston previously worked with Teck Resources Limited (TSX:TECK.A,TECK.B,NYSE:TECK) and is expected to be instrumental in future exploration work and acquisition analysis.
Company Highlights
Hybrid generator model allows Pacific Empire to pursue its own drilling programs while also enabling partner-funded drilling
Pacfic Empire Minerals' own RC drill cuts exploration costs and allows for the drilling of new targets quickly and efficiently
Flagship Jean Marie project has recently shown potential as a copper-gold project after first being identified as a copper-molybdenum project
The newly identified Leap Target Area at Jean Marie has returned 8.79 g/t gold, 86.6 g/t silver and 1.75 percent copper
Pinnacle porphyry is being explored through partner-funded drilling, including approximately $5.7 million in exploration expenses
Copper King project has shown the potential to host a buried porphyry system and is wholly owned by Pacific Empire
2020 exploration program at the Weedon property is underway, drill-testing the T1 target area
Copper porphyry expert Dr. Paul Johnston brings significant copper-gold experience to the team and is expected to advise on future exploration projects
Key Projects
Pacific Empire Minerals' Flagship Jean Marie Project
Pacific Empire Minerals' flagship Jean Marie project is a copper-gold-silver-molybdenum porphyry prospect comprising 7,352 hectares in Central British Columbia, approximately 180 kilometers north of the town of Prince George. The property is located only 50 kilometers west of Centerra Gold's (TSX:CG) Mt. Milligan copper-gold mine, which hosts 959 million pounds of copper and 2.4 million ounces of gold. The Jean Marie property contains a number of zones of mineralization that remain open for expansion with additional drilling.
Exploration
Historical exploration work was conducted on the Jean Marie property between 1970 and 1974, including over 10,000 meters of drilling and dozens of ground-based geophysical and geochemical surveys. Historical exploration predominantly focused on three copper porphyry zones: the A, B, and C zones, each of which straddle the Jean Marie fault, a major structure that runs through the property.
Historical drilling conducted on the southwest margin of the A zone returned assays of up to 4.43 percent copper and 0.95 g/t gold and remains open at depth to the north and northwest. More extensive drilling was conducted on the B zone, including drill hole J97-11, which runs 277 meters deep and intercepted a high-grade hydrothermal breccia between 181 and 208 meters. Pacific Empire believes the presence of the breccia is direct evidence of a mineralized porphyry system at depth beneath the B-zone.
In 2020, Pacific Empire Minerals announced the assay results of its latest exploration program on the Jean Marie project, which expanded the zones of mineralization found on the property.
Highlights from the 2020 exploration program included continuous chip samples yielding 1.37 percent copper, 0.08 g/t gold and 67.4 g/t silver at C zone south, with additional base metal and precious metals veins that suggest high-level porphyry mineralization. Rock samples at the newly identified Leap Target Area returned 8.79 g/t gold, 86.6 g/t silver and 1.75 percent copper.
Pacific Empire Minerals' Pinnacle Porphyry Project
Pacific Empire's Pinnacle Porphyry property comprises the company's NWT and Pinnacle Reef properties, which have been combined together to create a 14,040 hectare land package. The property was acquired through staking in 2012 and has since seen over $2 million in partner-funded exploration.
The property saw limited exploration between 2014 and 2017, including 14 diamond drill holes and four induced polarization (IP) surveys. During this era, exploration at the Elbow Zone returned five holes of anomalous gold, including 94 meters grading 0.34 g/t gold. In 2018, Pacific Empire Minerals staked the northern half of the Pinnacle property, covering an anomalous area of gold geochemistry in stream sediments. The company later completed a high-resolution airborne magnetic survey over the entirety of the property to determine if greater levels of detail could help improve its understanding of the underlying bedrock.
Modern Exploration
Pacific Empire Minerals conducted a 20 hole RC drill program in 2019 that was focused on high-priority targets discovered during partner-funded exploration work in 2015. This exploration program targeted both the Elbow Zone and the Sooner Zone found at Pinnacle, with the goal of establishing additional drill targets for the future.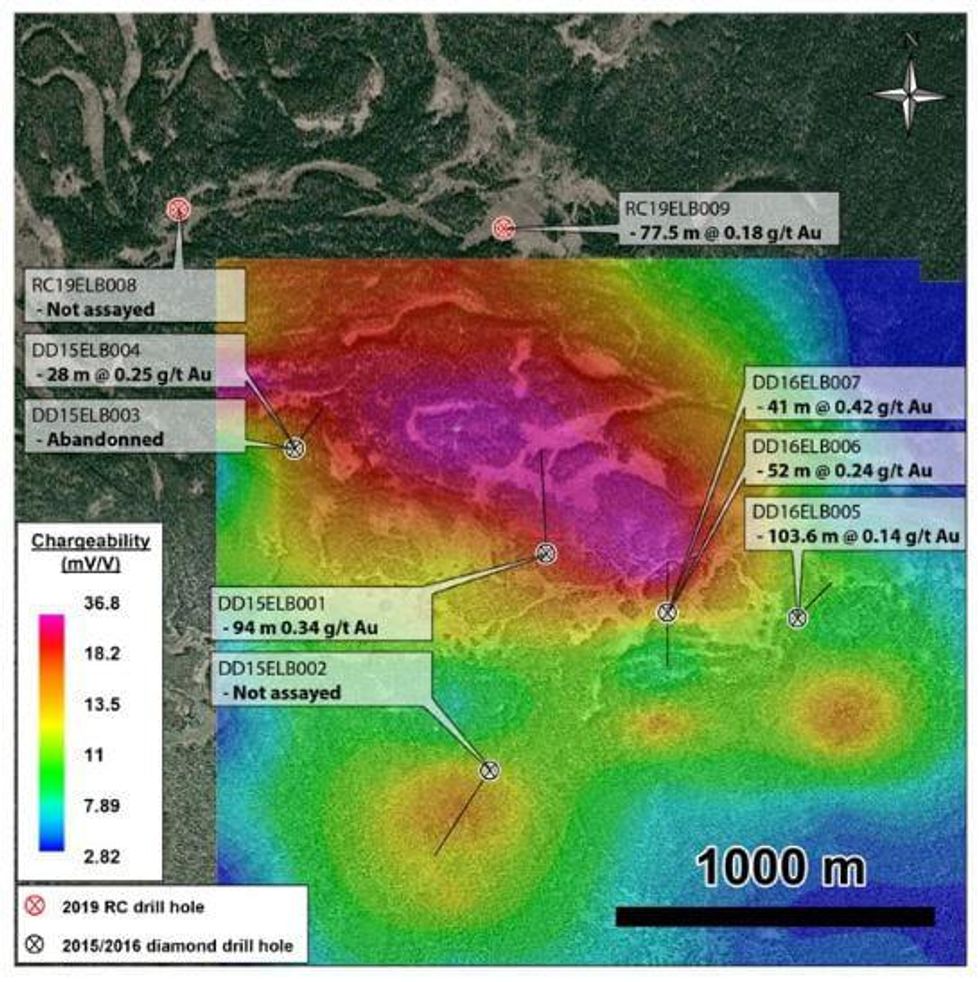 The mineralization discovered at the Elbow Zone is believed to suggest the potential for a porphyry-style system with a broad halo based on the distribution of gold mineralization associated with the anomaly. Additional drill targets were defined on the property and could be the focus of further exploration work in the future.
In August of 2020, Pacific Empire signed a letter of intent to grant 1111 Acquisition Corp the option to earn 70 percent interest in the Pinnacle project. According to the agreement, 1111 has the option to earn 70 percent interest in the property by completing $5.7 million in exploration expenditures and making C$375,000 in cash payments to Pacific Empire.
The partnership with 1111 is part of Pacific Empire's hybrid generator model, which is designed to leverage the power of partnerships in order to explore the company's portfolio of properties in a cost-effective manner.
Pacific Empire Minerals' Copper King Project
The Copper King project is comprised of 4,178 hectares in North-central British Columbia. The project is wholly owned by Pacific Empire Minerals, which began exploring the property through reconnaissance IP surveillance and rock chip sampling in 2015. The company later followed up this exploration work with two airborne magnetic surveys that covered the northeast portion of the property.
In 2018, Pacific Empire Minerals conducted a reverse circulation drill program at the Copper King property that was focused on the North Valley Target Area. Four drill holes totaling 459 meters were cut on the property with the company's own mounted RC drill, revealing disseminated chalcocite mineralization in two of the four holes. Based on the widespread copper mineralization found at Copper King, Pacific Empire Minerals believes there is significant potential to discover a buried porphyry system. Moving forward, the company is looking for partners on the Copper King project.
Pacific Empire Minerals' Weedon Project
The Weedon property is an early-stage copper-gold project located in Central British Columbia, 80 kilometers north of Prince George. The project is accessible by vehicle and has access to nearby infrastructure. Teck Resources completed a geochemical sampling program at Weedon in 2010 and 2011, delineating several porphyry copper-gold targets.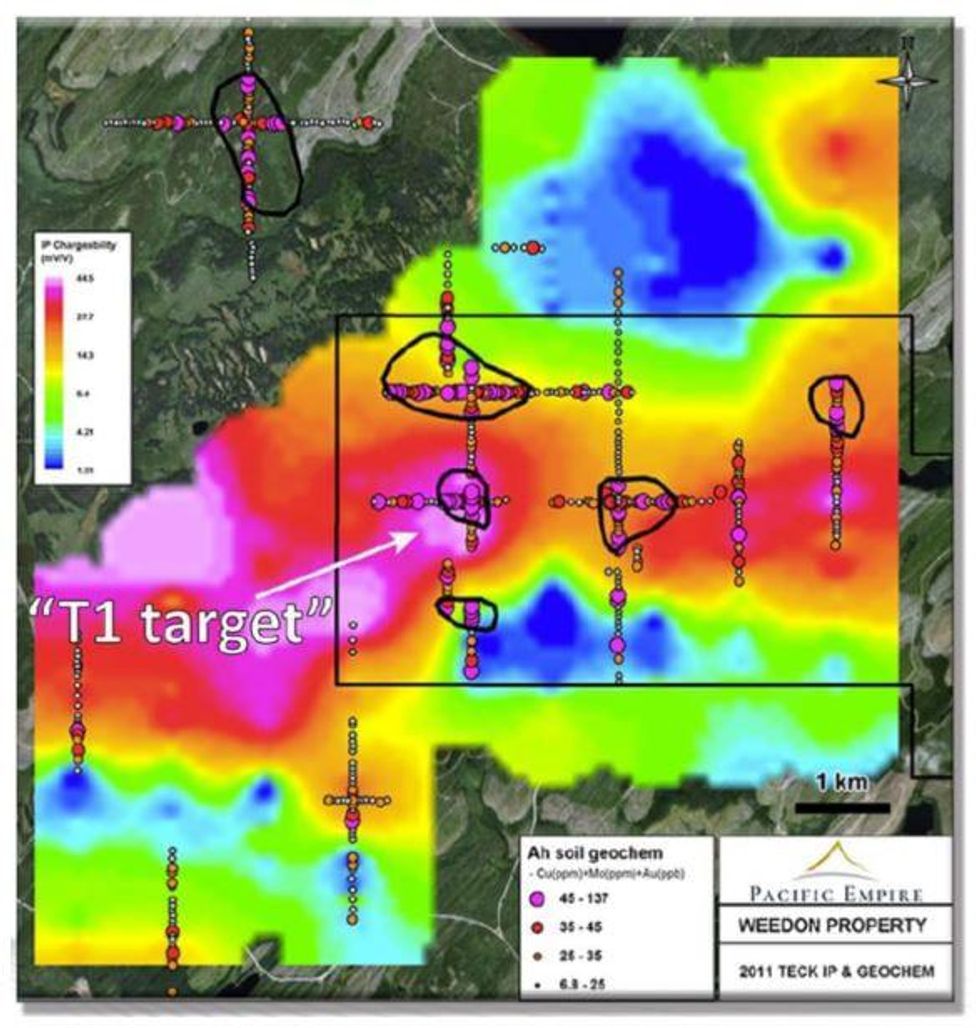 In 2019, Pacific Empire conducted passive seismic surveys that discovered overburden thickness at the 2007 drill site, allowing the company to access the T1 target with its RC drill. Pacific Empire began drilling on the Weedon project in September 2020 with a focus on the T1 target and the surrounding area. The company's goal is to be the first company to reach bedrock in the area, which Pacific Empire believes is highly prospective.
Management Team
Brad Peters—CEO, President and Director
Mr. Peters began working for Canadian junior exploration companies in 2007 and has been involved in mineral property exploration, management, acquisition, development and research in British Columbia, the Yukon, Ontario, Arizona and Mexico. Mr. Peters' diverse skill set, exploration experience and market knowledge have provided insight to all facets of the exploration industry. Mr. Peters graduated from the University of British Columbia in 2009 with a Bachelor of Science degree in Earth and Ocean Sciences, and he earned an honours diploma in Broadcast Communications from BCIT in 2002.
Peter Schloo – Director, CEP, CA, CFA
Mr. Schloo has over eight years of progressive experience in capital markets, operations and assurance. He holds the CPA, CA and CFA designations. He has over C$80 million in associated capital raising opportunities comprising of public and private companies, with the majority in the junior natural resource sector.
Doug Reed – Chief Financial Officer
Mr. Reed holds a Bachelor of Science from the University of Victoria and is a Chartered Professional Accountant, CA. Mr. Reed brings more than 10 years of accounting experience in the mineral exploration and mining industry focusing on financial reporting, regulatory compliance, internal control and corporate finance activities. He has also worked in public practice as an audit manager overseeing the annual audits of public companies and auditor requirements related to various special transactions. Mr. Reed is Chief Financial Officer of Revelo Resources and the Corporate Controller of EMX Royalty Corporation. He was formerly the CFO of Sundance Minerals Ltd.
Kim Casswell – Corporate Secretary
Ms. Casswell has been the Corporate Secretary of several public companies listed on the TSX Venture Exchange and the Toronto Stock Exchange since 1994. Ms. Casswell has played an important role in the growth of these companies and is familiar with regulations governing public companies in several jurisdictions. Ms. Casswell is currently the Corporate Secretary for Atico Mining Corporation, EMX Royalty Corporation, Revelo Resources Corp., Lara Exploration and Legend Gold Corp, and was Corporate Secretary for Reservoir Minerals Inc. before it was acquired by Nevsun Resources Ltd. in June 2016.
Larry Donaldson – Director
Mr. Donaldson is a Chartered Professional Accountant with over 40 years of accounting, auditing and tax experience. He graduated from the University of British Columbia in 1971 with a Bachelor of Commerce degree. He is the managing partner of a local Chartered Professional Accounting firm and has extensive experience in public company audits and in accounting and tax planning for mineral exploration based companies. Mr. Donaldson is currently the Chief Financial Officer of Rockhaven Resources Ltd., ATAC Resources Ltd., Strategic Metals Ltd., Trifecta Gold Ltd., GGL Resources Corp., Califfi Capital Corp. and Silver Range Resources Ltd.
Samantha Shorter – Director and Chair of Audit Committee
Ms. Shorter is a senior finance and accounting professional with 15 years of experience in the mineral exploration sector and has served as CFO of various junior mining companies. She has extensive international experience with development projects as well as operating assets. Ms. Shorter was also previously employed as an audit manager at a major Canadian accounting firm specializing in the mining industry and has extensive experience providing financial reporting and corporate services to companies in the mining and mineral exploration industries. Ms. Shorter is a CPA, CA and CIA and holds a Bachelor of Commerce degree with Honours from the University of British Columbia.
Dr. Paul Johnston – Advisor
Mr. Johnston was most recently with Teck Resources Limited and has valuable in-depth knowledge of copper, silver and gold deposits. His extensive experience with porphyry copper systems is valuable in enhancing the value of PEMC's portfolio of copper-gold porphyry projects and guiding future exploration and potential acquisitions.
Request an Investor Kit
EXCITING upcoming projects!
IN-DEPTH reliable insights!
SUCCESSFUL growth strategies!
VALUE-BASED content!
Pacific Empire Minerals