This profile is part of a investor education campaign. The profile provides detailed information which was sourced and approved by Kivalliq Energy in order to help investors make better investment decisions. The Company's support of Investing News Network ensures we can continue to bring you unbiased, independent news and information.
Resource Investing News Featured Stock
Overview
Kivalliq Energy Corporation (TSXV:KIV) is a Vancouver-based exploration company with a growing portfolio of high-quality uranium projects in Canada. Kivalliq's flagship project is the Angilak Property in Nunavut. Angilak's Lac 50 Trend hosts the highest grade uranium resource in Canada outside of Saskatchewan. Exploration work at Angilak continues to demonstrate the property's district scale potential.
Understanding the opportunity presented by the uranium sector's current bear market, Kivalliq has diversified and grown its project portfolio with the acquisition of the Baker Basin property in Nunavut as well as the staking of the Genesis Property and acquisition of the Hatchet Lake Property both in Saskatchewan, Canada.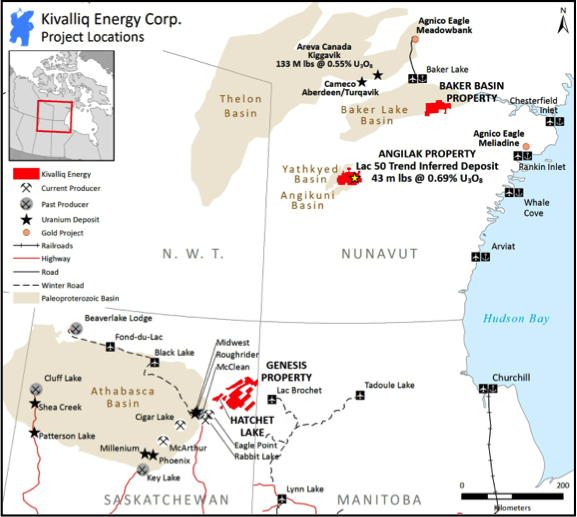 "Our goal is to complement Kivalliq's existing resource base at Angilak by employing our team's considerable northern exploration and Saskatchewan uranium experience to make significant discoveries at each of the properties in our portfolio," stated CEO Jim Paterson. Kivalliq's team is comprised of uranium exploration and nuclear sector professionals with decades of experience of delivering excellent results on large-scale programs.
The company is currently carrying out a 2016 exploration program at Angilak focusing on the Yat Target which shows the potential for high-grade precious metals in addition to uranium. The program is expected for completion at the end of July 2016.
Kivalliq recently completed a $400,000 financing, the proceeds of which will be used to fund further mineral exploration at the company's properties including a small exploration program at the Hatchet Lake Property in 2016.
"We've got very supportive shareholders who have stuck with us through the bear market in the uranium sector and have added to their position over the last few years," said Paterson. "I think we enjoy a high level of credibility with those investors that know a lot about exploration. What we're waiting for now is a turnaround in the uranium sector because we feel we have a major head start on our competitors and will be able to rapidly advance our projects."
Investment Highlights
Nunavut and Saskatchewan are mining friendly jurisdictions
Multiple projects being advanced or operated by global mining companies in close proximity Near established infrastructure (SK)
Winners of environmental stewardship awards in Nunavut
Lac 50 Trend: Northern Canada's highest grade uranium resource; 200 percent growth in inferred resource since 2011
8 Drilling discoveries at Angilak outside Lac 50 resource
Industry beating discovery cost of under C$1.51/lb uranium
Current business model focuses on strategic acquisitions (Hatchet Lake – SK, Genesis – SK, Baker Basin – NU) and Angilak Property – NU advancement to Kivalliq assets
Flagship Project: Angilak Property, Nunavut
The Angilak Property covers 101,111 hectares in the Kivalliq District of Nunavut about 325 kilometers west of Rankin Inlet. The project hosts the Lac 50 Trend deposit —the highest-grade uranium resource in Canada outside of Saskatchewan.
Through comprehensive exploration programs, Kivalliq has successfully grown the resource estimate at Lac 50 by 200 percent from the 2011 maiden resource to the current Inferred resource of 2,831,000 tonnes grading 0.69 percent U3O8 for a total of 43.3 million pounds U3O8.
Beneficiation and metallurgical testing performed on the Lac 50 Trend at Angilak has included locked cycle alkaline leach tests, yellowcake precipitation and a radiometric ore sorting study.
Highlights from the testing include:
Locked cycle leach tests confirmed the ability to recycle 100 percent of the primary alkaline leach reagents;
Low consumption of ancillary reagents was demonstrated;
More than 95 percent uranium recovery in 48 hour leach cycle;
Low impurity yellowcake product meets ASTM C976-13 standard specifications; and
Radiometric ore sorting showed potential to reduce dilution with up to 96.7 percent uranium recovered from 49.2 percent of the sample mass.
"Our team continues to advance and de-risk the Angilak Property by evaluating potential uranium extraction and processing options," said Paterson. "The combination of high uranium recoveries and low reagent consumption will have a positive impact on project economics. In addition, the radiometric sorting study demonstrated the potential to remove more than 50 percent of the waste rock prior to milling."
The Lac 50 Trend represents just a portion of the entire land package at Angilak. Recent exploration work demonstrates the properties significant potential for further resource growth on a district scale.
New Discovery: Dipole-RIB Trend
During the 2015 exploration program at Angilak, the company discovered the large Dipole-RIB Trend which lies 25 kilometers southwest of the Lac 50 Trend and shares similar geology.
Highlights from drilling at the Dipole target include:
34 percent U3O8 over 1.3 metres (m) from 28.3 m to 29.6 m in 15-DP-009
21 percent U3O8 over 6.7 m from 46.4 m to 53.1 m in 15-DP-009
17 percent U3O8 over 8.0 m from 27.9 m to 35.9 m in 15-DP-005
18 percent U3O8 over 6.7 m from 35.5 m to 42.2 m in 15-DP-006
14 percent U3O8 over 2.1 m from 75.5 m to 77.6 m in 15-DP-002
Other 2015 exploration highlights for Dipole-RIB include:
408 in-fill soil samples in 2015 have defined multiple uranium in soil trends at RIB within a survey grid oriented along and straddling the Angikuni Basin unconformity; and
Prospecting identified favorable host geology and uranium mineralization four kilometers southwest of Dipole and within the RIB geochemical trend.
"The Dipole discovery confirms that high-grade Lac 50-type uranium mineralization occurs in other areas across the Angilak Property," stated Kivalliq President Jeff Ward. "The assays from Dipole returned significant near surface uranium mineralization over broad widths. We are extremely encouraged by the multiple mineralized intervals intersected and look forward to additional drilling successes at the Dipole-RIB Trend in the coming seasons."
Yat Target—Uranium and Precious Metals
Exploration programs at Kivalliq have found multiple high grade showings of gold, silver and copper in addition to uranium as part of the same mineralized district. 
The Yat Target is located near the northern margin of the Angikuni Basin about 16 km southwest of the Lac 50 uranium resource and 10 km northeast of the new Dipole discovery. The area demonstrates high-grade polymetallic mineralization and visible gold has been noted.
During the 2015 exploration program at Angilak, rock samples collected at Yat returned the highest precious metal assays reported from the property to date: 1.82 percent U3O8, 6.8 percent Cu, 211 g/t gold, 80,900 g/t silver, 3.1 g/t platinum and 6.7 g/t palladium.
In July 2016, Kivalliq commenced a $500K summer exploration program which includes trenching, geological mapping, sampling and geochemical surveying at the Yat Target "We are excited to kick-off the first program designed to determine the scope and setting of exceptional gold, silver and PGM results reported from the Yat area since 2007," stated Ward. The work also includes geochemical surveying along geophysical conductors in the vicinity of the Dipole uranium discovery.
Baker Basin Property
The Baker Basin Property is located 60 kilometers south of Baker Lake, Nunavut, in the southern boundary of the highly prospective Baker Lake Basin. Kivalliq acquired a 100-percent interest in the 232,262-acre land package from Pacific Ridge Exploration in 2013.
Areva's Kiggavik uranium project (resource of 133 million pounds at 0.55 percent U3O8) is located approximately 80 kilometres west of Baker Lake. The Kiggavik project is advancing through permitting and has made significant resource and reserve advancements.
The Baker Lake region is recognized as an important resource exploration and development centre in Nunavut. Existing infrastructure includes ocean shipping access, year-round airport facilities as well as local labor and support services.
Historical exploration work conducted on the Baker Basin property between 1969 and the early 1980s defined a trend of uranium targets along the 60 kilometer length of the southern boundary of the Baker Lake Basin.
Between 2006 and 2008, Pacific Ridge and its joint venture partner Aurora Energy completed more than C$7.1 million in exploration work which led to several significant discoveries which require further evaluation. Kivalliq considers two of these zones to be drill ready.
Saskatchewan Properties—Canada's Uranium Hub
Genesis Property
Staked by the company in January 2014, Kivalliq's wholly-owned Genesis Property consists of 200,677 acres over 53 mineral claims northeast of Saskatchewan's Athabasca Basin. The project lies 25 kilometers northeast of Cameco's Eagle Point uranium mine and extends 90 kilometers northeast along the prospective Western Wollaston Tectonic Domain. This region is home to most of Canada's known uranium deposits and all of the country's operating uranium mines.
Under option agreements signed in both 2014 and 2015, Roughrider Exploration is funding exploration at Genesis in order to earn an 85 percent interest in the project. Kivalliq will retain a 15 percent interest via a bankable feasibility and production decision.
Exploration work carried out by Kivalliq during 2014 and 2015 outlined numerous high priority targets for basement hosted uranium.
In February 2016, Kivalliq announced results of an integrated assessment of geophysical, geological and geochemical data conducted by Condor Consulting. The data focused on four areas in the northeast portion of the property. Of the 31 target zones identified by the assessment, 16 are being evaluated as part of an airborne gravity gradiometer survey currently underway.
"Results from the Condor compilation helped identify key priority areas currently being surveyed by FALCON airborne gravity," explained Ward. "Gravity data from the survey will enhance existing geophysical and geochemical datasets. Both the Condor work and new gravity data will be invaluable tools for ongoing exploration and target generation at Genesis."
Hatchet Lake Property
Kivalliq's 100-percent owned Hatchet Lake uranium property consists of 13,711 hectares across 6 claims adjacent to the north-eastern margin of Saskatchewan's Athabasca Basin and 3.5 kilometers to the north west of the Genesis Property.
Hatchet Lake lies within 29 kilometers of Cameco's Eagle Point uranium mine and 39 kilometers along trend from the Roughrider uranium deposit. Field work conducted by Hathor Exploration in 2007, following the acquisition of Roughrider, included the collection of 420 lake sediment samples as well as magnetic and VTEM surveys. The VTEM survey defined 30 individual conductive trends with a combined strike length of 53 line kilometers. A total of 19 rock samples collected in 2008 returned assays greater than 0.2 percent U3O8 with a high of 1.17 percent U3O8 in a pegmatitic boulder.
In 2012, Rio Tinto carried out exploration work on the property including soil, biogeochemical and rock samples which led to the identification of uranium in soil anomalies coincident with known mineralization in boulders and outcrops and geochemical signatures known to be associated with uranium mineralization.
Kivalliq began exploration on the Hatchet Lake property in June 2015, conducting ground geophysical and geochemical surveying, prospecting and mapping.
Highlights of the 2015 program include:
140 line-kilometer ground geophysics
908 soil and 1317 biogeochemical samples
24 radioactive rock samples with assay results up to 2.43 percent U3O8
Comprehensive processing and compilation of existing and new data-sets
Two high-priority zones emerged: Upper Manson and SW Scrimes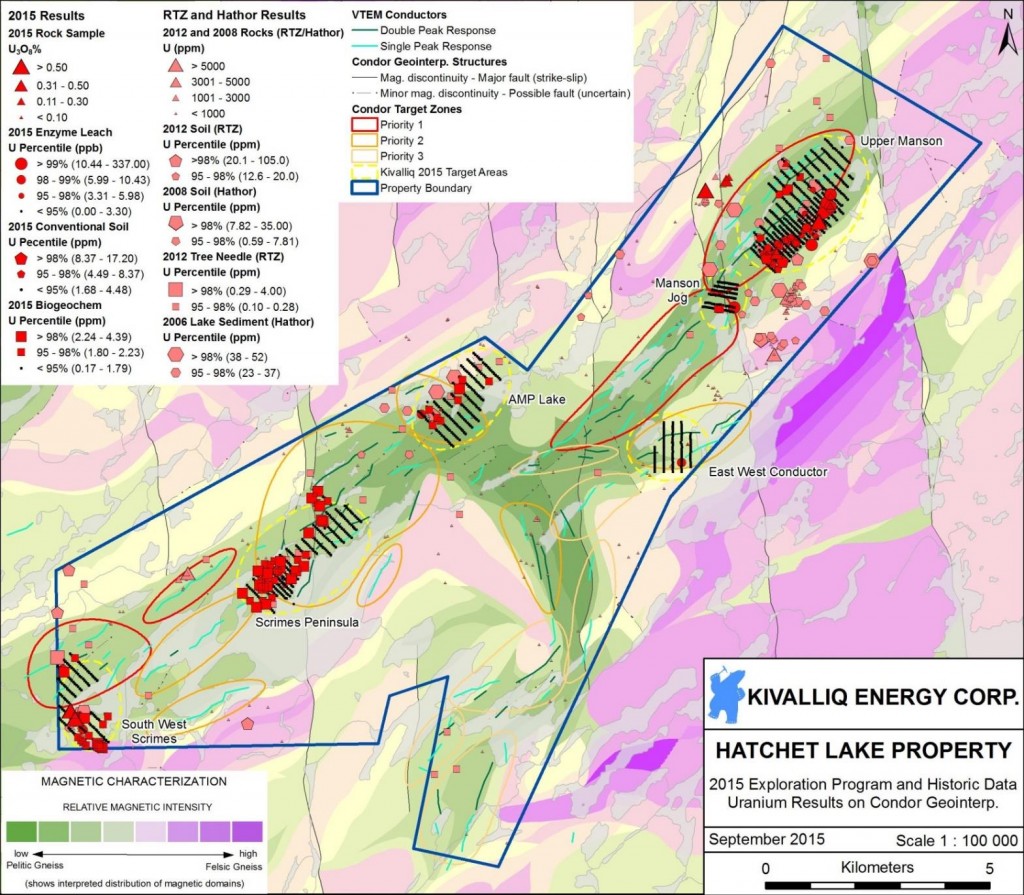 "Based on Hatchet Lake's strategic location near all of Canada's uranium mining and milling infrastructure, a discovery here would have significant development advantages," stated Ward.
Management
John Robins—Chairman
John Robins is a professional geologist with over 25 years of experience. A graduate of the University of British Columbia with a Bachelor of Science in Geology, Robins initially worked as a self-employed prospector and geologist in BC and Northern Canada. He has also been active in starting several successful public exploration and development companies culminating in 2005 with his co-founding of the Discovery Group of Companies and most recently the Aurora Resource Group. He has been a driving force within the Vancouver mining sector as founder of Hunter Exploration, Stornoway Diamond Corporation, Kivalliq Energy Corporation, North Country Gold Corp. and Kaminak Gold Corp. Mr. Robins was also involved in the successful sale/merger of several public companies including Grayd (Agnico Eagle), Troon (Grenville Strategic Royalty), Arauco (Kinross), Creston (Mercator), Northair Silver (Kootenay Silver), and Kaminak (Goldcorp.). In 2008, Robins was recognized for his achievements in mining exploration by the Association for Mineral Exploration British Columbia with the H.H. "Spud" Huestis Award.
Jim Paterson—CEO and Director
Jim Paterson has been a member of the Board of Directors of Kivalliq since the company's inception in 2008. Appointed CEO of Kivalliq in 2010, he was a driving force behind more than CDN$57M in equity financings, one of the largest uranium exploration programs on the globe, and a 200 percent increase in mineral resources at the Lac 50 deposit from 2010 – 2013. He has 19 years of corporate experience with several North American publicly traded companies, participating in acquisitions, joint-ventures, spin-outs, reverse transactions and IPO's. Since January 2010, Jim has been involved as an executive or as an active director of companies which have raised in excess of $175 million in equity financings. Paterson founded, was President & CEO, and Director of Corsa Capital Ltd., a company which acquired and capitalized coal mining assets in the USA. Jim was a director of Kaminak Gold Corporation and in July of 2016, Goldcorp. acquired Kaminak Gold Corporation for in excess of $500 million. Paterson also serves as a director of Northern Empire Resources Corp., Bluestone Resources, and West Melville Metals – all mineral exploration companies listed on the TSX Venture Exchange.
Jeff Ward—President
Jeff Ward joined Kivalliq in 2008 as VP Exploration and was appointed President of Kivalliq in 2010. Ward co-manages the exploration programs at Genesis (Saskatchewan) and Angilak (Nunavut), which have led to multiple uranium discoveries property-wide and the delineation and rapid growth of one of the world's highest grade uranium resources (Lac 50). He obtained a Bachelors of Science degree in Geology from the University of Western Ontario and is a registered professional geologist in British Columbia and Alberta. He has over 25 years' experience exploring for base metals, precious metals and diamonds with companies such as Corona Corporation, Ashton Mining of Canada, and Stornoway Diamond Corporation. Ward's experience ranges from reconnaissance to advanced-stage projects throughout Canada's north. As Regional Project Manager, he directed exploration programs in the Northwest Territories, Nunavut and Alberta for over ten years and was responsible for program design, supervision, compliance, joint venture management and stakeholder relations.
Andrew Berry—COO
Andrew Berry joined Kivalliq Energy Corp. in April 2009 as Project Manager. Appointed COO in 2010, he co-manages the exploration programs at Genesis (Saskatchewan) and Angilak (Nunavut). From 2010 – 2013, Berry oversaw one of the largest uranium exploration programs on the globe, which led to multiple property-wide discoveries and a 200 percent increase in mineral resources at the Lac 50 deposit. He holds a technical diploma in exploration geology from Sir Sandford Fleming College in Ontario. He has more than 30 years' experience with surface and underground programs exploring and developing precious metal, base metal and diamond deposits in Canada, South America and Africa. He was an integral member of Flanagan McAdam Ltd. and the Muscocho Group, developing mining projects in Ontario, British Columbia and the Yukon. As Project Manager with Ashton Mining of Canada and Stornoway Diamond Corp., he gained more than 15 years of logistical experience exploring and operating in Canadian Arctic environments.
Dale Wallster—Director
Dale Wallster is a geologist and a prospector with over 30 years' experience in North American mineral deposit exploration, with a focus on the targeting and discovery of unconformity-related uranium deposits since 2002. He was president and founder of Roughrider Uranium Corp., a company acquired by Hathor Exploration Limited in 2006 for its 1,000,000 acres of strategically located uranium properties in the Athabasca Basin. Wallster and his team are widely credited in the mineral exploration sector for the discovery of the Hathor's Roughrider deposit. In January 2012, Hathor became a wholly-owned subsidiary of Rio Tinto as part of a CAD$650 million acquisition.
Jim Malone—Director
Jim Malone served as co-editor of the World Nuclear Association's ("WNA") "The Global Nuclear Fuel Market Report Supply and Demand 2007 – 2030." He is currently Chairman of the WNA's Fuel Technology Working Group and is working on a high power density metallic fuel technology development with Lightbridge Corporation, and a high thermal conductivity oxide fuel with IBC Advanced Alloys Corp. He was Chairman of the Board of Hathor Exploration, which, in January 2012, became a wholly-owned subsidiary of Rio Tinto as part of a CAD$650 million acquisition. Malone is widely recognized as a nuclear industry and nuclear fuel expert, with more than 40 years of experience in the downstream business, most recently as vice-president, nuclear fuels, Exelon Generation Co. LLC, the largest generator of nuclear power in North America. In 1968, he began his career in nuclear power as an engineer in the utility reactor core analysis section of the nuclear engineering department of United Nuclear Corporation (UNC) after receiving a B.S. in chemical engineering (nuclear) at Manhattan College, Bronx, New York in 1968. He is a member of the American Nuclear Society and a Past Chairman of the ANS Fuel Cycle Waste Management Division.
Garth Kirkham—Director
Garth Kirkham is the former president Canadian Institute of Mining (CIM), serving 2015-2016. He the Chair of the CIM Best Practices Committee and the Chair of the Geoscientists Canada, Securities Committee. He is the past-Chair and President of the Mineral Deposits Division of the GAC along with being on Councillor and the Distinguished Lecturer Coordinator. He is Past Chair of the Vancouver Mineral Exploration Group (MEG) and a Councillor for the past three years with APEGBC along with being Vice-Chair of the Geoscience Committee. Kirkham obtained a Bachelor's degree in Science from the University of Alberta in 1983, completing his degree with majors in Geophysics, Geology and Mathematics. He became a Registered Professional Geoscientist in Alberta (APEGGA) in 1987, in Northwest Territories and Nunavut Association (NAPEGG) and BC (APEGBC) in 2005, in Ontario (APGO) in 2011, in Manitoba (APEGM) in 2012 and is a member in good standing in all. He is also a member of SEG (Society of Exploration Geologists), CIM (Canadian Institute of Mining), AMEBC (Association of Mineral Exploration of BC), GAC (Geological Association of Canada) and PDAC (Prospectors and Developers Association of Canada).
Jim Dawson—Director
Jim Dawson serves as President of Dawson Geological Consulting Ltd., a geological consulting company. Dawson has been a Professional Consulting Geologist for over thirty years, and has been a Director of Public Companies in the Mineral Resource Industry for almost twenty years. Also, he has managed his own consulting Geological Firm for many years. As a partner with Kerr, Dawson & Associates from 1972 to 1985, he participated in the discovery of the Blackdome Mine, Frasergold and Taurus Properties in British Columbia and the Big Horn Mine in Arizona. He was a Director of Minefinders Corp, a Member of Technical Advisory Board of Kaminak Gold and a Director of Great Southern Enterprises. He was part of the original Pan Ocean team which made the discovery of the Lac Cinquante U-Mo Occurrence in 1975. Jim Graduated from Memorial University with a B.Sc. in 1960 and an M.Sc. in 1963.