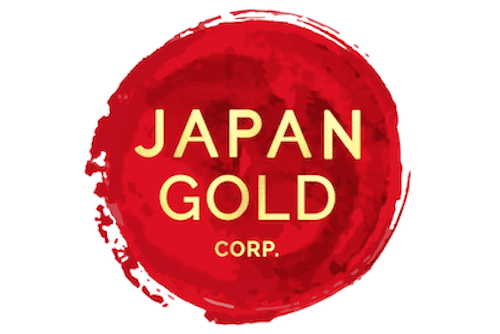 Japan Gold
First-Mover Gold Exploration in Japan
Japan Gold's Company Highlights
First-mover status as an international gold explorer in Japan
30 gold exploration projects in the safe and stable jurisdiction of Japan
Projects host over 40 past-producing mines with high-grade gold mineralization
Country-wide alliance in Japan with the Barrick Gold Corporation
Newmont Corporation as a significant shareholder
Management team with extensive local knowledge
Overview
Japan Gold (TSXV:JG) is a gold exploration company with a vast portfolio of 30 gold projects across the island nation of Japan. Japan Gold's leadership team has long recognized the potential for gold exploration in Japan. When the Japan Mining Act was amended in 2012 for the first time, allowing foreign mineral companies the ability to hold exploration and mining permits, Japan Gold was the first foreign mineral exploration company to seize this opportunity.
Japan Gold is the only foreign mineral exploration company to focus solely on gold exploration in the country and has gathered a large portfolio of projects that collectively host over 40 past-producing gold mines and workings which were all shut down during World War II due to a government moratorium on gold mining.
During February 2020, Japan Gold announced a country-wide alliance with Barrick Gold Corporation to jointly explore, develop and mine certain gold mineral properties and mining projects in Japan. The Japan Gold-Barrick alliance includes 28 out of 30 projects currently held by Japan Gold.
Japan Gold will continue to advance the Ikutahara Project in Hokkaido and the Ohra-Takamine Project in Kyushu independently guided by the Japan Gold/Newmont Technical Committee. Newmont Corporation has a joint venture right of first refusal on these two projects.
As a first-mover in the country, Japan Gold has also taken the opportunity to establish strong relationships with local universities and industry specialists, incorporating some of these—such as Mitsuhiko Yamada and Takashi Kuriyama—into its management team and board of directors. This first-mover position has also made the company a key resource for other organizations looking to partake in gold exploration in the region.
Japan Gold is led by an exceptional management team with extensive local knowledge and relationships. This team is supported by a knowledgeable board of directors and advisors. As Japan Gold is a spinoff of Southern Arc Minerals Inc (TSXV:SA)—a company that shares many of the same directors—26 percent of the company is held by its predecessor, giving the company a unique share structure.
Over the course of the next 12 months, Japan Gold plans to complete large scale, regional programs under the Japan Gold-Barrick alliance which is expected to include geochemical (BLEG) stream sediment analysis and geophysical analysis over the 28 projects included in the alliance. These programs are guided by the Japan Gold-Barrick Alliance Technical Committee.
In addition, the company plans to fully evaluate and drill permit three prospects on the two projects excluded from the Barrick alliance. Newmont has a joint venture right of first refusal on these two projects. Japan Gold plans to complete drill programs on at least two of these prospects over the next 12 months. These programs are guided by the Japan Gold/Newmont Technical Committee.
Mining in Japan
As a safe and stable jurisdiction, Japan hosts 76 known past producing gold mines, including five gold deposits greater than one million ounces.
All of Japan's gold mines were shut down in 1943 as part of a moratorium that was implemented by the government in light of World War II. Following that, there was a short period of small-scale production in the 1960s and 1970s and since then, production has been limited to a handful of mines including the Hishikari mine, which still produces today and is one of the world's highest-grade gold mines. The Hishikari mine has produced over 7.8 million ounces of gold between 1985-2019 at an average grade of 30-40 g/t gold.
Mining in Japan
Understanding the potential for gold exploration in the island nation, Japan Gold has entered the country as a first mover, collaborating with local companies and universities while engaging with local directors and advisors.
Japan Gold's Hokkaido Project
The Ikutahara Project – Hokkaido, Japan
The most advanced of Japan Gold's projects is the 205.13 square kilometer Ikutahara project, located in Japan's northern island, Hokkaido. The project hosts 20 historic mines and workings, making it highly prospective for gold mineralization. Based on the results of Japan Gold's review of historical data and validation by its own in-house field programs, a Phase 1 scout drill program was completed in 2019. The surface geochemistry, CSAMT and gravity geophysics collected over the Kitano-o Prospect, along with the Phase 1 drill program results, have refined the company's understanding of the geology of the Kitano-o hydrothermal system and give strong vectors to the eastern side of the prospect. It is now interpreted that the western part of the Kitano-o Prospect represents the 'lateral outflow' of a large epithermal system, developed at depth in the eastern part of the three-kilometer-long prospect.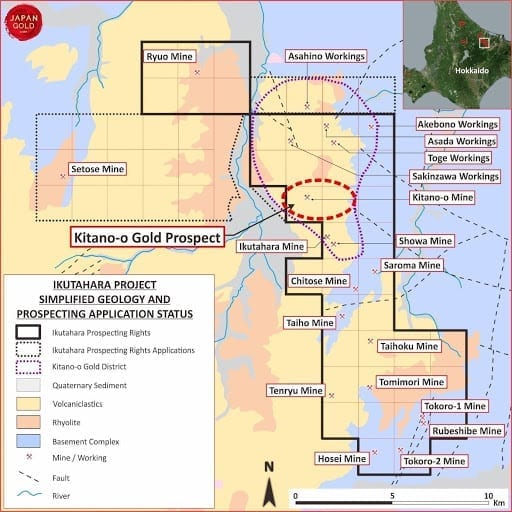 Kitano-o Gold District
The historic Kitano-o Gold district comprises eight historic mines and workings over an approximate seven-by-four-kilometer area and includes the Kitano-o prospect. The district is highlighted by an extensive co-incident gold-arsenic-antimony mercury anomaly in stream sediment samples over the area.
Kitano-o Prospect
The Kitano-o prospect, which includes the Kitano Mine, is located within a seven-by-four-kilometer gold district which hosts seven additional gold prospects. The Kitano-o mine produced more than 96,000 ounces of gold at an average grade of 5.9 g/t gold primarily from shallow open-pits along a three-kilometer alteration corridor, prior to the government-imposed closure in 1943.
Phase 1 drill testing of the western side of the Kitano-o Prospect was completed in late December 2019 with six diamond drill holes, totaling 2,837 meters. Drilling targeted depth extensions of the western end of a well-defined vein-corridor exposed within extensive shallow open-pits and geophysical anomalies. Significant zones of quartz veining were intersected corresponding to those mapped at surface, however, the low tenor of gold reported from drill core assays does not adequately reflect the over 96,000 ounces of gold mined from the exposed paleosurface sinter deposits in the open pits.
The eastern side of the Kitano-o prospect has now been identified as a key target area for Phase 2 drilling. Gold historically mined at the surface at the Kitano-o Mine is interpreted to have been deposited at the paleosurface during deposition of a silica-sinter apron through lateral outflow. Silica-rich fluids that formed the sinter, also carrying gold, flowed upwards then laterally out from hot spring vents connected to a deep epithermal boiling zone. Rock samples collected from the eastern side of the Kitano-o prospect show high gold and antimony values potentially indicating higher temperatures of deposition and closer proximity to the 'upflow' or 'boiling zone' where gold was precipitating. The figure below represents Japan Gold's current interpreted geological model for the Kitano-o prospect.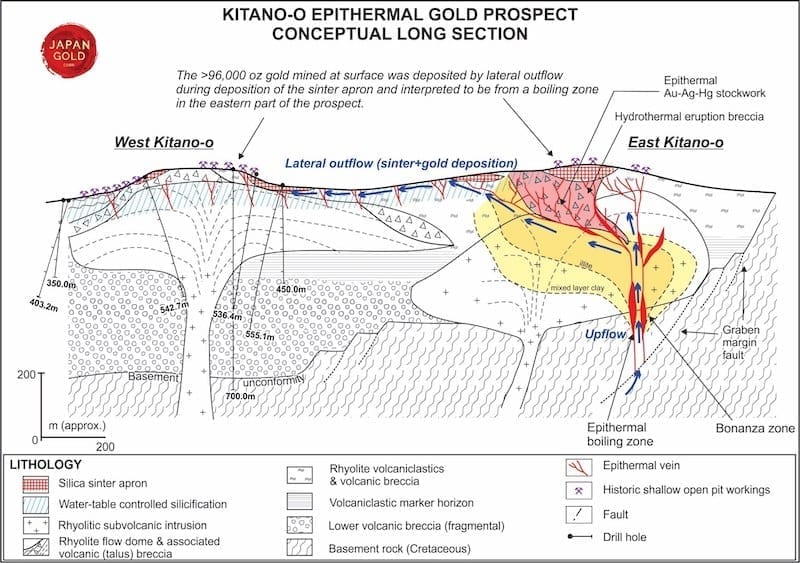 Ryuo Prospect
The Ryuo mine, operated prior to 1943, was developed on five vein zones identified within a 1,000-meter by 400-meter NE-SW oriented zoned alteration system, which remains open to the southwest. The Metal Mining Agency of Japan (MMAJ) reported data on the Jinja and Shouei veins and shows workings developed on up to six levels to a depth of 75 meters below the surface. Underground workings of the Jinja veins were re-sampled during the 1950s and some noticeably high-grade samples were reported. Historic channel samples include results that show high-grade shoot development such as 72 meters with average grades of 40.8 g/t gold and 168 g/t silver in addition to 9 meters of 31 g/t gold and 268 g/t silver.
CSAMT and gravity geophysics have been completed in selected areas and a Phase 1 scout drilling is currently being permitted.
Japan Gold's Key Kyushu Project
The Ohra-Takamine Project
The Ohra-Takamine Gold prospect lies within the highly gold endowed Southern Kyushu Epithermal Gold Province and hosts five historic gold mines, the Matsuno, Urushi, Takamine, Ohra, and Aira Yamada Mines, which define a northeast-oriented structural corridor. In excess of 11 million ounces of gold have been produced from high-grade low-sulfidation epithermal gold deposits in the province. Notable producers include the Hishikari Mine with 7.8 million ounces of gold produced to date at average grades of 30-40 g/t gold; Kushikino Mine with 1.8 million ounces at 6.7 g/t gold, the Yamagano Mine with 910,000 ounces at 17.4 g/t gold and the Okuchi Mine with 714,000 ounces at 13.6 g/t gold.
A 35 line-kilometer, grid-based, CSAMT geophysical survey was completed along a 4.2-kilometer portion of the Ohra-Takamine Mine corridor. The CSAMT geophysical survey at the Ohra-Takamine project was undertaken to identify zones of sub-surface electrical resistivity and conductivity, representing silicification and clay alteration related to epithermal vein systems.
Results of the CSAMT survey at Ohra-Takamine are very encouraging and have defined a number of linear kilometric-scale, contiguous resistive zones (CSAMT anomalies), locally extending to depth across the survey area.
Prospect-scale gravity readings were collected over an eight-by-four kilometer area with nominal 60 to 100-meter spacings along access roads and ridgelines and merged with Geological Survey of Japan gravity data to produce a new suite of processed gravity images. The spatial relationship between gravity highs and the major low-sulfidation epithermal gold deposits in the province is well described in the literature, and uplift or doming of the underlying basement, producing gravity anomalies, is interpreted as a key factor in the development of deep-seated fracture pathways for hydrothermal fluid flow and subsequent quartz vein development in these mines.
Geophysical surveys completed to date are expected to add a vital third dimension to the epithermal targets at the Ohra-Takamine Project.
Japan Gold's Management Team
John Proust—Chairman and CEO
John Proust has successfully founded and managed a number of resource companies. Mr. Proust has served on the boards and held senior operating positions, and has directed and advised public and private companies regarding debt and equity financing, mergers and acquisitions and corporate restructuring since 1986. Mr. Proust is currently Chairman and CEO of Southern Arc Minerals Inc., Chairman and a director of Canada Energy Partners Inc., and a director of Rise Gold Corp. Mr. Proust has extensive experience in corporate governance, is a graduate of The Directors College, Michael G. De Groote School of Business at McMaster University and holds the designation of Chartered Director.
Dr Michael Andrews, PhD, FAusIMM— Director
Dr. Mike Andrews is a geologist with more than 40 years of research and mining industry experience in gold, copper, coal and iron. He holds an honours degree in Geology from the University of Reading, and a doctorate in exploration geochemistry from the University of Wales. Dr. Andrews is also currently President & COO and a director of Southern Arc Minerals Inc., and a Non-executive Director of Kingsrose Mining Limited. He was a founding director of Kingsrose Mining Limited and played an instrumental role in the discovery, exploration, feasibility and development of its Way Linggo Gold Mine in Indonesia. Dr. Andrews also held the positions of Executive Director and Chief Geologist of AuIron Energy Ltd., Director of Gold Operations for Meekatharra Minerals Ltd., and managed the Teck-MM Gold Indonesian Joint Venture, an exploration portfolio of thirteen gold and copper projects in Indonesia. He also held senior exploration positions with Ashton Mining Ltd, Aurora Gold Ltd., and Muswellbrook Energy and Minerals.
John Carlile, BSc, MSc, FAusIMM— Director
John Carlile is a geologist with more than 35 years of experience in the resource industry. He has held senior executive and director positions with both major and junior resource companies, including as President of Indonesian and Philippines subsidiaries of Newcrest Mining Limited. As a geologist, he has a proven track record of mineral discovery and business building in Asia, most notably as Exploration Manager, Asia for Newcrest Mining Limited when it discovered its Gosowong mine. He has served on the boards of several resource companies, and currently holds the position of director for Southern Arc Minerals Inc. and Non-executive director of Kingsrose Mining Limited. He holds a BSc in Geology from University of Reading, England, and an MSc in Mineral Exploration from the Royal School of Mines, Imperial College, University of London. He is a Fellow of the AusIMM and a Fellow of the Geological Society of London.
Takashi Kuriyama, B.Eng. – General Manager, Exploration
Takashi Kuriyama, a geology graduate of the Mining and Geology Department of Akita University, served in increasingly senior roles with Sumitomo Metal Mining Co., Ltd. ("Sumitomo") from 1974 until his recent retirement as General Manager of its Global Exploration and Development Department. During his career at Sumitomo, Mr. Kuriyama had the role of Exploration and Geology Manager at Sumitomo's Hishikari world class gold mine in Kyushu, Southern Japan, and subsequently held senior exploration positions in Africa, Australia, Mexico, Canada and the United States of America. In the roles of Executive Vice President of Sumitomo Metal Mining America Inc. and Managing Director of Sumitomo Metal Mining Oceania Pty Ltd., he oversaw the development of the Northparkes copper-gold porphyry copper mine and the Pogo gold mine in Alaska. During his career with Sumitomo, he was seconded to Japanese Government Organizations serving as Councilor at the Metals Exploration Group of the Japan Oil, Gas and Metals National Corporation (JOGMEC) and Director at the Joint Venture Exploration Division for the Metal Mining Agency of Japan (MMAJ). Mr. Kuriyama also served as a Director of Teck Resources Limited from 2006 until 2016.
Dr. Kotaro Ohga, PhD – Chief Engineer
Kotaro Ohga held the position of Associate Professor at Hokkaido University in the Graduate School of Engineering. With a PhD in Mining Engineering, Dr. Ohga has extensive experience with permitting and drill programs in Japan. As Chief Engineer, Dr. Ohga is the main point of contact between Japan Gold and the Japanese Government, offering invaluable insight and expertise as Japan Gold advances its properties.
Andrew Rowe, BSc, MAusIMM—VP Exploration, Japan Country Manager
Andrew Rowe comes to Japan Gold through his previous position with Southern Arc Minerals. He joined Southern Arc in 2006 as a Senior Geological Consultant and was soon promoted to Chief Geologist and then Executive Vice President, leading Southern Arc's exploration programs from grassroots exploration through to completion of the first resource estimate at the Company's West Lombok Project. He planned and implemented large-scale exploration programs, managing both the technical and administrative aspects of the projects. He briefly left Southern Arc in December 2014, and then rejoined the Company as a consultant in August 2015 to continue with Southern Arc's exploration projects in Japan. He graduated with a Bachelor of Applied Science degree in Geology from the University of Technology, Sydney, Australia. He is a Member of the Australasian Institute of Mining and Metallurgy and a Fellow of the Society of Economic Geologists. He has experience in mineral exploration and project management in Australia and various countries in Southeast Asia including Thailand, Indonesia, Mongolia, China and Laos. During this time he held exploration positions with Renison Goldfields, Normandy Anglo Asia, Phelps Dodge, Aurora Gold and Ivanhoe Mines. Immediately prior to joining Southern Arc he was the principal geologist for Pan Australian Resources Ltd (Laos) and part of the team responsible for successfully bringing the Phu Kham Cu-Au porphyry deposit through to bankable feasibility.
Vincent Boon, CPA, CA—CFO and Corporate Secretary
Mr. Boon is a chartered accountant with over ten years of professional accounting experience with private and public companies focusing on financial reporting, regulatory compliance, internal control and corporate finance activities. Mr. Boon's experience includes financial reporting for both Canadian and U.S. listed companies with international subsidiaries, strategic planning, tax planning, corporate governance, equity financings and due diligence for acquisitions. As an employee of J Proust & Associates, an organization providing public company management and venture capital to start-up and junior companies, Mr. Boon is also the CFO of Southern Arc Minerals Inc., Canada Energy Partners Inc., and Rise Gold Corp. Mr. Boon holds a Bachelor of Science degree from the University of British Columbia and is a Chartered Professional Accountant, CPA, CA.
Mitsuhiko Yamada, BA—Director
Mitsuhiko Yamada is a mining business professional with international experience overseeing all aspects of mining projects from exploration through to production. He earned his degree in International Economics at Keio University and spent his career with Sumitomo Corporation. He worked around the globe for Sumitomo, managing various mining projects and overseeing joint venture relationships with some of the world's biggest mining companies, including Newmont, Phelps Dodge, Teck, Xstrata, Rio Tinto and Sherritt. He held increasing senior roles with Sumitomo, ultimately achieving the position of Executive Officer and General Manager of Mineral Resources. He retired from Sumitomo Corporation in 2012 and is currently a Lecturer of English at the Department of Industrial Engineering & Management at Kanagawa University.
Robert Gallagher, BApSc—Director
Bob Gallagher has more than 40 years of experience in the mining industry and is a Mineral Engineer with a specialty in mineral processing. Currently Mr. Gallagher is a director for Yamana Gold Inc., Southern Arc Minerals Inc., Capstone Mining Corp., and BC Hydro. Most recently, he held the position of President and Chief Executive Officer at New Gold Inc. Previously, Mr. Gallagher held increasingly senior management roles at Newmont Mining Corporation over a seven-year period, including Vice President Operations, Asia Pacific; Vice President, Indonesian Operations; and General Manager, Batu Hijau. Earlier in his career, Mr. Gallagher worked at a number of operating mines located throughout the Americas and Asia in various engineering, metallurgical, and mine management roles, including most notably 15 years at Placer Dome Inc. Mr. Gallagher has considerable project development and operational experience. He has been recognized by industry associations for his contributions throughout his career, most notably in 2013 he accepted the Prospector & Developer Association of Canada's Viola R. MacMillan Award for Company or Mine Development on behalf of New Gold Inc., and in 2014 he was jointly recognized by the Association for Mineral Exploration British Columbia with the E.A. Scholz Award for excellence in mine development.
Dr. Sally Eyre, PhD—Director
Dr. Sally Eyre is a mining finance professional with extensive experience in global resource capital markets and mining operations. During 2011 to 2014 she served as President & CEO of Copper North Mining and prior to that she served as Senior Vice President, Operations at Endeavour Mining, responsible for a portfolio of exploration, development and production projects throughout West Africa. She also served as President & CEO of Etruscan Resources Inc. (now Endeavour Mining Corp.), a gold company with producing assets in West Africa. She has served as Director of Business Development for Endeavour Financial Ltd. and has held executive positions with a number of Canadian resource companies. She was appointed Senior Vice President, Corporate Development of Petro Rubiales Energy Corp. (now Pacific Rubiales Energy) and also served as Vice President, Corporate Affairs of UrAsia Energy Ltd. (now Uranium One). In 2003 she served as President & CEO of TLC Ventures Corp. (now Calibre Mining Corp.). She has a PhD in Economic Geology from the Royal School of Mines, Imperial College, London. She is a member of the Society of Economic Geologists (SEG) and a former Director of the SEG Canada Foundation.
Murray Flanigan CPA, CA, CFA – Director
Mr. Flanigan is a management consultant providing financial advisory services to a number of public and private oil and gas, mining and technology companies in North America and abroad. Mr. Flanigan is a Chartered Accountant and a Chartered Financial Analyst with expertise in corporate finance, mergers and acquisitions, international taxation, risk management, banking, treasury, corporate restructuring and accounting, and has served as Chief Financial Officer for various public and private companies. Mr. Flanigan is currently a Managing Principal of Kepis & Pobe Financial Group Inc. and a key member of its executive management team responsible for the negotiation and closing of numerous recent large scale oil & gas transactions in West Africa, offshore Guyana and the Middle East. Prior to founding his own consulting company, Mr. Flanigan served as Senior Vice President, Corporate Development and CFO of Qwest Investment Management Corp., where he was responsible for regulatory reporting and corporate filings for over 15 private and publicly listed companies and limited partnerships in Qwest's portfolio, as well as arranging and closing numerous equity and debt financings. Mr. Flanigan also served as VP Corporate Development for Adelphia Communications Corporation, overseeing the company's financial restructuring and ultimate sale to Time Warner Inc. and Comcast Corporation for approximately US$18 billion.
---
*Disclaimer: This profile is sponsored by Japan Gold (TSXV:JG). This profile provides information which was sourced by the Investing News Network (INN) and approved by Japan Gold, in order to help investors learn more about the company. Japan Gold is a client of INN. The company's campaign fees pay for INN to create and update this profile.
INN does not provide investment advice and the information on this profile should not be considered a recommendation to buy or sell any security. INN does not endorse or recommend the business, products, services or securities of any company profiled.
The information contained here is for information purposes only and is not to be construed as an offer or solicitation for the sale or purchase of securities. Readers should conduct their own research for all information publicly available concerning the company. Prior to making any investment decision, it is recommended that readers consult directly with Japan Gold and seek advice from a qualified investment advisor.