This profile is part of a investor education campaign. The profile provides detailed information which was sourced and approved by IsoEnergy in order to help investors make better investment decisions. The Company's support of Investing News Network ensures we can continue to bring you unbiased, independent news and information.
Resource Investing News Featured Stock
Overview
IsoEnergy Ltd. (TSXV:ISO) is a mineral exploration company and subsidiary of NexGen Energy (TSX:NXE). The company has built a portfolio of early-stage mineral exploration properties in the prolific eastern Athabasca Basin of Saskatchewan, including the Radio and Thorburn Lake Projects.
IsoEnergy has the right to earn a 70-percent interest in the Radio Property, which is directly adjacent to the Roughrider uranium deposit acquired by Rio Tinto for $587 million in February 2012. Exploration work is underway at Radio with results expected by the end of 2016. The wholly-owned Thorburn Lake Project was once located just 7 kilometers east of and on trend with Cameco's Cigar Lake mine. Preliminary exploration work at Thorburn is underway in preparation for a winter 2016/2017 drill program.
IsoEnergy has successfully raised more than $8 million in gross proceeds and is now well-funded to carry out the upcoming exploration programs at both Radio and Thorburn. President and CEO Craig Parry attributes the company's ability to raise money in a challenging environment to NexGen's success with the high-grade Arrow deposit which hosts an Inferred mineral resource estimate of 3.48Mt containing 201.9Mlbs U3O8 grading 2.68 percent U3O8 including a high-grade core of 0.410Mt containing 120.5Mlbs grading 13.26 percent U3O8.
Arrow is considered one of the best basement-hosted uranium deposits in the Athabasca Basin. Basement-hosted uranium deposits are recognized as cheaper and easier to mine at large depths due to the relatively impermeable basement host-rock compared to the overlying sandstone. IsoEnergy has the support of a top-notch exploration team with a track record of success in targeting basement-hosted mineralization; including Steve Blower, IsoEnergy VP Exploration and Garrett Ainsworth, IsoEnergy Director and VP Exploration and Development for NexGen Energy.
"We are focused on the eastern Athabasca where the infrastructure is really strong. We're targeting high grade uranium ore bodies with a team that has a serious track record of success and we are well-funded for exploration at a time when many companies are struggling to raise funds. All this sets us up in a really good field position to kick some goals."
Craig Parry, IsoEnergy President and CEO.
 Investment Highlights
Led by a team of highly skilled uranium professionals with experience spanning exploration, through development and into production.
Focused on finding and developing high-grade uranium projects in the vicinity of the Athabasca Basin's major high-grade uranium deposits.
Exploration has commenced on drill-ready, high-priority targets including Radio and Thorburn.
Well-funded with $8.3 million raised in June 2016 and a supportive shareholder base along with NexGen Energy as major shareholder (76 percent), and institutional shareholders (15 percent).
IPO in planning for Q4 2016.
Planning to expand project portfolio through acquisition.
Key Properties: Eastern Athabasca Portfolio
Radio
The Radio Property is directly adjacent to the Roughrider uranium deposit acquired by Rio Tinto for $587 million in February 2012. The property is along strike of Roughrider and is believed to host the conductor associated with the deposit. Radio is within 50 kilometers of the Rabbit Lake and McClean Lake uranium mills, and other uranium deposits in the area include Dawn Lake and Midwest.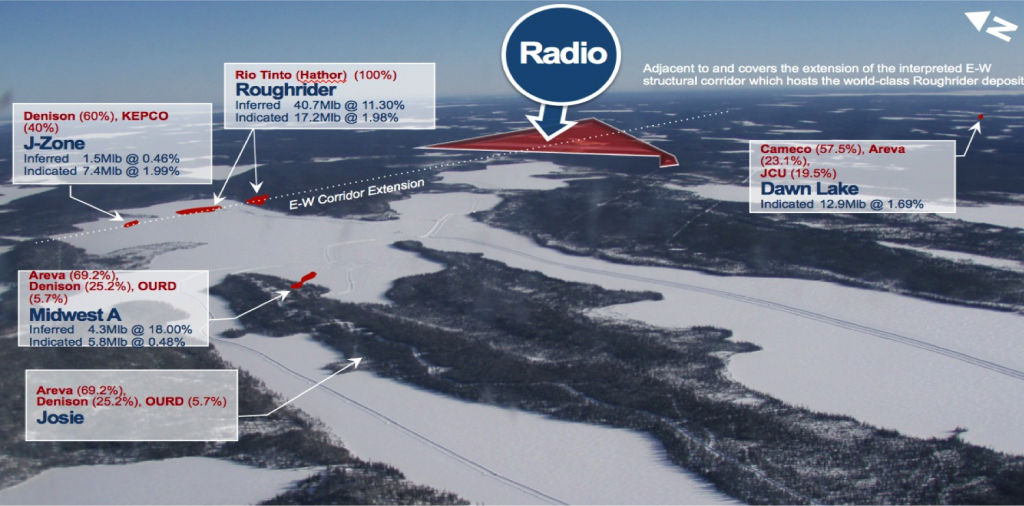 Under an agreement with NexGen, IsoEnergy has the option to earn a 70 percent interest in the project. Previous exploration by NexGen included detailed airborne magnetic and VTEM electromagnetic surveys, ground resistivity and gravity work as well as nine drill holes in summer of 2013.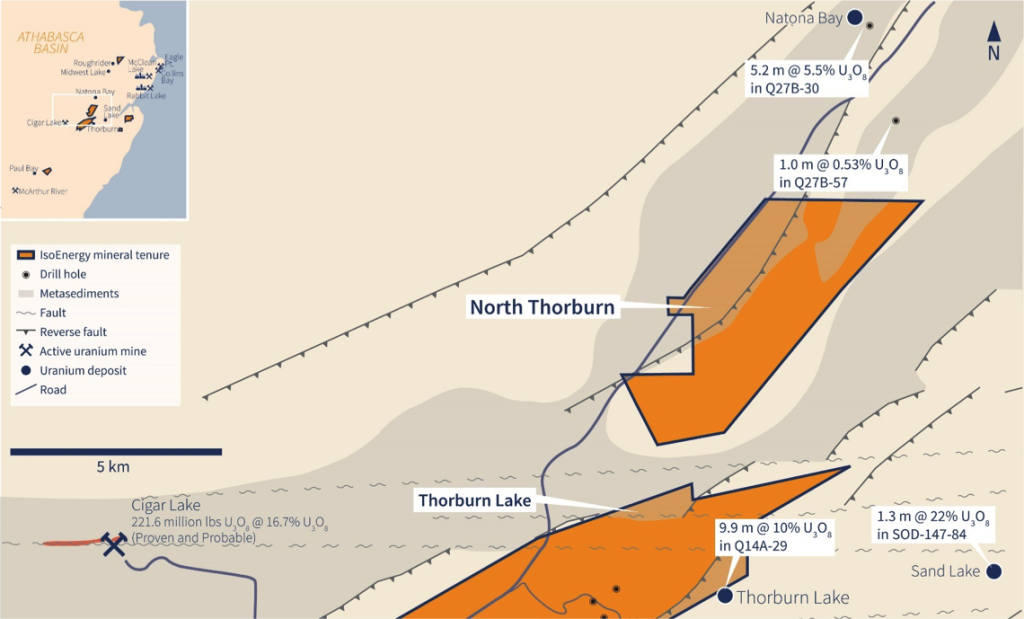 High priority targets located under the areas with lake cover are the focus of exploration work for the 2016/2017 season now underway.
Thorburn Lake
IsoEnergy holds a 100 percent interest in the Thorburn Lake Property which is located 7 kilometers east of and on trend with Cameco's Cigar Lake Mine, and in nearby the Thorburn Lake and Wolf Lake uranium deposits. The Cigar Lake Mine haul road runs through the property in the property.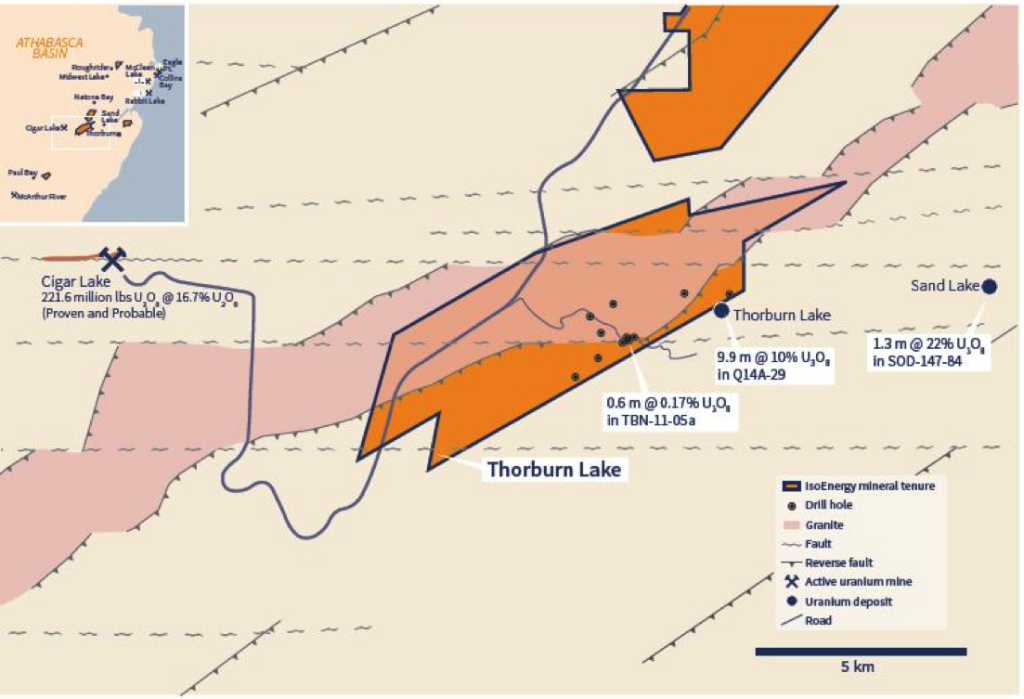 Before the Arrow discovery, Thorburn was NexGen's flagship project and the company drilled a total of 14 holes on the property, nine of which intersected or finished in uranium mineralization and strong alteration commonly found near uranium deposits. Highlights from the results include an intersect of 0.43 percent U3O8 over 0.6 meters. A four-kilometer-long conductive zone is present that hosts known mineralization on and adjacent to the property.
This target area runs the whole length of the southern boundary of the Thorburn Lake Property and is an east-west structural corridor parallel to Cigar Lake corridor. This area is the priority target for IsoEnergy's 2016/17 exploration program now underway.
Similarities and Proximity to Cigar Lake

North Thorburn
The North Thorburn Property is located 5 kilometers northwest of the Thorburn Lake Property, and 12 kilometers northeast of and along strike of the Cigar Lake Mine. The property, which has had minimal exploration, hosts several high priority targets.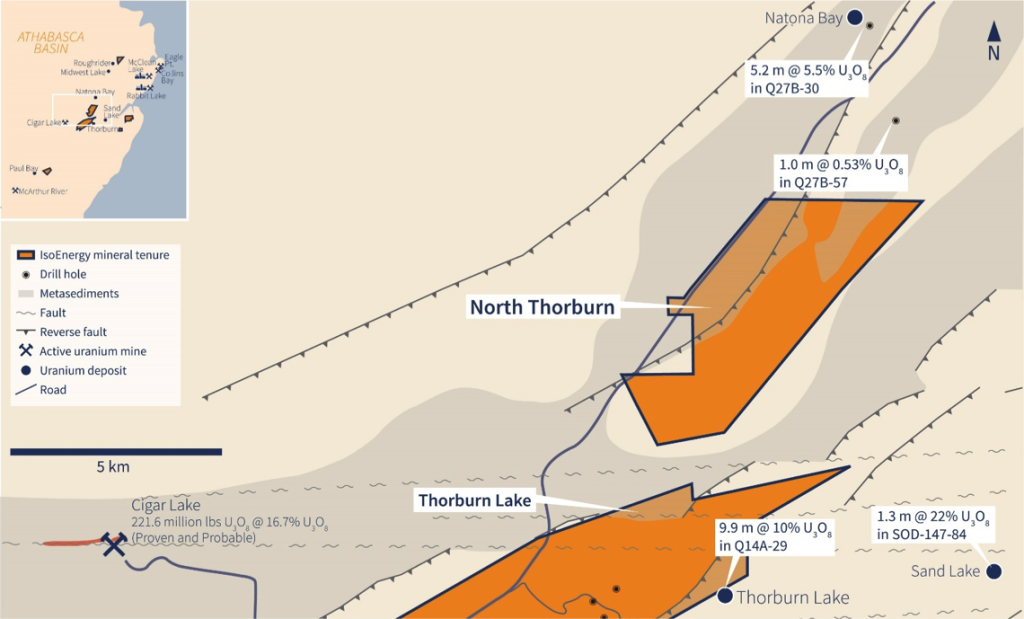 Madison
The Madison Property is located 14 kilometers for the Sand Lake uranium deposit. Historic drilling conducted by Eldorado, Denison and Cameco totaled 11 holes including an intersect of 217 ppm U3O8. The property contains shallow sandstone-hosted uranium mineralization and is on-strike from untested conductor which remains a high priority exploration target.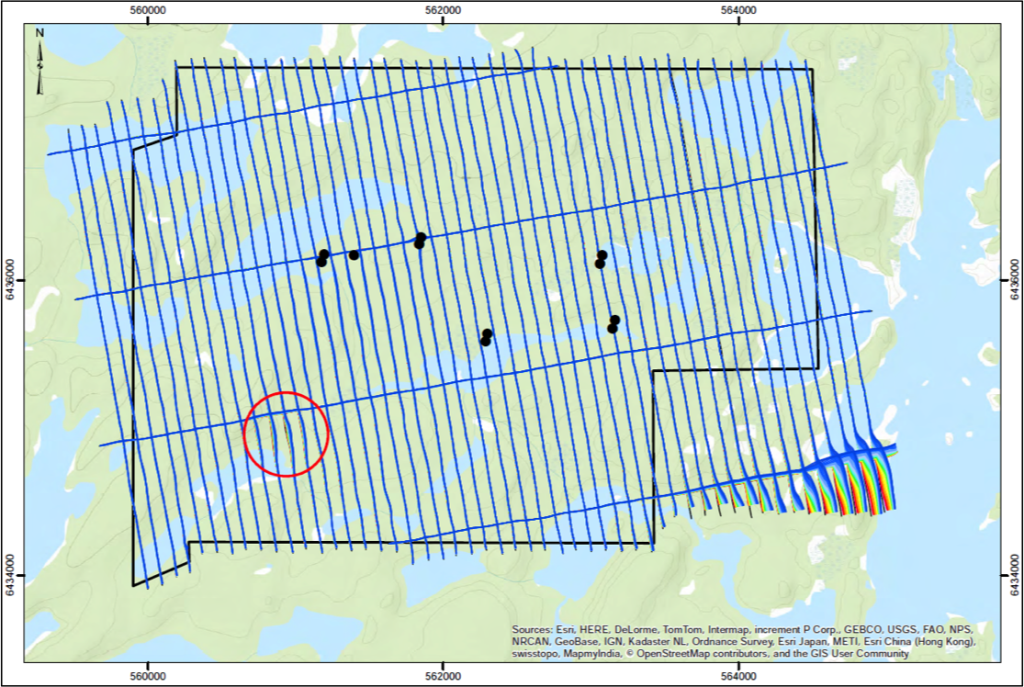 IsoEnergy is planning a ground gravity and geophysics program at Madison.
2Z Lake
The 2Z Lake Property is located 12 kilometers from the Sand Lake uranium deposit. Like the nearby Madison Property, 2Z contains shallow sandstone-hosted uranium mineralized structures and conductors along strike from uranium-mineralized conductors. The property remains underexplored with no drilling activity since 1987. Shallow historic drilling intersected dup to 0.61 percent U3O8.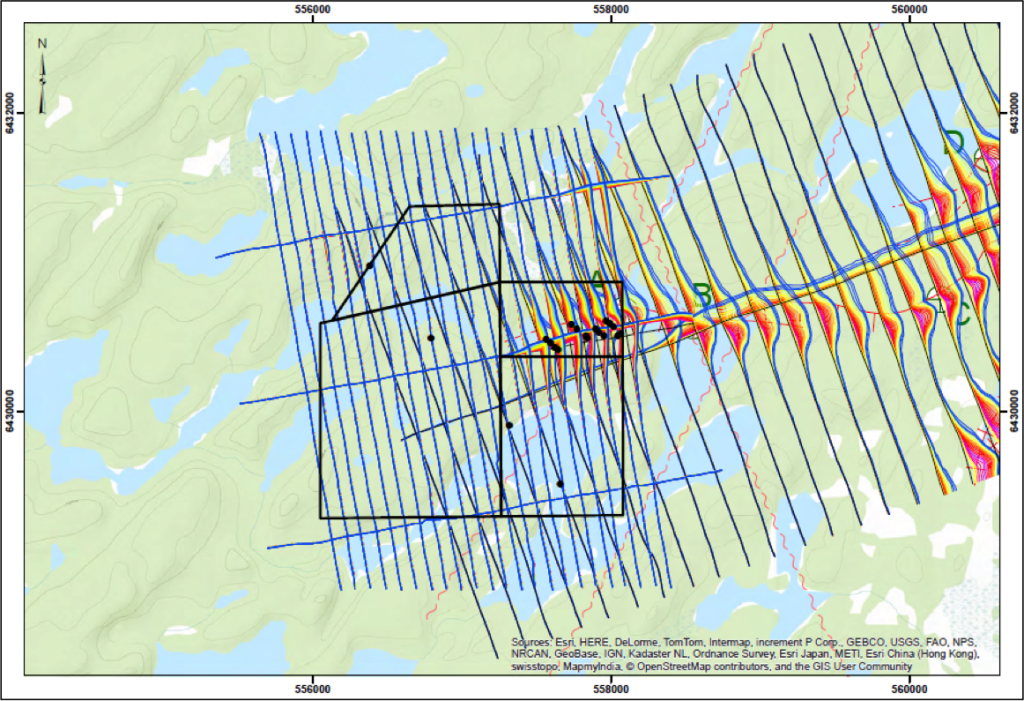 The mineralized structures and conductors at 2Z remain underexplored, and have discovery potential for of new basement-hosted uranium deposits.
Carlson Creek
The Carlson CreelkProperty is located 19 kilometers northeast of the McArthur River Mine and is contiguous with UEX's Christie Lake property which hosts the Paul Bay and Ken Pen basement-hosted uranium deposits.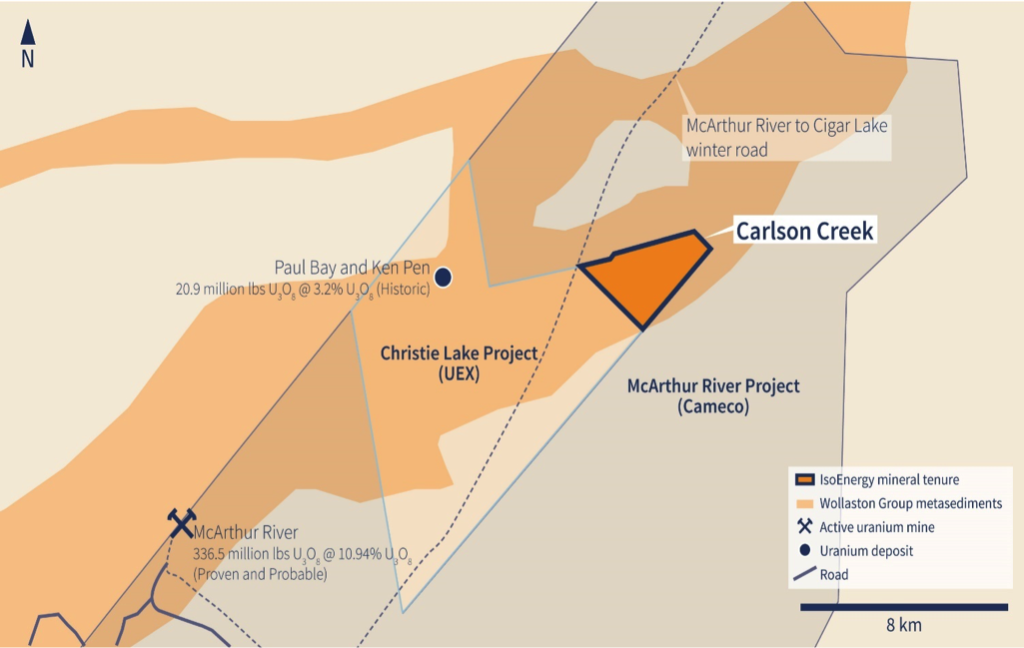 Regional aeromagnetics conducted on the property have indicated favorable meta-sediments with possible fault structures which may be the extension of the P2 structural corridor that hosts the McArthur River orebodies. Of the six drill holes completed at Carlson Creek, two intersected graphitic politic gneiss, the common host for Athabasca uranium mineralization.
Management
Craig Parry, MAusIMM—CEO and President
Craig Parry is a founding member of NexGen Energy and a current member of the company's board of directors. He is also a founding member of the Tigers Realm Group and was appointed to the Boards of Tigers Realm Minerals and Tigers Realm Metals. Parry was appointed to the role of CEO of Tigers Realm Coal in 2012. As an exploration and business development geologist, he has been responsible for the business development activities of the Tigers Realm Group since inception in 2009.  Prior to joining Tigers Realm, Parry was the Business Development Manager for G-Resources Limited responsible for mergers and acquisitions and Principal Geologist—New Business at Oxiana Limited responsible for strategy and business development initiatives in bulk and energy commodities. At Rio Tinto he led exploration programs for iron ore, copper, diamonds, coal and bauxite in Australia, Asia and South America and was Principal Geologist for the Kintyre Uranium project pre-feasibility study.
Steve Blower, M.Sc, PGeo—Vice President Exploration
Steve Blower is a professional geologist with over 20 years' experience in the minerals industry, including exploration, mine geology and resource estimation. He has 10 years' experience in Athabasca Basin uranium exploration, most recently as VP Exploration for Denison Mines. Blower led the team that added 75 million pounds of U3O8 to Denison's mineral resources at the Gryphon and Phoenix deposits. He was formerly the President and CEO of Pitchstone Exploration until its sale in 2012 to Fission Energy.
Leigh Curyer—Chairman of the Board
Leigh Curyer has over 20 years' experience in the resources and corporate sector. He is the current President and CEO of NexGen Energy Ltd. and was previously the Chief Financial Officer and head of corporate development of Southern Cross Resources (now Uranium One). In addition, for three years he was Head of Corporate Development for Accord Nuclear Resource Management assessing uranium projects worldwide for First Reserve Corporation, a global energy—focused private equity and infrastructure investment firm. Curyer's uranium project assessment experience has been focused on assets located in Canada, Australia, USA, Africa, Central Asia and Europe, incorporating operating mines, advanced development projects and exploration prospects. While Chief Financial Officer of Southern Cross Resources (now Uranium One), he managed the exploration, permitting and feasibility study of the Honeymoon Uranium Project in South Australia, ensuring full compliance with NI43-101 reporting. Curyer has raised over $500 million of equity in North America, US, Europe and Australia.
Garrett Ainsworth—Director
Garrett Ainsworth is a professional geologist and the Vice President Exploration and Development for NexGen Energy Ltd. Ainsworth was instrumental in the successful progress of the Patterson Lake South (PLS) project, where he was the Project Manager for the Alpha-Fission Joint Venture from 2007 to 2013. During his tenure as Project Manager of PLS he oversaw the staking of new claims, the discovery of the boulder field, the initial high-grade uranium drill hole discovery (R00E zone), and the discovery of the high grade, near surface, uranium zones R390E and R780E during the winter 2013 drill program. In 2013, he was the AMEBC recipient of the Colin Spence Award (For Excellence in Global Mineral Exploration) in recognition of his efforts which led to the discovery of the high-grade uranium mineralized system at the Patterson Lake South project in the Athabasca Basin, Saskatchewan.
Christopher McFadden—Director
Christopher McFadden is a lawyer with 20 years' experience in exploration and mining. He is currently Manager, Business Development at Newcrest Mining Limited and prior to that was Commercial General Manager with Rio Tinto's exploration division with responsibility for gaining entry into new projects either by negotiation with government or joint venture partners or through acquisition. McFadden has extensive international experience in managing large and complex transactions and has a broad knowledge of all aspects of project evaluation and negotiating project entry in challenging and varied environments.
Richard Patricio—Director
Richard Patricio is the CEO and President of Mega Uranium Ltd. a uranium-focused investment and development company with assets in Canada and Australia.  Prior to that, Patricio practiced law at Osler LLP in Toronto where he focused on mergers and acquisitions, securities law and general corporate transactions. His years of experience working with and for public companies are critical to building Pinetree's public profile while ensuring the company remains compliant with the stock exchange rules. In addition to Patricio's legal and corporate experience, he has built a number of mining companies with global operations. He holds senior officer and director positions in several junior mining companies that are listed on the TSX and the TSX Venture exchanges.
Trevor J. Thiele—Director
Trevor Thiele has over 30 years' experience in senior finance roles in medium to large Australian ASX listed companies. He has been Chief Financial Officer for companies involved in the Agribusiness sector (Elders and Viterra) and the Biotechnology sector (Bionomics). In these roles he combined his technical accounting and financial skills with commercial expertise thereby substantially contributing to the growth of each of these businesses. During this time, he was actively involved in IPO's, capital raisings, corporate restructures, mergers and acquisitions, refinancing and joint ventures.