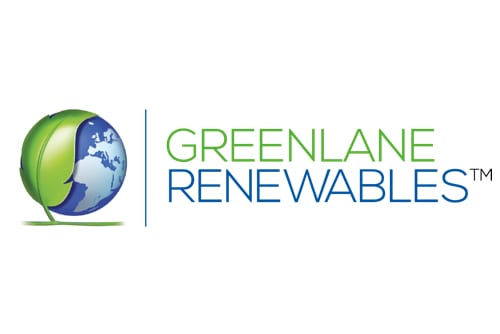 Greenlane Renewables
Upgrading Natural Gas into a Renewable Energy Source
Overview
Greenlane Renewables Inc. (TSXV:GRN) is a leading global provider of biogas-upgrading systems that are capable of contributing to the decarbonizing of the natural gas grid and transportation network. The company's systems produce clean, low-carbon, renewable natural gas (RNG) from organic waste sources such as landfills, wastewater treatment plants, farms and food waste facilities. The RNG is then used as fuel for vehicles, such as those adopted by UPS (NYSE:UPS), or for injection into the natural gas grid.
In response to end-user demands for a lower carbon footprint and renewable fuels, Greenlane Renewables is the only RNG pure play that offers the three main biogas upgrading technologies. These technologies remove impurities and separate biomethane in raw biogas to create clean RNG for pipeline injection, liquefaction or direct use as a vehicle fuel. The company works with customers from around the globe to find the right solutions for the type and scope of the project.
Focused on providing turnkey solutions for its clients, Greenlane Renewables offers three technologically-advanced solutions to its clients, beginning with its patented water-wash system, pressure swing adsorption (PSA) and membrane separation, all three of which are designed to meet project specifications without breaking the budget. More than that, Greenlane Renewables brings core competency and outright expertise built on decades of experience to get the job done. Units are priced from $1 million to $7 million depending on the size and scope of the project, generating $18 million in revenue for the company in 2018. Greenlane Renewables is launching its "Develop, Build, Sell, Operate" (DBSO) business model that is expected to provide recurring revenue streams and stronger margins as well as exposure to more profitable off-take contracts with customers that require a strategic partner.
To date, Greenlane Renewables has installed over 100 units in 18 countries across the globe. The company has installed one of the largest RNG operations in both Europe (Germany) and Canada (Quebec). Greenlane Renewables has also completed a project in California that upgrades and injects RNG into the SoCalGas (OTCMKTS:SOCGP) (part of the Sempra group of utilities) natural gas pipeline network.
With over 30 years of industry experience, patented technology and over 100 biogas units installed in 18 countries, Greenlane Renewables is committed to help eliminate waste and provide a greener future for generations to come.
Greenlane Renewables is also one of the founding members of the Integrated Biogas Alliance (IBA), an organization designed to help provide the global biogas industry with unique and fully-integrated organic waste to renewable energy solutions.
Greenlane Renewables' Company Highlights
Greenlane Renewables is a market leader in upgrading low-energy biogas to RNG.
The company has 14 patents and 28 device titles.
The company offers three patented biogas upgrading technologies to customers across the globe.
Each technology unit is worth between $1 million and $7 million.
Revenue generated in 2018 totaled $18 million.
The company has installed over 100 units in 18 countries.
Greenlane Renewables plans to expand beyond equipment into more lucrative long-term contracts under a "build, own, operate" business model.
The company is comprised of industry leaders with over 30 years of experience.
Insiders own approximately 37 percent and institutional shareholders own approximately four percent of the company's shares.
Why Renewable Natural Gas?
According to a report by McKinsey & Company, the demand for natural gas is expected to reach 20 billion cubic feet per day by the year 2030. The market is expected to have a significant impact on the North American gas landscape in particular, as coal loses popularity as an energy solution and renewable energy takes a more dominant role in the market. McKinsey & Company notes that the North American gas market is dependent on the global market as roughly 60 percent of natural gas will come from the US and Canadian exports.
The increase in demand for renewable energy sources is being driven by greenhouse gas emission reductions, strict government regulations and growing demand for waste treatments. For example, in 2010, California passed the California Low Carbon Fuel Standard (CA-LCFS), which looks to reduce greenhouse gas emission by 10 percent by 2020. The new standards were designed to promote the use of alternative fuels including biofuels, compressed natural gas, hydrogen and electricity, making biogas an important renewable energy solution.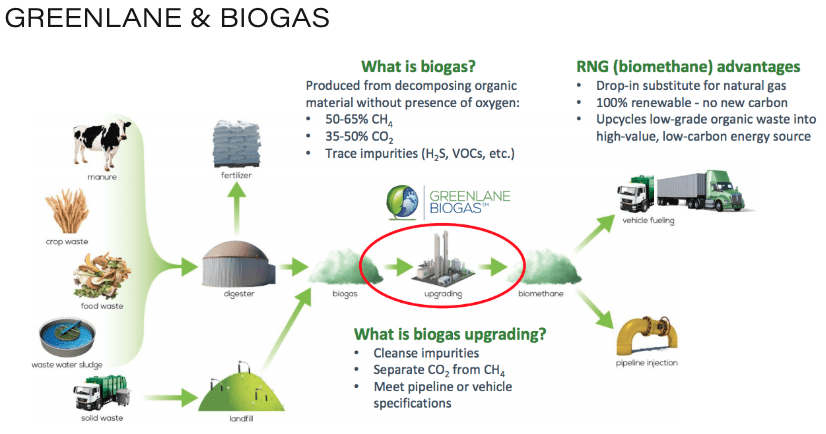 To present a viable solution for the need for renewable energy, Greenlane Renewables has developed three innovative technologies that are capable of producing biogas. Biogas is produced from decomposing organic material without the presence of oxygen and primarily comprised of methane and carbon dioxide gas. Biogas started as a cheap heating fuel but was adopted in the late 1980s for combined heat and power applications. Applications for biogas have recently expanded to include high-value and high-tech upgrading processes to make it available for pipeline injection (utilities) and vehicle use.
Many existing natural gas plants, however, are not equipped to produce biogas, creating a large market for biogas upgrades. According to Research and Markets, the global biogas upgrading market is expected to reach US$4.96 billion by 2026. Biogas plants are needed to help the utility sector meet sustainability targets and many companies, such as SoCalGas, FortisBC and Energir to adopt biogas upgrades at their natural gas plants. For example, SoCalGas has committed to replace 20 percent of its traditional natural gas supply with RNG by 2030.
Greenlane Renewables' Technology
Greenlane Renewables has built a team with significant technology and implementation expertise that collaborate with the company's clients. The team works with customers to evaluate project objectives and identify solutions that work for them. Greenlane Renewables helps its clients choose the right type of technology for the project, advisory services and assists with a variety of project development activities such as financing, siting, permitting and RNG off-take.
Greenlane Renewables is one of the only companies to offer multiple core technologies for creating RNG products. The company's biogas upgrading-systems are marketed and sold through its wholly-owned subsidiary Greenlane Biogas and the Greenlane Biogas brand. Biogas upgrading systems are responsible for cleansing impurities and separating carbon dioxide from biomethane to create a clean, high-purity, low-carbon fuel, known as RNG.
Greenlane Renewables manages the entire project life cycle from design and procurement through to on-site installation, commissioning and aftercare. After the company's technology has been installed, Greenlane Renewables provides 24/7 technical support, remote monitoring and maintenance.
The Technology
Greenlane Renewables offers three technology solutions to its clients: water-wash, PSA and membrane separation. All three pieces of technology are designed to fulfill the needs of big and small projects alike. Each unit price ranges from $1 million to $7 million depending on the size and scope, which resulted in $18 million in revenue for the company in 2018.
Water-Wash
A simple process with no upstream treatment requirements, the water wash technology removes impurities in the feed material without using chemicals or heat. It is one of the most widely-used upgrading technologies in the world. Greenlane Renewables has developed five models for this technology that are designed to meet a range of flow-rate requirements. All technology systems contain a modular design with a compact footprint, making it easily scalable.
Pressure Swing Adsorption (PSA)
PSA can effectively separate specific gases from a complex mixture of different gases, like those generated at landfills. The PSA technology uses several steps to purify biogas and separate methane from carbon dioxide. It is one of the only technologies available today that can remove nitrogen; however, high nitrogen levels can reduce methane recovery rates, making it sometimes necessary to pair the technology with another solution like the water wash.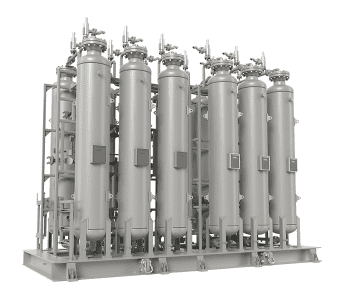 Membrane Separation
Often more suitable for small to medium-sized projects, the membrane separation technology uses permeation to filter out larger methane molecules from the smaller carbon dioxide molecules. Greenlane Renewables believes that this option is best for clients that consider initial capital expenditure as more important than long-term life cycle costs.
RNG Projects
Every biogas upgrading project requires its own unique solution depending on the source of the raw biogas, its composition and level of impurities. The solution also changes based on the size of the project and the end-user of the RNG. To this aim, Greenlane Renewables works with its customers to find the right solution for that particular client and has established projects in a number of countries around the globe.
Gustrow, Germany
In 2009, Greenlane Renewables was commissioned to develop one of the largest RNG projects in Europe in Gustgrow, Germany. The plant, which has a capacity of 10,000 normal cubic meters per hour, treats biogas from crops and feeds the RNG into the local natural gas pipeline.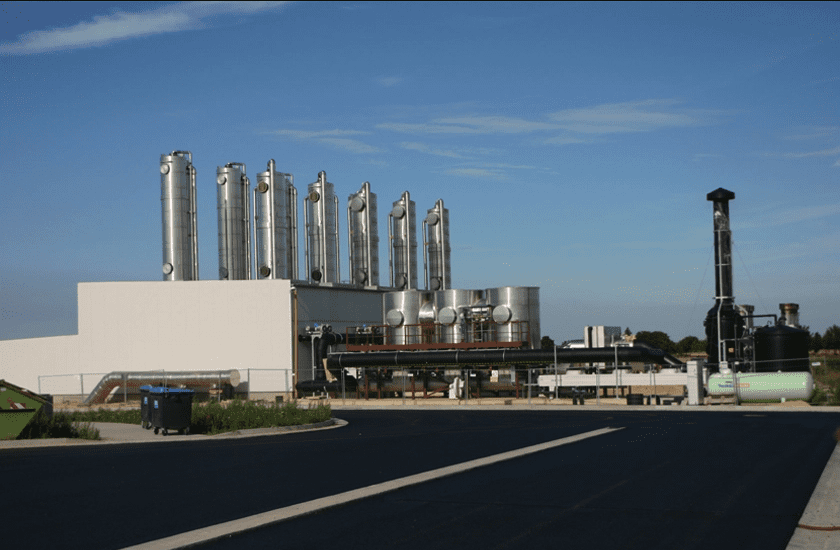 Quebec, Canada
Greenlane Renewables has also designed one of the largest RNG processing facilities in the world in Montreal, Quebec. The facility has a capacity of 16,000 normal cubic meters per hour and treats biogas from a large landfill and feeds the RNG into the local natural gas pipeline. The project was commissioned in 2014.

California, US
Greenlane Renewables' latest project was commissioned in 2018 and is stationed in Perris, California. The plant treats biogas from municipal organic waste and feeds the Rule-30 pipeline-quality RNG into SoCalGas' pipelines. The project has a total capacity of 2,000 normal cubic meters per hour and is credited with being the first facility to produce RNG within California. The project uses Greenlane Renewables' Totara system in combination with PSA to produce the required end product.

Greenlane Renewables' Growth Strategy
Greenlane Renewables plans on moving away from equipment sales and into more lucrative long-term contracts. The company hopes this will provide exposure to more profitable off-take contracts with customers that require a strategic partner for RNG production. In turn, this should provide Greenlane Renewables with recurring revenue streams and stronger margins. The company plans to focus on providing turnkey solutions for upgrading a client's RNG processing facility. Greenlane Renewables' goal is to announce a "build, own, operate" deal in the near-term.
Greenlane Renewables' Management Team
Brad Douville — President, CEO and Director
Brad Douville joined Greenlane in 2017 after a 25-year career in the natural gas commercial vehicle industry. He was a founding member of Westport Innovations Inc. (formed in 1995), now Westport Fuel Systems Inc., and Cummins Westport (2001). He holds a M.A.Sc. in Mechanical Engineering (University of British Columbia) and an Executive Program certificate from the Stanford School of Business.
Lynda Freeman — CFO
Lynda Freeman is a distinguished financial professional with over 22 years of experience. She has held progressively senior financial leadership roles, including five years as CFO of TSX-listed Alterra Power Corp., a global renewable energy company with hydro, wind, geothermal and solar generation capacity. She earned her BA Honours degree in Accountancy and Law at Oxford Brookes University and is a UK qualified Chartered Accountant (ACA).
Brent Jaklin — Senior VP of Sales and Service
Brent Jaklin has more than 20 years of experience in engineering and operations for alternative fuels and RNG projects. Prior to joining Greenlane, he was with QuestAir Technologies. He holds a degree in Mechanical Engineering (Lakehead University).
Dale Goudie — VP of Technology and Product Management
Dale Goudie has over 18 years of engineering experience in the design and development of natural gas engines, fuel systems and cryogenic systems. Prior to joining Greenlane, he was with Westport Fuel Systems Inc. He holds a B.Sc. in Mechanical Engineering (Queen's University) and an M.A.Sc. in Mechanical Engineering (University of Victoria).
Jim Bornholdt — VP of Purchasing, Project Management and Quality, Health, Safety and Environment (or QHSE)
Jim Bornholdt has over 35 years of experience in purchasing and logistics functions for multi-million-dollar projects across a broad range of industries, including manufacturing, aerospace, civil construction and the Olympic Games.
Marco Mazafarro — Director of Project Development
Marco Mazafarro has over 15 years of experience in renewable energy project sales and development. He holds a degree in Business Administration from the Pontifícia Universidade Católica de São Paulo in Brazil and a M.Sc. in Sustainable Energy Development (University of Calgary).
Sandra Keyton — VP Human Resources
Sandra Keyton is a growth-oriented human resources executive with 30 years of global HR experience in the technology, automotive and energy sectors. Prior to Greenlane, she was with Westport Fuel Systems Inc. She holds her CHRP designation and is a graduate of the British Columbia Institute of Technology Human Resources Management Program.
Wade Nesmith — Chairman and Director
Wade Nesmith founded Primero Mining Corp. in 2008, acting as CEO until 2010 and Chairman until 2018. He was a founding board member of Westport Innovations Inc. and Silver Wheaton Corp. and was previously Superintendent of Brokers for the Province of British Columbia (1989 to 1992), and senior partner, specializing in securities law with Lang Michener LLP (now McMillan LLP) (1993 to 1998). He obtained his LLB from Osgoode Hall Law School.
David Demers — Director
David Demers was a founding member of Westport Innovations, serving as CEO and a director from 1995 to 2016. He was a director of Primero Mining Corp. (2008 to 2018). Previously with IBM, Demers currently sits on the boards of TIMIA Capital Corp. and Augurex Life Sciences Corp. He has a B.Sc. in Physics and a D.Juris, both from the University of Saskatchewan.
David Blaiklock — Director
David Blaiklock previously served as the Chief Financial Officer of Primero Mining Corp., and as the Corporate Controller for Intrawest Corporation. He received his designation as a Chartered Accountant while working with the international accounting firm Deloitte Touche Tohmatsu Limited. He has a B.A. in Economics and Business Studies (University of Sheffield) and holds his CPA, CA designations in British Columbia and the UK.
Patricia Fortier — Director
Patricia Fortier is a former Canadian diplomat who most recently acted as an Assistant Deputy Minister in Global Affairs Canada. She has held several diplomatic postings, including Canadian Ambassador to Peru, Bolivia and the Dominican Republic, and Minister-Counsellor at the Canadian Embassy in Washington, D.C. She has a master's degree in public administration (Queen's University).
Candice Alderson — Director
Candice Alderson is currently a Senior Vice President, Infrastructure Investments for the Ledcor Group of Companies, a privately-held company that is one of the most diverse conglomerates in North America. Ms. Alderson is responsible for leading the Infrastructure Investment group overseeing equity investments and supporting multiple Ledcor divisions in the pursuit of major infrastructure projects. She holds a BA in Political Science and Environmental Studies (Concordia University) and an LLB (University of Victoria).
Elaine Wong, CPA, CA — Director
Ms. Wong is currently President, Pine Street Ventures Ltd. and is a seasoned executive with over 25 years of experience in accounting, finance and operations in fast growing companies. She spent 13 years with Westport Fuel Systems, a publicly listed (Nasdaq & TSX) clean technology company with a global presence, holding various senior positions including Chief Financial Officer and Executive Vice-President, Strategic Development, responsible for strategy and mergers and acquisitions. Prior to Westport, Elaine was with ISM-BC, an information technology joint venture owned by IBM and TELUS, where she was Corporate Controller and then Director of Corporate Performance responsible for financial reporting and analysis. Named one of Canada's Top 100 Most Powerful Women in 2010, Ms. Wong earned her Chartered Accountant designation in 1993 while working with KPMG and is also a Certified Public Accountant (Illinois). She holds a Bachelor of Commerce (Honours) degree from the University of British Columbia.
---
*Disclaimer: This profile is sponsored by Greenlane Renewables Inc. (TSXV:GRN). This profile provides information which was sourced by the Investing News Network (INN) and approved by Greenlane Renewables Inc., in order to help investors learn more about the company. Greenlane Renewables Inc. is a client of INN. The company's campaign fees pay for INN to create and update this profile.
INN does not provide investment advice and the information on this profile should not be considered a recommendation to buy or sell any security. INN does not endorse or recommend the business, products, services or securities of any company profiled.
The information contained here is for information purposes only and is not to be construed as an offer or solicitation for the sale or purchase of securities. Readers should conduct their own research for all information publicly available concerning the company. Prior to making any investment decision, it is recommended that readers consult directly with Greenlane Renewables Inc. and seek advice from a qualified investment advisor.