Great Bear Resources
New High Grade Gold Discovery in Red Lake, Ontario
Overview
Great Bear Resources (TSXV:GBR,OTC:GTBDF) is a Canadian exploration company focused on advancing its high-grade gold assets in one of the world's premiere mining jurisdictions. In Ontario's Red Lake district, home of 28 historic and currently operating mines with 30 million ounces of gold produced to date, an excellent network of access roads allows for exploration work year-round at Great Bear's Dixie project.
At the Dixie project, the company has acquired a 100 percent, royalty-free interest of the 9,140-hectare land package that makes up the project. Dixie hosts geological structures and high-grade mineralization similar to that of the major gold mines and advanced projects in Red Lake.
In the summer of 2017, the company completed a 1,000-meter drill program to target high-grade, near-surface gold intercepts based on new 3D modeling. In September 2017, the company announced the widest and highest-grade intercept on the property to date: 10.4 meters grading 16.84 g/t gold. Results from the 2018 drill program included 16.35 meters grading 26.91g/t gold and 7.00 meters grading 68.76 g/t gold.
Great Bear is currently in the middle of completing a 90,000-meter drill program at its Dixie project. So far, the company has been able to identify three new zones of mineralization and expand the Hinge zone to depth.
According to Great Bear President and CEO Chris Taylor, there are many similarities between the mineral controlling geology for the Red Lake mine and the geology seen at the Dixie project.
"We continue to expand the robust and fertile gold system at our flagship Dixie project," said Taylor. "Our latest drill results suggest excellent continuity of high-grade gold mineralization at the primary gold-hosting contact of the DLZ from surface to a vertical depth of approximately 150 metres. Historical drilling suggests that gold mineralization extends to at least 450 metres vertical depth and remains open to extension both at depth and along strike, which Great Bear will continue to drill-test."
Great Bear is led by a strong management team and board of directors with a solid background in the mining and financial sectors. The company's VP of Exploration, Bob Singh has decades of experience in evaluating, exploring and advancing base and precious metals systems for both junior and major mining companies. Great Bear Director Dr. David Terry is a professional economic geologist with years of experience internationally in senior executive and corporate director roles in the resources sector. Great Bear Advisor John Robins brings over 30 years of experience to the company. He is currently the Executive Chairman for Kaminak Gold Corporation and won the H.H. "Spud" Huestis Award in 2008 for his exploration work.
Great Bear's Company Highlights
Dixie project: 100-percent owned high-grade from surface gold in Red Lake
GBR's claims are accessible and have access tonearby infrastructure
In 2017, Great Bear followed up on 160 historic holes with a 1,000-meter program testing a new geological interpretation
Announced in September 2017; the widest and highest-grade intercept on the property to date: 10.4 meters grading 16.84 g/t gold.
2018 drill program returning high grade gold with significant results including 16.35 meters grading 26.91 g/t gold and 7.00 meters grading 68.76 g/t gold.
Great Bear's exploration team won the 2018 Bernie Schneiders Discovery of the Year Award in April 2019.
Award-winning industry leader, John Robins, is a significant shareholder.
Tight share structure, with approximately 40 million shares outstanding.
Management is heavily invested in the company.
Dixie Project
The Dixie Project is a 9,140-hectare high-grade gold project located 25 kilometers southwest of Red Lake, Ontario. Infrastructure in the region includes all-season road access and power lines which cross the northern portion of the property. Great Bear has a purchase agreement for a 100 percent interest in Dixie and the company has purchased the NSR royalty for the property.
"The Dixie project has similar host geology, gold controlling structures, and presence of high grade mineralization that also characterize the major gold mines and advanced projects in Red Lake," said Taylor.
Historic Exploration
Historic drilling on the property tested numerous zones and intersected significant gold mineralization at the Hinge and Dixie zones and in the south limb. Highlights from 160 historic holes drilled by various operators from 1988 to 2011 at Dixie include 2.2 meters at 17.2 g/t gold, 4.6 meters grading 9.75 g/t gold, 1.97 meters at 17.77 g/t gold and 0.47 meters grading 163.75 g/t gold.
2018 – Ongoing Exploration
Currently, Great Bear is in the middle of its Phase II drill program. The work program will be focusing on extending the strike length of the main gold mineralization, test high-grade gold mineralization at depths of up to 200 meters and they will be testing additional gold zones and prospective geophysical targets within the main gold structure.
Great Bear expects the drilling to continue through 2018 and into 2019. The drill program is expected to consist of 100 to 150 drill holes totaling 90,000 meters. Significant drill results from the program include 16.35 meters grading 26.91 g/t gold and 7.00 meters grading 68.76 g/t gold from two holes at the Hinge zone, at the Dixie project. Highlights from the program include:
Drill hole DHZ-003 returned 35 meters of 26.91 g/t gold including separate sub-intervals of 5.05 meters of 51.39 g/t gold, and 1.0 meter of 112.63 g/t gold.
Drill hole DHZ-004, a follow-up drill hole completed 15 meters vertically below DHZ-003 intersected higher-grade gold mineralization, returning seven meters grading 68.76 g/t gold, including two meters grading143.24 g/t gold, which includes one meter grading 224.03 g/t gold.
Drill hole DHZ-014 returned 1,602.73 g/t gold over 0.70 meters at a vertical depth of 150 meters.
Drill hole DHZ-023 intersected a 42-meter-wide zone of increased hydrothermal alteration, sulfide mineralization and multiple quartz veins from 121 meters to 158 meters vertical depth. The hole returned 3.40 meters grading 31.60 g/t gold and 2.80 meters grading 9.91 g/t gold.
Great Bear was able to extend the Hinge zone to 440 meters down plunge, returning 3.90 meters grading 18.09 g/t gold including one meter grading 69.97 g/t gold.
Reconnaissance drilling to the west of the Hinge zone also hit high-grade gold mineralization, including 0.070 meters grading 31.40 g/t gold within a 2.70-meter interval grading 8.70 g/t gold.
The newly reported intercepts from the Hinge zone are shallow, occurring above 110 meters vertical depth and are open in all directions.
As announced in September 2018, Great Bear closed a $10 million private placement including $5.7 million from Rob McEwen and McEwen Mining and is fully funded to drill 30,000 meters for 150 holes through 2018 and into 2019.
The South Limb zone has returned 1.75 meters grading 101.05 g/t gold including 0.5 meters grading 346.79 g/t gold.
The Dixie Limb zone returned 3.10 meters grading 6.71 g/t gold and 2.30 meters grading 6.16 g/t gold.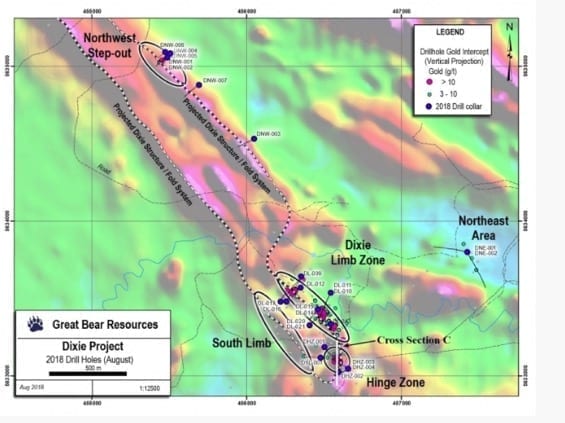 Plan map showing the locations of currently reported drill results.
Through the program, Great Bear has identified two new zones on the property: Bear-Rimini and Yuma. The Bear-Rimini zone is located 2.5 kilometers northwest of the Hinge zone and hosts the LP fault which is thought to have an 18-kilometer strike length. The shallowest gold intercept from the zone was taken from a depth of 53 meters and returned 0.5 meters grading 759.38 g/t gold.
"After recognizing a significant hydrothermal alteration zone in our previous round of regional drilling, we tested and discovered, in our first hole, a new zone of shallow high-grade gold associated with silicification of host rocks related to a crustal-scale structure we call the LP fault. The fault marks a contact between mafic and felsic/intermediate rocks and is spatially associated with an 80-meter to 200-meter-wide quartz sericite zone associated with highly anomalous to high-grade gold mineralization. We interpret the LP fault to transect the property for approximately 18 kilometres of strike length. The new Bear-Rimini zone joins the Hinge zone as a significant new gold discovery and will be an additional focus of drilling through the remainder of 2019," said Taylor.
The Yuma zone was discovered as Great Bear sampled historical drill cores that were taken in a 1.4-kilometer step-out drill hole completed by a previous operator. The hole intersected mineralization that is thought to be connected to the LP fault. Samples taken from the area returned 5.5 meters grading 4.07 g/t gold including 0.5 meters grading 36.90 g/t gold. Great Bear has fast-tracked re-logging and sampling of all available historical drill cores from areas north of the LP fault zone and follow-up drilling is currently underway.
Additional Properties in the Red Lake District
Great Bear is in the process of acquiring three additional properties in the Red Lake district: Dedee, Pakwash and Sobel. The company intends to conduct mapping and prospecting on the properties in summer 2019.
"Following our recent drill success at Dixie, the total staked area within the Red Lake district increased by over 150 percent, constituting the area's largest staking rush in decades," said Taylor. "We have completed a model-driven geological review of the district using the Dixie property's D2 fold and deep-seated structural gold controls as guides. This work suggests additional prospective areas for gold mineralization, which we have now secured, royalty free. We intend to prospect the new properties in summer 2019."
Dedee
The 15,300-hectare Dedee property is road accessible and located approximately 20 minutes away from Red Lake by car. The property covers the western strike extensions of the D2 axial plane, which could control the new high-grade gold discoveries at the Dixie project, and hosts two folded greenstone belts that mimic the geometry of the Dixie folded greenstones. Historical drill reports talk about the presence of sulfides similar to those found at the Dixie Limb zone that were never tested for gold. Conductive trends similar to the Dixie Limb zone has also been identified in historical geophysical surveys.
Pakwash
The 3,100-hectare Pakwash property is located southeast of the Dixie property and covers portions of a regional fault structure. Historical work on the property identified gold lake sediment anomalies that coincide with regional fault zones and gold in-soil anomalies. To date, the anomalies have not been followed up on.
Sobel
The 3,200-hectare Sobel property is located along the strike extension of the main D2 fold axial plane which could be a control for gold mineralization at Newmont Goldcorp's (TSX:NGT,NYSE:NEM) Red Lake gold mine.
Great Bear's Management Team
Chris Taylor, M.Sc., P.Geo. – President, CEO and Director
Christopher Taylor served as a geologist with Imperial Metals, Inc., a TSXV company from 2004 to 2009. Taylor graduated with a Bachelor of Science honors degree in Earth Sciences in 2000, and a Master of Science degree in Structural Geology from Carleton University in 2003.
Calum Morrison – VP Corporate Development
Calum Morrison has over 15 years of experience in the mining industry, having worked both in corporate development and investment banking roles. Mr. Morrison has managed and led negotiations on numerous transactions with aggregate value in excess $5 billion; including acquisitions, divestments, joint ventures, and other strategic initiatives. Most recently Mr. Morrison was a senior member of Teck Resources Limited's Corporate Development team that oversaw the origination, negotiation, and execution of numerous transactions. Mr. Morrison is a Chartered Financial Analyst (CFA) Charter Holder, a Chartered Professional Accountant (CPA, CA), and holds a Bachelor of Environmental Science honours degree from Dalhousie university.
Bob Singh, B.Sc., P.Geo. – VP Exploration and Director
Bob Singh has been associated with the mineral exploration industry for over 23 years. He has strong technical background in evaluating and exploring gold and base metal systems and has outstanding geological, data management, computer and project management abilities. He is Founder of North Face Software Ltd. and serves as its President. He has worked for both junior and major mining companies as well as developed new technologies for recording and analyzing geological data. Singh has managed several exploration programs in the Red Lake Gold district since 2003 and was a key member of an exploration team exploring for sediment hosted gold deposits in British Columbia. Singh received his B.Sc. in Economic Geology at the University of British Columbia in 1991.
David Terry, Ph.D., P.Geo. – Director
Dr. David Terry is a professional economic geologist, senior executive and corporate director with more than 25 years of international experience in the mineral resources sector. Dr. Terry has held executive positions and directorships with a number of mineral resource companies; he currently serves as a director of Golden Arrow Resources Corporation and as President and CEO of Comstock Metals Ltd. He has also worked with a number of senior mining companies including Boliden Limited, Westmin Resources Limited, Hemlo Gold Mines Inc., Cominco Limited and Gold Fields Mining Corporation.
Tony Ricci, CPA, CA – Director
Tony Ricci has over 25 years of practice experience, mainly with public companies listed on Canadian and U.S. stock exchanges. Ricci was formerly a director and CFO of Keegan Resources Inc. (TSX: KGN, NYSE: KGN), a director and CFO of Norsemont Mining Inc. (TSX:NOM), and CFO of both Petaquilla Minerals Ltd. (TSX:PTQ) and Petaquilla Copper Ltd., companies with a combined market capitalization approaching $2 billion. He is also a director and officer of various other listed companies including in the technology and industrial sectors, and was formerly with KPMG and AMEC Engineering Inc.
Doug Ramshaw, B.Sc. (A.R.S.M.) – Director
For almost two decades Doug Ramshaw has been a senior executive (including President, CEO and Vice-President, Business Development) and a director of several exploration companies headquartered in Vancouver but with mining properties around the world. Earlier in his career, Doug was a mining analyst for an independent brokerage firm in London, U.K. Despite his executive roles in exploration and mineral development, he is still active in the art and science of geological exploration, most recently spending time on field programs in both the Yukon, Canada and Mexico. Ramshaw earned his B.Sc. (Hons) Mining Geology from the Royal School of Mines, Imperial College, in London, UK.
Rob Scott, CPA, CA, CFA – CFO
Robert Scott, CPA, CA, CFA brings more than 20 years of professional experience in accounting, corporate finance, and merchant and commercial banking and has served on the management teams and boards of a number of Canadian publicly traded companies. He is a founder and president of Corex Management Inc., a private company providing accounting, administration, and corporate compliance services to privately held and publicly traded companies. Mr. Scott currently holds senior management and board positions with a number of TSX Venture Exchange Issuers.
John Robins — Advisor
John Robins, a Professional Geologist with over 30 years' experience in the mining industry, is currently the Executive Chairman of Kaminak Gold Corporation and also a director of Kivalliq Energy Corporation, Northern Empire Resources Corp., West Melville Minerals Inc., and Ethos Gold Corp. He has been a driving force within the Vancouver mining sector as founder of Hunter Exploration, Stornaway Diamond Corporation, Kivalliq Energy Corporation, North Country Gold Corp. and Kaminak Gold Corp. Robins was also involved in the successful sale/merger of several public companies including Grayd Resources Corporation (Agnico Eagle), Troon Resources (Grenville Strategic Royalty), Arauco Minerals (Kinross), Creston Moly Corporation (Mercator) and Northair Silver (Kootenay Silver). In 2008, he was recognized for his achievements in mining exploration by the Association for Mineral Exploration British Columbia with the H.H. "Spud" Huestis Award. This is recognized as the highest award given for mineral exploration and is awarded to those who have made "a significant contribution to enhance the mineral resources of British Columbia and/or the Yukon Territory, through the original application of prospecting techniques or other geoscience technology".
Jim Paterson — Advisor
Jim Paterson is a director of Northern Empire Resources Corp., and served as director of Kaminak Gold Corp. from 2010 to 2016, when Goldcorp. acquired Kaminak for in excess of $500 million. He has 19 years of corporate experience with several North American publicly traded companies, participating in acquisitions, joint-ventures, spin-outs, reverse transactions and IPO's. Since January 2010, Paterson has been involved as an executive or as an active director of companies which have raised in excess of $175 million in equity financings.
---
*Disclaimer: The profile provides information which was sourced and approved by Great Bear Resources in order to help investors learn more about the company. Great Bear Resources is a client of the Investing News Network (INN). The company's campaign fees pay for INN to create and update this profile page, to which links are placed on Investingnews.com and channel newsletters.
The company description, investment highlights and catalysts were sourced by INN and approved by the company. INN does not guarantee the accuracy or thoroughness of the information contained on this page.
INN does not provide investment advice and the information on Investingnews.com profile should not be considered a recommendation to buy or sell any security.
INN does not endorse or recommend the business, products, services or securities of any company profiled.
Readers should conduct their own research for all information publicly available concerning the company.