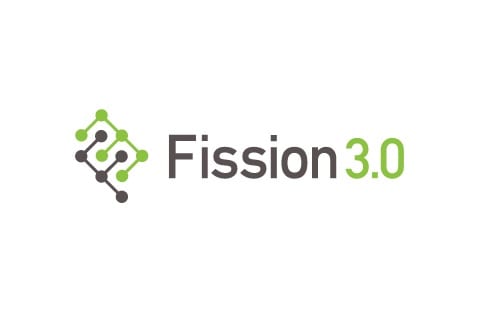 Fission 3.0
Exploring for Uranium in Saskatchewan's Athabasca Basin
Fission 3.0 (TSXV:FUU,OTCQB:FISOF,FSE:2F3A) is a leading uranium project generator developing a portfolio of properties in Saskatchewan's Athabasca Basin, home to over 60 years of mining exploration and development, producing grades anywhere from 10 to 20 times higher than the global average at nearly two percent U3O8. The company follows a business model of exploration, development and de-risking on the path towards production.
Fission 3.0 has a proven track record of successfully identifying and developing uranium projects. The company is led by CEO Dev Randhawa and COO Ross McElroy, who have been instrumental in the discovery and development of a number of significant uranium projects, including Fission Uranium's Triple R deposit. Randhawa and McElroy founded Fission Energy, which became Fission Uranium (TSX:FCU,OTCQX:FCUU), after selling a portfolio of properties and their 60 percent ownership in the Waterbury Lake deposit in Jan 2013. Fission Energy went on to discover the Triple R deposit which it holds to this day (132mm lbs of 2 percent U3O8). Fission 3.0 was formed later (December 2013 ) when Fission Uranium decided to spin out all other existing properties in the Fission Uranium portfolio into Fission 3.0 so that it could focus solely on the Triple R discovery.
Fission 3.0 is leveraging its experience and familiarity with the Athabasca Basin to develop a significant portfolio of uranium projects in the region, including 18 projects in or around the Basin. The company has divided its projects into four main location areas in the region: the Beaverlodge Area Projects, the PLS Area Projects, the Key Lake Road Projects and the NE Athabasca Basin.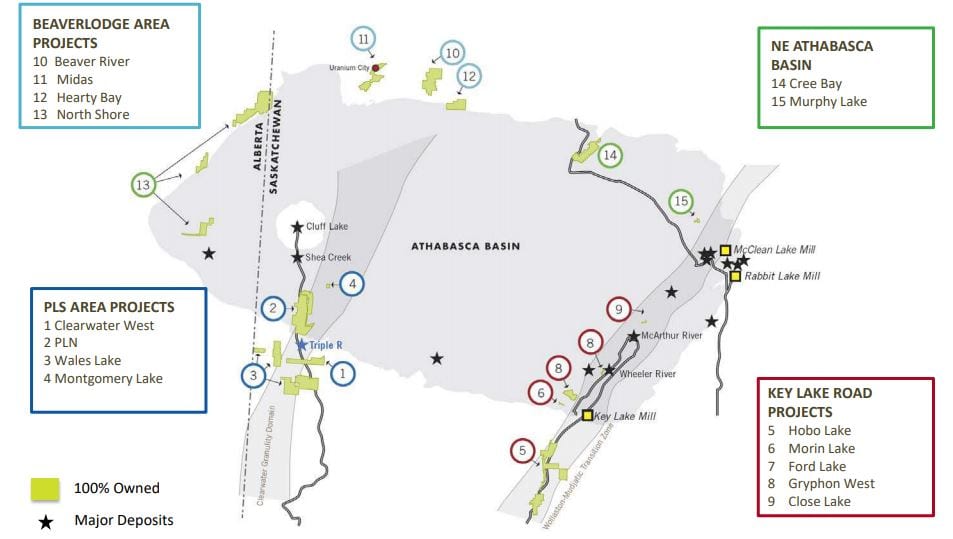 The company is focused on its exploration efforts in Saskatchewan's Athabasca Basin, believed to have produced 13.2 percent of the world's uranium. Saskatchewan's rich resources and mining-friendly government have helped drive exploration work in the area for a number of years. According to the Fraser Institute's 2018 annual survey, Saskatchewan was ranked the second-friendliest mining jurisdiction in the world. The Athabasca Basin's rich uranium deposits and high grades have resulted in a number of major uranium projects, including Cameco's Cigar Lake and McArthur River projects, NexGen's (TSX:NXE, NYSE:NXE) Arrow deposit, Denison Mines' Phoenix project, and many others. The projects in the Athabasca Basin have provided the area with excellent infrastructure that Fission 3.0 intends to leverage as it develops its portfolio of projects.
Fission 3.0 is currently focusing its 2020 exploration efforts on the Cree Bay project in the northeast portion of the Athabasca Basin, which is located only 15 kilometers away from the past-producing Nisto uranium mine. The project comprises 16 mineral claims totaling 14,080 hectares, the latest of which overlie the Black Lake Fault, which is associated with Cameco's (TSX:CCO, NYSE:CCJ) Centennial deposit. In addition to Cree Bay, Fission 3.0 has committed to focusing its 2020 exploration efforts on the Hearty Bay and Beaver River projects. All three projects are 100-percent owned by Fission 3.0.
After production cuts were announced by major uranium producers including Cameco and Kazatomprom in 2020, industry stakeholders have speculated a supply deficit could occur moving forward. "With rising spot prices and positive sentiment, the outlook for uranium explorers has significantly improved in recent months. Fission 3.0 owns an exceptional portfolio in the Athabasca Basin, with projects that are prospective for both high-grade and shallow mineralization. Following an in-depth technical review we have now prioritized our key projects moving forward," said Ross McElroy, COO and Chief Geologist for Fission 3.0.
Fission 3.0's Company Highlights
Developing a portfolio of 18 projects in Saskatchewan's Athabasca Basin including a collection of properties surrounded by producing uranium mines
Focused on three highly prospective uranium projects: Cree Bay, Hearty Bay and Beaver River
Each project benefits from the policies and mining support that caused Saskatchewan to be ranked the 9th best mining jurisdiction in the world in 2019
Prospecting at Hearty Bay has identified 45 new occurrences of radioactive boulders, including those returning assay samples of up to 8.23 percent U3O8
Drilling at Beaver River's Trigger Zone returned 13.9 percent U3O8, 2.27 g/t gold, 5.93 percent U3O8 and 1.55 g/t gold
CEO & Chairman Dev Randhawa and COO & Chief Geologist Ross McElroy lead the same group that made both the Patterson Lake South (PLS) high-grade discovery and the J-Zone high-grade discovery in the Athabasca Basin
Leveraging extensive exploration experience and expertise as demonstrated by Fission Uranium at the Triple R deposit
Company management and technical team has established significant partners and relationships with those working in the Athabasca Basin
Fission 3.0's Cree Bay Project
Fission 3.0's current focus is the Cree Bay project which comprises 16 mineral claims totaling over 14,000 hectares in the northeast portion of Saskatchewan's Athabasca Basin. The project is only 20 kilometers south of the town of Stony Rapids, which provides seasonal access via the west side of the property.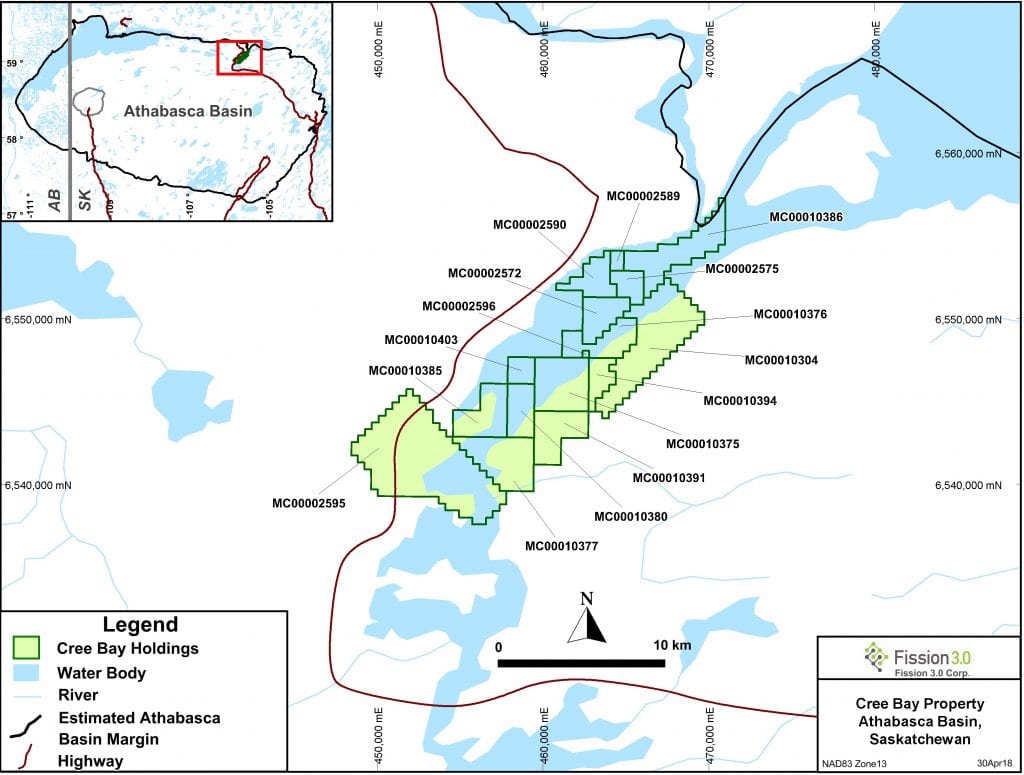 In 2019 Fission 3.0 conducted a three-hole drill campaign on the Cree Bay property that focused on a 1.2-km resistivity anomaly that was identified by Fission 3.0 during previous ground geophysics surveys. The first pass of the company's drill program encountered faulting, strong hydrothermal alteration and elevated concentrations of pathfinder elements in both holes. Fission 3.0 believes pathfinder elements including uranium and boron can help to identify prospective areas of mineralization.
Fission 3.0's Hearty Bay Project
The Hearty Bay project comprises five land claims totaling 9,804 hectares located on the north edge of the Athabasca Basin, approximately 60 kilometers east of the Beaver Lodge uranium district. The Hearty Bay project surrounds a historic trend of radioactive sandstone boulder trains that contain up to three percent uranium.
In July 2019 Fission 3.0 began exploring the Hearty Bay project for the source of the high-grade uranium boulder trains previously identified on the property. The company's glaciologists set out to conduct detailed geomorphological mapping in an effort to determine the direction of the ice flow and assist with locating the source of boulders.
The prospecting work conducted on the Wolfe and Jackfish boulder fields in the area identified 45 new occurrences of radioactive boulders, including those returning assay samples of up to 8.23 percent U3O8. Complimentary surveys conducted at the time including glacial directional flow determination pointed to a likely direction of the boulder fields and have helped identify markets for the potential source of radioactivity. Over 24 percent of the boulders tested in the region returned greater than one percent U3O8.
Fission 3.0's Beaver River Project
The Beaver River project comprises 19 mineral claims totaling nearly 14,000 hectares just outside the Athabasca Basin. The property hosts four historical uranium showings, the Matthews Lake showing, the Cluster showing, the VIC north uranium zone and the VIC south uranium zone.
The Matthews showing has been trenched and stripped with samples assaying 0.23 percent U3O8 across 1.5 feet and 1.77 percent U3O8 across 3 feet. The Cluster showing appears to occur in shear zones with past trenching revealing uranium staining. Each of the VIC uranium zones has been trenched and sampled, with high-grade veins in trenching at the north zone returning 25 percent uranium over 3.5 meters within 2.6 percent uranium over 7.3 meters.
At VIC south, grab samples have returned up to 31 percent U308 with channel sampling returning 16 percent U3O8 across 0.41 meters of vein material and 1.28 percent U3O8 over 2.4 meters. Drilling in the area returned 0.6 meters of 2 percent copper, 1 percent nickel, 0.06 percent U3O8, 0.06 oz/ton gold and 0.70 oz/ton silver.
In 2019 Fission 3.0 announced it had discovered new areas of high-grade uranium and gold at multiple locations, identifying the Trigger Zone in the process. Samples taken from the newly-named zone returned 13.9 percent U3O8 and 2.27 g/t gold and 5.93 percent U3O8 and 1.55 g/t gold, confirming the presence of high-grade uranium, gold, copper and nickel at historical showings in the process.
Fission 3.0's Management Team
Dev Randhawa—Chairman & CEO
Dev is an experienced CEO and has a wealth of experience in growing resource, mining exploration, and energy companies. Northern Miner Magazine named Dev 'Mining Person of the Year 2013' and Finance Monthly awarded him with their 'Deal Maker of the Year 2013' award. As part of the Fission team, Dev has won the Mining Journal Excellence Award 2015 for Exploration. He is currently CEO of Fission 3.0 Corp and Fission Uranium Corp which made the shallow depth, high-grade uranium discovery at PLS.
Ross McElroy—COO
Ross McElroy is a professional geologist with nearly 30 years of experience in the mining industry. He has comprehensive experience with working and managing many types of mineral projects from grassroots exploration to feasibility and production. Mr. McElroy has held positions with both major and junior mining companies, which include BHP Billiton, Cogema Canada (now AREVA), and Cameco. He was a member of the early-stage discovery team of the MacArthur River uranium deposit.
Ryan Cheung—CFO & Corporate Secretary
Ryan Cheung provides accounting, management, securities regulatory compliance services to private and public-listed companies. Mr. Cheung also serves as an officer and/or director of a number of public-listed companies. Mr. Cheung holds a Bachelor of Commerce degree from the University of Victoria and is a member of the Chartered Professional Accountants of British Columbia.
Phil Morehouse—Director
Mr. Morehouse is the former Executive Vice-President for Sernova Corp., as well as the JV manager for Fission Energy Corp. prior to the sale of the company to Denison Mines in 2013. He founded his own consulting company in 1990 and, for nearly 25 years, has provided leadership and management services to a wide range of public companies. Mr. Morehouse was a consultant to Fission Uranium Corp., prior to his appointment as President of Fission 3.0 Corp.
Frank Estergaard—Director
Mr. Estergaard is a professional Chartered Accountant who retired as a Partner with KPMG in 2001. His career with KPMG spanned 38 years, providing audit, taxation, and business advice to clients in Vancouver, Vernon, Ottawa, and Kelowna. He served a wide variety of corporations in the forestry, mining, real estate and land development, high technology, manufacturing, wholesale and retail industries. These companies ranged from start-ups to mature enterprises with both domestic and worldwide operations. In addition, he served on the Management Committee and Partnership Board of KPMG.
William V. Marsh—Director
Mr. Marsh previously worked on domestic and international drilling programs for Chevron for 15 years both in Canada and Internationally. Mr. Marsh was a former director of Pacific Asia China Energy until its sale to Green Dragon Gas wholly-owned subsidiary, Greka China Ltd, for 35.18 million in 2008. He was also a former director of Predator Capital Corp. and Wolf Capital Corp. and is currently on the Board of Ballyliffin Capital Corp. Mr. Marsh has also provided consulting services to a number of resource exploration and production companies, both public and private, operating in Canada and internationally.
---
*Disclaimer: This profile is sponsored by Fission 3.0 (TSXV:FUU; OTCQB: FISOF; FSE:2F3A). This profile provides information which was sourced by the Investing News Network (INN) and approved by Fission 3.0, in order to help investors learn more about the company. Fission 3.0 is a client of INN. The company's campaign fees pay for INN to create and update this profile.
INN does not provide investment advice and the information on this profile should not be considered a recommendation to buy or sell any security. INN does not endorse or recommend the business, products, services or securities of any company profiled.
The information contained here is for information purposes only and is not to be construed as an offer or solicitation for the sale or purchase of securities. Readers should conduct their own research for all information publicly available concerning the company. Prior to making any investment decision, it is recommended that readers consult directly with Fission 3.0 and seek advice from a qualified investment advisor.