Empress Royalty
Precious Metals Streaming and Royalty Investments
This Empress Royalty profile is part of a paid investor education campaign.*
Overview
"The royalty business is a unique and amazing business because you get leverage … a gold royalty company is a leverage tool a million miles long," said EB Tucker, Author of "Why Gold? Why Now?"
Empress Royalty Company Highlights
New precious metals royalty & streaming creation company that commenced trading on TSXV December 29, 2020
Initial portfolio consists of 14 precious metal royalty and streaming investments
Focused on building a strong portfolio of cash producing assets and currently negotiating US$50 million of potential investments
Exclusive access to Mexican royalty & stream deals through a Strategic Alliance with Accendo Banco
Strategic Relationships with Endeavour Financial & Terra Capital who provide global mining finance networks to generate deal flow
Over 250 years of proven management & board experience in mining finance with over $6 billion completed transactions
Empress Royalty (TSXV:EMPR) is a new royalty and streaming company focused on building a strong portfolio of global investment opportunities in precious metals mining companies, concentrating on finding industry partners with development and production stage projects who require additional non-dilutive capital. Empress applies a financially disciplined approach to investing in these cost-effective operations with strong experienced management teams and excellent exploration potential.
A royalty allows Empress to receive payment based on a percentage of gold or silver produced at a mine or the revenues or profits generated from the sale of those minerals at a mine in exchange for an initial investment. A metal stream provides Empress the right to purchase a portion of one or more metals produced from a mine in exchange for non-dilutive capital, at a price determined for the life of the transaction by the purchase agreement.
The Empress business model capitalizes on the stable cash flow and long-term capital gains of streaming and royalty investments in the mining industry. Focusing on global gold and silver projects, Empress aims to create a diverse and robust portfolio of investment opportunities that will create value for its shareholders, as well as its strategic mining industry partners. By following this strategy, Empress is able to invest in mining companies without diluting their shareholders while also generating consistent revenue for its shareholders.
Empress Royalty's Strategic Partnerships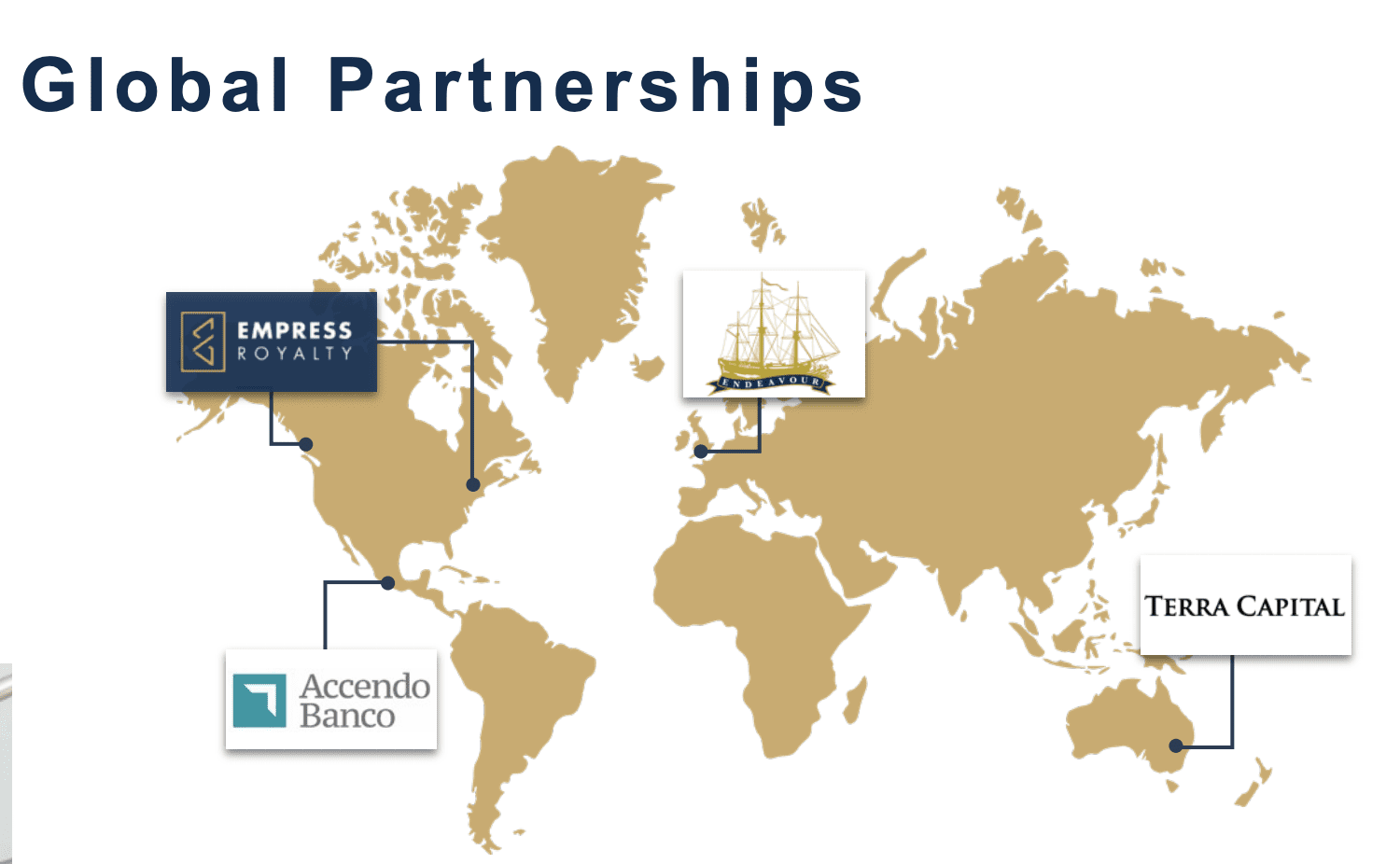 The company has strategic relationships with Endeavour Financial, Terra Capital and Accendo Banco. UK-based Endeavour Financial serves as one of the company's investment managers, having historically completed US$500 million of royalty and stream financing and US$8 billion of debt financing. Boutique investment manager Terra Capital is Empress Royalty's gateway into the Australian investment market, while Accendo Banco provides exclusive access to Mexican royalty and streaming investment opportunities.
Acquisition – Pinos Project
Empress Royalty has recently completed a 1 percent net smelter return royalty for the near term, cash producing Pinos project in Mexico with Candelaria Mining. The Pinos project is 100 percent owned by Candelaria Mining (TSXV:CAND) and is located in the state of Zacatecas, the second largest gold producing district in the country after Sonora.
The Pinos project's PEA plans for average yearly production of approximately 12,700 ounces gold equivalent for a life of mine of seven years with potential for growth. With all permits in place and funding secured, plans are to construct a mining operation that will process 200 tonnes-per-day, which will rise to 400 tonnes-per-day within two years.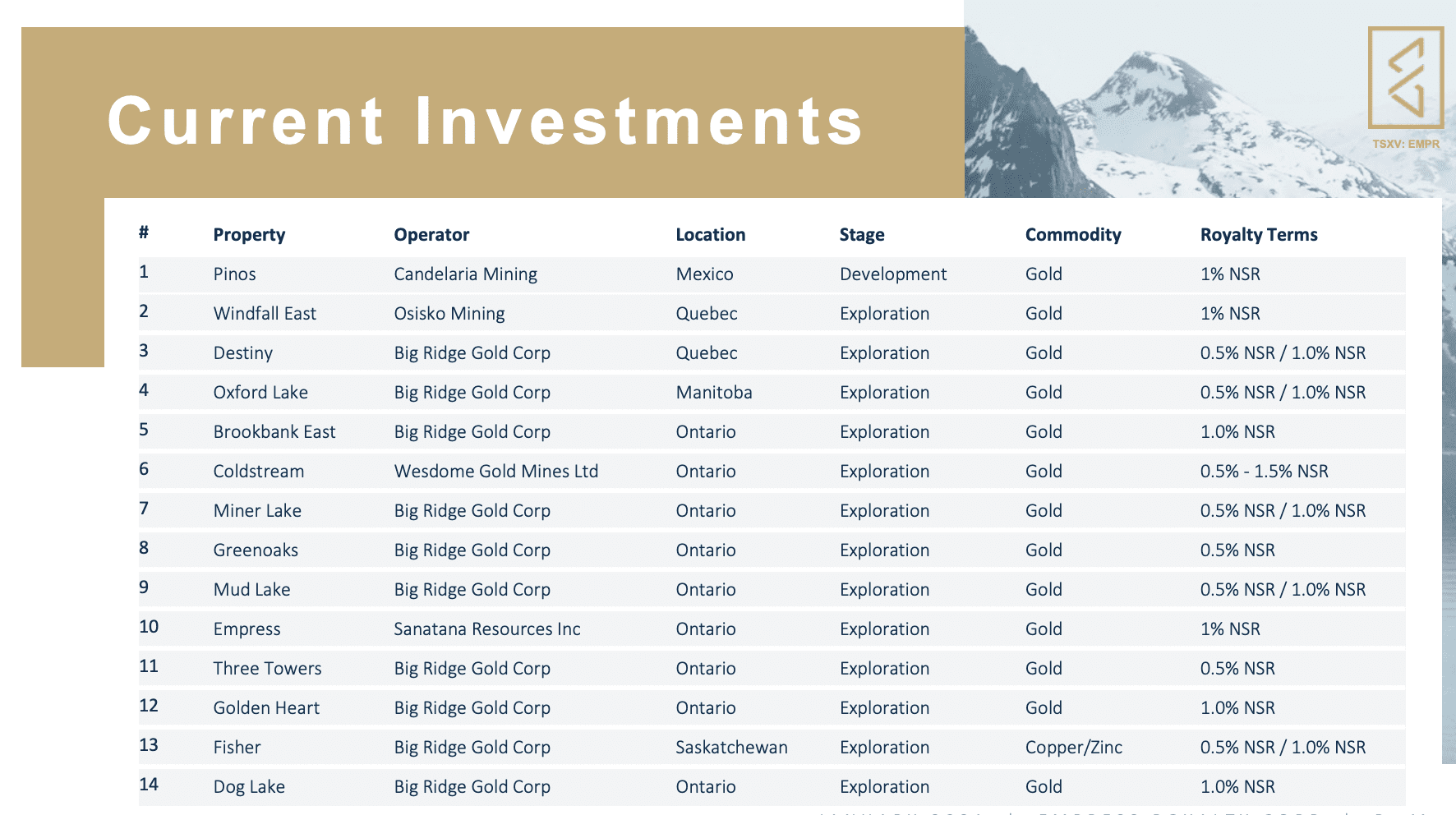 Empress Royalty's Management Team
Alexandra Woodyer Sherron—Director, CEO, President and Investment Committee
Alexandra has over 20 years of experience in the mining industry. Alexandra started at PricewaterhouseCoopers before joining Endeavour Financial, a global mining finance advisory firm. During her investment banking career in London, she was Director Structured Financing and involved in the successful completion of over US$1.5 billion in financings.
David Rhodes—Executive Chairman, Director and Investment Committee Chair
David's career in the finance industry has spanned more than twenty-five years. David is also the Managing Director of Endeavour Financial, Endeavour is one of the top mining financial advisory firms, with an award-winning track record of success in the mining industry, specialising in arranging multi-sourced funding solutions for development companies. Endeavour additionally has an asset management and developing insurance business. Prior to joining Endeavour over fourteen years ago, he was at Standard Bank London Limited, Barclays Capital and Royal Bank of Scotland. At Standard and Barclays, he sourced, structured and syndicated finance for mining projects and companies on a global basis. Having lived and worked in London and New York he has international experience of the North/South American, European, CIS and African markets. As a result, he has arranged over US$18 billion of funding for mining companies.
Jeremy Bond—Director and Investment Committee
Jeremy has over 13 years of experience across funds management and financial advisory. He has run the Terra Capital Natural Resource Fund since 2010 and has returned over 300 percent since inception. Jeremy has run the Terra Capital Emerging Companies Fund since 2016. Prior to Terra Capital, Jeremy worked at UK Hedge Fund RAB Capital's Special Situations Fund, rated the "Best Energy and Natural Re source Fund" by Hedge Fund Review and ranked No.1 in Barron's Hedge Fund 50 Global rankings in 2007, during Jeremy's tenure. Prior to RAB Jeremy worked at Azure Capital, a boutique investment bank. Here he worked on numerous M&A transactions and financings in the resources and small industrials sectors. Jeremy has a Bachelor of Commerce, Economics and Arts.
Paul Mainwaring—Director
Paul has over 15 years' experience in corporate finance and in the last 11 years, whilst at Endeavour, has focussed on financings in the natural resources sector. Paul has extensive experience in cash flow modelling, financial analysis, valuation, debt advisory, deal structuring and the negotiation, documentation and execution of mining finance transactions and re-financings. Prior to joining Endeavour in 2006, he worked for PricewaterhouseCoopers in their Valuation & Strategy department and was involved in valuation assignments and corporate transactions across a range of sectors and also previously worked as a chemical engineer in the petrochemical and pharmaceutical industries. Paul is a CFA charterholder.
Rick Mazur—Director
Rick is CEO and director of Forum Energy Metals, and a director of Impact Silver and Midnight Sun Mining. Mr. Mazur, P. Geo, MBA is a geoscientist who has held positions in the international exploration and mining industry for over 40 years as a project geologist, financial analyst and senior executive on uranium, gold, base metals, coal and industrial minerals projects. Mr. Mazur graduated with a B.Sc. in Geology from the University of Toronto in 1975 and obtained an MBA from Queen's University in 1985. Mr. Mazur worked for seven years (1985 to 1991) as an integral member of the management team of Canamax Resources Inc. which discovered, financed and built three Canadian gold mines, two of which currently remain in production.
Wes Roberts—Director
Wes Roberts, M.Sc., P.Eng., MBA is a professional mining engineer with over 35 years of experience specializing in the economic evaluation and development of mineral deposits. Mr. Roberts has held numerous positions in the mining industry, which include Canada Talc Limited, Derry Michener Booth & Wahl, Davey International, Bharti Engineering, GMP Securities, Inco Ltd, Breakwater Resources Ltd (VP Corporate Development) and VP Mining to the Canadian law firm Heenan Blaikie LLP. Since then Mr. Roberts has held positions as Mineral Engineering Consultant with Dorsey & Whitney LLP, Mineral Engineer for Gravitas Mining and most recently as Mining Engineer at Principle Capital Partners. Mr. Roberts holds a B.Sc. (Mining Engineering), an M.Sc. (Mining Engineering), and an M.B.A. (Finance).
---
INN does not provide investment advice and the information on this profile should not be considered a recommendation to buy or sell any security. INN does not endorse or recommend the business, products, services or securities of any company profiled.
The information contained here is for information purposes only and is not to be construed as an offer or solicitation for the sale or purchase of securities. Readers should conduct their own research for all information publicly available concerning the company. Prior to making any investment decision, it is recommended that readers consult directly with Empress Royalty and seek advice from a qualified investment advisor.