New Technology Unlocking a Vast Resource
Overview
E3 Metals Corp. (TSXV:ETMC, FWB:OU7A, OTC:EEMMF) is a mineral exploration and development company based in Alberta, Canada. The prolific Leduc Reservoir hosts lithium-enriched brine with 6.7 million tonnes lithium carbonate equivalent (LCE) inferred mineral resource delineated to date. In the Clearwater resource area alone, the Leduc Reservoir can support a 50,000-tonne lithium hydroxide operation for up to 35 years.
The Leduc Reservoir is located in south-central Alberta, which has hosted oil and gas exploration and operations for 70 years. The development of this lithium resource through brine production is a well-understood venture in Alberta where this brine is currently being produced to surface through extensive oil and gas development. The company is aiming to leverage existing oil and gas infrastructure in its development which is expected to help reduce the company's environmental impact and operating costs.
The company's primary focus is scaling up its direct brine lithium extraction technology. E3 Metals has been collaborating with the University of Alberta since 2017 to develop a direct brine lithium extraction process that produces a high-purity lithium concentrate up to 5,367 milligrams per liter and lithium recovery rates ranging from 84 percent to 98 percent. This lithium concentrate could be further refined using conventional techniques into battery-grade lithium carbonate or hydroxide.
To date, E3 Metals has produced lithium hydroxide using the company's extraction technology. Following the successful testing, the company proceeded to build a lab-scale lithium extraction flow system to advance the development of the technology further. The system is designed to enhance process flow conditions to maximize recovery and stability, providing E3 Metals with ways to optimize the technology and move towards their goal of a field pilot plant.
The development of the direct brine technology is supported through grants such as Alberta Innovates, the Natural Sciences and Engineering Research Council (NSERC) via the Alessi Lab, the National Research Council of Canada's Industrial Research Assistance Program (NRC IRAP) and GreenCentre's Raising Innovative and Sustainable Enterprises (RISE) program. The process utilizes an ion-exchange sorbent which achieves extremely high selectivity for lithium amongst large amounts of other metals. E3 Metals is currently scaling this sorbent towards commercial readiness.
The next phase of development for E3 Metals is to install a test pilot facility of its direct brine lithium extraction technology at the Alberta Lithium project. The facility is expected to produce large volumes of concentrated lithium in solution to be upgraded at existing facilities into battery-grade material. Once the company can demonstrate the commerciality of its technology, E3 Metals intends to move towards an initial 10,000 tonne LCE per year facility and scale up to 50,000 tonnes LCE per year.
E3 Metals also boasts an experienced technical advisory board comprised of experts in chemical engineering, inorganic chemistry, desalination and water treatment technology. The board is instrumental in the development of the company's lithium extraction technology.
E3 Metals' Company Highlights
Operating in the industry-friendly, secure and clearly regulated jurisdiction of Alberta, Canada.
Developing a proprietary direct brine ion-exchange lithium extraction technology that has produced a high-purity lithium concentrate up to 5,367 milligrams per liter and lithium recovery rates ranging from 84 percent to 98 percent.
E3 Metals' Leduc Reservoir project hosts lithium enriched brine with 6.7 million tonnes LCE inferred mineral resource delineated to date.
Leduc Reservoir has hosted oil and gas operations for 70 years.
Reservoir dynamics lend to steady and long-term brine production.
High brine temperatures and flow rates offer operational cost-saving benefits for the company.
Leveraging and repurposing existing oil and gas infrastructure to reduce environmental impact and operating costs.
Partnerships in place with the University of Alberta.
Secured grant funding for lithium extraction technology from Alberta Innovates, NSERC and NRC IRAP and GreenCentre's Raising Innovative and Sustainable Enterprises (RISE) program.
Development towards the goal of a lithium extraction pilot plant is underway.
Technical advisory board brings a wealth of experience and is instrumental to the company's direct brine lithium extraction technology development.
The Alberta Advantage
Alberta offers E3 Metals numerous advantages over its peers in the lithium space. The province has favourable permitting processes and regulations in place due to its industry-friendly mindset. Thanks to the province's oil and gas industry, the building blocks needed for successful lithium production are already in place.
Alberta is home to a vast network of pipelines, wells and roads that can help E3 Metals move lithium to the market quickly and efficiently. Having access to existing infrastructure such as wells can cut down on lithium exploration and development costs. Another advantage Alberta offers is the high temperature and flow rates of the lithium brine. The high temperature of the brine could be used in low-enthalpy geothermal power generation or heat recovery processes, leading to reduced environmental impacts and lower operating costs.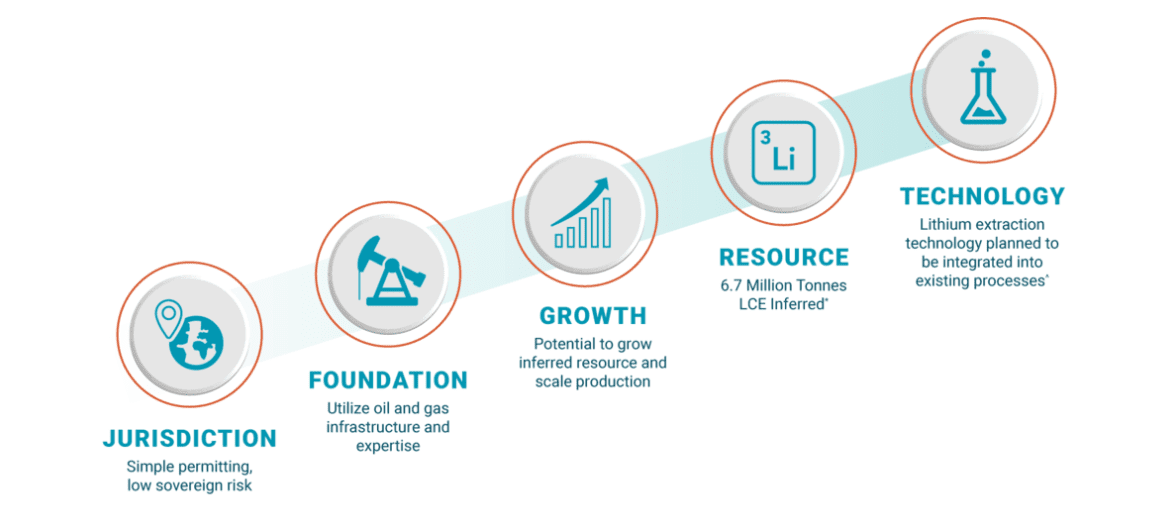 E3 Metals' Lithium Extraction Technology
E3 Metals is developing a direct brine lithium extraction technology that removes impurities and reduces processing volumes in one step. This produces a concentrated feedstock that can be refined into lithium hydroxide or lithium carbonate through conventional production equipment. E3 Metals' lithium extraction technology can produce a concentrate with up to 5,367 milligrams per liter of lithium without sacrificing recovery and maintaining low levels of impurities.
The process
The overall process flowsheet incorporates three core steps: brine production and injection, direct brine lithium extraction using E3 Metals' ion-exchange technology, and lithium production. The Leduc Reservoir has supported the production and injection of brine related to the oil and gas industry for decades. As any oil and gas production in the area declines, E3 Metals could lower capital costs by repurposing established oil and gas infrastructure into lithium production equipment.
Once the brine is produced to surface, pre-treatment is required to remove any hydrocarbon and hydrogen sulfide. After the pre-treatment step, the brine passes through E3 Metals' ion-exchange sorbent which selectively removes the lithium from the brine.
After extracting the lithium, the concentrate is further purified through a polishing step prior to electrolysis and crystallization. Current commercial electrolysis processes use selective membranes to refine the lithium concentrate solution to produce either a high-purity lithium hydroxide or high-purity lithium carbonate. Lithium hydroxide is the preferred product for the development of high energy density lithium-ion batteries, which account for approximately 60 percent of the lithium market.
The demand for lithium
Roskill predicts that the lithium market will rise by 20% annually heading into 2028. Growth of the market is being driven by the use of lithium-ion batteries in electric vehicles, energy storage systems and portable electronics. Additional supply must come from increases from existing producers or new production such as E3.
Moving forward
E3 Metals intends to continue to optimize the performance of their lithium extraction ion exchange sorbent as they build their test pilot facility in Alberta.  The test pilot facility is initially expected to produce lithium enriched concentrate that will be upgraded into battery-grade lithium hydroxide at external facilities. Once E3 Metals can demonstrate the commerciality of their technology, the company intends to advance towards its first 10,000+ tonne LCE/year project.
Alberta Lithium Project
E3 Metals is developing the vast Alberta lithium project which overlies sections of the prolific Leduc Reservoir in south-central Alberta. The company has found a new source of lithium within the brine in the reservoir, which has been associated with oil and gas production. Within E3 Metals' exploration permit area, thousands of oil and gas wells have been drilled. Over 20,000 kilometers of pipeline has been laid and there are 14 collaborating oil and gas companies in the area.
The Leduc Reservoir
The Leduc Reservoir is world-renowned for its unique properties and has seen 70 years of historical oil and gas development in the area. Lithium-enriched brine occurs as lithium-ions dissolve in the formation water.  Of the fluid contained within the Leduc Reservoir, over 95 % is lithium-enriched brine. The remaining 5% contains hydrocarbons, or oil and gas, which have been largely depleted from the reservoir.
The lithium contained within the lithium-enriched brine exists 2,500 meters below the surface and beneath the buoyant oil and gas accumulations throughout the entire reservoir. The reservoir allows for large quantities of fluid to be trapped in the rock and can move large volumes of liquid to the surface. A single vertical well could produce up to 20,500 cubic meters of water per day. Historical testing for lithium in the reservoir returned anomalous lithium values up to 140 milligrams per liter lithium throughout the formation water.
The brine within the reservoir also reaches temperatures between 70 degrees and 100 degrees Celsius. The temperature of the brine could be useful for generating geothermal electricity which can help decrease E3 Metals' power costs and environmental impacts.
Resource
E3 Metals has developed three mineral resources on its Leduc reservoir exploration permit area totalling 6.7 million tonnes lithium carbonate equivalent. In the Clearwater resource area alone, the Leduc Reservoir can deliver enough brine to support a 50,000-tonne lithium hydroxide operation for up to 35 years.
Next Steps
E3 Metals is currently developing towards the goal of a direct brine lithium extraction pilot plant to demonstrate that the company's technology is capable of producing large volumes of highly concentrated lithium-enriched feedstock from Alberta brine. The goal of the pilot plant is to provide a design basis for a commercial production facility. Lithium enriched concentrate produced at the pilot plant is expected to be sent for further refinement into lithium hydroxide or pure lithium carbonate.
In its efforts to advance its technology, E3 Metals has retained Integrated Sustainability and Fluid Domains to complete a study on the brine production and injection infrastructure in the Clearwater resource area. The aim of the study is to determine the reservoir dynamics, infrastructure required and ideal location for the brine production network.
E3 Metals' Management Team
Chris Doornbos, P.Geo., B.Sc. (Hons) — President, CEO and Director
Chris Doornbos has a broad range of experience in developing mineral projects across the globe. This experience covers the spectrum from greenfields exploration to advanced project development. He has a strong technical background and has successfully driven projects through to the development stages including a very successful track record of expanding resources by using innovative and out of the box thinking. He has experience in capital raising both privately and publicly, assisted in the founding of public junior mining companies and the sale and acquisition of mineral properties. Doornbos emphasizes risk management, developing and managing an exceptional technical team and well-strategized project generation, with a clear focus on developing and capturing value for shareholders. He was the CEO/Director of Revere Development Corp. and Vice-President of Exploration for MinQuest Ltd.
Liz Lappin, P.Geo., B.Sc. (Hons) — VP Project Development
Liz Lappin is a Professional Geologist with a solid background in capturing value from Alberta's energy industry. She brings this experience to the E3 Metals team as she drives the technical team towards the development of our its lithium brine projects. As a great believer in collaboration, she is focused on maximizing asset value through technical excellence and creative cooperation between disciplines. Working across Western North America, Lappin has gained a foundation of technical experience with oil and gas majors such as Cenovus, Encana and Suncor. More recently, she was the founder and principal consultant at Castle Rock Consulting Ltd., which specializes in geothermal value creation for the energy industry in Canada. She is a Fellow of the Energy Futures Lab and received a Young Woman in Energy Award in 2017 for her dedication to challenging industry norms and pursuing a broader energy mix in Alberta.
Paul Reinhart — Director
Paul Reinhart brings over 30 years of experience in providing early-stage project financing and advisory services. His experience and expertise in the resource exploration business includes Kokanee Explorations, Far West Mining and Bearing Resources. He is currently CEO of Sora Capital Corp, an investment issuer focused on the technology industry. He is also President of Vanhart Capital Corporation, a privately held investment company, specializing in funding and advisory services for early-stage companies.
Mike O'Hara, B.Sc. P.Eng — Director
Mike O'Hara is an oil and gas executive and registered professional engineer with 35 years of experience in founding, developing and managing profitable, growth-oriented oil and gas companies. He has a solid track record in the evaluation, negotiation and acquisition of high-quality oil and gas properties and joint venture opportunities. Formerly, O'Hara was the President of Bernum Petroleum Ltd, President, Director and Founder of Xergy Processing Inc and CEO, President, Director & Founder of Calahoo Petroleum Ltd., a TSX listed E&P company, sold in 2000 to Samson Petroleum for approximately $130 million.
Peeyush Varshney, LL.B. — Director
Peeyush Varshney has been actively involved in the capital markets since 1996 and has been a principal of Varshney Capital Corp., a private merchant banking, venture capital and corporate advisory firm since 1996. He obtained a Bachelor of Commerce degree (Finance) in 1989 and a Bachelor of Laws in 1993, both from the University of British Columbia. He then articled at a large regional business law firm in Vancouver, British Columbia, from 1993 to 1994, and has been a member of the Law Society of British Columbia since September 1994. Varshney is also director of TSX-listed Mountain Province Diamonds Inc. and TSXV-listed Canada Zinc Metals Corp. and Margaret Lake Diamonds Inc.
Greg Florence, CPA, CMA — CFO 
Greg Florence has over 37 years of business experience including upstream oil and gas, green technologies, industrial supplies and agribusiness. In addition to over 12 years as a CFO, he has held a number of senior management positions including Corporate Secretary, Director Investments and Vice President Marketing and Corporate Development. His expertise includes finance and accounting, budgeting and forecasting, regulatory compliance, corporate finance, portfolio investment and management and corporate governance. Florence has sat as a director of public companies, private companies and not-for-profits. He is a member of the Chartered Professional Accountants of Alberta.
---
*Disclaimer: This profile is sponsored by E3 Metals Corp. (TSXV:ETMC,FWB:OU7A,OTCMKTS:EEMMF). This profile provides information which was sourced by the Investing News Network (INN) and approved by E3 Metals Corp., in order to help investors learn more about the company. E3 Metals Corp. is a client of INN. The company's campaign fees pay for INN to create and update this profile.
INN does not provide investment advice and the information on this profile should not be considered a recommendation to buy or sell any security. INN does not endorse or recommend the business, products, services or securities of any company profiled.
The information contained here is for information purposes only and is not to be construed as an offer or solicitation for the sale or purchase of securities. Readers should conduct their own research for all information publicly available concerning the company. Prior to making any investment decision, it is recommended that readers consult directly with E3 Metals Corp. and seek advice from a qualified investment advisor.