Producing Pharmaceutical-Grade Cannabis for Medical and Recreational Markets
This profile is part of a paid investor education campaign.*
Overview
INDIVA (TSXV:NDVA) is a licensed cannabis producer committed to growing high-quality, medical-grade cannabis in its 'pharma-grade' indoor facility in London, Ontario. Having emerged from the partnership between a renowned cannabis grower and a team of finance, legal and retail experts, INDIVA is focused on delivering quality, authenticity and experience through its products. While it currently has an anticipated customer base of 1,000 medicinal users, the company is preparing to address the increase in demand that will follow the opening of Canada's recreational market in summer 2018.
Following the construction of its 10,000-square-foot facility and the issue of its cultivation license in July 2017, INDIVA began its growing operations in 8,000 square feet of production space in September 2017. Alongside this initial phase of production, the company has also been designing the expansion of its current facility, which will grow to measure 40,000 square feet.
Unlike a number of its peers, INDIVA has designed the building to have 16 separate, smaller flower rooms so as to be able to apply their proven grow techniques in strictly controlled environments. The updated facility will also host an oil extraction room, allowing the company to further develop its line of oils and extracts. INDIVA expects to receive its sales license in early 2018, enabling the company to begin sales shortly after.
As the Canadian government has recently announced the broadening of its legislation to include edibles in 2019, INDIVA is also looking to expand its product-line in the foreseeable future by adding edibles of various types. As its products are released, the company aims to remain competitive with black market prices, making INDIVA a go-to supplier for both medicinal users and recreational consumers.
The company is furthering its strategy for developing product-line through a joint venture partnership with Bhang Corporation, an award-winning licensor of cannabis and CBD products. Under this partnership, INDIVA will have access to Bhang's intellectual property and will run the manufacturing and distribution of a full array of CBD products.
Indiva has recently closed a public financing of $15 million. The company will use the proceeds of the offering for capital expenditures, working capital and general corporate uses.
In February 2018, INDIVA announced that it had been listed on the Horizons Emerging Marijuana Growers Index ETF (AQN:HMJR). The HMJR has a goal of providing exposure to a variety of North American publicly-listed, small-cap companies that partake in cultivation, production and/or distribution of cannabis. The stocks in the index will have a market cap of between $50 million and $500 million. In this way, no issuer will represent more than eight percent of the index at each rebalance. "It is a great honour for INDIVA to be included in this ETF, and we are excited for the exposure this will bring to the company, both for investors and future clients," said Niel Marotta, Chief Executive Officer of INDIVA.
The company's management team is one that is intrinsically diverse as it includes an internationally recognized and award-winning 'master grower' in the cannabis space, Pete Young, and a group of co-founders that bring a strong knowledge base in the financial, legal and retail aspects of building a cannabis company. The team is also supported by over 30 years of quality assurance, ensuring that the company and its products remain compliant. 
Company Highlights
Knowledgeable management team with experience in all aspects of cannabis industry
Licensed producer with patient base of over 1,000 people
Fully-funded expansion of current facility into 40,000 square-foot operation
Expected sales license in Q2 2018

Established joint venture partnership with cannabis and CBD product licensor Bhang Corporation

Growing operations led by a 'master grower' recognized internationally
Growth opportunity in projected Canadian legalization of cannabis derivatives in 2019
Recently closed public financing of $15 million
Knowledgeable management team with experience in all aspects of cannabis industry
Canadian Cannabis Market
The Government of Canada has established October 2018 as the launch date for the legalized and regulated recreational cannabis market, making it the first country in the G7 to legalize recreational marijuana as well as the only one to boast wholly-legal licensed cannabis production.
Deloitte's recent report, titled "Recreational Marijuana: Insights and Opportunities," estimates that the Canadian retail cannabis market is projected to be valued at between $4.9 billion and $8.7 billion annually. Satisfying the recreational cannabis market will require 655,000 kilograms of marijuana production annually, which according to the Parliamentary Budget Office is far more than the current capacity of existing ACMPR Licensed Producers. Additionally, in 2017, the number of registered patients exceeded Health Canada's projection for 2021, further emphasizing the potential supply deficit in the Canadian market.
Most recently, in October 2017, the Canadian government amended legislation to include the production and sale of cannabis derivatives, including edibles, providing the cannabis sector with another market segment. The legalization of these products would go into effect a year following the summer 2018 date. This will give producers like INDIVA another 18 months to "get the recipes right," noted INDIVA CEO Niel Marotta.
How INDIVA Came to Be
INDIVA emerged as part of a partnership between Pete Young—a 'master grower' and cannabis advocate who launched the Compassion Society in London, Ontario—and a group of finance, legal, retail and quality assurance professionals. Along with his experience, Young also brought industry recognition, having won awards in competitions including the Elite Medical Cannabis Karma Cup, High Times Cannabis Cup, and Organic Emerald Cup.
As a company, INDIVA applied to become a licensed producer in 2014, and in July 2017 they received their cultivation license. In 2014, the company also began construction of their cultivation facility, the first phase of which was completed in the first half of 2017, measuring 10,000 square feet. Cultivation was kicked off in September 2017, and INDIVA has since been planning and designing the expansion of their facility, which is anticipated to grow into a 40,000 square-foot operation.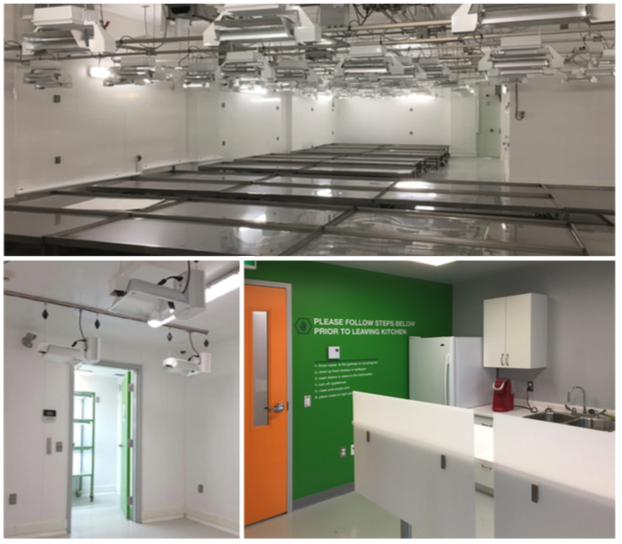 In combining Young's 15 years of cultivation experience with the finance, legal and sales experience brought by INDIVA's co-founders, INDIVA is navigating Canada's legislation landscape with the goal of delivering high-quality cannabis products for a consumer base of both medicinal and recreational users. "The roots go deep in medical cannabis story, and INDIVA is working together with Pete to continue that journey within the Canadian cannabis market," said Marotta.
INDIVA's Future in a 40,000-Square-Foot Facility
After receiving their cultivation license, INDIVA began designing and planning the expansion of their 10,000-square-foot facility in London, Ontario. This 'pharma-grade' indoor operation has been designed with significant input from Young, who has refined an approach for growing high-quality cannabis. In its current state, INDIVA's production facility has 8,000 square feet of production space, has access to ample power and water, allows for precise environmental control and is consistently inspected for compliance with ACMPR regulations.
The updated facility will continue to make use of the amenities already in place, adding additional space for oil extraction, mother and flower rooms. Of the total 40,000 square feet in the updated facility, 20,000 of these will be dedicated to 16 flower rooms growing the four strains the company has focused on—two Indica strains, one Sativa strain and one hybrid. These flower rooms have been designed as smaller, more-contained rooms that will enable increased control over the environment in which the plants grow. The facility's overhaul—scheduled to be completed by the end of 2018—is expected to increase INDIVA's production by 10 times.
The INDIVA BioRoter
INDIVA is passionate about environmental sustainability. It generates its own heat through grow lights, uses paper products in the offices and also reduce its plant waste organic grade compost. This last process is completed with the use of INDIVA's 34-foot BioRoter, a composting machine that will, when it is in full form, regenerate up to 100 kilograms of organic soil amendment.
INDIVA is implementing a composting program as all licensed producers have a responsibility to denature anything sent off site – including leaves, stems, roots, etc. Several options for this process exist but these options are much harsher on the environment. INDIVA is creating a high-quality compost that, when used as an organic soil for farming, improves the fertility, structure, and water retention in the soil.
In implementing this program, INDIVA will establish the first sustainable composting program in London, ON. All excess plant waste production in the facility will be composted into fertilizer and then donated to local organic farmers to promote sustainable agriculture.
Customer Acquisition
Through Young's reputation as an experienced 'master grower' and his relationship to the Compassion Societies, INDIVA has established a consumer base of over 1,000 patients. Looking to grow this base, the company has a number of customer acquisition strategies which include establishing more relationships within the compassion community and offering products that are familiar to patients.
Additionally, alongside strident marketing and communications initiatives, INDIVA has developed an outreach and education program for the medical community, which was prepared with help from a professional medicinal cannabis liaison and by compassion society staff. This program is meant to provide medical professionals with the material they require to make informed decisions around prescribing cannabis and is scheduled to be launched in 2018.
Moving Toward Legalization
As summer 2018 approaches, INDIVA plans to continue enhancing their production quality so that it can best serve an inclusive customer base of both medicinal and recreational users. With this goal in mind, the company expects to have its sales license by early 2018, its facility expansion complete by the end of 2018 and reach full production capacity by early 2019.
In parallel to growing its dry flower cultivation and oil extraction operation, INDIVA is also keeping its sights on the opening of the cannabis derivatives market, including edibles, which will be legalized as of 2019 in Canada. In anticipation, the company aims to be prepared to supply this segment of the cannabis market, ensuring that they are set up with the right equipment and 'recipes' for edibles, oils, topicals and others.
The company has made headway in this initiative by partnering with Bhang Corporation on a joint venture agreement. Bhang Corporation is an award-winning cannabis licensor of cannabis, CBD edibles and concentrates. It is host to intellectual property which licenses rights to a range of cannabis and CBD products. Under the joint venture, INDIVA will operate the operation and will become the exclusive licensed manufacturer and distributor of Bhang products in Canada and internationally. INDIVA is also investing US$1 million in Bhang Corporation (4.9 percent equity interest) and has also committed to investing US$5 million in building cannabis processing infrastructure, which it will also use to produce INDIVA branded products.
While the company establishes and grows its domestic presence within Canada, INDIVA has also signed a cannabis supply agreement with a Swiss manufacturer, taking its first step towards international expansion. The company is also exploring potential platforms for international distribution in Europe and South America.
Management
Niel Marotta—President, CEO, Director and Founder
Niel Marotta is a finance and corporate development professional that has managed over $1 billion across various industries. Throughout his career he has also been involved in capital raises and M&A transactions exceeding $1 billion.
Koby Smutylo—General Counsel, Director and Founder
Koby Smutylo is a seasoned lawyer and has acted as counsel to private and public companies. His experience includes having helped finance and license an ACMPR licensed producer.
Jennifer Welsh—CFO
Jennifer Welsh's past experience includes managing a global finance team for eight years as Corporate Controller of a TSX listed company. She is also a former consultant for a publicly traded licensed producer developing their annual budget program and internal reporting as well as supporting their transition to a new ERP system.
Pete Young—Master Grower
Pete leads our grow team as a 'master grower' that is recognized internationally as a leader in the field of cannabis cultivation. He is known as an advocate for medical cannabis in Canada and, in 2000, he launched the London Compassion Society, providing people with educational resources on medical cannabis.
John McCluskey—VP Regulatory Affairs and Quality Assurance
John McCluskey has over 15 years of quality assurance experience. He has acted as a consultant on over 30 ACMPR applications.
---
*Disclaimer: The profile provides information which was sourced and approved by INDIVA in order to help investors learn more about the company. INDIVA is a client of the Investing News Network (INN). The company's campaign fees pay for INN to create and update this profile page, to which links are placed on Investingnews.com and channel newsletters.
The company description, investment highlights and catalysts were sourced by INN and approved by the company. INN does not guarantee the accuracy or thoroughness of the information contained on this page.
INN does not provide investment advice and the information on Investingnews.com profile should not be considered a recommendation to buy or sell any security.
INN does not endorse or recommend the business, products, services or securities of any company profiled.
Readers should conduct their own research for all information publicly available concerning the company.