Advancing Exploration of Globally Significant Copper-Silver Discovery
This profile is part of a paid investor education campaign.*
Overview
Azarga Metals (TSXV:AZR) is a mineral exploration and development company advancing exploration at the Unkur Copper-Silver Project. Located in eastern Russia, Unkur has both the size and grade to be a globally significant copper-silver deposit.
Azarga Metals believes its successful Phase 1 Exploration Program has eliminated much of the geological risk from the project. The results of the 2016-2017 drill program led to the discovery of an additional zone of copper and silver mineralization and the establishment of a maiden Resource Estimate for the project. The estimate is an Inferred Mineral Resource of 42 million tonnes at 0.52 percent copper and 38g/t silver (0.9% Cu equivalent or 91 g/t Ag equivalent), containing 220,000 tonnes of copper and 52 million ounces of silver.
The planned Phase 2 Exploration Program for the 2017-2018 season will include geophysical and drill work aimed at doubling the size of and confidence in the resource including improving overall copper and silver grades. Azarga Metals is also working to complete a Preliminary Economic Assessment (PEA) in the first half of 2018.
Azarga Metals' President and CEO Dorian (Dusty) Nicol believes the main catalyst for the company will come in Q2 2018 with the publishing of the PEA. "With the size and grade of the deposit, and the current copper and silver price environment, I think the PEA will demonstrate outstanding economics for the project which will be viewed as a major de-risking event and lead to a possible evaluation of our share price."
Mining in Russia
Russia's vast landscape—the largest country in the world by surface area—is home to equally vast natural resources—some of the largest mineral reserves in the world. The largest producer of diamonds and palladium, the nation also ranks third in important mineral commodities such as platinum, gold and iron. Russia's mineral treasure trove also includes some of the world's largest copper deposits.
Mining is Russia's second largest industry after oil and gas, and represents about 5 percent of the country's GDP and 16 percent of its exports. While Russia's oil and gas industry is mostly state-owned, the nation's mining industry is largely privately owned. The Russian government is highly supportive of foreign mining investment and development. Major miner Kinross Gold, which operates as many as 14 mining sites in Russia since 1995, is a good example of a western company successfully operating in want many may consider a challenging policy environment.
Russia's Far East Development Fund is a cornerstone of the government's push to facilitate investment in the development of its natural resources, particularly in its Far East region which holds a large share of the country's resource base including about half of its gold and silver reserves. That investment includes resource exploration and the infrastructure—i.e. transportation and utilities—necessary for developing mining projects. Since 2014, Moscow has also been working to improve mining policies and tax incentives aimed at attracting foreign companies including Canadian miners.
Azarga Metals' Unkur Copper-Silver Project lies in the Far East province of Zabaikalsky, a prolific mining jurisdiction that shares a border with China and Mongolia.
Investment Highlights
Located in prolific mining jurisdiction of eastern Zabaikalye Province near China-Russia border
Region benefits from various government incentives for project development
Excellent infrastructure: power and water onsite, 7km from major railway
Phase 1 exploration led to discovery of new mineralization zone with the potential for further discoveries
Phase 2 exploration planned with potential to double 2017 maiden resource estimate
Potential to be one of the world's top silver deposits in terms of grade and size
Lack of environmental permitting risks
Led by a team of mining and finance professionals with a long track record of success
Management and Board hold 20 percent of shares
Key Project: Unkur Copper-Silver Project, Russia
Azarga Metals' Unkur project hosts a large, shallow sediment-hosted stratiform copper-silver deposit. The Russian Federation granted a 25-year mineral exploration license for the Unkur property in 2014. The license covers 5,390 hectares located less than 400 kilometers from the China-Russia border in the province of Zabaikalye. This region is also home to several copper deposits including the world's third largest copper deposit, Udokan.
Infrastructure at the project is excellent and includes major railway and road within 7 kilometers and a high-voltage electrical substation within 25 kilometers. The major regional power line runs across the property and there is sufficient water at the property for anticipated needs. Exploration and mining can be carried out 12 months / year.
Historical Exploration
The historical database on the property includes exploration work conducted in the 1960s and 1970s which showed copper and silver over a strike length of approximately 5 kilometers. Resource estimates (non 43-101 compliant) indicate a copper-silver deposit of "global significance", according to Azarga Metals management.
Historic drilling at Unkur outlined a large area of high-grade shallow stratiform sediment-hosted copper-silver 20 meters to 50 meters thick over an area four to six kilometers long.
Highlights from the historical drilling include:
21.0 meters at 5.9 percent copper
20.0 meters at 4.2 percent copper
12.0 meters at 3.3 percent copper
12.0 meters at 2.3 percent copper
3.3 meters at 3.3 percent copper
3.2 meters at 3.3 percent copper
The historical work had little focus on the silver mineralization, but composite samples from historic drill core showed an average silver grade of 65 g/t Ag.
The exploration technology used during the Soviet era was not as advanced as today, and the historical data is an understatement of the scale of the mineralization at Unkur. Azarga Metals believes using modern drilling technology across Soviet era exploration targets will offer up much greater results in terms of size and grade as well as identify new discoveries.
Phase 1 Exploration Program: Discovery of New Zone
Azarga Metals' 2016-2017 exploration program targeted copper-silver zones at Unkur with a goal of verifying historical results to confirm the presence of high-grade mineralization and to establish a maiden resource estimate on the property. The program included 16 diamond core drill holes covering 4,580 meters, four trenches and the sampling of numerous outcrops.
One of the most notable outcomes of the Phase 1 Exploration Program at Unkur was the discovery of a second distinct mineralized zone (Unkur Lower) stratigraphically below the historical target zone (Unkur Upper). The discovery of the Unkur Lower zone suggests the property hosts a system of multiple distinct horizons of significant mineralization, opening the prospect for further discoveries. Stratigraphically distinct zones of mineralization are a common feature of silver-copper deposits with similar geology.
The results also showcase the high-grade nature of the deposit, both in terms of copper and silver. "This could be an interesting dynamic for any future development plans at Unkur because the prices for these metals can move in quite different cycles, one being a base metal and the other a precious metal," noted the company.
The combined results of the drilling, trenching and outcrop sampling work have defined an area of silver-copper mineralization extending over 3,200 meters in strike length and up to 600 meters in width, which remains open in all directions.
2017 Maiden Inferred Resource Estimate
The maiden Mineral Resource estimate is a very successful result from just our first few months of physical exploration at Unkur. – Dorian (Dusty) Nicol, Azarga President and CEO
Seventy-nine percent of the Maiden Inferred Resource Estimate is contained in a near-surface zone.
Planned Phase 2 Exploration Program
Azarga Metals is planning a second phase of exploration at Unkur for the 2017-2018 field season which will focus on the potential for further discoveries of copper-silver zones. The company's main objective for the Phase 2 exploration program is to at least double the size of the current Resource Estimate while increasing the overall copper and silver grades.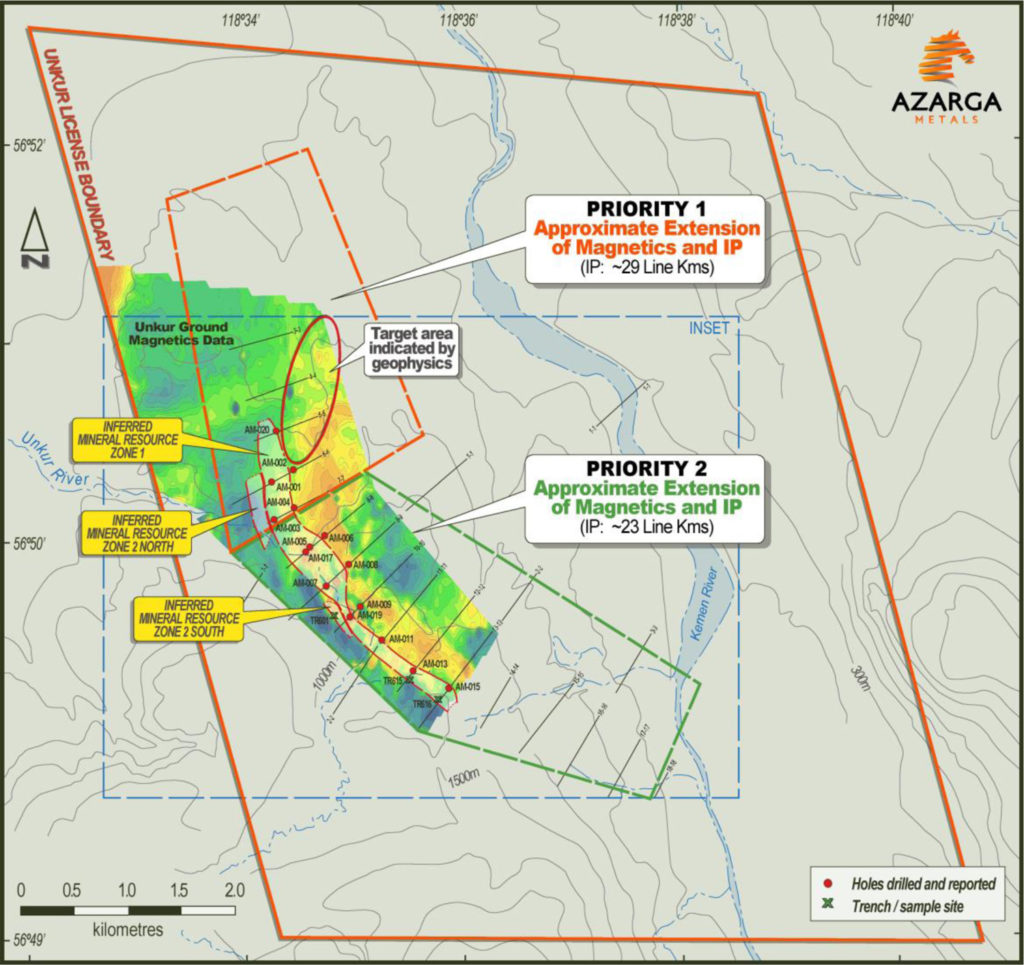 Management
Dorian ("Dusty") Nicol—President, CEO and Director
Dusty Nicol has over 40 years of international experience in exploration and mining, including a successful track record of managing exploration and development projects worldwide. Nicol is a Member of the American Institute of Professional Geologists, a Fellow of the Society of Economic Geologists, a Fellow of the Australasian Institute of Mining and Metallurgy (AusIMM) and Registered Member of the Society of Mining Engineers. He has B.Sc. in geology from M.I.T., a Master's Degree in geology from Indiana University and is fluent in five languages.
Dan O'Brien—Chief Financial Officer
Dan O'Brien has served as Chief Financial Officer for a number of publicly listed exploration companies trading on the TSX and TSX Venture exchanges. He has 13 years of experience in financial reporting for publicly traded mineral exploration companies. O'Brien was previously a senior manager at a leading Canadian accounting firm where he specialized in the audit of public companies in the mining and resource sector. He has been a CPA-CA since 2007.
Doris Meyer—Corporate Secretary
Doris Meyer has 40 years of experience in financial reporting and corporate compliance for publicly traded mineral exploration companies. She has been a CPA-CGA since 1985.
Sergei Stefanovich—General Manager Russia
Sergei Stefanovich has 16 years of corporate finance, strategy and business development experience principally focused on Russia and the larger FSU area. He has managed a public equity mining fund that invested into junior mining companies, worked as Director (Strategy and M&A) for Norilsk Nickel, and was a Board member of Gold Fields Limited. A lawyer by initial training with an MBA from IMD (Institute for Management Development), Lausanne, Switzerland, Stefanovich has served as a legal counsel for Sputnik private equity funds, AT&T & McKenna & Co. He is fluent in Russian and English.
Yuri Saitov—Chief Project Geologist
Yuri Saitov has 25 years of experience in mining and mineral exploration in Russia, including in exploration, resource evaluating and mining of hard rock and placer gold deposits. He graduated in 1984 from Tomsk Polytechnic Institute as mining engineer – geologist. He received a Master degree in Academy of national economy under the Government of the Russian Federation (Natural resources, ecology and economy) and PhD in Geology. He is fluent in Russian.
Alexander Molyneux—Director, Non-Executive Chair
Alexander Molyneux is the Co-Founder of Azarga Resources Group (2012 – present), including Azarga Uranium (TSX:AZZ), the CEO of Paladin Energy (ASX:PDN / TSX:PDN) and Non-Executive Director or Goldrock Mines (TSXV:GRM). He also served as the CEO of SouthGobi Resources (TSX:SGQ) (Ivanhoe Mines Group) (2009 – 2012).
Michael Hopley—Director
Michael Hopley has over 40 years of experience as a geologist, exploration manager and senior management for resource companies in the precious metals and base metal sector with companies such as Gold Fields Mining, Bema Gold, Arizona Star and Tournigan Energy. He has also served as the President and CEO of Sunridge Gold (2003 – 2016). He is a Member of the American Institute of Professional Geologists.
Vladimir Pakhomov—Director
Vladimir Pakhomov is a Managing Partner of Olympia Capital, a Russia-focused investment firm. He has also served as an Investment Director with Onexim Group (2007 – 2010). He graduated from the Moscow Institute of International Relations and is CFA Charterholder.
Blake Steele—Director, Chair of the Audit Committee
Blake Steel is an experienced mineral industry executive. He graduated from the University of British Columbia and is a CPA-CA.
---
*Disclaimer: The profile provides information which was sourced and approved by Azarga Metals in order to help investors learn more about the company. Azarga Metals is a client of the Investing News Network (INN). The company's campaign fees pay for INN to create and update this profile page, to which links are placed on Investingnews.com and channel newsletters.
The company description, investment highlights and catalysts were sourced by INN and approved by the company. INN does not guarantee the accuracy or thoroughness of the information contained on this page.
INN does not provide investment advice and the information on Investingnews.com profile should not be considered a recommendation to buy or sell any security.
INN does not endorse or recommend the business, products, services or securities of any company profiled.
Readers should conduct their own research for all information publicly available concerning the company.