Overview
Cardiol Therapeutics Inc. (TSX: CRDL) (NASDAQ: CRDL) is a clinical-stage life sciences company focused on the research and development of anti-inflammatory therapies for the treatment of cardiovascular diseases. The Company received approval from the U.S. FDA for its Investigational New Drug (IND) application and has commenced the LANCER Study, a Phase II/III, double-blind, placebo-controlled clinical trial investigating the efficacy and safety of its lead product, CardiolRx™, in hospitalized COVID-19 patients with a prior history of, or risk factors for, cardiovascular disease. Cardiol has also received requisite government approvals from health regulators in Brazil, Mexico, and Canada to initiate the LANCER Study in several additional hospital centers in these countries. CardiolRx™ is an oral cannabidiol formulation pharmaceutically manufactured under cGMP.
Cardiol has also received clearance from Health Canada and the FDA for its investigational new drug ("IND") application for a Phase II international trial that will investigate the anti-inflammatory and anti-fibrotic properties of CardiolRx™ in acute myocarditis, a condition caused by inflammation in heart tissue, which remains a leading cause of sudden cardiac death in people under 35 years of age. In addition, Cardiol is developing a subcutaneous formulation of CardiolRx™ for the treatment of inflammation in the heart that is associated with the development and progression of heart failure. Heart failure is the leading cause of death and hospitalization in North America, with associated annual healthcare costs in the U.S. alone exceeding $30 billion.
In collaboration with researchers and opinion leaders at international centers of excellence, including the Houston Methodist DeBakey Heart & Vascular Center and TecSalud del Tecnológico de Monterrey, Mexico, Cardiol is leveraging multidisciplinary expertise in drug delivery, drug formulation, cardiac physiology, and heart failure. The Company's research collaborations provide Cardiol with the optimal platform on which to pursue the commercial development of new therapies for chronic heart failure, a leading cause of death and disability in the western world.
The Company's management team has extensive experience in the research and commercial development of novel therapeutics. Additionally, insiders and employees are notably invested in the Company, holding approximately 12 percent of the outstanding shares.
Company Highlights
Leadership position in cannabidiol-based cardioprotective therapies
Lead clinical programs targeting large opportunities in inflammatory heart disease
Strong scientific rational for developing cannabidiol (CBD) as an anti-inflammatory agent
Proprietary oral formulation in Phase II/III LANCER Study
IND application accepted for Phase II trial assessing tolerability of CardiolRx™ in acute myocarditis patients
Key Projects
LANCER, a Phase II/III COVID-19 Trial
On April 28, 2021, Cardiol announced the enrollment of the first randomized patient in the LANCER trial, a Phase II/III, double-blind, placebo-controlled clinical trial investigating the efficacy and safety of CardiolRx™, a pharmaceutically produced extra strength cannabidiol formulation, in 422 hospitalized COVID-19 patients with a prior history of, or risk factors for, cardiovascular disease (CVD). The trial is taking place at major centers in the United States, and at centers in Brazil and Mexico where the prevalence of COVID-19 remains high.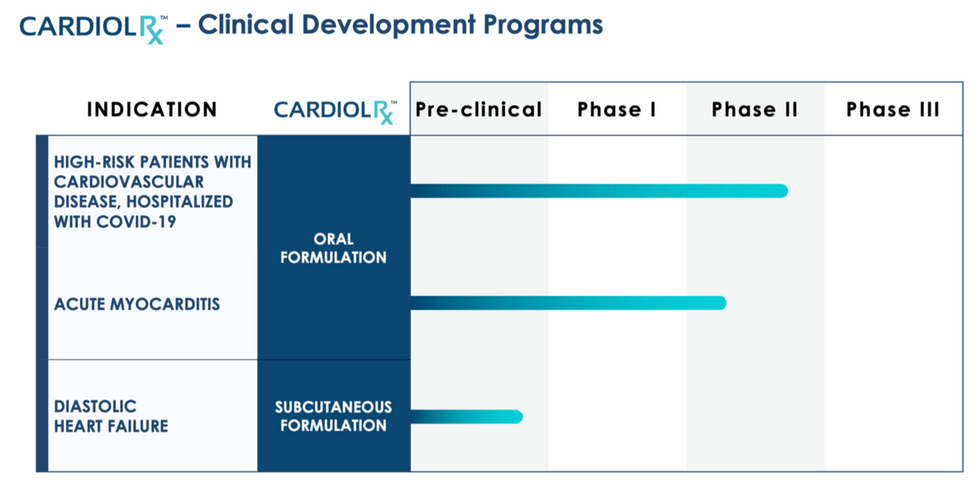 Patients with COVID-19 primarily present with respiratory symptoms which can progress to bilateral pneumonia and serious pulmonary complications. It is now recognized that the impact of COVID-19 is not limited to the pulmonary system. Individuals with pre-existing CVD or who have risk factors for CVD (such as diabetes, hypertension, obesity, abnormal serum lipids, or age greater than 64) are at significantly greater risk of developing serious disease from COVID-19 and experience greater morbidity. Moreover, such COVID-19 patients are at significant risk of developing cardiovascular complications (such as acute myocardial infarction, cardiac arrhythmias, myocarditis, stroke, and heart failure) during the course of their illness. These complications can be fatal, and result in an estimated 30-40% of all COVID-19 deaths. A strategy to prevent or limit the number or severity of these cardiovascular complications is likely to considerably improve outcomes from this disease.
Cardiol's LANCER trial has been designed to assess the efficacy, safety, and tolerability of CardiolRx™ in preventing cardiovascular complications in hospitalized patients, with a confirmed diagnosis of COVID-19 within the previous 24 hours, and who have pre-existing CVD and/or significant risk factors for CVD. The composite primary efficacy endpoint will be the difference between the active and placebo groups in the percentage of patients who develop, during the first twenty-eight days following randomization and first dose of study medication, a composite endpoint consisting of one or more of several common outcomes in this patient population, including all-cause mortality, requirement for ICU admission and/or ventilatory support, as well as cardiovascular complications, including the development of heart failure, acute myocardial infarction, myocarditis, stroke, or new sustained or symptomatic arrhythmia.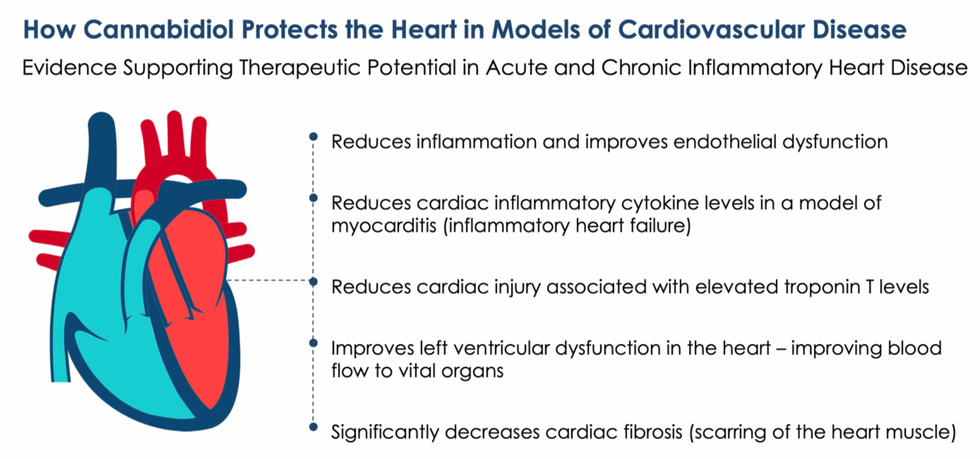 "There is compelling evidence that inflammation plays a fundamental role in the development and progression of heart disease," said Dr. Andrew Hamer, Chief Medical Officer of Cardiol Therapeutics. "I am excited to see the initiation of the LANCER trial which will provide a unique opportunity to explore the anti-inflammatory and cardioprotective properties of CardiolRx™ in COVID-19 patients who are at high risk for major cardiovascular complications."
Orphan Drug Program for Acute Myocarditis
In June 2019, Cardiol announced its intent to complete an international clinical trial for acute myocarditis, an inflammation of the heart muscle commonly caused by a viral infection of the heart tissue, utilizing its CardiolRx™ CBD formulation.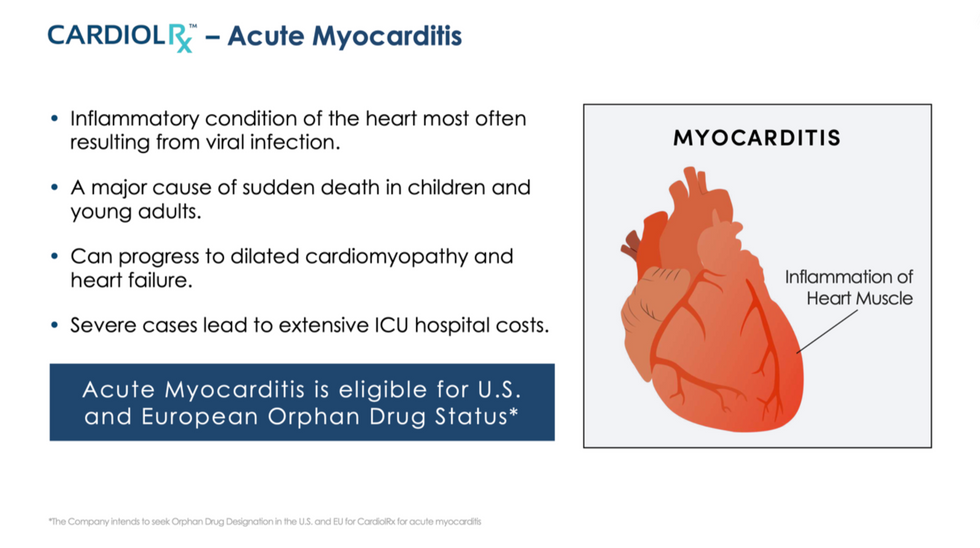 The most recent data from the "Global Burden of Disease Study" suggests that the prevalence of myocarditis is approximately 22 per 100,000 population, qualifying the condition as an orphan disease in the U.S. and in Europe. Orphan Drug programs in the U.S. and EU are eligible for accelerated marketing approvals and other incentives, including a prolonged period of market exclusivity.
"The U.S. orphan drug program was successfully utilized to accelerate the first FDA approval of CBD for the treatment of rare forms of pediatric epilepsy and significant shareholder value was created in the process," stated Cardiol President and CEO David Elsley. "Given the mortality and significant morbidity risk associated with acute myocarditis, we believe there is a similar opportunity in pursuing an expedited development program of our CardiolRx™ pharmaceutical CBD formulation for this serious orphan disease which has no accepted standard of care."
Although the symptoms are often mild, myocarditis remains an important cause of acute and fulminant heart failure and is a leading cause of sudden cardiac death in people less than 35 years old. In addition, some patients proceed to develop chronic dilated cardiomyopathy which continues to be the leading indication for cardiac transplantation. Symptoms include chest pain, fatigue, shortness of breath, and arrhythmias. Because of the progressive damage to heart cells, heart failure develops (defined as the inability of the heart to pump sufficient blood to meet the needs of the body).
In November 2019, Cardiol announced the formation of the Clinical Steering Committee (CSC) for a Phase II international trial in acute myocarditis using the CardiolRx™ CBD formulation. The CSC is expected to provide oversight of the protocol, including amendments and advice to investigators regarding all aspects of the trial.
The CSC is comprised of nine highly distinguished thought leaders in cardiology from the Cleveland Clinic, the Mayo Clinic, the Houston Methodist DeBakey Heart and Vascular Center, the University of Ottawa Heart Institute, McGill University Health Centre, the University of Pittsburgh Medical Center, Tampa General Hospital Heart and Vascular Institute, and Charité University Medicine Berlin.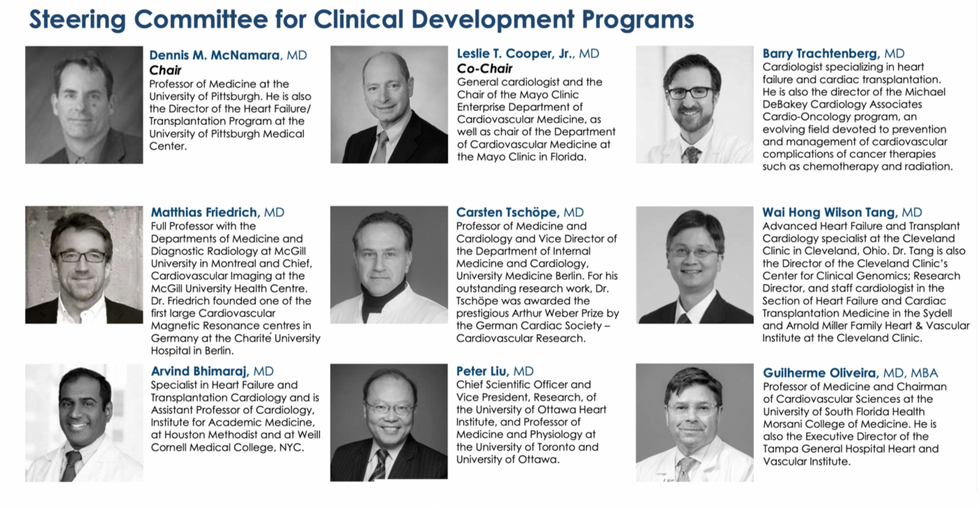 In April 2020, Cardiol announced topline results from a Phase I single and multiple ascending dose clinical trial of CardiolRx™. Topline results demonstrated that CardiolRx™ was safe and generally well tolerated at all dose levels, with no serious adverse events reported in the study. The findings were consistent with published results for oral cannabidiol formulations and serve as a rationale for the dosing regimen that will be utilized in the Company's planned Phase II program in acute myocarditis.
In August 2021, Cardiol announced that the U.S. Food and Drug Administration (FDA) provided clearance to proceed with the Company's Investigational New Drug (IND) application to commence a Phase II, multi-center, double-blind, randomized, placebo-controlled trial designed to study the safety and tolerability of CardiolRx™, as well as its impact on myocardial recovery in patients presenting with acute myocarditis. In October 2021, Cardiol received approval from Health Canada to commence a Phase II trial of CardiolRx™ in patients with Acute Myocarditis.
October 2021, Cardiol received approval from Health Canada to commence a Phase II trial of CardiolRx™ in patients with Acute Myocarditis.
Cardiol's acute myocarditis study is expected to enroll 100 patients at clinical centers in the United States, Canada and Europe. The primary endpoints of the trial, which will be evaluated after 12 weeks of double-blind therapy, consist of the following cardiac magnetic resonance measures: left ventricular function (ejection fraction and longitudinal strain) and myocardial edema (extra-cellular volume), each of which has been shown to predict long-term prognosis of patients with acute myocarditis.
Cardiol Therapeutic's Heart Failure Program
People with heart failure suffer from a variety of ailments, including shortness of breath, rapid heart rate, edemas, reduced exercise capacity, can often struggle with simple daily activities, and are frequently hospitalized. Many of these symptoms can significantly reduce the quality of life for an individual.
There are two types of heart failure: systolic and diastolic. Systolic heart failure, or heart failure with reduced ejection fraction (HFrEF), occurs when the left ventricle cannot adequately pump blood from the heart and into circulation. Diastolic heart failure, or heart failure with preserved ejection fraction (HFpEF), occurs when the left ventricle becomes stiff and doesn't relax as it should and, as a result, cannot fill properly, causing pressure to build in the left side of the heart and in the lungs. This results in a patient feeling shortness of breath and is associated with health concerns such as obesity, hypertension, and diabetes.
Another complication that can be experienced by those suffering from HFpEF is chronic inflammation, which can lead to a decrease in blood vessel function, impairment of heart muscle function, and fibrosis, which results in stiffness in the heart and a reduction in pumping efficiently. Over the past 20 years, there have been little to no significant treatments developed for HFpEF, as therapies have primarily remained focused on diuretics.
The Market
More than 26 million people across the globe are affected by chronic heart failure. Of this number, six million are based in Canada and the U.S., making heart failure a leading cause of death and hospitalization in the region. In the U.S. alone, the associated health costs exceed $30 billion annually.
To combat the effects of heart disease and to create a better quality of life for patients, Cardiol is developing a proprietary subcutaneous formulation of cannabidiol to achieve higher bioavailability than an oral formulation. This subcutaneous formulation would be a new approach to the treatment of chronic heart failure based on the anti-inflammatory activity of cannabidiol to treat inflamed heart tissue and the anti-fibrotic activity of cannabidiol to treat fibrosis (scarring) in heart muscle.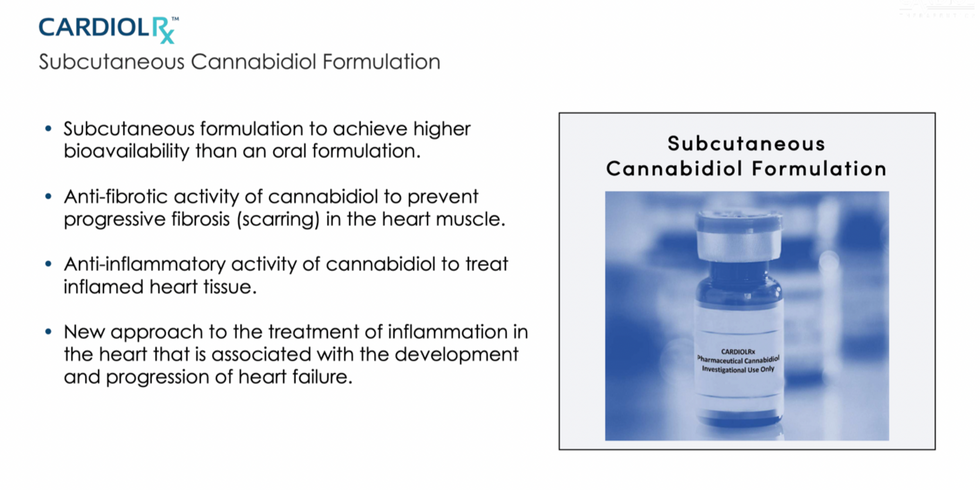 Published third-party research has shown that cannabidiol reduces inflammatory activation of the endothelial lining of blood vessels and aids endothelial vasorelaxation, resulting in improved blood flow. Cannabidiol has also been shown to attenuate a number of measures of inflammation in models of diabetes, a common co-morbidity in heart failure patients, and to reduce myocardial fibrosis in a model of inflammatory heart disease.
Cannabidiol is lipid soluble, virtually insoluble in water, highly sensitive to deactivation in the liver via first-pass metabolism when taken orally and is rapidly cleared from the body. This results in a low overall bioavailability of less than 10% when taken orally. Cardiol's subcutaneous administration of cannabidiol is designed to minimise first-pass metabolism, optimize and maintain blood levels of the drug, and target inflammation and increased fibrosis in the heart. Cardiol believes that overcoming the low bioavailability issues associated with cannabidiol will significantly broaden the therapeutic potential of this molecule.
Cardiol Therapeutic's Strategic Partnership
Dalton Pharma Services
Cardiol has established an exclusive manufacturing arrangement with Dalton Pharma Services (Dalton) for the supply of pharmaceutical cannabidiol for Cardiol's research programs using CardiolRx™
Located in Toronto, Canada, Dalton is a Health Canada approved, FDA registered, cGMP manufacturer of over 200 Active Pharmaceutical Ingredients (APIs), including pharmaceutical cannabinoids, with manufacturing capability scalable to support all stages of the regulatory process (Phase I, II, III and commercial). In 2016 and 2017, Dalton Pharma Services received the Leadership Award for Contract Manufacturing Organizations (CMO) in the following categories: Quality, Capabilities, Expertise, Compatibility and Development.
Dalton is also the manufacturer of Nabilone, the largest prescription pharmaceutical cannabinoid in the world, with annual sales of $100 million in Canada alone.
As part of the partnership, Dalton is also a significant shareholder in Cardiol. Dalton's founder, owner and CEO, Peter Pekos, is on Cardiol's board.
Cardiol Therapeutic's Research Collaborations
DeBakey Heart and Vascular Center
Cardiol is conducting experimental research at the Houston Methodist DeBakey Heart & Vascular Center, designed to investigate the activity of the Company's proprietary subcutaneous cannabidiol formulation in a model of heart failure.
The Houston Methodist DeBakey Heart & Vascular Center is recognized internationally as a center of excellence for the treatment of heart failure. The center was the birthplace of cardiovascular bypass surgery in 1964 and is currently ranked the 14th best hospital for care in cardiology and heart surgery out of 5,028 hospitals in the United States.
TecSalud del Tecnológico de Monterrey
Cardiol is collaborating with TecSalud del Tecnológico de Monterrey (TecSalud) on research and development of a proprietary subcutaneous cannabidiol formulation for the treatment of heart failure. The primary objective of this collaboration is to develop the experimental evidence necessary to support advancing breakthrough treatments for heart failure into clinical development.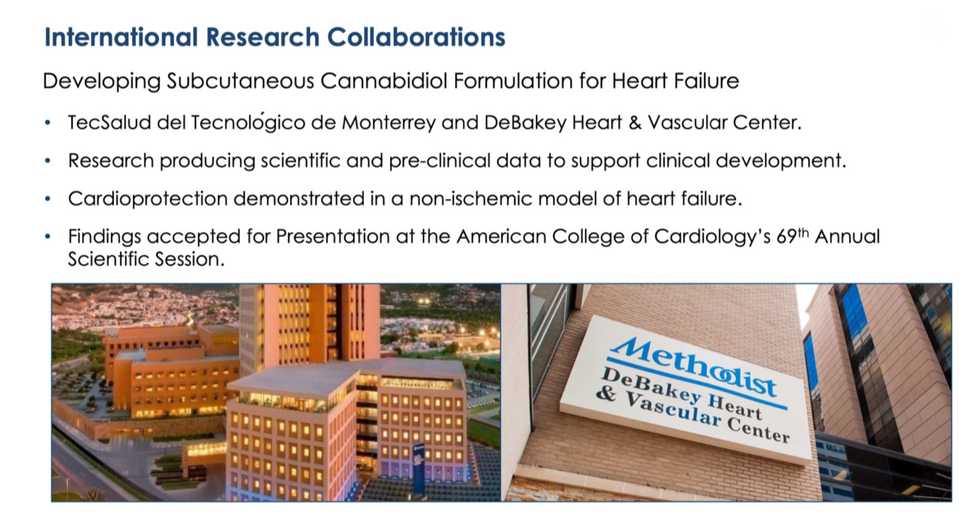 TecSalud has collaborative relationships with the Houston Methodist DeBakey Heart & Vascular Center and the University of Calgary and has established a formal agreement with the Massachusetts Institute of Technology (MIT) to promote research and development in science and technology in Mexico.
Management Team
David Elsley, MBA - President, CEO and Director
Founder and CEO of Vasogen Inc., with 25 years of experience developing, financing and managing all aspects of corporate development of biotechnology and high-growth organizations.
Andrew Hamer, MB, ChB - Chief Medical Officer
Former Executive Director at Amgen Inc., responsible for leading global development for Repatha®, former Chief Cardiologist at Nelson Hospital, New Zealand. 19 years of experience practicing Cardiology and Internal Medicine.
Chris Waddick, MBA, CPA, CMA - Chief Financial Officer
Thirty years of experience in financial and executive roles in the biotechnology and energy industries, former Chief Financial Officer and Chief Operating Officer of Vasogen Inc.
Bernard Lim, MIET, CEng (UK) - Chief Operating Officer
Thirty years in the life sciences industry spanning biotechnology, diagnostics, medical devices, and high-technology. Founder and CEO of a highly successful drug delivery company that he led from R&D through to commercialization and its eventual acquisition by Eli Lily.
Anne Tomalin, BA, B.Sc., RAC - Director of Regulatory Affairs
Founder of CanReg Inc and TPIreg, regulatory firms previously sold to Optum Insight and Innomar Strategies respectively. An expert in regulatory affairs in Canada, United States and Europe.
Andrea B. Parker, MSc, PhD - Director of Clinical Affairs
Chief Scientific Officer at Peter Munk Cardiac Centre, University Health Network. Clinical Epidemiologist with more than 30 years' experience in clinical trials design, management, and execution in industry and academic settings.
Blagoja Ristevski, B.Sc., CHE - Director of Chemical Engineering and Manufacturing
Chemical Engineer, 25+ years of experience in the biopharmaceutical industry, senior exec. roles in eight Canadian biopharmaceutical Co.'s in the research/discovery of drug products; VP Product Dev., AMRIC Institute, Ontario, Canada.
Board of Directors
Guillermo Torre-Amione, MD, Ph.D. - Chairman
President of TecSalud academic medical center and school of the Instituto Tecnológico y de Estudios Superiores de Monterrey (ITESM), Mexico. Former director of Cardiac Transplantation at the Houston Methodist DeBakey Heart & Vascular Center.
Peter Pekos, B.Sc., M.Sc. - Director
President, CEO and Founder at Dalton Pharma Services with broad experience in the research, development and commercialization of pharmaceuticals, products and services.
David Elsley, MBA - President, CEO and Director
Founder and CEO of Vasogen Inc., with 25 years of experience developing, financing and managing all aspects of corporate development of biotechnology and high-growth organizations.
Iain Chalmers, BA, BEd, MBA - Director
Professor of Marketing at Centennial College Business School. Former Vice-President Marketing and Innovation at Diageo, the world's largest spirits company. Over 25 years' experience in consumer products with Gillette and Procter & Gamble.
Colin Stott - Director
Thirty years of experience in pre-clinical and clinical development, with specific expertise in the development of cannabinoid-based medicines. Currently Chief Operating Officer of Alinova Biosciences Ltd. and former Scientific Affairs Director, International and R&D Operations Director for GW Pharmaceuticals plc, a world leader in the development of cannabinoid therapeutics.
Michael J. Willner, Esq. - Director
Michael J. Willner, Esq. has practiced as both an Attorney and a Certified Public Accountant. He graduated from Emory University Law School as a member of the Emory Law Review. Subsequently, he practiced real estate and corporate law with New York City-based Milbank, Tweed, Hadley & McCloy, one of the nation's most prominent international law firms. Prior to his legal career, Mr. Willner was employed by the former Arthur Andersen & Company, a national accounting firm, where he practiced in Arthur Andersen's tax department.
Jennifer M. Chao - Director
Jennifer M. Chao has over 25 years of experience in the biotech and life sciences industries focused primarily on finance and corporate strategy. She is Managing Partner of CoreStrategies Management, LLC, a company she founded in 2008 to provide transformational corporate and financial strategies to biotech/life science companies for maximizing core valuation. She currently serves on the Board of Directors of Endo Pharmaceuticals and is a member of the Audit Committee and Compliance Committee. Prior to joining Endo, Ms. Chao served as Chairman of the Board of BioSpecifics Technologies Corp. (BioSpecifics) from October 2019 until its acquisition by Endo for approximately US $660 million in December 2020. She also served as Chair of BioSpecifics' Compensation Committee and as a member of the Audit Committee, Strategy Committee, Intellectual Property Committee, and Nominating and Corporate Governance Committee from 2015 to 2020.
Scientific Advisory Board
Paul M. Ridker, MD, MPH
Dr. Ridker is director of the Center for Cardiovascular Disease Prevention, a translational research unit at Brigham and Women's Hospital (BWH), Boston. A cardiovascular medicine specialist, he is also the Eugene Braunwald Professor of Medicine at Harvard School of Medicine (HMS). Dr. Ridker received his medical degree from HMS and then completed an internal medicine residency and a cardiology fellowship at BWH. Dr. Ridker is board certified in internal medicine. His clinical interests include coronary artery disease and the underlying causes and prevention of atherosclerotic disease. Dr. Ridker is the author of over 900 peer-reviewed publications and reviews, 64 book chapters, and six textbooks related to cardiovascular medicine. His primary research focus has involved inflammatory mediators of heart disease and the molecular and genetic epidemiology of hemostasis and thrombosis, with particular interests in biomarkers for coronary disease, "predictive" medicine, and the underlying causes and prevention of atherosclerotic disease. Notably,
Dr. Ridker has been the Principal Investigator or Study Chairman of several large international trials that have demonstrated the role of inflammation in the genesis and management of coronary artery disease. He was included in TIME magazine's list of 100 most influential people of 2004, and between the years 2000 and 2010, Dr. Ridker was among the ten most often cited researchers in cardiovascular medicine worldwide. Amongst many other honors, he received the American Heart Association Distinguished Scientist Award in 2013, gave the Braunwald Lecture of the American College of Cardiology in 2019, was awarded the Gotto Prize for Atherosclerosis Research from the International Atherosclerosis Society in 2021, and is an elected Member of the National Academy of Medicine (USA).
Bruce McManus, PhD, MD
Dr. McManus is Professor Emeritus, Department of Pathology and Laboratory Medicine, the University of British Columbia. He has served as CEO, Centre of Excellence for Prevention of Organ Failure (PROOF Centre), Director, UBC Centre for Heart Lung Innovation, and Scientific Director, Institute of Circulatory and Respiratory Health, CIHR. Dr. McManus received BA and MD degrees (University of Saskatchewan), an MSc (Pennsylvania State University), and a PhD (University of Toledo). He pursued post-doctoral fellowships at the University of California, Santa Barbara (Environmental Physiology) and at the National Heart, Lung, and Blood Institute, Bethesda, MD (Cardiovascular & Pulmonary Pathology), and residency training at the Peter Bent Brigham Hospital, Harvard University (Internal Medicine and Pathology).
Dr. McManus' investigative passion relates to mechanisms, consequences, detection and prevention of injury and aberrant repair in inflammatory diseases of the heart and blood vessels. He has had a longstanding interest in the diagnosis and management of acute viral myocarditis. His life's scholarship is reflected in more than 400 original peer-reviewed publications, over 60 chapters, and several books. He is an extraordinary mentor. Dr. McManus has been widely appreciated for his research, mentoring, and leadership contributions to the health sciences. Amongst many awards and honors, Dr. McManus received the prestigious Max Planck Research Award in 1991, was elected a Fellow of the Royal Society of Canada in 2002, was appointed a Member of the Order of Canada in 2018, and to the Order of British Columbia the following year.
Joseph A. Hill, MD, PhD
Dr. Hill is Professor of Internal Medicine and Molecular Biology, Chief of Cardiology at UT Southwestern Medical Center, Dallas, TX, and Director of the Harry S. Moss Heart Center. Dr. Hill holds both the James T. Willerson, MD, Distinguished Chair in Cardiovascular Diseases, and the Frank M. Ryburn Jr. Chair in Heart Research. He graduated from Duke University with MD and PhD degrees in 1987. His PhD dissertation research was in the field of cardiac ion channel biophysics. Dr. Hill then worked for five years as a postdoctoral fellow at the Institut Pasteur in Paris studying central and peripheral nicotinic receptors. He next completed an internal medicine internship and residency, as well as a clinical cardiology fellowship, at the Brigham and Women's Hospital, Harvard Medical School. He served on faculty at the University of Iowa for five years before moving in 2002 to the UT Southwestern. Dr. Hill's research examines molecular mechanisms of structural, functional, metabolic, and electrophysiological remodeling in cardiac hypertrophy and heart failure. He has served on many NIH panels and committees and delivered numerous invited lectures in the U.S. and around the world. Dr. Hill has received many recognitions and awards, including election to the Association of American Professors and the 2018 Research Achievement Award from the International Society for Heart Research. For the past six years, Dr. Hill has been the Editor-in-Chief of the prestigious American Heart Association journal Circulation.
Business Advisors
Steven Grasso
Mr. Grasso began his career on the floor of the New York Stock Exchange in 1993. He joined Stuart Frankel & Co. as an institutional sales trader in 1999. As Director of Institutional Sales for Stuart Frankel & Co., Steven has worked closely with some of the largest mutual funds, pension funds, insurance companies, and hedge funds in the world directly from the floor of the Stock Exchange. Over his 27-year career, Steven has actively participated in various Stock Exchange committees ranging from allocating new listings to designated market makers to developing standardized tests that the floor community uses for continuing education. Steven closely follows the Washington D.C./Markets connection, using his extensive Capitol Hill and SEC relationships to better inform his clients on policy changes and regulation.
Steven is perhaps best known for being a CNBC market analyst and is a regular on CNBC's popular "Fast Money" show, which airs daily during the business week and has an average daily viewership that currently exceeds 250,000. Mr. Grasso also speaks at many traders' conferences across the country on a regular basis, as well as business round tables with many influential leaders of industry where he addresses a broad range of market related issues, including the effects of regulation and the political process on equities.
Teri Loxam
Teri is an accomplished professional with a diverse background in Strategy, Investor Relations, Finance and Communications. Teri joined Kira Pharmaceuticals in November 2021 as Chief Operating Officer and Chief Financial Officer. In this role, Teri oversees Finance along with several strategic and operational functions for the company. Prior to joining Kira, Teri served as SQZ Biotech's Chief Financial Officer where she led the company's financial operations including financial strategy, accounting, financial planning and analysis, risk management, tax and treasury as well as overseeing the investor relations and communications/public relations functions. In the two years with SQZ, Teri was instrumental in helping the company raise over $200M in funding, including taking the company public through an IPO on the NYSE in October 2020.
Before joining SQZ Biotech, Teri served as Sr. Vice President of Investor Relations and Global Communications at Merck, a global pharmaceutical company. In this role, Teri led internal and external communications efforts globally, including corporate and financial media relations, product communications, public affairs and employee communications as well as its investor relations and investment community interactions. Prior to Merck, Teri was vice president, Investor Relations for IMAX Corporation, where she reshaped the entertainment company's investor strategy, helping to convert its investor base and helping the company go public in China with an IPO on the Hong Kong Exchange. Teri also spent over a decade at Bristol-Myers Squibb in a variety of roles of increasing responsibility across Strategy, Treasury and Investor Relations.
Request an Investor Kit
EXCITING upcoming projects!
IN-DEPTH reliable insights!
SUCCESSFUL growth strategies!
VALUE-BASED content!
Cardiol Therapeutics