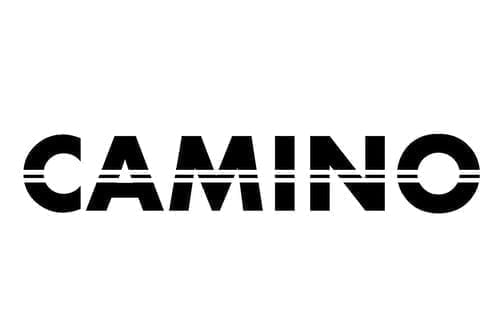 Camino Minerals
Exploring Highly Prospective, Undermined Copper Territories in the Peruvian Coast
This Camino Minerals profile is part of a paid investor education campaign.*
Overview
From 2020 to 2021, copper prices increased 80 percent, resulting in an all-time high in 2021. These rising prices of copper coupled with the expected substantial increases in overall demand have made the copper industry a highly attractive market for investors.
Experts at Goldman Sachs project that the price of copper may rise 66 percent from $9000 per tonne to US$15,000 per tonne by 2025 to prevent inventory depletion and enable exploration and discovery for the long-cycle commodity. There is an increasing need for copper discovery as the global movement towards clean energy is expected to increase copper demand by anywhere from 600 to 900 percent by 2030.
Camino Minerals (TSXV:COR,OTCQB:CAMZF) is a Canadian mineral exploration and development company specializing in exploring, identifying, and acquiring copper through high-risk, high-reward discovery drilling projects in the Peruvian and Chilean coasts. The company is led by a highly experienced management team with previous significant achievements in the mining industry.
"This is the right time in the copper cycle to be drilling new projects and making new discoveries," said Camino Minerals CEO Jay Chmelauskas.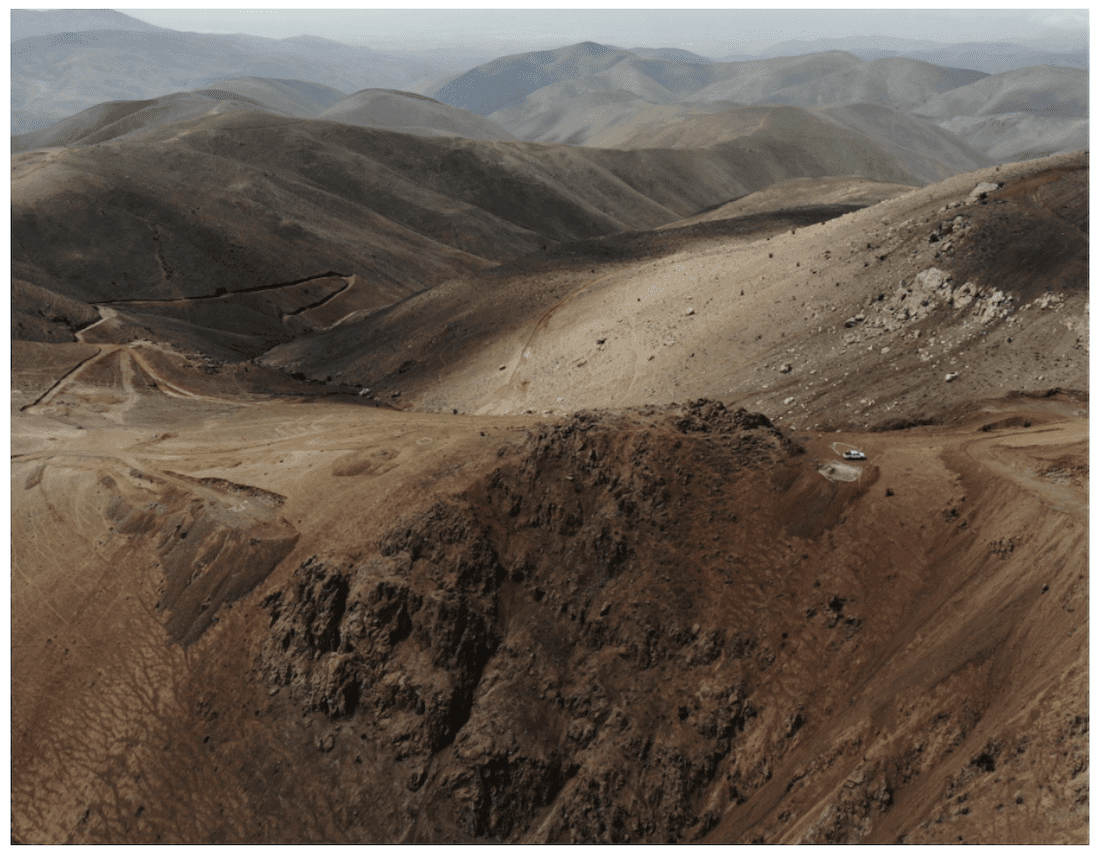 Camino Minerals fully owns all of its projects. In June 2020, the company purchased the Los Chapitos property, and in March 2021, the company purchased the Maria Cecilia complex from Denham Capital, which is one of the largest resource funds in the industry at US$10 billion.
Camino Minerals' flagship Los Chapitos project has drilling deposits in Chile and Peru that spans the Peruvian and Chilean coast. The project is part of the prolific belt of IOCG (iron oxide-copper gold) mineralization that extends along the Peruvian coastal margin and is supported by promising drilling samples. The company is also running the Maria Cecilia project which is a copper-porphyry resource in Peru and the Plata Dorada exploration project which is a high-grade vein system also located in Peru.
The Los Chapitos drilling project is strategically located in the IOCG belt near deposits that have produced high iron, copper, gold, and silver yields. Notable nearby mines include Minsur's Mina Justa and Jinzhao Mining Peru S.A.'s Pampa de Pongo. Located in the same Chocolate Formation, the company believes Los Chapitos has the potential to contain a similar sized IOCG deposit to Minsur's 400 million tonne Mina Justa mine that is only 100 km away.
Camino Minerals has conducted fieldwork and geological sample tests and plans to continue its successful drilling program on its Los Capitos project. The company has also begun fieldwork on Plata Dorada and is in the process of developing a drilling program for 2021 and 2022 on Maria Cecilia.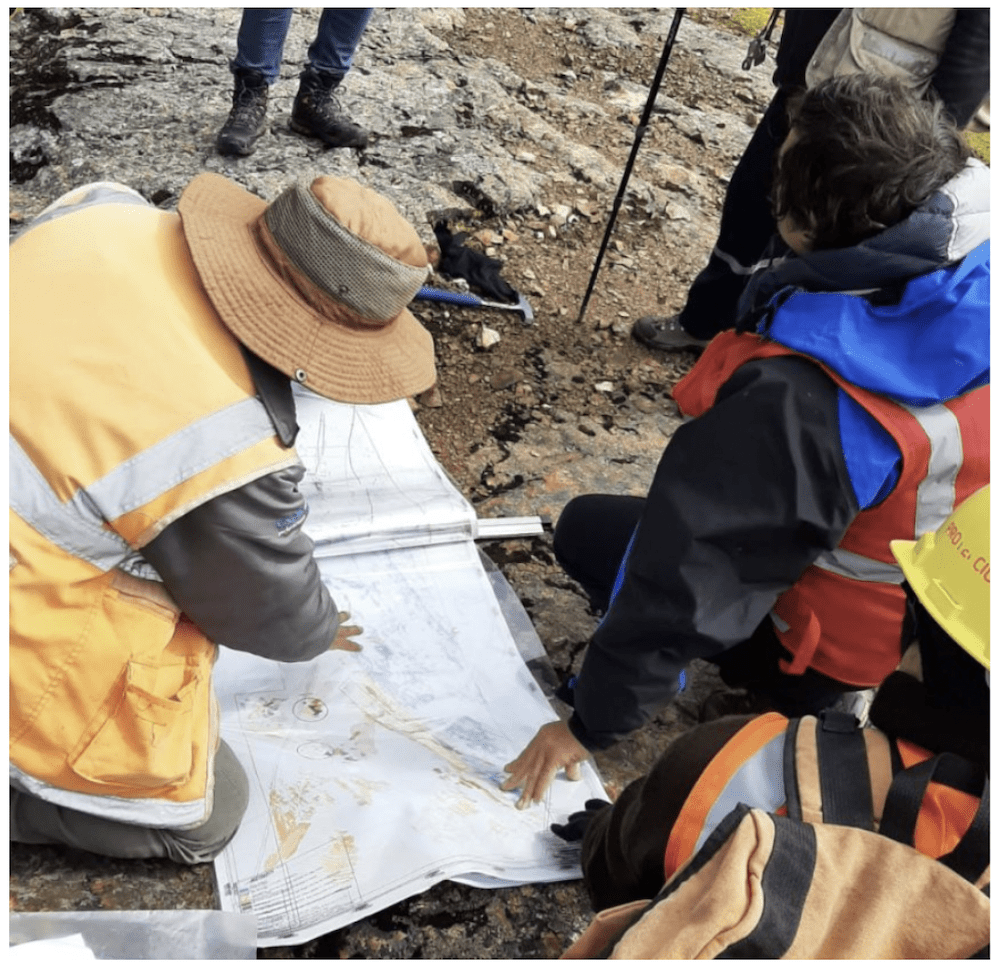 Following the closing of the Maria Cecilia property purchase, the ownership structure will include a strong portfolio of strategic partnerships including Delbrook Capital and Denham Capital in addition to management. These shareholders bring a valuable contribution to Camino Minerals through a rich history of project success.
The company's anticipated success and nuanced insight into the mining industry are credited to its unique venturesome drilling exploration program and its exceptional management team. Camino Minerals' management team boasts several decades of experience and accomplishments in copper mining and exploration and the corporate world. Going forward, the company hopes to make big copper discoveries by chartering highly prospective and undermined territory.
Camino Minerals' Company Highlights
Camino Minerals Corporation (TSXV:COR,OTCQB:CAMZF) is a Canadian mineral exploration and development company specializing in exploring, identifying, and acquiring copper through venturesome discovery drilling projects in the Peruvian and Chilean coasts.
The company has three early-stage copper discovery projects including Los Chapitos, Maria Cecilia, and Plata Dorada.
Camino Minerals' flagship Los Chapitos project is in the prolific IOCG belt that extends along the Peruvian coast and has already begun its drilling program with successful sample results.
The Los Chapitos project is a 22,000 hectare property that is located in a region near high-yielding large tonnage IOCG mineral mines such as Mina Justa and Pampa de Pongo.
Caminos Minerals fully owns all of its projects and has acquired a strong and valuable portfolio of owners through strategic partnerships including with Denham Capital and Delbook Capital.
The company is led by a highly experienced management team with several decades in the industry and previous significant achievements in the mining, exploration, and business sector.
Camino Minerals' Key Projects
Los Chapitos
Camino Minerals' flagship Los Chapitos project spans the prolific IOCG belt of the Peruvian and Chilean coasts and includes deposits in Mantos Blancos, Chile, La Candelaria, Chile and Mina Justa, Peru. Mineralization deposits in the project include IOCG which contain high grades and frequently contain coproduct metals such as silver. The project is located 15 km from the coastal town of Chala with access to water, power, and a major road network. Los Chapitos is also 100 km away from Minsur's mine which previously discovered a 400 million tonne deposit.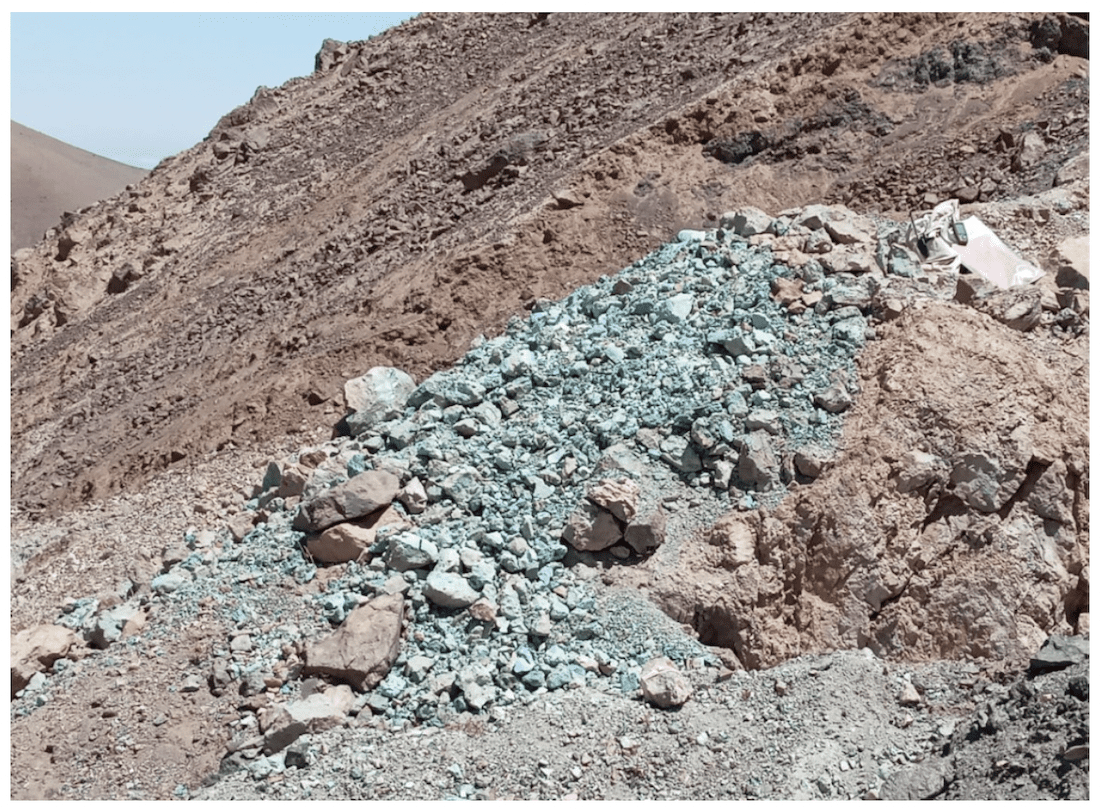 IOCG deposit at the Los Chapitos project
Camino Minerals optioned Los Chapitos in 2016 and now owns the entire expanded tenement area which covers 22,000 hectares of land. Drilling programs on the property began in 2017 and continued until 2018 in the Adriana and Atajo zones and consisted of 19,161 metres of diamond and RC drilling. The programs successfully identified near-surface oxide copper manto and deeper structurally controlled high-grade sulphide mineralization.
In 2021, the company announced new rock chip sample results from the extensive Lidia Zone copper-gold system at the northern end of the Diva Trend at its Los Chapitos copper project Camino Minerals plans to expand exploration targets in the Diva Trend with a focus on large alteration anomalies in the north and large geochemical anomalies in the south of the previous drilling program. The company believes that the Los Capitos project is highly prospective for becoming a low capital SX-EW project.
Maria Cecilia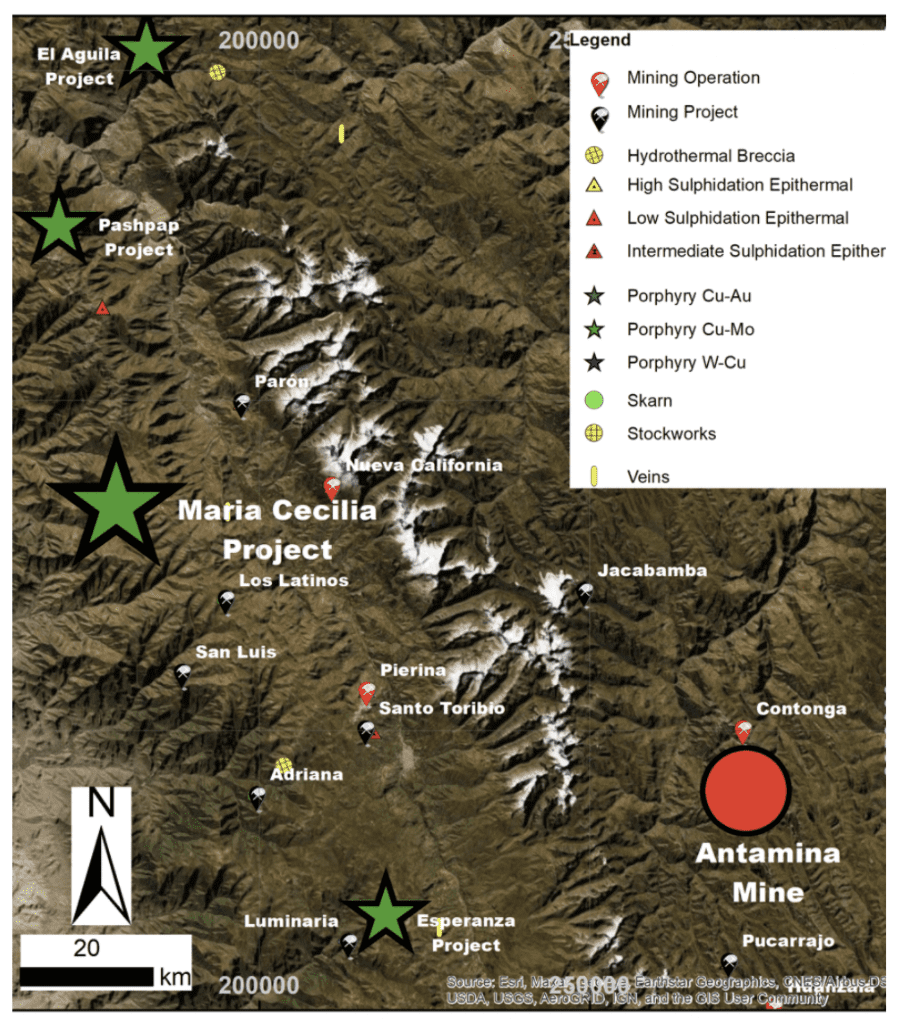 The Maria Cecilia project is located 450 km north of Lima, Peru and is in a metallogenic environment in the Cordillera Negra mountain. The 7,110 hectare property is believed to be at the centre of the porphyry complex that includes the Toropunto Epithermal deposit and Emmanuel Porphyry deposit.
The project is located near other exploration properties and mineral-producing mines including Esperanza, Pashpap, El Aguila and Pierina and it is considered to be geologically-similar to one of Peru's largest copper mines, Antamina, which is 100 km away. Exploration in the Toropunto and Emmanuel projects was done with 32,120 metres of drilling completed between 2013 and 2015. Both projects have a combined tonnage of 125.7 including copper, gold, and silver. The Skarn Zone in Maria Cecilia has copper anomalies as high as 6.7 percent of copper and 110 g/t of silver.
The company is currently in the process of initiating a drilling program for Maria Cecilia in 2021 to target the undrilled centre of the large porphyry district, which the company believes will deliver significant copper yields.
Plata Dorada
The Plata Dorada project is located 158 km east of Cuzco, Peru and covers 3,800 hectares. The property contains predominantly continental sediments and is accessible all year round on paved highways and all-weather dirt roads.
The property has not had any systematic exploitation or exploration done beyond small-scale artisanal mining that dates back to the Colonial era. In September 2020, the company began fieldwork on the property and has identified high-grade vein systems with over 70 channel samples tested for metal content. Sample results include copper values as high as 8.7 and silver values as high as 1,500 g/t. Copper and silver mineralization is structurally controlled and consists of polymetallic quartz sulphide veins averaging 0.5 to 1.5 metres wide.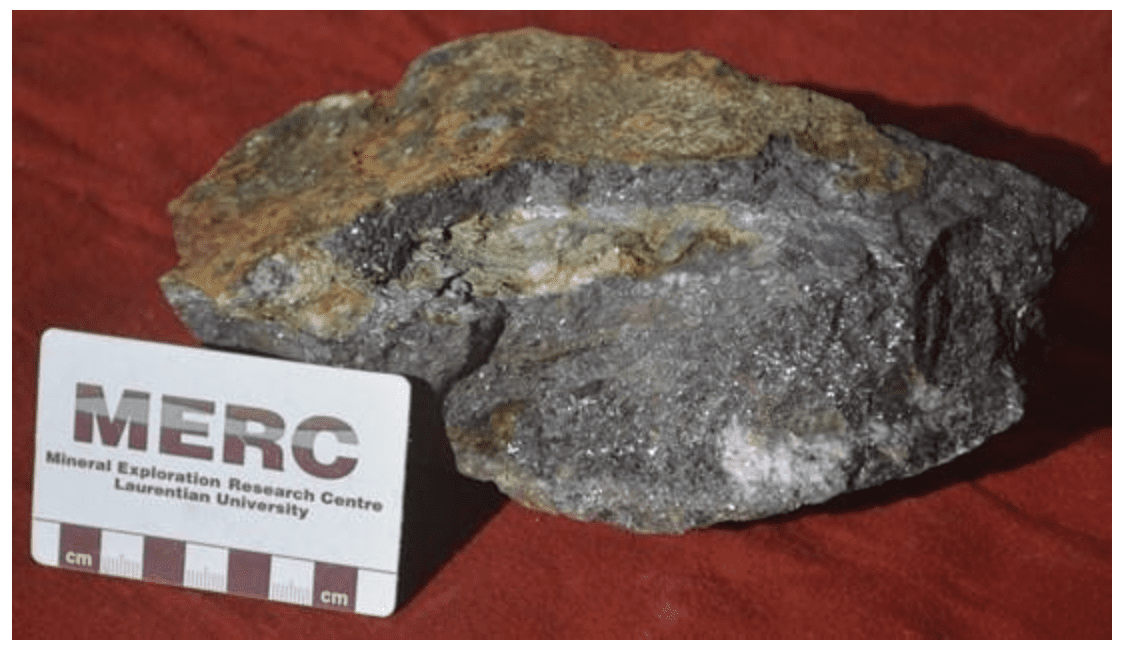 Diorite filling of argentiferous galena, sphalerite, limonite, goethite and epidote
This year, the company completed an exploration program at Plata Dorada and identified six new polymetallic veins, bringing the total to sixteen identified veins at the project. A rock chip sample taken along the Plata Dorada mesothermal trend identified a new copper and silver mineralized structure with a width of 0.5 m grading 1.19 percent copper (Cu), and 18.35 ppm silver (Ag). Camino also identified new areas of polymetallic vein mineralization south of the existing claim position and acquired 1,700 hectares (ha) of new claims for a total claim area of 5,500. ha
Camino Minerals' Management Team
Jay Chmelauskas — CEO, President & Director
Jay Chmelauskas has 25 years of experience as an executive and geological engineer in the mining and industrial sectors. Chmelauskas is the former CEO of multiple start-up to production companies including Jinshan Goldmines Corp. which is now China Gold International and Rheominerals (Nevada). Chmelauskas also developed and consolidated Western Lithium Corp. with Lithium Americas Corp. (Nevada and Argentina) which has become a leading developer.
Justin Bourassa — CFO
Justin Bourassa has 15 years of global experience in management, development, governance and the reporting of private and publicly-listed mineral exploration and mining companies.
Keith Peck — Executive Chairman
Keith Peck has 30 years in Investment Banking as VP and Director RBC Dominion Securities, Haywood Securities and Vice-Chairman Yorkton Securities. Peck is the founder of Chilean copper producer Centenario Copper Corporation. Peck also has expert experience as a financier working in M&A, restructuring, business valuations and testimonies.
Olav Langelaar — Director
Olav Langelaar has 25 years of experience in the Canadian capital markets with specific expertise in mining operations and investment banking. Langelaar is the managing director at Dundee Goodman Merchant Partners which is a division of Goodman & Company, Investment Counsel Inc.
Kenneth C. McNaughton — Director, MASc, P. Eng
Kenneth C. McNaughton has 38 years of global exploration experience. McNaughton is one of the founders of silver and gold producers Silver Standard SSR Mining and Pretium Resources (currently SVP). McNaughton is also Chief Exploration Officer P2 Gold Inc.
---
INN does not provide investment advice and the information on this profile should not be considered a recommendation to buy or sell any security. INN does not endorse or recommend the business, products, services or securities of any company profiled.
The information contained here is for information purposes only and is not to be construed as an offer or solicitation for the sale or purchase of securities. Readers should conduct their own research for all information publicly available concerning the company. Prior to making any investment decision, it is recommended that readers consult directly with Camino Minerals and seek advice from a qualified investment advisor.