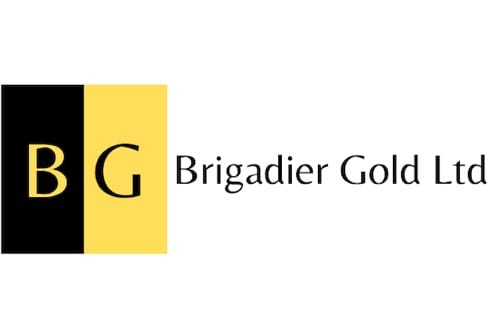 Brigadier Gold
Targeting High Grade Gold and Silver Assets in Mexico
This Brigadier Gold profile is part of a paid investor campaign.
Overview
Brigadier Gold Limited (TSXV:BRG) is an exploration and development company targeting high grade gold and silver assets in Mexico. The company's flagship 3,954-hectare Picachos gold project is located in Sinaloa State, Mexico and is proximal to bonanza-grade silver and gold discoveries to the north and south. It is situated above one of the largest high-amplitude contiguous anomalies for gold and base metals in the area. The property is accessible from Mazatlan via a state highway and includes dirt roads into the property.
In June 2020 Brigadier Gold announced it had optioned 100 percent of the Picachos gold-silver property from Minera Camargo. A total of US$4.2 million was raised to fund drilling, exploration and corporate expenses. The property overlaps two regional-scale precious metals vein systems and one large copper porphyry prospect, with historical production originating from the veins found on the property. Under the terms of the acquisition agreement, Brigadier Gold must provide staged considerations to Minera Camargo over a five year period, including cash payments totaling US$275,000, 4,000,000 common shares and exploration expenditures of US$3.85 million.
Picachos is home to the historic San Agustin and La Gloria mines, which have each seen historical exploration. Assays from test work at San Agustin averaged 15.8 g/t gold and 63 g/t gold across a width of 2.5 meters, revealing veins that are open at depth. Rock samples taken at the La Gloria mine returned 21.1 g/t gold and 6.0 g/t gold across 0.8 meters. Moving forward, Brigadier Gold intends to continue to develop the Picachos property, working towards a 43-101 compliant resource estimate.
Brigadier Gold's Company Highlights
Led by an accomplished management team with decades of experience in natural resource and capital markets development
Picachos gold project is situated above one of the largest high-amplitude contiguous anomalies for gold and base metals in the western Sierra Madre
Assays from the San Agustin mine at Picachos averaged 15.8 g/t gold and 63 g/t gold across a width of 2.5 meters
Picachos hosts approximately 160 known historic underground mines, workings and prospects on gold-rich veins
Picachos has never been systematically explored or drill tested with diamond drilling.
Sinaloa State is home to a number of high-grade gold and silver exploration projects, including those owned by Prime Mining, Vizsla and GR Silver
Brigadier Gold's Picachos Project
Brigadier Gold's Picachos gold project is located in southern Sinaloa State, Mexico encompassing 3,954.1 hectares. The project is situated above one of the largest high-amplitude contiguous anomalies for gold and base metals in the western Sierra Madre. Picachos is accessible via a paved road between the historic mining town of El Rosario and the village of Cacalotan. Country roads then lead to Picachos and through the property to existing mine workings.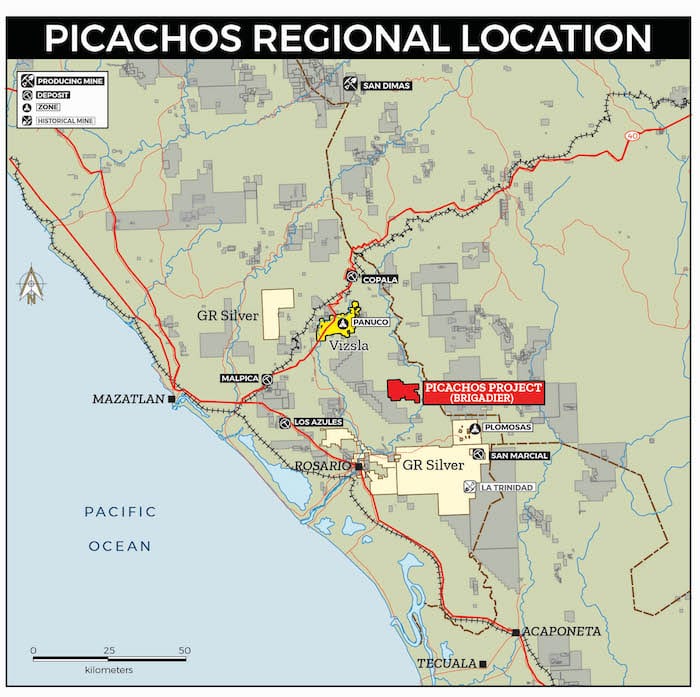 Brigadier Gold optioned the Picachos gold project, including the past-producing San Agustin mine, in July 2020. The San Agustin mine at Picachos is home to approximately 665 meters of historical underground development, including sampling conducted in 1997. Underground sampling conducted by Thunderbird Projects implied an average grade of 81.22 g/t gold and 73.36 g/t gold across 1.2 meters. A later operator, MCA, produced approximately 1850 tonnes of muck from a 45-meter deep shaft that returned values of 185 g/t gold at the bottom of the shaft. Fine-fraction, active channel stream sediments found on the property have returned values up to 6841 ppb gold.
Vane Minerals later continued exploration at the San Agustin mine in 2014, test-mining three mine rounds from the south face of the mine. Assays from this test work averaged 15.8 g/t gold and 63 g/t gold across a width of 2.5 meters. Veins at the mine are open at depth and have yet to be drill tested.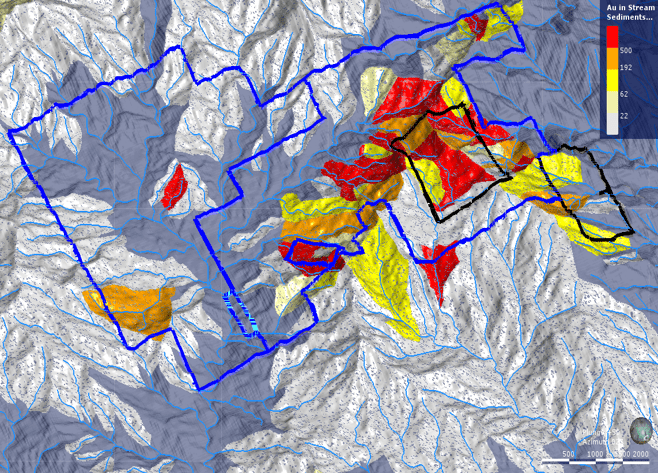 The La Gloria mine at Picachos is a historic gold mine that was developed on a northwest-trending vein exposed on the property. Rock samples taken at the La Gloria mine returned 21.1 g/t gold and 6.0 g/t gold across 0.8 meters. Gold mineralization at La Gloria appears to occur in a structural zone characterized by 10 to 20 percent red chalcedonic quartz hematite veinlets that contain minor bright green zinc-copper oxides and hematite stain.
Brigadier Gold's Management Team
Ranjeet Sundher — President & CEO
Mr. Sundher is the President of Canrim Ventures Ltd., a Singaporean advisory firm specializing in early-stage project finance and structure and has raised over $50 million for companies in which he was a founder/partner. Ranjeet has lived in Asia for the last 20 years and has 25 years of capital markets experience and has developed and sold several successful private and public companies in the technology and resource and software space.
Steve Vanry
Mr. Vanry has 25-years of professional experience in senior management positions with public and private companies, providing expertise in capital markets, strategic planning, corporate finance, mergers and acquisitions, regulatory compliance, accounting, and financial reporting. His breadth of experience spans various industries, including; mining, oil and gas, renewable energy, high-technology, and manufacturing. Mr. Vanry regularly consults for other listed companies in the role of director and/or senior executive. Steve holds the right to use the Chartered Finance Analyst (CFA) and Canadian Investment Manager (CIM) designations and is a member of the CFA Institute and the Vancouver Society of Financial Analysts.
Garry Clark
Mr. Clark is the Executive Director of the Ontario Prospectors Association (OPA). He has been a Director, Vice President or President of OPA since its formation in the early 1990s. Mr. Clark currently serves on the Minister of Mines Mining Act Advisory Committee (Ontario) and the Ontario Geological Survey Advisory Board. He graduated with an HBSc (Geology) from Lakehead University, Thunder Bay. Mr. Clark brings to the company extensive experience in managing large scale exploration and development programs internationally including Asia and North America. In addition to over 30 years of consulting experience, he held geological positions with a number of mining companies and has served as a director of other TSX Venture Exchange listed companies including his current position and NexOptic Technology Corp. and US Cobalt Inc. (USCO.V)
Michelle Robinson — Geologist
Ms. Robinson worked for several major metal mining companies in the 1990s and early 2000s, including Noranda, Cominco (now Teck), Inco (now Vale), Westmin Resources Ltd. (now Nyrstar), Anglo American (Vancouver exploration group), and Hudbay Minerals (Flin Flon, Manitoba). In 1998 she moved to Mexico and domiciled several junior mineral explorers, including Canamera Geological, Oro Gold Resources (now Mako Mining Ltd.), La Plata Gold (now Alphamin Resources Corp.) and Seafield Mineral Resources. She is a member of working groups organized by the Mexican Mining Chamber (CAMIMEX), speaks fluent Spanish and English, and is a Qualified Person as defined by NI 43-101. She has authored more than 20 technical reports and has published several papers for the Society of Economic Geologists. She won First Prize in both the Graduate and Undergraduate categories from the Society for Mining, Metallurgy and Exploration in 1994 and 1995. She is a member of the Association of Professional Engineers and Geoscientists of British Columbia; a Core Member of the Prospectors and Developers Association of Canada; a Fellow of the Society of Economic Geologists; a Member of the Geological Society of America; and a Member of the Asociación de Ingenieros de Minas, Metalurgistas y Geólogos de México, Asociación Civil.
Geoffrey Fielding — Special Advisor
Geoffrey was educated at the Sorbonne in Paris and has an LLB from the Faculty of Law at the London School of Economics. He was an equity partner at Grenfell & Colegrave, one of the oldest city of London Stockholding firms before the company was acquired by CIBC, Canada's largest retail bank. As a London Director of CIBC's Investment Division, Geoffrey founded up the overseas investment division in the Caribbean where he built up and managed funds of over US$ 1 billion in 3 years. In 2007, Geoffrey moved to Southeast Asia where he is now is currently President and CEO of All State Asset Management in Asia, a Chinese asset investment management company. And is Chairman of Wealth Technology Limited.
Oscar Mendoza —Special Advisor, Mexico
Oscar Mendoza was born and raised in Mexico and currently resides near the city of Monterrey, Mexico. Mr. Mendoza is a Graduate of The University of North Texas in the United States where he completed his undergraduate degree with Honors in Political Science and Finance. After five years of work experience in the U.S. Mr. Mendoza moved to Japan where he obtained his MBA at the International University of Japan. He graduated as Salutatorian for his class while completing full course requirements in four distinct concentration areas. Mr. Mendoza then went on to work for investment banks including Morgan Stanley and Frontier Securities, covering Natural Resources & Energy sectors. He actively led and successfully closed several financing transactions in equity capital markets with a focus on mining and resource companies and has facilitated and structured several custom-tailored debt and investment banking transactions for mining companies listed on the London Stock Exchange, Toronto Stock Exchange, Australian Stock Exchange and Mongolian Stock Exchange.
---
This profile is sponsored by Brigadier Gold (TSXV:BRG). This profile provides information which was sourced by the Investing News Network (INN) and approved by Brigadier Gold, in order to help investors learn more about the company. Brigadier Gold is a client of INN. The company's campaign fees pay for INN to create and update this profile.
INN does not provide investment advice and the information on this profile should not be considered a recommendation to buy or sell any security. INN does not endorse or recommend the business, products, services, or securities of any company profiled.
The information contained here is for information purposes only and is not to be construed as an offer or solicitation for the sale or purchase of securities. Readers should conduct their own research for all information publicly available concerning the company. Prior to making any investment decision, it is recommended that readers consult directly with Brigadier Gold and seek advice from a qualified investment advisor.