Bravada Gold
Building Value Through Discovery
This Bravada Gold profile is part of a paid investor education campaign.*
Overview
Bravada Gold (TSXV:BVA) is a prospect generator focused on precious metals projects in proven jurisdictions, specifically in the state of Nevada. The company has targeted established trends of mineralization across the state, including the Battle Mountain-Eureka and Walker Lane gold trends. As a prospect generator, Bravada Gold works to advance a collection of projects through a combination of company exploration programs, partnerships and agreements, maximizing its exposure to potential project successes while sharing the costs of project development.
Bravada Gold currently owns nearly a dozen resource projects in Nevada, totaling approximately 6,000 hectares of land claims across the state. The company's flagship Wind Mountain property is a potential near-term producer with a 43-101 compliant resource and a positive 2012 PEA that is at the pre-development stage.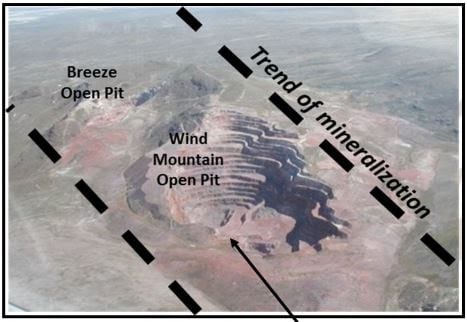 In pursuit of its prospect generator model, Bravada Gold has partnered with more than a dozen major and mid-tier mining companies during its history including leaders such as Agnico Eagle Mines Limited (TSX:AEM, NYSE:AEM), Kinross Gold Corporation (TSX:K; NYSE:KGC), Newcrest Mining (ASX:NCM, OTCPink:NCMGF), Newmont Mining (NYSE:NEM) and Placer Dome / Barrick. Of the ten projects Bravada currently owns in Nevada, three are funded by partners of the company. Bravada commonly retains anywhere between 20 and 50 percent ownership of its projects, allowing any potential partners to help fund further development.
Bravada Gold's Company Highlights
Projects located in the rich mining jurisdiction of Nevada, the Fraser Institute's #1 mining jurisdiction in 2019
Targeting proven regions of mineralization including the Battle Mountain-Eureka and Walker Lane gold trends
Following a prospector generator model, Bravada finds value through the discovery of new targets and exploration work
Flagship Wind Mountain project is a potential near-term producer with a 43-101 compliant resource and a 2012 PEA
SF Gold project is located within the Battle Mountain-Eureka trend, a world-class gold district
Commonly retains anywhere between 20 and 50 percent of ownership on projects, allowing partners to advance development and cover costs
History of major mining partnerships including majors such as Agnico-Eagle, Kinross, Newmont Mining and Barrick Gold
Bravada Gold's Wind Mountain Project
The Wind Mountain project is a past-producing gold project located in Nevada, approximately 160 kilometers northeast of Reno. The region includes excellent logistics and infrastructure, including a county-maintained road and power lines that run to the property. In 2018 Bravada Gold refined the Feeder target on the property through two "proof of concept" holes, in addition to new mapping, sampling, and a 3D evaluation of detailed geophysics.
Between 1989 and 1999, previous owners AMAX Gold recovered approximately 300,000 ounces of gold and over 1,700,000 ounces of silver from two small open pits and a heap-leach operation. Rio Fortuna Exploration Inc., a wholly-owned subsidiary of Bravada Gold, has acquired 100 percent of the property through an earn-in agreement with Agnico-Eagle, which retains a two percent NSR royalty interest, one percent of which is available for purchase.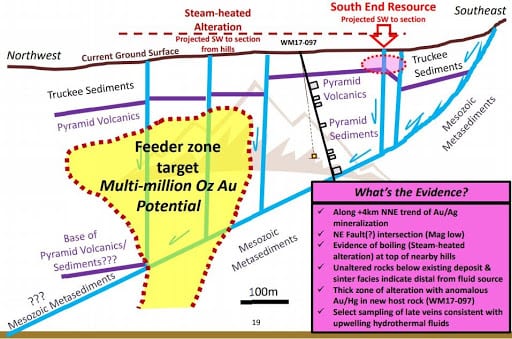 Technical Report
An independent Preliminary Economic Assessment (PEA) and resource estimate was conducted by Mine Development Associates on the Wind Mountain property. The PEA assumes an open-pit operation including contract mining with conventional trucks and shovels, run-of-mine leaching, and a base-case price of US$1,300 per ounce of gold and US$24.42 per ounce of silver.
There is an indicated resource of approximately 59.31 million short tons grading at 0.010 ounces of gold per ton and 0.25 ounces of silver per ton for oxidized material (0.012 gold and 0.40 silver for mixed material), and 34.46 million short tons within the inferred resource category at 0.006 ounces gold per ton and 0.17 ounces of silver per ton for oxidized material (0.016 gold and 0.46 silver for mixed), utilizing a 0.005 ounces of gold per ton cutoff for oxidized material and 0.010 ounces of gold per ton cutoff for mixed material.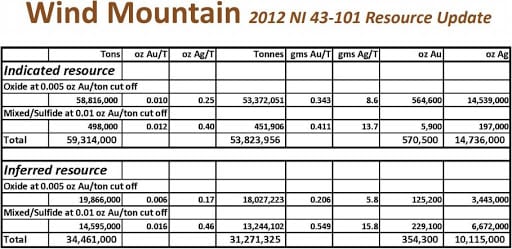 To date, approximately 465,000 ounces of gold and 11,198,000 ounces of silver have been mined from Wind Mountain, producing approximately 288,000 ounces of gold and 1,680,000 ounces of silver. The PEA approximates a mine life of seven years, with two additional years of residual leaching & rinsing. The total pre-tax cost estimate on the property is approximately $1,080 per ounce of gold.
Bravada Gold's Highland Project
Bravada Gold's Highland gold project comprises 192 federal lode claims for a total of 1,600 hectares in the Walker Lane gold trend. The project was acquired by Bravada Gold in June of 2002 after Fairmile Gold Mining Company defaulted on the property. Following the acquisition, Bravada Gold conducted additional geological mapping and rock-chip sampling on the property, in addition to two RC drilling programs totaling 3,772 meters in 18 drill holes.
Drilling was conducted on the property by Bravada Gold's subsidiary, intersecting 1.5 meters of 66.9 g/t gold and 397.7 g/t silver within a 12.2m intercept of 9.5 g/t gold and 109.4 g/t silver in hole H03-013, with true thicknesses estimated at 65 percent of the intervals.
Since 2004, Bravada Gold has continued to advance the Highland project forward through earn-in joint venture agreements. The company has signed a joint venture partnership with OceanaGold US Holdings Inc to complete additional fieldwork that has provided additional information regarding two targets on the property: the Big Hammer target and the Geyser target. Under the terms of the joint venture, OceanaGold has the opportunity to earn a 75 percent interest in the project after spending US$10 million, after which Bravada will participate in joint-venture exploration and development on a 75-25 basis. A permit has been approved for 19 drill sites, and two initial core holes are planned for 2020 with funding from OceanaGold. Drilling is scheduled to begin in August 2020.
Historical Exploration
Although a small amount of historic production occurred from outcropping quartz veins, the property was essentially dormant prior to the 1990s, with limited exploration work at the main Highland target that was limited to the trenching and drilling of 13 shallow holes, exploring the veins to a maximum depth of approximately 60 meters. The best intercept reported from this drilling assayed 3.6 g/t gold over 5.8 meters. In 1999, Hecla Mining entered into an agreement with Fairmile to conduct a detailed ground magnetic geophysics program over the Main Highland target and trenching at the Deb and Main Highland targets.
Bravada Gold's Baxter Project
Bravada Gold's Baxter gold project is a low-sulfidation epithermal gold-silver system located approximately 9 kilometers southwest of the company's Highland property. The Baxter project consists of 114 unpatented lode claims totaling approximately 925 hectares that are accessible year-round via a gravel road.
The project is underlain by felsic flows and domes within a package of volcanic tuffs, sediments and breccias. After drilling 54 RC holes for a total of 10,726 meters, Kinross Gold Corp returned the project to Bravada.
Exploration
Initial sampling conducted on the Baxter project returned 16 of 51 samples with values ranging from 1.0 g/t to 21.2 g/t gold, including seven samples that were greater than 10 g/t gold with up to 132 g/t silver. The silver-to-gold ratio is less than 10:1, which Bravada Gold believes is indicative of a gold-biased system. In 2004, a shallow drill program conducted by Bravada Gold returned narrow intervals of high-grade gold at the Chugiak Target, including 1.5 meters of 9.12 g/t gold within 6.1 meters of 3.50 g/t gold beginning at 51.8 meters depth in hole B04006 and 1.5 meters of 7.38 g/t gold within 10.7 meters of 2.00 g/t gold beginning at 47.2 meters in hole B04007.
Subsequent to exploration conducted by Bravada, Kinross Gold conducted exploration on the property including mapping, rock-chip and soil sampling, detailed ground gravity, airborne magnetics, and mineralogy studies to identify clay and other alteration products in surface and drill chips. Five of the 92 samples of the material collected contained between 10.1 and 43.7 g/t gold. The drill program conducted by Kinross discovered a shallow gold deposit at the Sinter Target, including a 6.1m intercept that averaged 2.199 g/t gold beginning at 32m depth within a thicker interval of 32.0m averaging 0.880 g/t gold in Kinross hole BAX16-13.
Bravada Gold's East Manhattan Project
Bravada's East Manhattan project is a low-sulfidation gold project comprising 84 federal lode claims totaling 680 hectares located at the eastern edge of Nevada's Manhattan Mining District. Through its US subsidiary, Bravada Gold has conducted two drilling campaigns at the project, consisting of 3,103 meters in 17 reverse-circulation drill holes that returned a number of promising results. The company's best drill hole, EM08-010, intersected an estimated true thickness of 11.25 meters of 2.868 g/t gold at 91.4 meters depth followed by 11.25 meters of 0.805 g/t gold at a depth of 118.9 meters.
Bravada Gold conducted a detailed magnetics survey in 2010 that suggested additional targets. The targets have been permitted for drill testing, subject to the posting of a bond. Moving forward, Bravada Gold intends to find a partner to drill test the targets.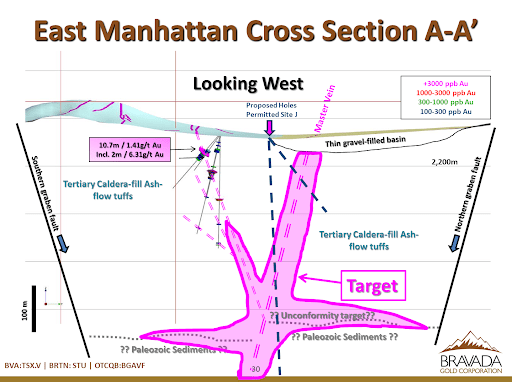 Bravada Gold's Management Team
Joseph A. Kizis, Jr. – Director & President
Mr. Kizis is a Registered Geologist and a Certified Professional Geologist with a B.S. in Geology from Kent State University and an M.S. in Geology from the University of Colorado. He has 40 years of experience in exploration for gold, silver, copper, molybdenum, lead, zinc, and uranium in the U.S., Canada and abroad. He is the President and a director of Bravada Gold Corporation and previously of Homestake Resource Corporation as well as Fortune River Resource Corp. (which amalgamated with Bravada Gold Corporation in 2011). Mr. Kizis has held previous executive positions and directorships with Fairmile GoldTech, Sierra Geothermal, the Geological Society of Nevada, and the GSN Foundation.
Lawrence Page, B.A., LL.B., Q.C.- Director & Chairman
Lawrence Page obtained his law degree from the University of British Columbia in 1964 and was called to the Bar of British Columbia in 1965 where he has practiced in the areas of natural resource law and corporate and securities law to the present date. Through his experience with natural resource companies and, in particular, precious metals development, Mr. Page has established a unique relationship with financiers, geologists and consultants and has been counsel for public Companies which have discovered and developed producing mines in North America. Specifically, he has been a Director and Officer of Companies that have discovered and brought into production the David Bell and Page Williams mines in Ontario, the Snip, Calpine/Eskay Creek, and Mascot Gold Mines in British Columbia, as well as the discovery of the Penasquito Mine in Mexico.
Graham Thatcher – Chief Financial Officer
Mr. Thatcher moved from London, England to Vancouver, British Columbia in 2006. Specializing in financial reporting and auditing across a breadth of business sectors in both the UK and Canada, he brings extensive experience of operating with International Financial Reporting Standards and paperless systems. He is also senior accountant at Manex Resource Group which provides administrative, financial, corporate, corporate finance, and geological services to a number of public companies in the mineral resource sector. Prior to this, he worked in public practice at Smythe Ratcliffe LLP with companies in the mining and exploration sector. Mr. Thatcher obtained a Bachelor of Arts degree with Honours in Economics from Lancaster University in 1995, which included a one year program at the University of British Columbia. He is also a finalist of global accounting designation, the Association of Chartered Certified Accountants (ACCA). Mr. Thatcher is also a volunteer board member and treasurer at Heritage Hall Preservation Society, a non-profit charitable organization whose mandate is to restore and manage Heritage Hall, a landmark building located in Vancouver.
G. Ross McDonald – Director
Mr. McDonald received his Bachelor of Commerce degree from the University of British Columbia in 1964 and subsequently received his designation as a Chartered Accountant from the Institute of Chartered Accountants of British Columbia in October 1968. From 1968 until 1973, Mr. McDonald practiced with Price Waterhouse in Canada and in Australia. From 1974 until 1984, Mr. McDonald worked in private partnerships except for a two year period from 1980 to 1982 when he was a senior officer in a junior resource company. For the past 15 years, Mr. McDonald has been in public practice with his own firm and then joined Smythe Ratcliffe Chartered Accountants in 2005, and has since retired. Working principally with clients related to mining and mineral exploration, he is also involved as director of several junior resource companies.
John Kerr – Director
Mr. Kerr graduated from the University of British Columbia in 1964 with a Bachelor of Applied Science (B.A.Sc) degree in Geological Engineering. He has participated in the mining industry continuously since graduation as an exploration geologist. His expertise is epithermal and sedex-hosted precious metal deposits in the southwest United States, strata controlled gold deposits and porphyry copper, gold, and molybdenum deposits of the western Cordillera and VMS deposits in all areas of North America. Mr. Kerr has served as a director of numerous public companies and is currently a director of Quaterra Resources Inc. (QTA), Bravada Gold Corporation (BVA), Equity Metals Corporation (EQTY), Searchlight Resources Inc. (SCLT) and Valterra Resource Corporation (VQA), all listed on the TSX-V.
Michael Rowley – Director
Michael Rowley has 30 years of experience in the mining industry including more than 25 years of executive experience in the exploration and mine environmental industries with expertise in capital markets, acquisitions, project development, exploration operations, and management of public companies. Mr. Rowley is a director of Group Ten Metals, Bravada Gold, and Granite Creek Copper, and is an officer of Sierra Mountain Minerals.
Nigel Bunting, Director
Nigel Bunting is based in London and an active participant in a number of resource ventures, both public and private. He is a Director of Bravada Gold Corporation, Southern Silver Exploration Corp. & Valterra Resource Corporation, all 3 companies are quoted on the TSX Venture stock exchange. Nigel identifies early-stage opportunities in the resource sector and arranges financings to advance projects to the public market. He is a Director of Anglia Registrars, trading as Inform Direct, which is one of the UK's leading cloud-based technology companies relating to company formation, administration and secretarial services. He is also a Director of MFB Corporate Member Ltd, an insurance underwriter at Lloyds of London.
Donald Head – Director
Mr. Donald R. Head, a native of Arizona and a resident of Scottsdale graduated from Arizona State University with a BA in Business and holds a law degree from the University of Arizona. He co-founded Centurian Development and Investments Inc., a company engaged in real estate development. He practiced as an Attorney in Arizona where, for many years, he represented Canadian public mineral exploration companies in property acquisitions and equity finance. He has served in an advisory capacity and as a Director of Canadian public companies, notably Valterra Resource Corporation, Southern Silver Exploration Corp., Fortune River Resource Corp. and Duncastle Gold Corp. He currently serves as Officer of Head Management Investments LLC. and formerly served as the Founder, Chairman, President and Chief Executive Officer of Capital Title Group Inc., a public company providing title insurance services in the USA, since inception in 1981 until it was sold in 2006 for gross proceeds of $ 265 million.
---
*Disclaimer: This profile is sponsored by Bravada Gold (CSE:BVA). This profile provides information which was sourced by the Investing News Network (INN) and approved by Bravada Gold, in order to help investors learn more about the company. Bravada Gold is a client of INN. The company's campaign fees pay for INN to create and update this profile.
INN does not provide investment advice and the information on this profile should not be considered a recommendation to buy or sell any security. INN does not endorse or recommend the business, products, services, or securities of any company profiled.
The information contained here is for information purposes only and is not to be construed as an offer or solicitation for the sale or purchase of securities. Readers should conduct their own research for all information publicly available concerning the company. Prior to making any investment decision, it is recommended that readers consult directly with Bravada Gold and seek advice from a qualified investment advisor.