New Ore Process Creates Advantage for US Steel Producers
A new proprietary process for the treatment of manganese ore being developed by American Manganese may decrease the competitive advantage held by Chinese steel manufactures over the steel producers in the US. The new economic and environmentally friendly process can produce high quality manganese from low grade ore.
By Michael Montgomery—Exclusive to Manganese Investing News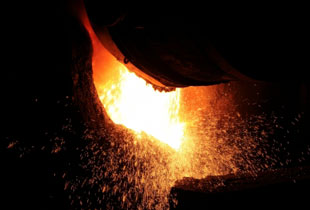 The need for a cheap and readily available source for manganese in North America has been made evident by the US Department of Defense. The DoD has listed manganese as a vital strategic metal for its uses in military applications and high quality steel. The US government has sold off strategic stockpiles, and the need to create more is a pressing issue. There are currently two manganese operations in development in the US. One of these projects is the 'Hardshell' project being developed by Wildcat Silver Corp. [CVE:WS] in Arizona. The other manganese operation is the 'Artillery Peak' project also in Arizona operated by American Manganese Inc. [CVE:AMY]
What makes American Manganese's operation stand out is the new proprietary energy efficient hydrometallurgical process. "The report confirms that American Manganese's proprietary process can extract manganese at greater than 90% efficiency while minimizing water use and potential environmental impacts," stated a company press release.
The report and testing of the process was conducted by Kemetco Research Inc. of Richmond, British Columbia. The ability to process low grade ore at a cost efficient and environmentally friendly manner will help the project compete with the Chinese control of the manganese market. What make the process environmentally friendly is the reduced amount of water needed in processing, the elimination of additives like Selenium, which has been banned in US, as well as a self created power generation through harnessing steam used in the metallurgic process.
"Cogeneration of electrical power from steam generated in the process would off-set electrical use and costs, the process requires no roasting of ore and the toxically benign solid waste tailings are able to be replaced back into mined out areas with no effect on the environment. Not often you hear the words environmentally friendly in mining discussions," stated Ken Reser, for Resource Investor.
This new economically efficient process as well as the mining operations being developed in the US can turn the tables on the Chinese steel industry. The Chinese put a 20 percent export tax on electrolytic manganese, and when added to the 14 percent import duty the US government places on the metal, US steel manufactures gain a substantial competitive disadvantage. Currently, 80 percent of worldwide manganese ore output is used by the steel industry as an alloying agent for strengthening steel. Other uses include electronics and batteries.
Manganese Market & Mining News
Prices of manganese ferro-alloys in China have been weakening over the past two months as 2,500,000 tonnes to 3,000,000 tonnes of manganese ore are currently sitting in warehouses and at discharging ports. The build up of stockpiles in China has reduced the need to import new material to the country.
"Because of this severe situation, Chinese consumers have held back their new imports of manganese ore. Spot price of high grade manganese ore has fallen to a level of USD 7 per Mn 1% CIF China… movement of spot price for manganese ore is suggesting a possibility to weaken price of manganese ore to be settled by major mines with their customers for shipments in September and afterwards," reports TEX Report Limited.
The slight decline in steel demand from the predicted increase of over 10 percent year over year and the build up of stockpiles in China means the price for manganese will most likely not climb again until supply comes back into line with consumption.
India is selling off a 20 percent stake of the government-owned Manganese Ore Ltd. "The sale is part of a government plan to raise as much as 400 billion rupees ($8.6 billion) in the year ending March 2011 by reducing its stakes in companies including Coal India Ltd. and Steel Authority of India Ltd," stated Chitra Somayaji, for Bloomberg. The IPO is currently being pursued by 10 banks including Deutsche Bank, Goldman Sachs, JPMorgan, and UBS among others.