Western Uranium and Vanadium
Near-term Uranium and Vanadium Producer
This profile is part of a paid investor education campaign.*
Overview
Western Uranium and Vanadium Corp. (CSE:WUC,OCTQX:WSTRF)  is a near term producer of uranium and vanadium with six uranium-vanadium properties in western Colorado and eastern Utah. The company has also acquired and advanced to a production scale a patent-protected ablation technology that reduces the amount of pre-ablation material to 10 to 20 percent of its mass while maintaining 85 to 95 percent of the mineralization.
Western Uranium and Vanadium's ablation technology has garnered the attention of many mining companies as it significantly reduces the costs of processing vanadium and uranium from sandstone deposits. In the case where 90% of the waste is removed, this technology would also reduce approximately 90% downstream processing and transportation costs. Additionally, the process has environmental applications for the remediation and reclamation of waste rock, protore and low-grade stockpiles created from legacy uranium mines.
Western Uranium and Vanadium has assembled a resource portfolio containing a core group of permitted and developed mines that are low CAPEX and OPEX to be brought into production. The company's primary focus is on their Sunday Mine Complex in Colorado. The property hosts five fully-permitted and developed vanadium-uranium mines that Western Uranium and Vanadium is focusing its efforts to bring back into production in the near term. These mines were last in production in 2009.
As a result of ongoing discussions with several prospective vanadium customers, Western Uranium and Vanadium has initiated the re-opening of the Sunday Mine Complex. This program has been commenced with the goal of providing samples for evaluation in customer's existing processing facilities and for further definition of the vanadium resource. Once completed, the 2015 technical report will be updated accordingly. The ultimate end goal is to sign an offtake agreement that supports the restart economics to place the mine back into production. It is contemplated that the project will be initiated with the restart of two of the five mines and additional mines will brought online to support offtake demand.
As Sunday Mine Complex is brought back in operation, Western Uranium and Vanadium intends to work towards bringing additional projects into production funded through the revenue generated at the Sunday Mine Complex. The company's two other permitted and developed properties, Sage and Van 4, will be the sixth and seventh mines developed and brought into production. Thereafter the focus will shift to the San Rafael, Hansen-Taylor Ranch and Dunn properties which will need to enter the permitting phase prior to development of those projects.
In addition to the low CAPEX and OPEX model that Western Uranium and Vanadium has been founded upon, Western Uranium and Vanadium President and CEO George Glasier brings a wealth of experience in acquiring and moving uranium and vanadium projects into production, having been the founder of Energy Fuels Inc. (TSX:EFR, NYSEMKT:UUUU), a leading producer of uranium and vanadium in the US. Additionally, Glasier notably holds 18 percent of Western's shares.
Company Highlights
Near-term producer of uranium and vanadium.
Patent-pending ablation technology significantly reduces the costs of processing vanadium and uranium in sandstone-hosted deposits.
Intends to license out ablation technology to other mining companies.
Six low CAPEX and OPEX uranium and vanadium projects in mining-friendly jurisdictions in the western US.
Sunday mine complex to be brought into production in the near term.
2015 resource outlines a measured and indicated resource of 203,170 tons containing 1 million pounds of U3O8 grading 0.25 percent U3O8 and 6.04 million pounds of vanadium grading 1.49 percent vanadium.
Five additional properties that can be quickly brought into production.
Western Uranium and Vanadium President and CEO was the founder of Energy Fuels and holds 18 percent of the company's shares.
The Uranium and Vanadium Markets
Uranium has numerous industrial applications as it has one of the highest energy densities among the metals. However, its use in nuclear reactors sets it apart from oil, natural gas and coal as it is a carbon- and emissions-free energy source. The US alone is home to 98 operating nuclear power reactors, which account for approximately 20 percent of the total energy produced in the US. Currently, US nuclear reactors consume approximately 45 to 50 million pounds of uranium annually.
As for vanadium, it is used as an alloy in the production of steel. It is also utilized in vanadium redox flow batteries (VRFB), which are used in large-scale energy storage systems and account for approximately 10 percent of the global battery demand. The demand for vanadium is expected to continue its growth particularly as China implements new regulations around the strength of rebar and the nation's government continues its environmental inspections and subsequent local production interruptions.
Ablation Mining Technology
Western Uranium and Vanadium has developed a technology that helps reduce the OPEX for processing vanadium-uranium ore from sandstone-hosted deposits. The technology uses kinetic energy to force particles against each other, without the need for chemicals, to remove the mineralized patina from the barren sandstone grains. Once the process is complete, mining companies are left with a high-grade, high-value ore that is comprised of 85 to 95 percent of the uranium and vanadium in approximately 10 to 20 percent of the mass of the pre-ablation material.
Overall, the ablation process economically recovers mineralization from the ore and is flexible enough to apply lower cut-off grades if needed. Additionally, the technology reduces approximately 90 percent of the transportation costs and the material needing to be processed. Other favorable benefits the technology offers is lower power consumption, smaller tanks and equipment needed for processing higher-grade input and increased output.
The process can also be used as a cleanup technology and as an alternative to the traditional environmental remediation process. According to a report published in August 2014 by the US Department of Energy, there are 4,225 mines that provided uranium ore to the US Atomic Energy Commission (AEC) between 1947 and 1970. The report suggested that existing waste piles should be processed Western Uranium and Vanadium's ablation technology to reduce the impacts the piles have on the environment.
Having received a significant amount of interest in their ablation technology, Western Uranium and Vanadium will be licensing it out to interested parties throughout the world. Currently, the company is in discussions with other organizations regarding licensing opportunities.
Sunday Mine Complex
The 3,800-acre Sunday mine complex is located in western San Miguel County, Colorado and is comprised of 221 unpatented claims and five mines: Sunday, Carnation, Saint Jude, West Sunday and Topaz. Of the 221 claims on the property, 20 of them are subject to a 12.5 percent royalty on any ore produced.
The complex has been in operation since the 1950s, but was most recently in operation between 2007 and 2009. Complete records for production on the property are unavailable. However, it is estimated that between 1.87 million pounds to 5 million pounds of uranium were historically produced on the property.
Currently, each of the mines have been temporarily shut down but are permitted separately and ready to resume production in the near term. Western will need to update the existing infrastructure to include their ablation technology and to install a permitted mine water treatment plant.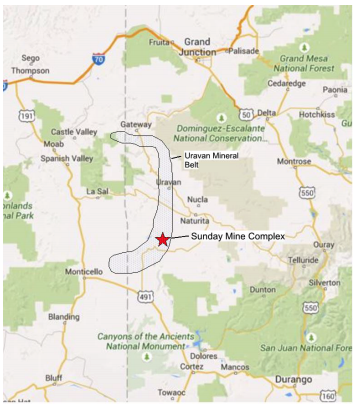 2015 resource estimate
In July 2015, Western Uranium and Vanadium released a resource estimate for the Sunday mine complex that outlined a measured and indicated resource of 203,170 tons containing 1 million pounds of U3O8 grading 0.25 percent U3O8 and 6.04 million pounds of vanadium grading 1.49 percent vanadium. The report concluded that the property could host a resource in excess of three million pounds of uranium-vanadium resources that would work well as an underground mining operation.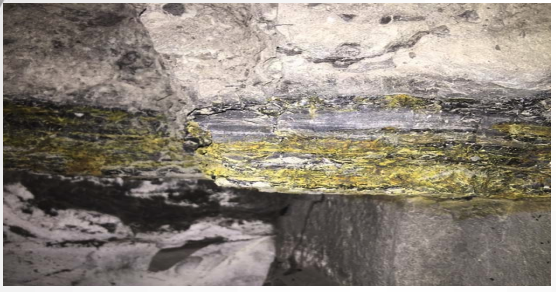 Moving into production
In October 2018, Western Uranium and Vanadium announced their intention to restart production at the Sunday mine complex. The first step for the company will be to upgrade the 2015 resource, as only 20 percent of the resource has been accounted for, and to monetize the existing vanadium resource holdings by submitting samples to potential end-users. As of May 2019, the company assembled the personnel and resources needed to open the Sunday mine complex. Western Uranium and Vanadium is expected to commence work at the Sunday and St. Jude mines in June.
Western Uranium and Vanadium is currently in discussions with various offshore companies regarding the recovery of vanadium from the ore. Initially, the ore will be shipped to existing offshore processing facilities as Western Uranium and Vanadium builds its US-based processing facility. Once the Sunday mine complex is opened, ore samples will be shipped to various interested parties for testing. After testing, Western Uranium and Vanadium will then negotiate offtake agreements.
Additional Uranium and Vanadium Assets
Western Uranium and Vanadium has five additional properties that they are advancing towards production: Sage, Van 4, San Rafael, Hansen-Taylor Ranch and the Dunn mine complex. The company intends to bring the Sage and Van 4 properties online after the Sunday mine complex is in production. As for the San Rafael, Hansen-Taylor Ranch and Dunn mining complex properties, Western Uranium and Vanadium is in the process of obtaining the necessary permits needed to bring the properties into production.
Sage Project
The 1,942-acre Sage mine project is located on the border between San Juan County, Utah and San Miguel County, Colorado. It consists of 94 unpatented claims that are subject to an overriding royalty of 2.5 percent. The mine is partially permitted and bonded, but requires further permitting to be able to restart production. The historic mine ceased operating in 1982.
Historical Resource
The property has a historical resource estimate that outlines an indicated resource of 459,640 pounds uranium grading 0.23 percent uranium and an inferred resource of 122,265 pounds uranium grading 0.15 percent uranium.
Van 4 Project
The 1,200-acre Van 4 mine is located in western Montrose County, Colorado and is comprised of 80 unpatented claims. Between 1987 and 1990, the small underground mine was in operation. The property has been granted a mine permit and Western has secured the bonds necessary to restart the mine.
San Rafael Project
The San Rafael uranium project is comprised of 146 unpatented federal lode mining claims located in Emery County, Utah. The property hosts one core uranium deposit: the Deep Gold deposit.
Historical resource
The property hosts a historical resource estimate that outlines an indicated resource of 479,050 tonnes grading 0.25 percent U3O8 containing 2,415,300 pounds U3O8 and an inferred resource of 92,350 tonnes grading 0.32 percent U3O8 containing 587,800 pounds U3O8. Additionally, the property also hosts a historic vanadium resource as well.
Hansen-Taylor Ranch Project
The 13,500-acre Hansen-Taylor Ranch uranium project is located approximately 150 kilometres southwest of Denver, Colorado. The property resides in the Tallahassee Creek mining district, which hosts AngloGold Ashanti's (ASX:AGG,NYSE:AU) Cripple Creek gold mine. The district was also home to 16 small-scale open pit and underground uranium mines.
The project hosts a JORC-compliant resource and six deposits: Hansen, Taylor, Boyer, Noah, High Park and Picnic Tree. The deposits are found within the sedimentary Echo Park formation, which has been known to host uranium deposits to depths ranging between 150 meters to 190 meters.
JORC-compliant resource
The property hosts a JORC-compliant indicated and inferred resources of approximately 90.9 million pounds U3O8 grading 600 ppm U3O8. This makes the property one of the largest uranium projects in the US.
Dunn Mine Complex
The 220-acre unpermitted Dunn mine complex is located in San Juan County, Utah and is comprised of 11 unpatented claims. After limited development and production the mine was closed in the mid-1980s.
Management
George Glasier, J.D. — Director, President and CEO
George Glasier is founder of Western Uranium & Vanadium Corp. and has over 30 years of experience in the uranium and vanadium industry, with extensive experience in sales and marketing, project development and permitting processing facilities. He is the founder of Energy Fuels Inc. and served as its CEO and President from January 2006 to March 2010. He was responsible for assembling a first-class management team, acquiring a portfolio of uranium projects and leading the successful Piñon Ridge mill permitting and licensing process.
Glasier began his career in the uranium industry in the late 1970's with Energy Fuels Nuclear Inc. ("EFN"); this company was led by Bob Adams, uranium pioneer and a founder of the U.S. uranium industry. EFN became the largest uranium producer in the US and built and operated the White Mesa Mill near Blanding, Utah.
Bryan Murphy — Chairman and Non-Executive Director
Bryan Murphy is Founder of Magellan Limited, an advisory firm focusing on providing strategic, M&A and financial advisory services and currently serves as CFO and Head of Finance for Biome Renewables Inc., an early stage renewable energy innovation and industrial design company. Formerly, he was Co-Founder and Managing Partner of Quest Partners, a boutique investment bank that focuses on the provision of M&A, corporate finance and business strategy services.
In these capacities, Murphy has developed extensive international experience and relationships advising high-growth businesses across North America, Europe and the Middle East. In the prior dozen years, he has held senior management roles at Canadian Tire Corporation overseeing divisions and business lines. Additionally, Murphy was formerly a board member of Covenant House Toronto, one of Canada's largest homeless youth agencies. He has an Honours Bachelor of Arts in Business Administration majoring in Finance and an MBA with Distinction from the University of Western Ontario Richard Ivey School of Business.
Andrew Wilder — Director
Andrew Wilder is the Founder and CEO of the Cross River Group, a firm that provides capital, strategic business development and operations to alternative asset managers and operating companies. Prior to founding Cross River, he co-founded and was the COO for Kiski Group, an advisory firm organized in 2009 to help institutions develop their alternative manager platforms by helping vet managers and offer infrastructure solutions in areas of investment and business risk management. In 2001, Wilder co-founded and served as COO and CFO of North Sound Capital LLC, a long and short equity hedge fund manager. North Sound launched with $15 million in July 2001 and reached $3 billion AUM and 65 employees within five years. He was responsible for building and overseeing all aspects of the business ex-research.
In 2003, Wilder also co-founded Columbus Avenue Consulting, an independent fund administration business with 90 clients and $7 billion in AUA when it was subsequently sold in 2012. His prior career included heading operations for C. Blair Asset Management, a $500 million long and short equity hedge fund and serving as a Manager in audit of Deloitte & Touche in their Cayman Islands and Toronto practices. Wilder received the Chartered Accountant (Canada) designation, holds the CFA designation and received an MBA from the University of Toronto and a BA from the University of Western Ontario.
Robert Klein — CFO
Robert Klein is in charge of accounting and finance and is closely involved in capital markets activities, corporate transactions, investor relations, public relations and legal and compliance. Formerly, he served as Vice President of Finance and had leading roles in reporting, corporate transactions and Western's public listings on the CSE and OTCQX. Klein was formerly the Chief Operating Officer of Cross River Group and began his association with Western on an Operating Partner basis after the formation of Western's predecessor company, Pinon Ridge Mining LLC.
Previously, he was a Managing Director at Analytical Research, an alternative investments research firm. He has a broad financial background derived from senior operating and investment roles with asset managers and through Exeter Analytics, a consulting firm he founded. He was formerly the CFO of Five Points Capital, a hedge fund spin-out from Soros Fund Management. After having begun his career in public accounting, Klein worked for Lehman Brothers, an investment bank, and William E. Simon & Sons, a merchant bank and private investment firm. He holds the Chartered Financial Analyst® designation, received an M.B.A. from the Robert H. Smith School of Business at the University of Maryland and a B.S. in Accounting from George Mason University.
Michael Rutter — VP of Operations
Michael Rutter as Vice President Operations oversees the resource properties and the advancement of the company's Ablation Mining Technology. He plays a vital role in project coordination and development of the Sunday Mine Complex, Hansen-Tallahassee exploration project and the Sage and Van Four projects.
He possesses a background in the uranium and vanadium resource sector, having previously working for Energy Fuels Inc. as the Maintenance and Operations Superintendent for Energy Fuels' Utah, Colorado and Arizona productions. Previously, Rutter oversaw maintenance, planning and development for Lisbon Valley Mining, a copper corporation. He began his career in the mining, smelting and refining sector as an electrician supporting Asarco's solvent extraction and electrowinning process and electrical mining equipment.
---
*Disclaimer: The profile provides information which was sourced and approved by Western Uranium and Vanadium (CSE:WUC) in order to help investors learn more about the company. Western Uranium and Vanadium is a client of the Investing News Network (INN). The company's campaign fees pay for INN to create and update this profile page, to which links are placed on Investingnews.com and channel newsletters.
The company description, investment highlights and catalysts were sourced by INN and approved by the company. INN does not guarantee the accuracy or thoroughness of the information contained on this page.
INN does not provide investment advice and the information on Investingnews.com profile should not be considered a recommendation to buy or sell any security.
INN does not endorse or recommend the business, products, services or securities of any company profiled.
Readers should conduct their own research for all information publicly available concerning the company.