Weekend Unlimited
Acquiring Undervalued Cannabis Brands in the US and Canada
Overview
Weekend Unlimited Inc. (CSE:POT,OTCQB:WKULF,FWB:0OS1) is capitalizing on its vast industry relationships to establish a lifestyle brand featuring premium products that deliver life's highest moments. The development of Weekend Unlimited's lifestyle brand is led by a team of business and cannabis industry leaders with an unparalleled track record.
Weekend Unlimited aggregates and scales its small-to-medium brands, primarily in the categories of flower, extracts and edibles. Its brands have best-in-class operations, distribution and strong revenue trajectories, making them ideal candidates for the deployment of capital and expertise through access to technologies, infrastructure and centralized systems.
Weekend Unlimited is deploying big agriculture expertise to design and operate scalable operations on the west coast of North America, beginning in Washington State, California and British Columbia before moving east into markets like Oklahoma.
The company's brands are located strategically to benefit from low power costs and economies of scale so that its technologies can be effectively utilized in a streamlined fashion to produce and deliver premium products.
Weekend Unlimited identifies undervalued brand assets with excellent operations, profile, leadership and distribution. Deploying capital to scale its brands, Weekend Unlimited optimizes the product offerings and leverages extensive combined distribution throughout the legal states.
With the cannabis industry approaching a massive consolidation period as it matures, Weekend Unlimited envisions Washington State as an incubator, where the company's brand family will be aggregated, optimized and tailored for expansion into multiple states, including California and Massachusetts, as well as internationally into Canada and Jamaica. To streamline processes and create a unified experience, Weekend Unlimited is developing a sales management system to provide customers with a frictionless ordering experience to ensure that the company can adequately meet demand.
Weekend Unlimited's Company Highlights
Weekend Unlimited's formula: identify and aggregate great brands that are undervalued, deliver capital and expertise, grow and expand with a focus on North America overall.
Dedicated to building a top of mind lifestyle brand for its cannabis and ancillary brand family.
Weekend Unlimited won an operator award at the fifth annual CannaGather event in 2019.
Jerome Baker Designs, a Weekend Unlimited Brand, is a three-time High Times Cannabis Cup winner, with worldwide recognition and existing revenues.
Growing brand portfolio through the acquisition of R&D Pharma in Jamaica, Canna Candys and Canna Medibles.
Orchard Heights Growers property in Washington state is currently generating revenue.
Northern Lights property in northern British Columbia can be scaled up to 640 acres to grow organic hemp.
The Northern Lights property has been designated as certified organic.
The Northern Lights Supply retail location in Alberta is expected to serve the Edmonton International Airport, Canada's largest oilfield industrial park and the communities of Leduc and Beaumont.
Weekend Unlimited's Brand Portfolio
Wknd!
Along with a new brand identity, Weekend Unlimited has launched a new line of cannabis products which include disposable vaporizer pens, pre-rolls, hemp-based gummies, an anti-inflammatory pain relief tincture, a pain relief cream and an intimacy play spray. The products commenced production in Washington State in June 2019.
Weekend Unlimited has partnered with Emerald City Cultivation to create formulations for its Wknd! brand. The two companies intend to initially work on new formulations for Washington State first and then for new states as the company expands its US presence.
"Re-enforcing the business strategy we have outlined, developing and launching the company's lifestyle branded products using Washington State as our incubator, we have placed a strong emphasis on product development in a customer-centric way," said Weekend Unlimited President and CEO Chris Backus. "It is essential that each of the company's branded products deliver the same high-quality experience to customers in all aspects including the look and feel, effect and taste and so I am excited to announce our formal collaboration with Emerald City Cultivation, a tier 2 licensee in Seattle who has demonstrated a tremendous passion for cannabis and growing the industry in the right way."
Executing on its Washington State incubator model, Weekend Unlimited launched its Wknd!-branded products in Washington in August 2019. A month later, the company launched its branded products in Oklahoma and has added edibles to its portfolio. The company intends to follow this launch with additional products in other states in the near term.
In Oklahoma, Weekend Unlimited has signed a licensing agreement with Ruby Mae's, a leader in premium cannabis-infused edibles. The company expects its agreement with Ruby Mae's to facilitate the launch of its flower and edibles line in the state.
Since entering Oklahoma, Weekend Unlimited has seen an uptick in demand for its branded products and has accelerated the launch of its edible products in the state. The company intends to release three products to meet consumer demand. The three products include a thin chocolate bar with salt sprinkles, gummies and hard candies. Weekend Unlimited is also looking to develop an almond bar to be released at a later date.
Weekend Unlimited also plans to enter the hemp-derived CBD space with its Wknd! Wellness product line for online and retail distribution and sales. The products are aimed at consumers with active lifestyles. The products are expected to increase the company's presence and market penetration significantly. The company intends to launch four GMP-certified products initially. The initial products are representative of the top-selling items sold on the market and include a body butter, full-spectrum tincture, cooling gel and capsules.
Canna Candys and Canna Medibles
Weekend Unlimited has acquired the Canna Candys and Canna Medibles brands, adding an edibles component to its brand portfolio.
Canna Candys are primarily CBD products and Canna Medibles are THC products. Together, they have access to 380 retail stores in Southern California, and a projected channel revenue of US$2 million for 2019. The company is also developing new gummy, beverage and edible products and is negotiating CBD-product distribution deals in the states of New York, Florida, New Jersey, North Carolina, Texas and California.
Weekend Unlimited commenced shipping its Canna Candys products initially within the northeastern US in April 2019 and intends to roll out the brand in the Midwest and southwest in the near term.
"This is a significant step for our company, our production team has done a terrific job and we are thrilled with the product taste, effectiveness and packaging," said former Weekend Unlimited President and CEO Paul Chu. "The Canna Candys brand, using hemp oil extract, will establish a presence for our products in multiple retail locations, a presence that we will build upon to establish consumer recognition and trust in multiple markets to pave the way for additional product rollouts in the near future."
Weekend Unlimited Live
Weekend Unlimited Live is an event and experience that features live, sponsored events, including glass blowing, live and club music in licensed establishments, music festivals, exclusive house parties and charity and sporting events, among others. The live events are designed to engage audiences, primarily millennials, and connect them with the brand.
Orchard Heights Growers
Weekend Unlimited's Orchard Heights property sits on seven acres of I-502 zoned land in eastern Washington State and is currently generating revenue. The facilities support indoor cultivation and processing. The company is developing a state-of-the-art, efficient cannabis greenhouse that optimizes mixed light and has full climate control.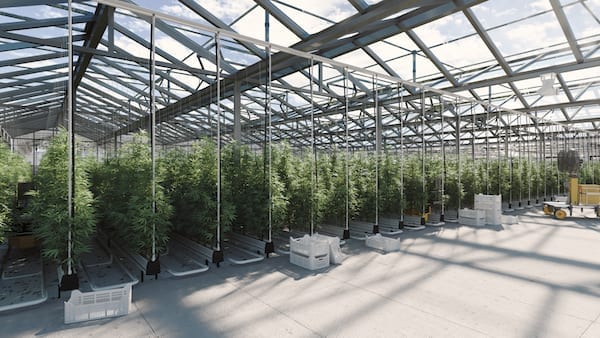 Weekend Unlimited provides land leases to each licensee, along with equipment and supplies needed to be successful in the market. With the additional Tier 3 licenses acquired, the property is expected to host 90,000 square feet of canopy growth space, making it one of the largest operations in the state.
The Orchard Heights property's current tenant conducted its first four days of harvest at the start of November 2018. During this time, the company harvested 4,000 pounds of bulk raw cannabis material from 10,000 square feet of canopy. The harvested material should produce over 50,000 grams of premium concentrate and 250,000 pre-rolls. Using market prices of US$10 per gram for live resin concentrate and US$2 per gram for rolls, the company expects to generate US$500,000 in revenue with this initial harvest.
Washington alliance
Weekend Unlimited has formed an alliance with Seven Hills, a Boggy Boon-branded cannabis company. Under the terms of the LOI, Weekend Unlimited will provide Seven Hills with processing and distribution facilities at its Orchard Heights property as well as a US$750,000 loan. Weekend Unlimited has the option to acquire Seven Hills at any time for US$1.5 million. The agreement will give Orchard Heights a more diverse product line and Weekend Unlimited can sell its brands in 130 Boggy Boon locations.
A week after signing the agreement, Weekend Unlimited announced that Seven Hills and Orchard Heights had secured delivery orders already. The increased capacity allowed for accelerated processing and packaging which will help meet B2B white-label demand.
Jamaica R&D Pharma
In February 2019, Weekend Unlimited acquired R&D Pharma, one of three Tier-3 license holders in Jamaica. R&D Pharma is a Canadian company currently building a vertically-integrated model in Jamaica. Their Tier-3 cultivator's license allows for the cultivation of cannabis plants on land of over five acres. As R&D Pharma is working towards being an exporter of full-spectrum extracts, infused products and recognized strains, the acquisition gives Weekend Unlimited access to a growing international market place.
Northern Lights Organic Farm
Northern Lights Organic is a 640-acre certified organic cannabis farm in St. James, British Columbia. St. James gets on average 18 hours of sunlight during the summer, and has the potential to provide an ideal growing climate for organic hemp.
Weekend Unlimited plans to become Canada's first high-CBD focused hemp farm that will be grown from certified organic soils. The company intends to dedicate 120 acres of the property to outdoor growing and is slating an additional 10 acres to host indoor greenhouse measuring 68,000 square feet, which is also planned to be equipped for cultivation and processing. The company began construction on two new 3,200-square-foot greenhouses in November 2018.
The property was reviewed by the Pacific Agricultural Certification Society (PACS) and was qualified as "third-year transitional stage to organic certification." Following further inspections, the company anticipates that the property will be certified under the Canadian Federal Organic Regime, which categorizes all hemp produced on the property as 'certified organic'. Weekend Unlimited was granted its organic certification in October 2019.
Currently, the property is awaiting approval of the ACMPR license, which should be granted within the year. Weekend Unlimited is continuing to forge strong, long-term relationships with the surrounding communities, including First Nations. The company intends to be a key source of jobs for the community, helping to stimulate economic growth in the area.
In June 2019, Weekend Unlimited completed its test plot for high-CBD hemp seeds and achieved over 50,000 high-quality, hand-sorted hemp seeds in its nursery greenhouse. Weekend Unlimited expects to harvest approximately two million seeds if the company increases the current capacity by 40 times, which should be enough to plant 600 acres worth of hemp.
Later that month, the company planted four field test plots from the seedlings and seeds harvested in its nursery. Weekend Unlimited expects to harvest its test plots in September and analyze the plants for biomass and CBD percentage.
Northern Lights Supply
Weekend Unlimited has also acquired 49 percent of a 6,500-square-foot retail cannabis store in Nisku, Alberta. The retail space is one of the largest cannabis stores in the province and is designed to take advantage of the recently approved edible and infused cannabis products. The store is expected to serve the Edmonton International Airport, Canada's largest oilfield industrial park and the communities of Leduc and Beaumont. It also sits adjacent to Highway 2, Alberta's busiest highway.
The company received its retail license for the location and opened for business in February 2019.
Jerome Baker Designs
Since 1991, Jerome Baker Designs has been at the forefront of design and creativity in the glass and canna industries. The three-time High Times Cannabis Cup winner has offices in Las Vegas, New York and Maui and creates custom glass artwork.
As a Weekend Unlimited brand, Jerome Baker Designs is expected to develop and present high-profile live experiences and custom blown glass pieces, including the development of innovative consumer products to be distributed at retail, online and through special events. Brand activation highlights include:
Co-sponsorship of events co-branding high profile product launches to be heavily covered through social, digital and mainstream media;
Production of media properties, including films and documentaries;
Development of mind-blowing experiences for consumer and industry engagement;
Creation of one of a kind glass art and paraphernalia for distribution to key retailers and display at galleries;
Development and distribution of co-branded products through legal retail operations in North America.
Weekend Unlimited's Management Team
Chris Backus — President, CEO and Director
Chris Backus, who was appointed to Weekend's Board in March 2019, is a former Senior Officer and Manager with the Royal Canadian Mounted Police (RCMP). In that capacity, he developed an advanced understanding of the cannabis industry leading up to recreational legalization in Canada. Specifically, he has specialized experience and knowledge of the cannabis industry as it pertains to the areas of cultivation, production, retail operations and regulatory frameworks. As Weekend identifies new opportunities for growth in rapidly changing legal environments in both Canada and the US, the company will strive to lead the industry in establishing the highest standards and best practices.
In addition, Backus holds a Master's degree from Royal Roads University specializing in strategic communications and interest-based negotiations. He has worked internationally with the United Nations as a strategic advisor to peace keeping operations and negotiations in Cote D'Ivoire (Ivory Coast, West Africa). He has also served as a business and leadership consultant in the fields of venture capital, technology, law enforcement, retail and real estate development.
Brian Keane — Director
Brian D. Keane, J.D., B Sc, Director, has over 20 years of capital markets, investing and C-level consulting experience with over 100 emerging growth companies in the US, Canada, Caribbean and Asia, transacting over $2.5 billion in investment value. He currently serves as Director at 360 Blockchain Inc. (CSE:CODE), is President of Qualified Capital Consultants, Founder of 420 Syndicate LLC, Consultant to Stadnyk and Partners Family Office and Advisor to Proactive Investors UK Limited. Most recently, he served as Director at 1933 Industries Inc. (CSE:TGI) and was Interim CEO at Callitas Health Inc. (CSE:LILY). Previously, Keane had roles at Merriman Capital, Andrews Securities/Keating Capital, Four Springs Capital, Deutsche Bank, Rodman and Renshaw/Ladenburg Thalmann & Co/Techvest, and YA Global. He began his career at NDB Capital Group's (NYSE:NDB) Equity Trading Desk and has held Licenses Series 7, 63,55,79. He earned a JD from New York Law School and a B Sc. from the University of Scranton.
Kevin Ernst — Director
Kevin Ernst brings over 29 years of experience, including senior positions at industry-leading organizations (Merrill Lynch, UBS, American Stock Exchange (AMEX) and the New York Stock Exchange (NYSE)). Over the course of two decades, he has developed an extensive network of family offices, private equity and ultra-high net worth individuals in both North America and Asia where he advised and raised public and private capital with an aggregate in excess of $1 billion.
During his nine-year tenure as Managing Director for the NYSE and AMEX, he successfully led the new listings for some 150 issuers and IPO's. Prior to joining the NYSE and AMEX, he was a Senior Vice President in Merrill Lynch's Wealth Management Group, where he spent 12 years. He received both his Bachelor's and MBA in Finance degrees from Rutgers University.
Michael Hopkinson — CFO
Michael Hopkinson is a US Certified Public Accountant.
Charlie Lamb — Chief Operating Officer
Charlie Lamb has over 10 years of experience working as a corporate and securities lawyer at a large international law firm in New York. Charlie's practice has primarily focused on complex business transactions, including mergers and acquisitions, including advising clients on public and private offerings of securities for investment funds, private equity funds and other alternative investment vehicles. Charlie's experience includes advising broker dealers, advisers and investment fund managers on compliance and corporate governance issues.
Grant Guelich —Lead Consultant
Grant Guelich has a Bachelor of Science in Crop Science and Sustainable Agriculture from the University of Washington. Guelich's is an expert in genetics and tissue culture research. He has served as an agronomist for large commercial orchard operations, including Dovex Fruit Company, where he was in charge of providing integrated pest management, research and crop management.
---
*Disclaimer: This profile is sponsored by Weekend Unlimited Inc. (CSE:POT,OTCQB:WKULF,FWB:0OS1). This profile provides information which was sourced by the Investing News Network (INN) and approved by Weekend Unlimited Inc., in order to help investors learn more about the company. Weekend Unlimited Inc. is a client of INN. The company's campaign fees pay for INN to create and update this profile.
INN does not provide investment advice and the information on this profile should not be considered a recommendation to buy or sell any security. INN does not endorse or recommend the business, products, services or securities of any company profiled.
The information contained here is for information purposes only and is not to be construed as an offer or solicitation for the sale or purchase of securities. Readers should conduct their own research for all information publicly available concerning the company. Prior to making any investment decision, it is recommended that readers consult directly with Weekend Unlimited Inc. and seek advice from a qualified investment advisor.