This profile is part of an investor education campaign. The profile provides detailed information which was sourced and approved by Valens GroWorks Corp. in order to help investors make better investment decisions. The Company's support of Investing News Network ensures we can continue to bring you unbiased, independent news and information.
Resource Investing News Featured Stock
Overview
Valens GroWorks Corp (CSE:VGW) is well-positioned to become a leader in the emerging global-wide cannabis nutraceuticals market which includes cannabis oils, extracts and edibles. The company has assembled a portfolio of four profit centers in Canada and the United States including cannabis grow operations and R&D facilities which have the potential to serve both medical and recreational markets. In 2017, Valens GroWorks anticipates to begin receiving revenue from its joint venture partnership with an Arizona-based medical cannabis company.
Valens GroWorks' Plants to Premium Products (P2P) strategy includes:
the acquisition of late-stage applicants and fully-licensed cannabis companies;
management, consulting, testing and support services;
solvent-free extraction and derivatives services;
state-of-the-art research and development; and
best-in-class cultivation of premium organic cannabis products.
Scalability and Excellence in R&D are the main pillars of Valens GroWorks' P2P strategy. In addition to its pending Dealer's License through its wholly-owned subsidiary Valens Agritech, the company is working to complete the acquisition of late-stage ACMPR LP applicant Royal Green Acres which adds an estimated production capacity of 33,250 pounds per year—positioning Valens GroWorks among the leaders in the cannabis cultivation industry—following a planned Phase 1 buildout of a 50,000-square foot facility and successful final inspection by Health Canada.
In anticipation of the eventual commoditization of cannabis production, Valens GroWorks is also focusing on supplying premium product to the high-margin nutraceutical industry, expected to become one of the strongest sectors in the medical cannabis industry, expecting to capture an early share of the emerging global cannabis market. The crucial factor in the successful commercialization of cannabis nutraceuticals products is data. Government health agencies are tightening regulations in terms of consistency and potency in cannabis products; and prescribing healthcare specialists need data to be convinced of the consistency, safety and efficacy of the medical cannabis products they are prescribing.
For these important reasons, Valens GroWorks is dedicated to best-in-class research and development focused on premium solvent-free extraction and cannabis-based nutraceuticals, and has multiple research collaborations with leading universities through both Valens Agritech and wholly-owned Supra THC Services, a Health Canada-licensed testing and R&D facility in Kelowna, BC.
Recent Health Canada data shows that sales of dried flower and cannabis oil by licensed producers (LP) is increasing month-over-month at an average rate of 10 percent. Analysts at Eight Capital estimate that by 2024, the medical marijuana market in Canada will reach $3 billion in annual sales.
Following pending legalization in July of 2018, the Canadian retail cannabis market is projected to be between $4.9 billion and $8.7 billion annually, according to Deloitte's recent report, titled "Recreational Marijuana: Insights and Opportunities". The consulting firm is projecting a supply shortage as the total current capacity of existing licensed producers is far from matching the expected demand levels. Satisfying the recreational cannabis market alone is expected to require 600,000 kilograms of marijuana production annually.
Valens GroWorks' is led by an industry-experienced management team and advisory board. The company's Chief Executive Officer, Tyler Robson is also a Master Grower with expertise in plant genetics and cultivation techniques for the production of consistent medical-grade cannabis. Tyler's unique skill set and operational knowledge have been key drivers for the expansion of the Company's growing Canadian and U.S.-based commercial interests. Tyler's robust relationship network and exceptional commercial marijuana cultivation record enhances their ability to engage in strategic transactions, and to attract both LP's and selected late-stage LP applicants seeking support and partnership alternatives.
Investment Highlights
Seasoned growers with 75 years of combined medical marijuana experience and product knowledge
Developing production capacity for premium organic cannabis products in legal jurisdictions
Targeting both medical and recreational marijuana markets, wholesale and export
Assembling portfolio of fully-licensed cannabis companies for horizontal integration into "From Plants to Premium Products" strategy
Anticipated revenue stream beginning in Q4 2017
Scalable operations for cost-controlled expansion
Multiple research collaborations and leadership initiatives
Tight share structure: management and directors, 17 percent; Valens Agritech founders, 65 percent; Supra THC Services founders, 5 percent.
Four Verticals for Profit Generation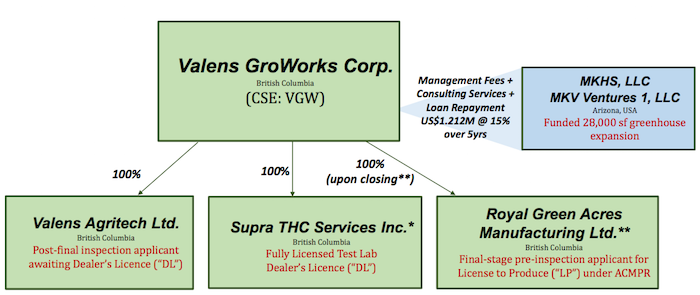 With four complimentary profit centers in Canada and the United States, Valens GroWorks is well-positioned for commercial-scale production of premium organic cannabis products and the servicing of high-margin specialty cannabis and natural health product markets.
Valens Agritech: Cannabis Research and Cultivation
Valens Agritech anticipates participation in selective clinical trial programs researching the efficacy of medical cannabis.
Valens Agritech Ltd., a wholly-owned subsidiary of Valens GroWorks, is a state-of-the-art cannabis research and cultivation center located in Kelowna, BC. Valens Agritech's is in the final stages of achieving a Dealer's License for controlled drugs and substances in Canada. In January 2017, the company announced the completion of their final inspection by Health Canada. The license should allow Valens to cultivate and process cannabis (i.e. extracts or derivatives) for research and manufacturing as well as allow for transporting product.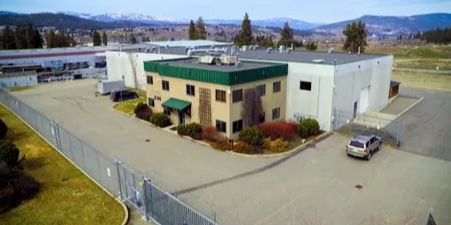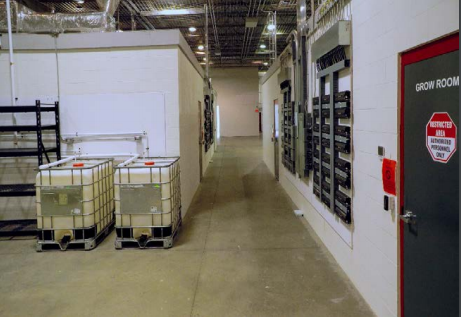 The 17,000-square foot facility Health Canada Schedule 7 security level application provides for controlled substance capacity of $6.125 Million in product or 625 kg given Health Canada's valuation of $10,000/Kg for cannabis production. The Company intends on using unique medical strain genetics with optimum cannabinoid/terpene ratios, and intends to submit a followup LP application pending approval of the Dealer's License by Health Canada. The infrastructure is in place to allow for the premium production of cannabis products.
Once licensing is complete, Valens Agritech plans to participate in clinical trial programs focused on the efficacy of medical-grade cannabis in treating certain indications. The Valens Agritech center's Qualified Person in Charge (QPIC) is Dr. Yasantha Athukorala, a highly-accomplished scientist in the field of bioactive compounds from agricultural bio-resources. He will oversee customized extraction processes at the Kelowna facility in the production of organic cannabis oils and edibles as well as other natural health products.
Valens Agritech also plans to offer contract R&D services including:
Third-party clinical trials management, custom formulation and production
Derivative formulations and extraction technology
Pharmacology absorption optimization
Supra THC: Accredited Analytical Services and Research Facility
Supra aims to provide scientific leadership and to support the production of the highest quality herbal medicinal products on the market.
Supra THC Services Inc., fully acquired by Valens GroWorks in March 2017, is a fully-licensed, leading-edge analytical services and research lab located in Kelowna, BC. Supra holds a Health Canada-issued Dealer's License allowing the company to conduct research, provide chemical analysis as well as produce cannabis extracts and derivatives.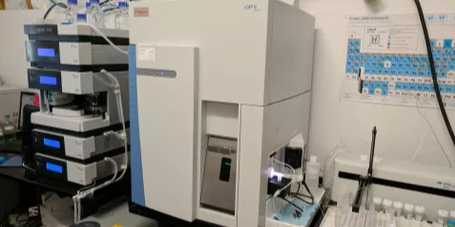 Supra is working to become a leading service provider to the cannabis and natural health products industries. The company offers analytical services, consulting services and contract R&D, and its capabilities include clinical studies, molecular epidemiology and biomarker tracking. The company plans to generate further revenue by producing pure organic cannabis oil using a proprietary solvent-free extraction approach. Supra's sector-leading analytical infrastructure has a ISO 17025 accreditation pending.
SUPRA is led by Dr. Rob O'Brien, an expert in the field of analytical chemistry who has established several advanced analytical laboratories. He founded Supra Research and Development, a spin-off company from the University of British Columbia's Okanagan campus. He also serves as the President and Chief Science Officer of Valens Agritech.
Royal Green Acres—Acquisition of Late-Stage LP Applicant
Fast-tracking P2P 'Plants to Premium Products' strategy of scalable wholesale and medicinal cannabis production capacity.
As a part of its aggressive expansion-through-acquisition strategy, Valens GroWorks signed a letter of intent (LOI) for 100-percent ownership of Royal Green Acres Manufacturing Ltd in April 2017.
Based in Nanaimo, BC, Royal Green Acres is in the final review stage to obtain Licensed Producer (LP) status under Health Canada's Access to Cannabis for Medical Purposes Regulations. Following the completion of the acquisition, Valens GroWorks will move forward with a multi-phase buildout of a scalable, medicinal cannabis production and processing facility on the five-acre property.
Phase 1 of the buildout will include a 50,000-square foot indoor facility with an estimated capacity of 33,250 pounds per year for a projected net cash flow of more than $40 million per year —positioning Valen GroWorks among the leaders in the cannabis cultivation industry.
Phase 2 includes 131,000-square feet of greenhouse capacity, targeting an estimated 87,115 pounds per year of production. The Royal Greens site has adequate land for a third phase of expansion to 435,000 square feet of greenhouse cultivation.
Arizona Joint Venture: Generating Cash Flow in 2017
Valens GroWorks has a professional services agreement with MKHS, LLC, a fully-licensed medical marijuana supplier under the Arizona Medical Marijuana Act. By the end of 2016, a total of 114,439 patients had registered in the state's medical marijuana program, up 29 percent from the previous year. The rise in medical marijuana patients led to a significant rise in product sales in the state. Medical cannabis sales in Arizona reached a record 29 tons in 2016, a 53-percent increase over the previous, according to a report from the state's Department of Health Services.
MKHS operates an 11,000-square foot cultivation and extraction facility and a 9.5-acre grow operation which includes a 3,000-square foot automated greenhouse and a half-acre airstream wind-assisted and air-supported greenhouse. The Arizona-based company also operates two state-licensed medical dispensaries and distributes a branded line of edibles, concentrates and extracts.
In January 2016, MKHS contracted with Valens GroWorks for management services and funding for a 28,000 square feet expansion project. Under the agreement, Valens loaned MKHS more than US$1.2 million at a per annum interest rate of 15 percent, the repayment of which is scheduled over a five-year term expected to commence in late 2017. Valens also collects an additional US$720,000 per year in management service fees under a 5-year renewable professional services agreement.
Upcoming Catalysts
Receipt of Dealer's License from Health Canada for Valens Agritech facility
Cash flow from Supra consulting, management, testing and extraction services
Cash flow from fully-funded 28,000-square feet of greenhouse with Arizona JV partner
Acquisition and buildout of final-stage ACMPR applicant Royal Green Acres
Additional and ancillary licensing awards from Health Canada under application
Scalable production of premium product from the Royal Green Acres facility upon Health Canada clearance
Management
Robert van Santen — Director and CFO
Robert van Santen had been Chief Executive Officer of the company since October 2014, and led the company's foray into the health science sector in 2015, stepping back to concentrate on merger and acquisitions and corporate finance functions. He has over 30 years of investment industry and financing experience, providing financial and intellectual capital to both private business and the public markets. He began his career in 1986 with Burns Fry, spent several years with Yorkton Securities' Natural Resources Group, and was recognized as "Broker of the Year" in 1994. Van Santen is Managing Director of Agilis Capital Corp., holds a B.Comm. degree in Organizational Behavior from Concordia University, a Chartered Accountant and CPA designation in British Columbia, a Chartered Market Technician's designation from the Market Technicians Association in New York, and has certifications that include the Canadian Securities Institute's CSC (Honours), CPC (Honours), PDO and the OLC.
Tyler Robson — Director and Chief Executive Officer
Tyler Robson, Chief Executive Officer, is the former Chief Operating Officer of the Company as well as Director of Operations at Valens Agritech Inc. He attended the University of Saskatchewan on a football scholarship, graduating with a Bachelor of Science degree to return to Kelowna to pursue research and development, plant innovation and life sciences, with an emphasis on medical cannabis and its applications in the treatment of seizures, chronic diseases, pain control, and neurological symptoms. As a Master Grower, Robson provides consulting services on plant genetics, growing methods, and leading facility and soil grown techniques that ensures consistently produced medical marijuana of the highest quality.
David Gervais — Director
Dave Gervais is a co-founder and CEO of Valens Agritech Ltd., and former president of Northwest Supplements, a pharmaceutical wholesale company with international import/export capabilities. Gervais has been extensively involved in the medicinal cannabis sector since 2001, acquiring a wealth of cannabis related experience, knowledge, and expertise. As a master grower, as well as an advisor and consultant, he has focused his attention on developing and implementing successful growing methods and systems, necessary to ensure healthy and successful commercial scale cannabis production.
Dr. Rob O'Brien—Director
Dr. Rob O'Brien is an innovation solution provider with a strong experience base in analytical chemistry, laboratory and research team management, scientific education and corporate management. He has held leadership positions in both the private sector and academia. He is a recognized expert in analytical instrumentation design and has been working with quality control protocols for Natural Health Products for over a decade. He has taught or developed over 45 different university courses related to analytical chemistry and instrument analysis at the undergraduate and graduate level. He currently leads a comprehensive and diverse team of highly qualified experts. His LinkedIn profile can be found at https://www.linkedin.com/in/suprarob
John Binder—Independent Director
John Binder is the founder, President and CEO of Avmax Group Inc., a Calgary based heavy aircraft maintenance and servicing facility, Executive Vice-President for Regional Express Aviation Ltd. and Chairman of the Board and CEO of R1 Airlines Ltd. (and Regional 1's founders). Avmax owns, operates and leases over 100 aircraft worldwide. Prior to founding Avmax he was President and owner of Western Avionics of Calgary, Canada's largest aircraft avionics company, now a division of the Avmax Group. Binder is a licensed aircraft engineer with over 45 years of experience in the aviation sector, was recognized with the Ernst & Young Entrepreneur of the Year for the Prairies Regional award, and was the recipient of the Max Ward Aviation Maintenance Trophy for contributions to the aircraft maintenance industry in 2010. In addition to his work with Avmax, Binder applies his entrepreneurial expertise to various other business interests
Timothy Tombe—Independent Director
Timothy Tombe is co-founder of Valens Agritech Ltd. and a shareholder and director of Valens GroWorks. Founded Advantage Microbial Solutions in 2009 to provide microbiological materials to the viticulture industry, and a wide variety of organically certified material for the agriculture and hydroponic industry.
Mark Doucet—President
Mark Doucet has more than 25 years of senior executive experience. He has been involved in and advised on capital markets, infrastructure, commercial real estate, precious metals and other industries both foreign and domestic. Past service includes: President of a US junior exploration company, President of a business/government relations company, Founder and President of a wireless application company, and Vice President for several Canadian junior exploration companies, an international government/business consulting firm and an Atlantic Canada restaurant franchise. Doucet served as Financial Officer and Development Planner for the privatization and redevelopment of Toronto's Pearson International Airport.
Annie Storey—Controller
Annie Storey has over 25 years of accounting, reporting and financial management experience, including twelve years in public practice in the areas of audit, accounting and quality control with national (MNP) and international (KPMG) financial consulting and advisory firms. As audit partner, she guided clients through regulatory environments to meet complex cross-border reporting requirements. Storey held teaching positions with BCIT and the CA School of Business, controllership positions in manufacturing and entertainment industries, membership on CPABC's Practice Review & Licensing Committee, the CICA Practitioners' Technical Advisory Committee, and on boards of non-profit organizations. Storey earned a BBA from Simon Fraser University with majors in finance and international business.
Yasantha Athukorala—QPIK, Valens Agritech
Dr. Yasantha Athukorala, Ph.D. is the Qualified Person In Charge for Valens Agritech Ltd. He is an accomplished scientist with outstanding research and leadership skills and more than 7 years of experience investigating bioactive compounds from agricultural bio-resources. With a unique background of Biotechnology, Chemistry and Bioresource Technology knowledge, Dr. Athukorala brings a demonstrated record of project and publication success, credited with discovering naturally-occurring bioactive compounds using enzymatic digestion, bioassay-guided extraction and fractionation procedures with potential commercial applications in food, health and bio-resource utilization industries.
Gordon J. Fretwell—Secretary, Legal Counsel
George Fretwell has been practicing securities law for over twenty-five years. Formerly a partner at a large Vancouver law firm, he is managing partner of his namesake firm providing legal advice to companies in the process of going public, and to established publicly-traded companies in the resource, biomed, oil and gas, technology, and the emerging medical marijuana sectors. In addition to practicing law, Fretwell is a director and officer of various companies trading on the Canadian Securities Exchange, the TSX, TSX Venture Exchange, and the NYSE. He has extensive experience providing corporate governance advice to public companies and sits as an independent director on various audit, compensation, and corporate governance and nominating committees. He has chaired multiple special committees on takeovers and other business combinations of public companies. Fretwell holds a B.Comm. and LL.B degree from UBC.
Anderson Smith—President & CEO, Supra THC Services
Anderson Smith has been involved in analytical testing for over 15 years. He has developed quality management systems that have led to ISO accreditation for laboratories specializing in the analysis of natural health products. Smith has taught numerous technical courses on analytical instrumentation to technical support staff as well as conducted specialized training for users with demanding analytical applications. In addition to his technical background, Smith also has a background in business development that allows him to better integrate and drive success of sales and supporting services. An international laboratory software vendor utilizes Smith as an integration specialist for their North American clients.