From Plants to Premium Cannabis Products
This profile is part of a paid investor education campaign.*
Overview
Valens GroWorks Corp (CSE:VGW) is a vertically-integrated provider of cannabis products well-positioned to become a leader in the emerging global-wide cannabis nutraceuticals market which includes cannabis oils, extracts and edibles. The company has assembled a portfolio of profit centers in Canada including cannabis grow operations and R&D facilities which have the potential to serve both medical and recreational markets in the forms of products and services.
Valens GroWorks' Plants to Premium Products (P2P) strategy includes:
the acquisition of late-stage applicants and fully-licensed cannabis companies that align with their superior cultivation standards;

management, consulting, testing and support services;

solvent-free extraction and derivatives services;

state-of-the-art research and development and consumer/industry education; and

best-in-class cultivation of premium organic cannabis products.
In May 2017, Valens GroWorks received its Dealer's Licenses through its wholly-owned subsidiaries Valens Agritech and Supra THC Services Inc. This was followed by a supply and sales agreement with Canopy Growth (TSX:WEED) in October 2017 for the distribution, marketing and sale of Valens GroWorks' branded products. In March 2018, the company also began processing and producing cannabis oil, running at a maximum capacity of 6,500 kilograms of input per month.
In anticipation of the eventual commoditization of cannabis production, Valens GroWorks is also focusing on supplying premium product to the high-margin nutraceutical industry, expected to become one of the strongest sectors in the medical cannabis industry, expecting to capture an early share of the emerging global cannabis market. The crucial factor in the successful commercialization of cannabis nutraceuticals products is data. Valens wants to set an example and support the government health agencies by going above and beyond the current regulations in terms of consistency and potency in cannabis products; and prescribing healthcare specialists need data to be convinced of the consistency, safety and efficacy of the medical cannabis products they are prescribing.
For these important reasons, Valens GroWorks is dedicated to best-in-class research and development focused on premium, solvent-free extraction and cannabis-based nutraceuticals and has multiple research collaborations with leading universities through both Valens Agritech and wholly-owned Supra THC Services, a Health Canada-licensed testing and R&D facility in Kelowna, BC.
Recent Health Canada data shows that sales of dried flower and cannabis oil by licensed producers (LP) is increasing month-over-month at an average rate of 10 percent. Analysts at Eight Capital estimate that by 2024, the medical marijuana market in Canada will reach $3 billion in annual sales.
Following pending legalization next month on June 7th, the Canadian retail cannabis market is projected to be between $4.9 billion and $8.7 billion annually, according to Deloitte's recent report, titled "Recreational Marijuana: Insights and Opportunities". The consulting firm is projecting a supply shortage as the total current capacity of existing licensed producers is far from matching the expected demand levels. Satisfying the recreational cannabis market alone is expected to require 600,000 kilograms of dried marijuana production annually.
Valens GroWorks' is led by an industry-experienced management team and advisory board. The company's Chief Executive Officer, Tyler Robson is also a Master Grower with expertise in plant genetics and cultivation techniques for the production of consistent medical-grade cannabis. Tyler's unique skill-set and operational knowledge have been key drivers for the expansion of the Company's growing Canadian and international commercial interests. Tyler's robust relationship network and exceptional commercial marijuana cultivation record enhances their ability to engage in strategic transactions, and to attract both LP's and selected late-stage LP applicants seeking support and partnership alternatives.
Investment Highlights
Seasoned growers with 75 years of combined medical marijuana experience and product knowledge

Developing production capacity for premium organic cannabis products in legal jurisdictions

Targeting both medical and recreational marijuana markets, wholesale and export

Assembling portfolio of fully-licensed cannabis companies for horizontal integration into "From Plants to Premium Products" strategy

Supply and sale agreement with Canopy Growth

CO2 oil extraction input capacity of 6,500 kilograms per month at Valens Agritech

First harvest showed higher THC content than industry average

Scalable operations for cost-controlled expansion

Recent financing of $12.38 million

Recent partnership on Valens Farms with Kosha Projects Inc. to build out 400,000 square foot cultivation facility

Multiple research collaborations and leadership initiatives
Valens Agritech: Cannabis Research and Cultivation
Valens Agritech anticipates participation in selective clinical trial programs researching the efficacy of medical cannabis.
Valens Agritech Ltd., a wholly-owned subsidiary of Valens GroWorks, is a state-of-the-art cannabis research, cultivation and extraction center located in Kelowna, BC. In January 2017, the company announced the completion of their final inspection by Health Canada. Valens Agritech received a Dealer's License for controlled drugs and substances in Canada in May 2017 allowing them to analyze, cultivate, process, sell, import and export cannabis and cannabis related materials.
The 17,000-square foot facility has Health Canada Schedule 7 security level application that allows for the vault-secured storage of up to $6.25M of product at a time. The Company intends on using unique medical strain genetics with optimum cannabinoid/terpene profiles to produce pure 100%, high quality cannabis oil and. The infrastructure and an impressive, experienced scientific and operational team is in place to allow for the premium production of cannabis products.
In October 2017, Valens Agritech entered into a supply and sale agreement with Canopy Growth, Canada's preeminent cannabis company, which has developed a strong network of partnerships in the cannabis space. Under the agreement, Canopy will distribute, market and sell the company's branded products by utilizing Valens extraction process across its extensive CraftGrow distribution network, including Tweedmainstreet.com once Valens Agritech receives all of its ACMPR licensing.
Having received its Dealers license, Valens Agritech began carbon-dioxide-extracted cannabis oil production in March 2018. The company started with an extraction processing rate of 400 kilograms per month and have since raised the processing rate to 6,500 kilograms per month, having added double-capacity, supercritical CO2 extraction machines.
In May 2018, Valens reported the success of its first cannabis harvest at its Valens Agritech facility. It exceeded expectations in terms of THC content, coming in above the industry average for the strain produced.
The Valens Agritech center's Head of Quality Assurance is Dawn Visintainer, a highly-accomplished scientist in the field of microbiology and biochemistry with years of experience with Health Canada and quality protocol as a lab manager. She will oversee the customized extraction processes at the Kelowna facility in the production of cannabis oils and edibles as well as other natural health products.
Valens Agritech also plans to offer contract R&D services including:
Third-party clinical trials management, custom formulation and production

Derivative formulations and extraction technology

Pharmacology absorption optimization
Supra THC: Accredited Analytical Services and Research Facility
Supra aims to provide scientific leadership and support in the production of the highest quality herbal medicinal products on the market.
Supra THC Services Inc., fully acquired by Valens GroWorks in March 2017, is a fully-licensed, leading-edge analytical services and research lab located in Kelowna, BC. Supra holds a Health Canada-issued Dealer's License allowing the company to conduct research, provide commercial chemical analysis as well as produce cannabis extracts and derivatives for the purpose of science.
Supra is working to become a leading service provider to the cannabis and natural health products industries. The company offers analytical services, consulting services and contract R&D, and its capabilities include clinical studies, molecular epidemiology and biomarker tracking. Supra's sector-leading analytical infrastructure has a ISO 17025 accreditation pending, an accreditation above and beyond the required regulations for Health Canada ensuring superior standards of its testing and calibration facility.
SUPRA is led by Dr. Rob O'Brien, an expert in the field of analytical chemistry who has established several advanced analytical laboratories. He founded Supra Research and Development, a spin-off company from the University of British Columbia's Okanagan campus. He also serves as the Chief Science Officer of Valens Groworks.
In September 2017, Supra announced a collaboration that Supra has partnered with 87-billion-dollar market cap, scientific instruments company,Thermo Fisher Scientific Inc for the development of a Centre of Excellence in Plant-based Medicine Analytics in Kelowna. Under the partnership, Supra will make use of Thermo Fisher's instrumentations to provide analytical services, R&D, forensic analysis and support for clinical trials.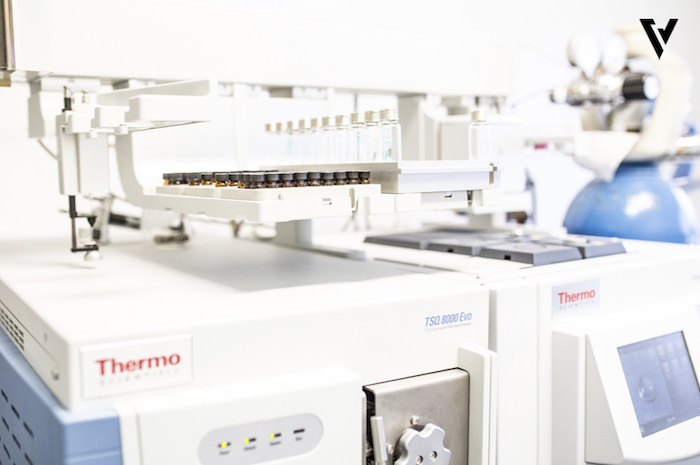 Valens Farms
In April 2018, Valens GroWorks launched a new subsidiary company, Valens Farms. Valens Farms will be focused on the commercial production of premium quality specialty-strain cannabis while making use of dedicated, sustainable monocropping technology.
As part of its launch, Valens Farms announced a joint venture partnership with Kosha Projects Inc. Together, the two companies will build a municipally-approved 400,000-square-foot commercial cannabis production facility in the city of Armstrong, BC. The property will house 851,200-square-feet of greenhouse and indoor facilities, and will be operated by Valens Farms. The joint venture partnership will see Kosha contribute an estimated $75 million in land and all facility development and construction costs and related expertise. Valens will provide design and outfitting inputs, budgetary guidance, consulting and advisory services during construction and development of the facility. Each entity is entitled to 50 percent of revenues earned and a 50 percent interest in all assets.
Management
Tyler Robson — CEO and Director
Tyler Robson, Chief Executive Officer, is the former Chief Operating Officer of the Company as well as Director of Operations at Valens Agritech Inc. He attended the University of Saskatchewan on a football scholarship, graduating with a Bachelor of Science degree to return to Kelowna to pursue research and development, plant innovation and life sciences, with an emphasis on medical cannabis and its applications in the treatment of seizures, chronic diseases, pain control, and neurological symptoms. As a Master Grower with over a decade of experience and well-earned respect in the sector, Robson has a heavy hand in the company's plant genetics, growing methods, and facility operations that ensures consistently produced medical marijuana of the highest quality.
John Cullen — Director
John Cullen is a Co-Founder, Director and CEO of JHI Associates Inc. a private oil and gas exploration company with significant acreage in the deepwater offshore Guyana, South America. He has over 30 years of experience in public company financing, corporate/capital structuring and management. Following 15 years in the Canadian investment brokerage industry, he founded a number of private and public companies in the international resource sector. He brings significant boardroom and executive experience to his role as a director of Valens.
David Gervais — Director of Valens Groworks and Co-Founder of Valens Agritech
Dave Gervais has been extensively involved in the medicinal cannabis sector for over 17 years, acquiring a wealth of cannabis related experience, knowledge, and expertise. Before founding Valens Agritech Ltd., Mr. Gervais was president of Northwest Supplements, a pharmaceutical wholesale company that specialized in international importing and exporting.
Dr. Rob O'Brien, PhD—Director and CSO of Valens Groworks
Dr. Rob O'Brien is an innovation solution provider with a strong experience base in analytical chemistry, laboratory and research team management, scientific education and corporate management. He has held leadership positions in both the private sector and academia. He is a recognized expert in analytical instrumentation design and has been working with quality control protocols for Natural Health Products for over a decade. He has taught or developed over 45 different university courses related to analytical chemistry and instrument analysis at the undergraduate and graduate level. He currently leads a comprehensive and diverse team of highly qualified experts.
Scott Young—Business Development and Investor Relations
Scott Young's focus at Valens is corporate finance initiatives. He has spent the past 15 years working in the capital market sectors of Canada, the United States and Europe. Beyond this, he has extensive business development experience in Hong Kong, North and South America. He has helped finance numerous start-up companies through his networks in various industries such as energy, mining, technology and biotechnology. His expertise in financing, marketing and communications help profile VGW to retail and institutional investors globally.
---
*Disclaimer: The profile provides information which was sourced and approved by Valens GroWorks Corp. in order to help investors learn more about the company. Valens GroWorks Corp. is a client of the Investing News Network (INN). The company's campaign fees pay for INN to create and update this profile page, to which links are placed on Investingnews.com and channel newsletters.
The company description, investment highlights and catalysts were sourced by INN and approved by the company. INN does not guarantee the accuracy or thoroughness of the information contained on this page.
INN does not provide investment advice and the information on Investingnews.com profile should not be considered a recommendation to buy or sell any security.
INN does not endorse or recommend the business, products, services or securities of any company profiled.
Readers should conduct their own research for all information publicly available concerning the company.