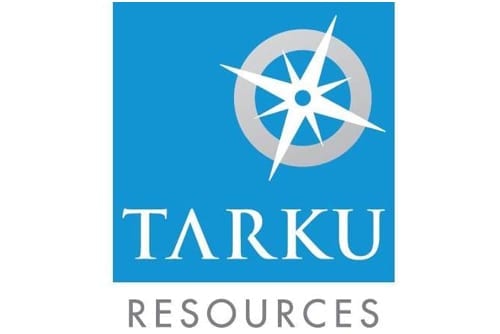 Tarku Resources
Exploration and Development of Precious and Base Metals in Quebec and the USA
Overview
Tarku Resources Ltd. (TSXV:TKU) is a precious, base and strategic metals exploration company focused on the discovery and development of high-quality projects in mineral-rich landscapes like Québec and Arizona. The company believes in operating with environmental responsibility, social accountability and through a number of community partnerships. The company recently closed a US$2.5 million financing with a significant lead order from Eric Sprott to advance the exploration of their Tombstone Project.
Tarku Resources recently signed an agreement on its latest project in the Tombstone District of Arizona, which is located in the productive Laramide Belt and fully accessible by road. The area contains many historic mines, including Lucky Cuss, Luck Sure and Old Prompter, which have a distinct lineage of silver and copper production. Tarku Resources has obtained a strategic position in this district and an earn-in interest of 75 percent over three years on 1,250 hectares of mineral claims.
The company also has six properties in Québec, the world's fourth-best mining jurisdiction. Its three Matagami gold-base metal properties — Admiral, Apollo and Atlas — form Tarku's "Three A's" project. Each property is accessible by public roads year-round. The properties lie in the Rivière Waswanipi (RWSZ) and Lac Olga (LOSZ) shear zones, believed by Tarku's experienced technical team to be an extension of the Sunday Lake Fault, an area known for its high-grade potential for gold and base-metal mineralization. Tarku is currently preparing a drilling campaign that focuses on high-priority targets on its Apollo project.
The company is led by an experienced management team with a proven track record of successful discovery. Tarku's team believes in the strategic exploration of areas with robust geologic potential and high social acceptability, reducing investment risk, increasing wealth-sharing with host communities, and benefitting from alliances with local groups. Tarku's chairman, Bernard Lapointe, founded Arianne Resources (now Arianne Phosphate (TSXV:DAN)) and contributed to the discovery and extensive development of the Lac à Paul phosphate project, one of the largest phosphate projects in the world. The project is expected to produce 3 million tonnes of phosphate concentrate each year.
Tarku Resources' Company Highlights
100% ownership on six properties in Québec, the fourth-best mining jurisdiction in the world.
Recently obtained a strategic position in the Tombstone District of Arizona.
Exploration underway at Matagami projects, Québec.
Experienced management and technical team with a strong shared history of discovery success.
Strong focus on environmental responsibility, social acceptability and community partnerships.
Tarku Resources' Key Projects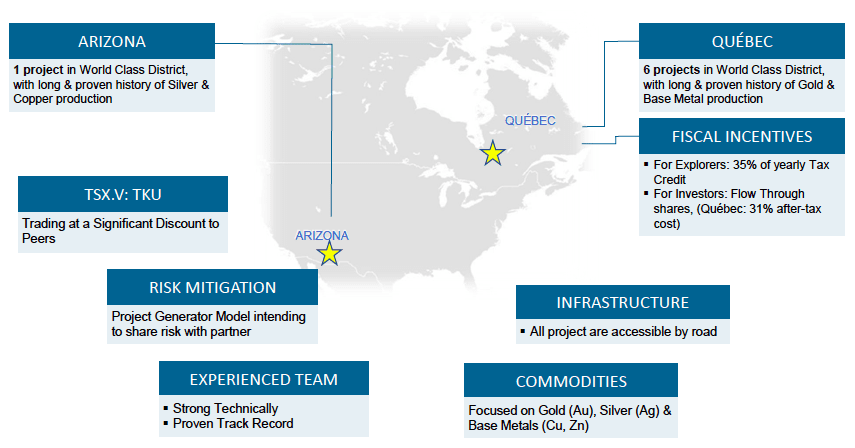 Tombstone Project in Arizona
In October 2020, Tarku signed the final agreement on its latest project, securing a strategic position in the historic silver district in Tombstone, Arizona. The Tombstone district is an area that is historically renowned for its silver and copper production within the prolific Laramide Belt.
The Tombstone district contains 167 historic mines and offers a potential of 5,000 acres. The project is fully accessible by road. The area sits over a regional north-east trending structure, in a high-grade silver district with strong potential for high-tonnage silver and gold-copper deposits. The majority of veins and mineralized structures within the district and neighboring districts exhibit the same structure. In neighboring districts, silver and rock mineralization occurs in igneous and sedimentary rocks. This suggests that this mineralization is widespread along this trending rift.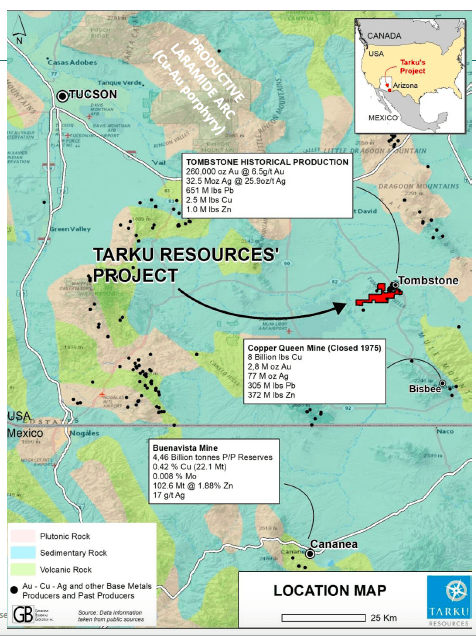 While exploration work has been conducted near historic mines, much of the property remains unexplored. Total production from 1877 to 1985 in the Tombstone District includes 32 million ounces of silver at 25.89 oz/t and 260,000 ounces of gold at 6.5 g/t. The area contains a large number of neighboring mines including the Lucky Cuss mine, Luck Sure mine and Old Prompter mine, local silver targets in Tarku's claimed area. The strategy for the project includes both to certify evidence of potential silver resources close to these past mines on their property and to determine that this potential also exists in the surrounding regional area controlled by Tarku.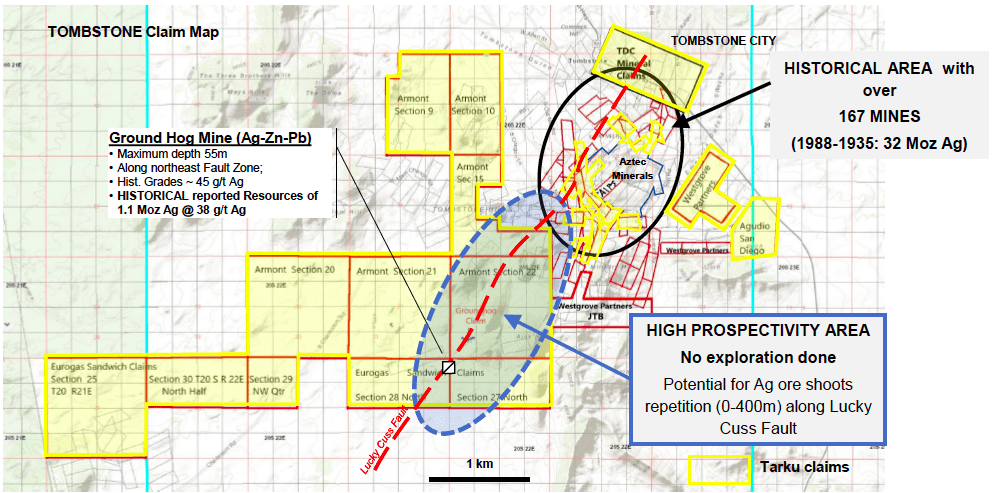 Tarku Resources recently closed US$2.5 million of financing through non-brokered private placement to advance exploration in the area. This included a lead investment by Eric Sprott through his beneficially owned company 2176423 Ontario. As a result of the investment through a private placement with the share units priced at $0.10 each, Sprott now beneficially owns and controls 10.55 million common shares and 5.275 million warrants of Tarku.
Québec Properties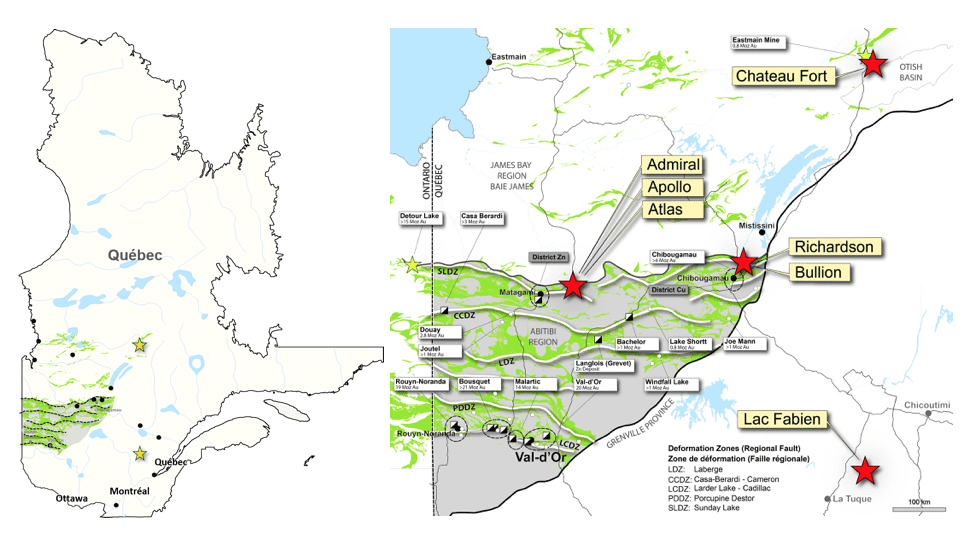 Matagami Projects
Tarku's properties include three gold-base metal projects along the Sunday Lake regional fault near Matagami, Québec. These properties — Admiral, Apollo and Atlas — form Tarku's "Three A's" exploration project. Each is accessible by road year-round via Route 1055. The Matagami area is a past-producing region for gold and zinc, offering Tarku a wealth of prior knowledge in exploration. The area demonstrates similar geological and structural features to the Detour Lake gold mine. Tarku's management believes that there is strong gold potential in the Matagami area, and are using state-of-the-art modeling and exploring techniques to facilitate the discovery of gold mineralization.
The Three A's:
Apollo
The 5,273 hectare Apollo gold project consists of 96 mining claims and is centered on the Rivière Waswanipi Shear Zone (RWSZ). This corridor contains the historic Rivière Waswanipi gold showing, which has returned grades of 2.36 g/t gold over 1 meter. Apollo is also adjacent to Tarku's 100 percent owned Atlas project.
The geological area that the Apollo project resides has a favorable context for gold. In 1987, Finnith Exploration recovered gold grains in over 60 percent of its till samples from the area. The following year Inco completed a till sampling program which yielded several gold values between 0.5 g/t gold and 4.94 g/t gold. Between 2004 and 2006, mapping programs conducted by previous operators identified geology in the area that was similar to the Sunday Lake deformation zone, which hosts the Detour Lake mine.
In 2017, Tarku started an exploration program on Apollo. The company collected 80 till and humus samples over 19 kilometers across the property. From the program, Tarku identified a 6 kilometer wide favorable zone along the regional RWSZ that may be the source of the gold grains sampled in 2017. Three targets within that 6 kilometer stretch — Apollo XI, Apollo XII and Apollo XV — were identified as priorities for upcoming work due to their correspondence with magnetic highs associated with mineral alteration along or near the gold-bearing RWSZ.
In 2019, Tarku completed a 271-line-kilometer geophysical high-resolution magnetic survey along the RWSZ as well as till sampling and a historical data compilation program. Through this, the company strengthened its understanding of the area's gold sources and identified new drill targets. This was followed by a further announcement in September 2020, when Tarku announced that it was beginning fieldwork to prepare for a drilling campaign on Admiral, Apollo and Atlas.
Admiral
The Admiral gold project covers 78 mining claims over 43 square kilometers. The property is wholly owned by Tarku and is located 25 kilometers east of Watagami at the converging point between the Rivière Waswanipi Shear Zone (RWSZ) and Lake Olga Shear Zone (LOSZ). There is a favorable context for mesothermal orogenic gold in the area, with contact between mafic volcanic and sedimentary rock. Admiral lies immediately west of the Lac Olga West showing, with samples containing 5.9 g/t gold in a quartz-carbonate-pyrite vein.
In early March 2019, Tarku completed a five-hole drill program on the Admiral property. The program's objective was to assess selected targets along a specific corridor identified by Tarku's previous geophysical surveys. The company also previously completed a 271-line-kilometer high-resolution airborne magnetic survey over the main target area. In June 2019, Tarku reported that the results showed the presence of numerous elements consistent with gold potential.
In September 2020, Tarku announced an increase of its position along the Sunday Lake fault and that they would begin fieldwork for a new drilling campaign on Admiral and the other two properties on the "Three A's" project. The company reaffirmed the strong gold mineralization similarities with the geological context found at the Detour Lake Mine and the Kirkland Lake Mining Camp.
Atlas
The third of the "Three A's" properties, Atlas covers 89 claims over 4,870 hectares. The property lies south of the Apollo project. The gold-zinc-silver-copper project features characteristics similar to those of the Bousquet formation in the southern Abitibi region, which is the location of the LaRonde gold-zinc-copper-silver mine. The property also displays volcanogenic massive sulfide-style (VMS) mineralization.
In 2017, Tarku initiated an exploration program on the Atlas property. The company collected 80 till and humus samples across the property. Results from the program identified an area with elevated gold grain counts in the south-central portion of the property. This was followed by the September 2020 announcement that Tarku was preparing for its drilling campaign on Atlas and its two associated projects.
Chibougamau Projects
Tarku's portfolio includes two gold and base-metal projects closely located to Chibougamau, Québec. Both current properties, Richardson and Bullion, have year-round road access due to the nearby Route du Nord highway. The projects lie in the northern limit of the prolific Abitibi region, around traditional zinc and copper-gold mining districts. The geological context of the region has been interpreted as similar to the Detour Lake gold mine. Despite this, the area has been comparatively underexplored, with little work aside from drilling between 1978-1980 and stratigraphic drilling in 1984.
Both of Tarku's properties lie along the regional Barlow fault. The Barlow fault has never been drill-tested, and Tarku believes that this area is a favorable setting for both gold and base-metal-rich VMS mineral deposits.
Richardson
The Richardson property comprises 42 minings claims over 2319 of land, located 20 kilometers north-north-east of Chibougamau. The property was acquired in 2017 by Tarku upon the acquisition of Eureka Exploration, which became a Tarku subsidiary company.
Apart from some limited drilling between 1978 and 1980, this area has historically seen very little work. In 2016, prospecting and sampling work was undertaken in the area. This work led to the discovery of mineralized felsic volcaniclastic rock which contained disseminated sulfides, with a drawn sample showing 1.7 g/t gold.
Bullion
The Bullion property is adjacent to the Richardson project and 25 kilometers north-north-east of Chibougamau. The property has 8 mining claims. Like Richardson, Bullion was acquired in 2017 by Tarku upon Eureka becoming a subsidiary company. Bullion is located on the Barlow fault and the area has seen limited drilling apart from stratigraphic drilling in 1984.
Examining the data from this historic drilling revealed quantities up to 2 g/t gold over 2 meters. These gold deposits are associated with disseminated sulfides. In combination with the nearby Richardson project and work done in 2016, this data increases the favorable potential for gold in this area.
Tarku Resources Management Team
Bernard Lapointe, P.Geo., Ph.D. – Chairman of the Board
Barnard Lapointe has extensive business experience, having spent more than 35 years in the resource sector in exploration and project development. He founded Arianne Resources in 1997 and headed the company until 2013 when it became Arianne Phosphate. Lapointe contributed to the discovery and development of the Lac à Paul project located in Quebec, one of the largest phosphate projects in the world.
Lapointe is now a semi-retired geologist, consultant and private investor. He sits on several technical and strategic committees of public and private exploration companies and is a lecturer of exploration funding at the Université du Québec à Chicoutimi. He holds a B.A. in Geology (Montreal) from a Master's degree in Structural Geology (Chicoutimi) and a Ph.D. in mineral resources from the Université du Québec (Chicoutimi).
Julien Davy, Geo., M.Sc., MBA — President and CEO
Julien Davy began his career as an exploration geologist in 1996. Since then, he has assessed numerous exploration and advanced projects in Canada and abroad and has been involved in the acquisition and mining investment aspects. He has a Master's from Université du Québec à Montréal and an MBA from HEC in Montréal. He has held the position of President at Stria Lithium, Senior Exploration Geologist at Osisko Mining Canada and an investment advisor for SIDEX s.e.c. of Montréal.
Davy also worked for NioGold Mining in Val-d'Or, Hecla Mining in Venezuela, Cambior Exploration Canada, Anglo-American Exploration and the Ministry of Natural Resources of Québec. In 2015, he co-founded Eureka Exploration, a private exploration company that was sold to Tarku Resources in June 2017. He is a former Director of the AEMQ (Québec's exploration association) and member of the OGQ and Qualified Person (QP).
Kyle Appleby, CPA, CA — CFO
Kyle Appleby spent the first ten years of his career working in public accounting where he worked in both audit and advisory practices working with private companies and investment funds. In 2007 Kyle left the world of public accounting to focus on providing management and accounting services to public companies across a variety of industries including junior mining, food production, agriculture, cannabis, technology, crypto-currency and others.
Appleby has been the Chief Financial Officer for numerous companies, listed in Canada, the US and London and has extensive experience in financial reporting, IPOs, fundraising, and corporate governance. He holds a Chartered Professional Accountant designation and is a member in good standing of the Chartered Professional Accountants of Ontario and Canada. Appleby is also a director of two other public companies.
Jeff Sheppard, CPA, CA — Director
Jeff Sheppard is the CFO of the company. He is a graduate of the University of Saskatchewan (BComm) and is a Chartered Professional Accountant (CPA, CA). Sheppard is currently the CFO of Westcore Energy, Greywacke Exploration and Controller at 49 North Resources Inc. All are Canadian resource investment companies headquartered in Saskatchewan.
David Watkinson, P.Eng. — Independent Director
Mr. Watkinson brings over 35 years of professional engineering experience in underground and open pit mine development, including mine permitting, engineering, feasibility, construction, and operations to Tarku. In addition, Mr. Watkinson has extensive experience in project management, having taken projects from grass roots start-up to successful operating status. Mr. Watkinson has been responsible for management of large capital projects and operations in Canada , the United States and the Philippines . He has progressively held senior positions with Placer Dome Inc., Kinross Gold Corporation, Thyssen Mining Construction and Vulcan Materials Company. Mr. Watkinson holds a B.Sc. in Applied Science, Mining Engineering, from Queen's University in Kingston, Ontario (1985) and is a Registered Professional Engineer in the Province of Ontario. He is President and CEO of Emgold Mining Corporation.
---
*Disclaimer: This profile is sponsored by Tarku Resources (TSXV:TKU). This profile provides information which was sourced by the Investing News Network (INN) and approved by Tarku Resources in order to help investors learn more about the company. Tarku Resources is a client of INN. The company's campaign fees pay for INN to create and update this profile.
INN does not provide investment advice and the information on this profile should not be considered a recommendation to buy or sell any security. INN does not endorse or recommend the business, products, services or securities of any company profiled.
The information contained here is for information purposes only and is not to be construed as an offer or solicitation for the sale or purchase of securities. Readers should conduct their own research for all information publicly available concerning the company. Prior to making any investment decision, it is recommended that readers consult directly with Tarku Resources and seek advice from a qualified investment advisor.