This profile is part of an investor education campaign. The profile provides detailed information which was sourced and approved by Rokmaster Resources in order to help investors make better investment decisions. The Company's support of Investing News Network ensures we can continue to bring you unbiased, independent news and information.
Resource Investing News Featured Stock

Rokmaster Resources—High Grade Zinc-Lead-Silver Discovery Zones in the Kootenay Arc
Overview
Rokmaster Resources (TSXV:RKR) is a Vancouver-based mineral exploration company focused on acquiring and developing early-stage precious metals and base metals projects. Its current focus is the Duncan Lake Zinc Project in the Kootenay Arc of southeastern British Columbia.
Historical data shows the property is highly prospective for zinc, silver, copper and lead. The reputable and expert work of the discovery's finder, Cominco, a major mining company, yielded exceptional drill results. Cominco stopped all south east BC zinc exploration on 6 properties due to a poor metal market and impending takeover by Teck Resources Ltd., today Canada's largest diversified mining company. Teck's mineral tenures of interest over the Duncan Lake Project discovery area expired in 2015.
With multiple high grade intersections found by Cominco in 12 holes drilled from 1989 – 1997, Rokmaster is following Cominco's expert recommendations which included 17,150 meters of additional drilling. This is in addition to the 8,334 meters they already conducted, worth over $1.7M today. The project is fully-permitted for drilling and the company has planned multi-stage programs aimed at proving up a NI-43 101 resource.
Rokmaster Resources is managed by a team of mine finders experienced in fast-tracking projects from discoveries through to commercial production. President and CEO John Mirko played an instrumental role in permitting, constructing and operating the MAX Mine in Trout Lake, BC, for which he was a recipient of the "E. A. Scholtz Medal for Excellence in Mine Development" from the Association for Mineral Exploration of British Columbia in 2008, and the Mining Association of British Columbia's "Mining and Sustainability Award" in 2009.
The zinc market's robust fundamentals sent prices soaring in 2016 and analysts are forecasting a continuing healthy outlook for 2017 and beyond. Andrew Mackenzie, Senior Analyst at Wood Mackenzie, has called for an average zinc price of $3,200 per tonne in 2017, and sees the metal reaching $4,000 in 2018, or $1.80/lb in 2018.
Investment Highlights
Wholly-owned early stage project in British Columbia's resource rich Kootenay Arc near past and current producers.
High-grade zinc-lead project with potential for high tonnage, as well as silver and copper mineralization.
Located in Slocan mining district with key infrastructure in place including Trail Smelter.
Review of historical Cominco data completed; 2017 drill program planned.
Zinc is preferred commodity of Royal Bank of Canada which forecasts an average zinc price of: $1.25/lb in 2017, $1.35/lb in 2018 – 2019, and $1.50/lb in 2020.
Award-winning management and technical team, knowledgeable of the region and well-seasoned in discoveries and mine development.
Key Project: Duncan Lake Lead-Silver-Zinc Project
The Duncan Lake Project is located at the north end of the Kootenay Arc. The area is responsible for more than 50 million tons of zinc-lead-silver ores mined from ten past-producing deposits including Grandview-Metaline, Reeves MacDonald, Jersey-Emerald, HB and Bluebell Mines, and Teck Resources currently producing Pend Orielle mine. Mineral exploration in the Duncan Lake region dates back to 1890.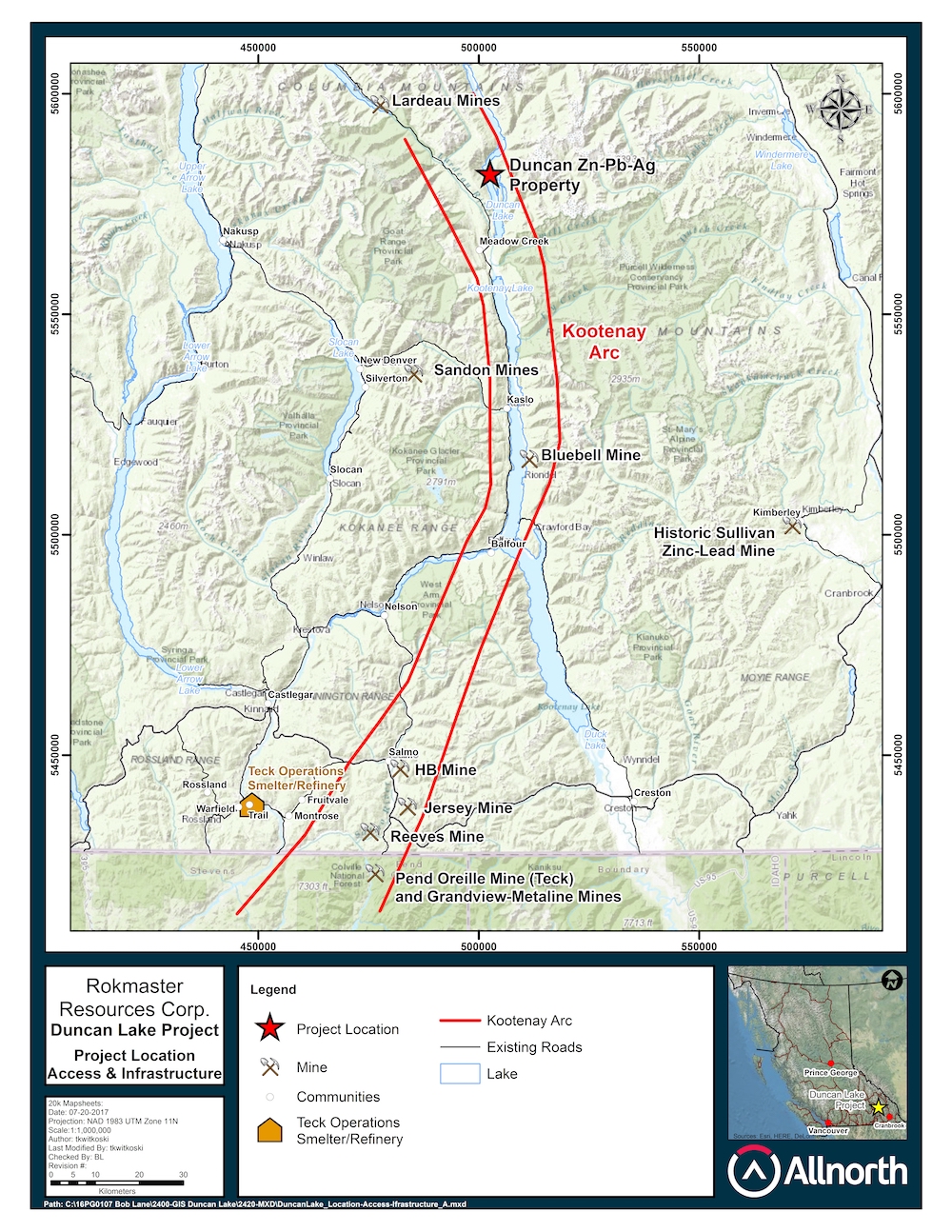 Excellent regional infrastructure is in place, including:
Trail Smelter (150 kilometers by road)
Hydro 3 phase power line (15 kilometers)
Paved Highway (22 kilometers)
Railway (100 kilometers)
Airport (115 kilometers)
Rokmaster's Duncan Lake property encompasses over 5,000 hectares of mineral claims, hosting mineralized zones with grades typically above 10% zinc and lead. Teck's 275 hectare claim group (Cominco's historic Duncan Mine prospect) 2.5 km to the south was never in production, but does have a historically non NI 43-101 compliant underground zinc-lead resource of 3.9 million tonnes at 3.3% zinc and 3.1% lead. Between 1957 to 1961, drilling, undergrounded development and metallurgical studies were conducted on Teck's claims.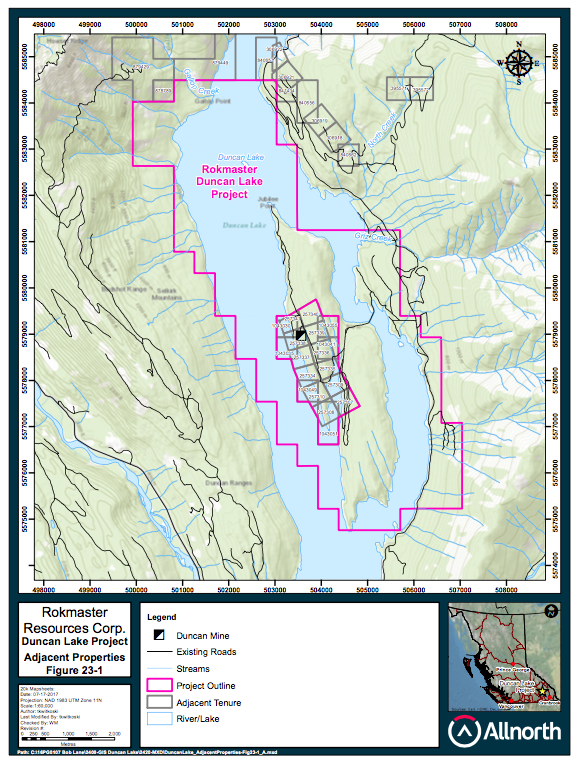 Just 2.5 kilometers north of the Duncan Mine prospect, Cominco conducted four phases of exploration diamond drilling totaling 12 holes between 1989 and 1997. The drill work encountered significantly higher grade zinc-lead mineralization than what was seen in the Duncan mine area. Rokmaster is using the expert work of Cominco to plan drilling of the exploration target.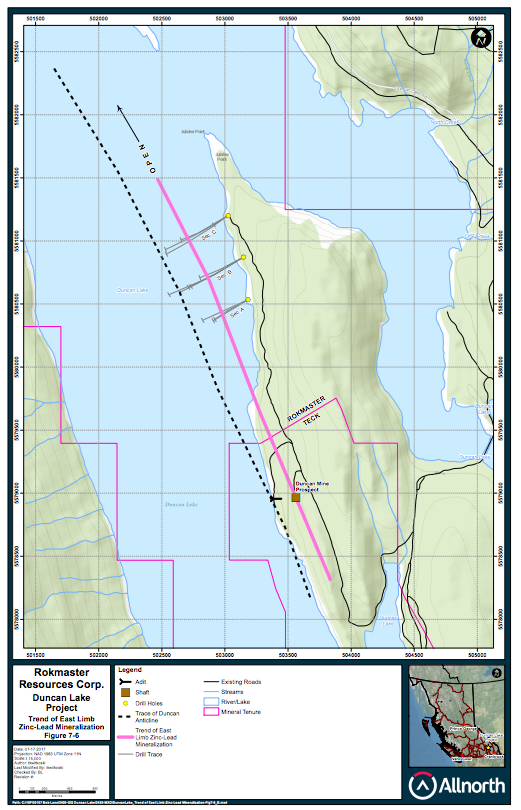 In mid-2017, Rokmaster acquired three additional claim blocks—two of which are located 7 kilometers on strike to the south of Duncan Lake and one claim block that adjoins the project. Following a review of the historical data on the claims, Rokmaster's technical team has noted several zinc-lead occurrences similar in nature to those found on the Duncan Lake claims. Occurrences of copper-bearing rocks were also discovered by previous operators 6 kilometers southeast of the central portion of the project, including copper-bearing float assaying up to 5.9% copper, 12.3 grams silver and 107 ppm zinc.
2017 Drill Plans
Rokmaster is planning a two-phase drill program for 2017 that will extend targeted historic holes to intersect areas of thicker mineralization and will also include new drill holes testing strike to the north and south of the historic drill zone with the ultimate goal of defining a NI 43-101 compliant resource. Exploration work around the copper area will search for the source of the high-grade float and additional evidence of copper-zinc deposits.
The Duncan Lake Project has only ever been second stage drill tested, demonstrating a major find with outstanding potential. Rokmaster's team now has the ability to realize this opportunity. Moderate drilling is needed to outline a possible resource between 7-10MMT. Using Cominco's exploration target of 16M metric tons at +10% zinc, an in-ground gross value at today's zinc price of $5 billion might be quite achievable.
Management
Michael (Mike) Cowin—Chairman of the Board
Michael Cowin has 20 years of investment experience. Since 2007, he has been a director of Northcape Capital ("Northcape"), a boutique investment fund based in Australia which manages over A$8.0 billion. Over that period he has been the portfolio manager/analyst for the Emerging Companies Fund. Prior to Northcape, Cowin was a senior portfolio manager at AMP from 2004-2007. From 2003-2004, he managed the Small Companies Fund at UBS and was an industrial analyst with sector responsibility for the basic industries, healthcare, media and diversified industries. While at UBS from 1999-2003, he also held the position of Head of Research and Deputy Portfolio Manager for the UBS Australian Share Fund. Between 1996-1999, he was a research analyst with BZW Equities. Cowin holds a Masters of Business Administration from the Australian Graduate School of Management and a Bachelor of Chemical Engineering (Honors) from the University of NSW.
John Mirko—President, CEO and Director
John Mirko has 40 years' experience in the mining industry and is currently the President of Canam Mining Corporation and a Director of Acme Resources Inc. From 1986 to 2010, Mirko was the founder, President, CEO and Director of 4 public mining companies and a founder and Director of 3 others. He has been self-employed since 1977 as a contractor and consultant involved in the exploration, development and construction of numerous mining projects in 11 countries, and the commercial production of mineral concentrates and products from five of those projects. In 2008 he was a recipient of the "E. A. Scholtz Medal for Excellence in Mine Development" from the Association for Mineral Exploration of British Columbia and in 2009, the Mining Association of British Columbia's "Mining and Sustainability Award" for the MAX Mine. He is a member in good standing of the Society of Economic Geologists, Inc., the Canadian Institute of Mining, Metallurgy and Petroleum, and the Prospectors and Developers Association of Canada.
Larry Okada C.A., CPA (Wash.)—Director
Larry Okada has been involved with a number of public mining companies for 37 years. He is a Chartered Accountant and has been in public practice since 1974 with extensive public finance and accounting experience with Deloitte and Touche, Staley Okada and Partners and PricewaterhouseCoopers LLP. He is a director of Forum Uranium Corp., Eurasian Minerals Inc. and Santacruz Silver Mining Ltd. He was a Director of Revett Minerals Corp. from 2009-2015 and CFO of Africo Resources Ltd. from 2010- 2016.
Feisal Somji, BSc, MBA—Director
Feisal Somji has 23 years of experience in mineral exploration and development ranging from grassroots exploration to mine development and production. Most recently Somji was the founder, President and CEO of Rio Alto Mining Ltd. (now Tahoe Resources Inc.), with it's La Arena gold/copper mine in Peru, having achieved commercial production in 2011. He provides expertise in areas of corporate finance and governance where he has raised over $125 million and helped several projects go public on the TSXV Exchange. Somji has a B.Sc. from the University of British Columbia and an MBA from Queens University.
Antonio M. ("Mel") de Quadros Ph.D, P. Eng—Director
Dr. Mel de Quadros is a consulting geologist who has been involved for the past 40 years in mineral exploration and development. He has held several positions as an Officer, Director, and Vice President of Exploration of public mining companies. He is a member of CIM as well as a Professional Engineer in Ontario and British Columbia. He graduated from University of London, England with BSc. in geology and chemistry and completed his Ph.D. degree from the University of Nairobi, Kenya. He holds a MSc. in geology from the UCLA.
Dennis Cojuco—CA, CFO, and Corporate Secretary
Dennis Cojuco is a graduate of the University of British Columbia (BSc. Chemistry and Diploma in Accounting) and is a Chartered Accountant in British Columbia. Cojuco articled with PricewaterhouseCoopers LLP from 2006 to 2009 and with Staley, Okada and Partners from 2004 until the two firms combined in 2006. Cojuco worked primarily in the mining practice of both firms where he assisted clients in the areas of public financings, mergers and acquisitions, public company reporting and various other areas. Since the fall of 2009, he has been working in senior accounting capacities with junior mining companies, both in the production and exploration stage.
Ted Muraro, P. Eng—Special Geological Advisor and Consultant.
Ted Muraro has dedicated over 40 years to the mineral exploration industry, with over 30 years at Cominco Ltd. as Chief Geologist and internal Consulting Geologist to the Exploration Division. Muraro holds a B.Ap.Sc. in Geological Engineering from the University of British Columbia, a M.Sc. in Geological Engineering from Queens University, and has completed post graduate studies at Stanford University. He serves as a Director of Imperial Metals Corp. While with Cominco, Muraro carried out a number of geological exploration programs in the area of the Duncan Lake Project culminating in the authoring of his M.Sc. thesis entitled; Stratigraphy, structure and mineralization at the Duncan Mine, Lardeau District, British Columbia.
Harvey Tremblay—Special Advisor
Harvey Tremblay is the founder and President of Hy-Tech Drilling Ltd. based in Smithers, BC. In 1991 Tremblay founded Hy-Tech Drilling and built it up from a single drill operation to a fleet of 35 drills operating throughout Canada and Europe. Hy-Tech Drilling current clients include the Lundin Group, Goldcorp, Seabridge, Xstrata, Rubicon, Pretium and Dennison. Working closely with his engineering team, he helped design the unique patented diamond drill that is exclusive to Hy-Tech. Prior to starting Hy-Tech Drilling, Tremblay worked in many areas of the mineral exploration and mining industry. Tremblay is active in the community as a sponsor, volunteer and mentor. He is a strong believer in developing and fostering a culture of safety and environmental awareness. He received the "David Barr Award" (2010) for leadership and innovation in mineral exploration, health and safety from the Association for Mineral Exploration B.C.