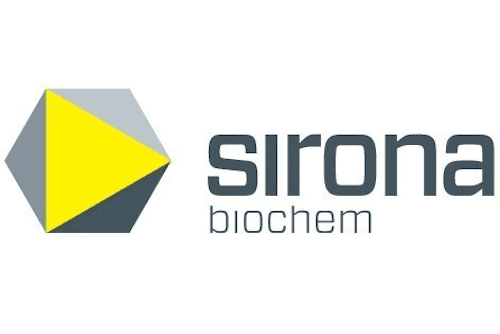 Sirona Biochem Inc.
Advanced Chemistry Platform for Commercial Opportunities in Cosmetics and Pharmaceuticals
Overview
Sirona Biochem Inc. (TSXV:SBM) is a biotechnology company with an innovative platform for developing safer, more effective cosmetic and pharmaceutical active ingredients. The technology is based on proprietary fluorination chemistry developed by the company's wholly-owned French subsidiary, research and development (R&D) laboratory TFChem. Sirona Biochem's business model centers on leveraging its technology platform and chemistry expertise to build strategic R&D partnerships with leading global companies through contract services, licensing and royalty agreements as well as joint ventures.
TFChem has developed a fluorination chemistry that can improve the safety and efficacy of carbohydrate-based molecules. Carbohydrate-based molecules are valuable in that they have broad application potential for the development of pharmaceuticals and cosmeceuticals. Examples of commercially available carbohydrate-based drugs include viral neuraminidase inhibitor Tamiflu, and Johnson & Johnson's (NYSE:JNJ) SGLT2 inhibitor Invokana™. However, carbohydrate-based molecules are extremely challenging to develop due to their inherent instability. Sirona Biochem's proprietary chemistry technique overcomes that challenge by stabilizing carbohydrates, allowing the company to explore commercial opportunities for these valuable molecules.
Sirona Biochem's product pipeline includes an SGLT2 inhibitor for the treatment of type 2 diabetes as well as cosmeceuticals such as compound libraries for safe and effective skin lighteners and anti-aging compounds. The company has completed two successful licensing agreements. The first, for its SGLT2 inhibitor to Wanbang/Fosun Pharmaceutical in China, which is now in advanced Phase I clinical trials. The second was a non-exclusive license to Rodan + Fields, the leading skin care brand in the United States, for Sirona's skin lightening compound TFC-1067. The compound has proven safe and effective in clinical trials.
Sirona Biochem is led by a highly experienced team of finance and biotechnology professionals. The company's Chief Scientific Officer Dr. Géraldine Deliencourt-Godefroy is an award-winning synthetic chemist and the founder of the French biotechnology company TFChem. Her scientific research in carbohydrate chemistry has led to the discovery of new drug families and the development of drug candidates for diabetes and obesity, cosmetic ingredients and biological adjuvants. She is the recipient of the acclaimed Francinov Research and Innovation Medal, the French Ministry of Research Award and the French Senate Award.
Sirona Biochem's Company Highlights
Proven technology platform based on a proprietary fluorination chemistry leading to a pipeline of products across a broad range of applications, including therapeutics, cosmeceuticals and biological ingredients.
Diabetes drug TFC-039 has been licensed to Wanbang/Fosun Pharmaceutical and is currently in advanced Phase 1 clinical studies. Fosun Pharma is one of the largest healthcare companies in China.
China represents the world's largest population of diabetic patients.
Skin lightener product TFC-1067 has had positive results from efficacy and safety trials in the United States and was shown to be better than 2 percent hydroquinone for treating skin discoloration.
Sirona Biochem has licensed its skin lightener product TFC-1067 to Rodan + Fields under a non-exclusive agreement and is seeking further partnering opportunities for the product.
Several potential multinational licensing deals are expected in 2020.
Has an experienced management team of capital market and biotechnology professionals.
Sirona Biochem's Technology Platform
Sirona Biochem's technology platform is based on a fluorination chemistry that stabilizes carbohydrate-based molecules to improve their cosmeceutical and pharmaceutical qualities. Carbohydrate molecules play a central role in cell to cell communication and have the ability to interact with proteins, hormones, viruses, toxins and bacteria. In this way, carbohydrates perform a variety of essential biological functions in the human body, making them valuable components for the development of therapeutics and cosmeceuticals.
While they have broad application potential, carbohydrates are extremely challenging to develop due to their inherent instability. Using chemistry techniques originally developed by TFChem, Sirona has overcome the challenge of stabilizing carbohydrates to develop safer, more effective cosmetic and pharmaceutical active ingredients. This proprietary chemistry method involves strengthening the bond of a carbohydrate molecule by strategically placing fluorine atoms with the molecule. The result is enhanced stability and bioavailability of carbohydrate-based molecules.
Sirona Biochem's fluorination platform has multiple applications, including improving the properties of drugs in development or discontinued drugs that may have been shelved for stability reasons as well as for the development of new products for cosmetics and biological manufacturing.
Sirona Biochem's Product Pipeline and Partnerships
Sirona Biochem is exploring multiple commercial opportunities and partnerships for its fluorination technology platform and currently has three high-value programs in development. Each program was chosen for its high market potential and attractive development timeline.
Therapeutics – Diabetes, anti-inflammatories and anti-infectives
Cosmeceuticals – Anti-aging and depigmenting agents (skin lighteners)
Biological Ingredients – Inducers and adjuvants for biological development and preservation
The three most advanced products on this platform include diabetes therapeutics, cosmetic skin lighteners and anti-aging cream.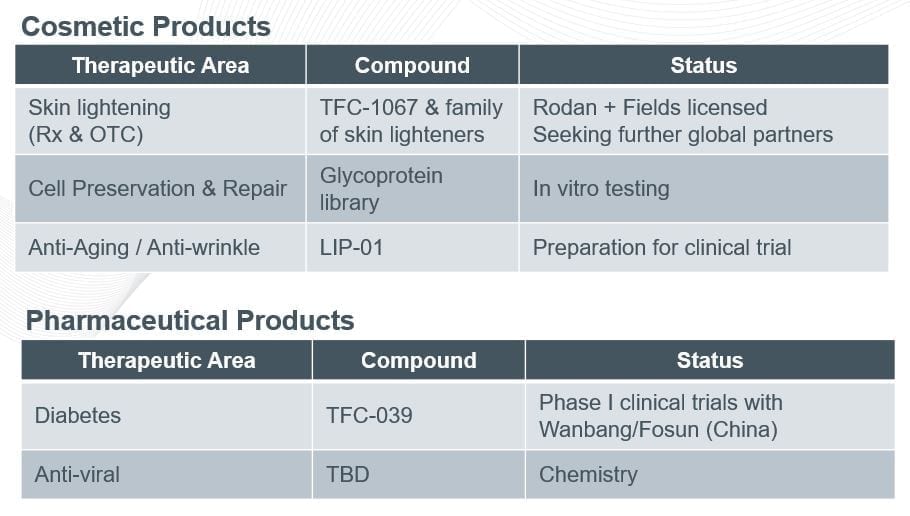 Therapeutics: Diabetes Drug TFC-039
Sirona Biochem's diabetes drug TFC-039 is a sodium-glucose co-transporter SGLT2 Inhibitor compound developed using the company's proprietary fluorination technology. SGLT2 Inhibitors act in the kidneys to reduce the reabsorption of glucose into the bloodstream. TFC-039 has achieved positive results in head-to-head preclinical studies, performing better than Johnson & Johnson's canagliflozin (Invokana™), which was given US FDA market approval in March 2013 and in European market approval in November 2013.
Globally, diabetes caused 4.2 million deaths in 2019 and at least US$760 billion in health expenditures. The number of adults living with diabetes in 2019 totaled approximately 463 million, and that figure is projected to rise to 700 million by 2045.
In 2014, Sirona licensed SGLT2 Inhibitor TFC-039 to Wanbang Biopharmaceuticals for development and commercialization exclusively in the People's Republic of China, the largest population of diabetes patients in the world. In exchange for this license, Wanbang Biopharma has provided an upfront payment and will give milestone payments of up to US$9.5 million in addition to royalty payments for product sales. Wanbang is currently in Phase I clinical studies with SGLT2 Inhibitor TFC-039.
Cosmeceuticals: Skin Lighteners and Anti-Aging Cream
TFC-1067 skin lightening compound
Sirona Biochem has a library of skin lightening compounds and is in partnership discussions for compound TFC-1067. The French government awarded a C$1.9 million innovation grant to the company's subsidiary TFChem in 2011 to develop its cosmetic skin lightener program to the commercial-ready stage. The product has indications for treating various skin conditions including hyperpigmentation, melasma, vitiligo and rosacea. The most common skin lightening agent today is hydroquinone, however, this compound has been linked to cancer and has been banned in Europe since 2001.
Sirona Biochem is working to meet the demand for a safer and more effective skin lightening cream. In 2019, the company conducted safety and efficacy trials for the depigmenting agents in its TFC-1067 product. In April of 2019, the company announced that during a US-based clinical trial the product was shown to perform better than the gold standard 2 percent hydroquinone in improving irregular or patchy discoloration to create an even skin tone. In January of 2020, Sirona Biochem announced the product demonstrated 100 percent safety in a final toxicology test for the increased dose (0.4 percent) of TFC-1067. Clinical trials of the product are expected to begin later in 2020.
The global market for skin lightening products is witnessing increasing demand with the largest growth in Asia, while North America and Europe are also epicenters of demand growth.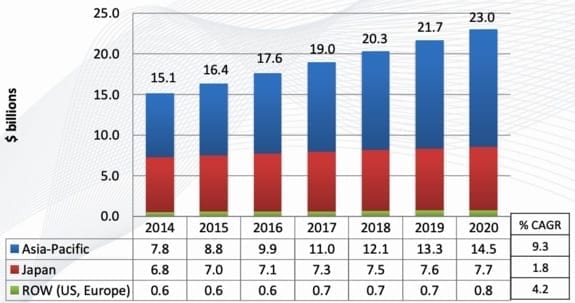 In September 2019, Sirona signed a definitive non-exclusive agreement with Rodan + Fields for the licensing and commercial sales of novel ingredient TFC-1067 to brighten and even skin tone. Under the terms of the agreement, Sirona will receive upfront and milestone payments as well as ongoing revenue in return for the manufacturing and supply of TFC-1067.
Anti-aging cream
Sirona Biochem is also developing an anti-aging compound library based on the naturally occurring antifreeze glycoproteins found in Antarctic fish and the company's proprietary chemistry technology. Sirona's studies have shown that these glycoproteins can protect against environmental stressors such as UV light, oxidation and nutrient deprivation. The company is working to prove its anti-aging products can potentially protect people's skin cells against many of the stresses associated with natural aging and environmental effects. The global market for anti-aging products reached US$20.25 billion in 2018 and is projected to experience a CAGR of 5.7 percent from 2019 to 2025.
Sirona Biochem's Management Team
Dr. Howard J. Verrico, MD — CEO and Chairman of the Board
Dr. Howard Verrico obtained his medical degree from the University of Toronto in 1985 and has been a member of the College of Physicians and Surgeons of British Columbia since July 1986. Dr. Verrico is currently a practicing emergency room physician. In addition, Dr. Verrico has extensive experience as a venture capitalist in the junior capital markets.
Géraldine Deliencourt-Godefroy, PhD — Chief Scientific Officer
Dr. Géraldine Deliencourt-Godefroy is an award-winning synthetic chemist and the founder of French-based biotechnology company TFChem. Since the acquisition of TFChem by Sirona Biochem in March 2011, Dr. Deliencourt-Godefroy has assumed the role of Chief Scientific Officer. Her scientific research in carbohydrate chemistry has led to the discovery of new drug families and the development of drug candidates for diabetes and obesity, cosmetic ingredients and biological adjuvants. Previous to founding TFChem, Dr. Deliencourt-Godefroy was a scientific leader at INSA (National Institute of Applied Sciences) in Rouen, France, where she developed a new technology on stabilized carbohydrates. Previous roles also include a post-doctoral position at the University College London and doctoral research at the Research Institute of Fine Organic Chemistry in Rouen, France. Dr. Deliencourt-Godefroy received a PhD and Masters in Organic Chemistry as well as her business degree from the University of France. She is the author of several publications and patents and is also the recipient of the acclaimed Francinov Research and Innovation Medal, French Ministry of Research Award and the French Senate Award.
Christopher Hopton, CGA — Chief Financial Officer
Christopher Hopton brings 25 years of expertise in financial management and operations. His extensive experience covers areas of financial planning, accounting policy and business process improvement. As a business investment and finance consultant, Hopton has worked with several public and privately-held companies. Most recently, Hopton was the Chief Financial Officer of Central Resources Corp., a junior mineral exploration company. Formerly, he held the position of Division Controller at Canadian Airlines where he was responsible for an annual operating budget of $200M. Hopton was also involved in the restructuring of 360 Networks, a network communications company, which led to a buyout by Bell Canada. Hopton earned his Bachelor of Business Administration from Simon Fraser University in British Columbia, Canada and received his professional designation as a Certified General Accountant.
Michelle Seltenrich, MBA — Vice President, Operations
Michelle Seltenrich brings 19 years of expertise in public biotech companies. Her experience ranges from both academic and industry R&D lab management to corporate mergers and acquisitions. Seltenrich was previously the Manager of Business Development at Forbes MediTech and was responsible for international business development, in-licensing and M&A. She played a key role in the successful acquisition of a U.S. based biotech company. Seltenrich holds a BSc from the University of British Columbia and an MBA in Technology Management from Simon Fraser University.
Dr. Alex Sandro Marazzi, MD — Director
Dr. Alex Marazzi is a family physician with certification in both Family and Emergency Medicine. He has been in family practice in Mission, British Columbia since 1997. He is also a part owner of a well established walk-in-clinic. Most recently he served as the Chief of the Emergency Department at Mission Memorial Hospital. Prior to practicing medicine in British Columbia, Dr. Marazzi was an Emergency Room physician for 7 years in Midland, Ontario. Dr. Marazzi earned his Bachelor of Pharmaceutical Sciences at UBC in 1985. While studying medicine he worked as a Hospital Pharmacist at Langley Memorial Hospital. He earned his Doctor of Medicine at UBC in 1989 and pursued an internship at Toronto East General Hospital.
Jason Tian — Director
Jason Tian has been providing legal services to international clients since 2007 and has worked in top firms in China such as Beijing Zhonglun, Beijing Zhongyin, Beijing Dacheng and is now a Senior Partner of Shanghai Landing Law Offices. He also worked as senior legal translator in UK-based firm, Clifford Chance LLP, before starting his legal career. Shanghai Landing Law Offices is a full-service law firm with headquarters in Shanghai, China. Lawyers at Landing provide full-service to clients in industries such as healthcare and pharmaceuticals as well as consumer retail in China. Landing has several domestic branches and overseas branches in the United States, India, Singapore, Indonesia, Bangladesh, Philippines and Cambodia.
Dr. Denis Richard, PH.D. — Scientific Advisory Board Member
Dr. Denis Richard earned his Ph.D. in Physiology at Laval University and received further postdoctoral training in nutrition and physiology at the Dunn Nutrition Unit at the University of Cambridge, Cambridge, England. Dr. Richard is a full professor at the Department of Medicine at Université Laval. Together with serving as director of the Research Centre of the Institut de Cardiologie et de Pneumologie de Québec, and director of the Groupe Interdisciplinaire de Recherche sur l'Obésité de l'Université Laval, he is the recipient of the Merck Frosst / CIHR Research Chair in Obesity, the first Chair devoted to obesity research in Canada. He is active with several societies and associations and is a member of: The Canadian Obesity Network, The American Physiological Society, The Society for Neuroscience, The Endocrine Society, and The Society for the Study of Ingestive Behavior. Dr. Richard is a well-established scientist with regard to the study of (i) neurosystems involved in the control and regulation of food intake, thermogenesis, and energy balance, (ii) the mechanisms whereby the gastrointestinal hormones influence energy balance regulation, (iii) the relationship between stress and obesity, (iv) the role of the sympathetic nervous system in controlling uncoupling protein 1 in brown adipose tissue, and (v) the role of uncoupling protein 2 in energy metabolism, oxidative stress and neuroprotection. He lists over 200 publications in his career.
Dr. Bruce Verchere, PH.D. — Scientific Advisory Board Member
Dr. Bruce Verchere is a Professor in the Departments of Surgery and Pathology & Laboratory Medicine at the University of British Columbia (UBC). He is also head of the Diabetes Research Program at the Child & Family Research Institute, and holds the Irving K Barber Chair in Diabetes Research. Dr. Verchere's research aims to understand the function of pancreatic islet beta cells and their relevance in both type 1 and type 2 diabetes, with a goal of developing therapeutic approaches for enhancing beta cell survival and function. He has published more than 90 manuscripts in the field of islet biology and diabetes and has been invited to present his research worldwide. Dr. Verchere was a Senior Scholar of the Michael Smith Foundation for Health Research (MSFHR) and was awarded the UBC Outstanding Young Alumnus award in 2000 and the Canadian Diabetes Association Young Scientist award in 2006. He is currently chair of the CIHR Diabetes Obesity Lipid and Lipoprotein Disorders panel, Chair of the National Research Council of the Canadian Diabetes Association, and Chair of the MSFHR Research Advisory Council. He currently sits on the editorial board of the publications Diabetes and Canadian Journal of Diabetes.
Dr. Michael Walker, PH.D. — Scientific Advisory Board Member
Dr. Michael Walker has been a director and CEO of Verona Pharma since September 2006. He is an Emeritus Professor at the Department of Anesthesiology, Pharmacology & Therapeutics, University of British Columbia, Canada and has founded and managed various biotech companies in Canada and the UK. His research interests are wide including many aspects of general pharmacology (from basic to clinical studies), marine toxins and respiratory and cardiac pharmacology. Dr. Walker was the founder of Rhythm Search Developments (RSD) Ltd., which company evolved into Nortran Pharmaceuticals Inc. and subsequently Cardiome Pharma Corp. (TSX:COM, NASDAQ: CRME) whose drug, RSD1235, for the acute termination of atrial fibrillation (a disorder of heart beating), is currently the subject of a New Drug Application filed with the US Food and Drug Administration.
Dr. Caigan Du — Scientific Advisory Board Member
Dr. Caigan Du is a scientist at the Vancouver Coastal Health Research Institute and an Associate Professor in the Department of Urologic Sciences at the University of British Columbia. He received a Ph.D. degree in Biochemistry in the UK and postdoctoral training in Immunology in the USA. He is interested in the pathogenesis of kidney ischemia-reperfusion injury and transplant rejection, and molecular control of urinary malignancies. He has been studying the impact of kidney donor-derived factors on renal allograft rejection, and the molecular pathways of kidney injury and regeneration in experimental models. He is also interested in developing medical solutions including drugs made from natural compounds for all kinds of health problems, including immune disorders, organ preservation, kidney failure and urinary cancer. He is the PI of many grant supports from the Kidney Foundation of Canada and the Canadian Institutes of Health Research.
---
*Disclaimer: This profile is sponsored by Sirona Biochem Inc. (TSXV:SBM). This profile provides information which was sourced by the Investing News Network (INN) and approved by Sirona Biochem Inc., in order to help investors learn more about the company. Sirona Biochem Inc. is a client of INN. The company's campaign fees pay for INN to create and update this profile.
INN does not provide investment advice and the information on this profile should not be considered a recommendation to buy or sell any security. INN does not endorse or recommend the business, products, services or securities of any company profiled.
The information contained here is for information purposes only and is not to be construed as an offer or solicitation for the sale or purchase of securities. Readers should conduct their own research for all information publicly available concerning the company. Prior to making any investment decision, it is recommended that readers consult directly with Sirona Biochem Inc. and seek advice from a qualified investment advisor.