This profile is part of an investor education campaign. The profile provides detailed information which was sourced and approved by Silver Viper in order to help investors make better investment decisions. The Company's support of Investing News Network ensures we can continue to bring you unbiased, independent news and information.
Resource Investing News Featured Stock
Overview
Silver Viper Minerals Corp (TSXV:VIPR) is a resource company focused on acquiring early-stage projects, increasing their value through exploring and adding to their resource, growing the project to a point where it becomes of interest to senior resource companies. The company establishes strict minimum thresholds for project resources, ensuring that they make effective use of their capital and deliver as much value as possible to their shareholders. Silver Viper's team has noted experience developing projects including those associated with Orko Silver, Orex Minerals (CVE:REX), Dolly Varden Silver Corp (TSXV:DV) and Barsele Minerals (CVE:BME) under the mandate of the Belcarra group.
Silver Viper's current flagship property is the Clemente Silver project in Mexico's Sonora state, which was optioned from Riverside Resources Inc (CVE:RRI). Located in a rich mining jurisdiction that hosts mines such as Alamos' (TSX:AGI) El Chanate mine and Goldgroup Mining's (TSE:GGA) Cerro Prieto gold mine, this property is supported by existing infrastructure. The Sonora mining region is unencumbered by vegetation or other environmental considerations, which allows for straightforward permitting processes. The state is also known for having low mobilization costs, when compared to other states, thanks to its available infrastructure.
While historical exploration activities have been conducted on the property, it has yet to be drilled. Silver Viper is conducting the project's first drilling program, which was kicked off in October 2017.
The Silver Viper management team has a proven ability of discovering and developing quality exploration projects with high returns for their shareholders. They demonstrated this with the discovery of Orko Silver Corp's La Preciosa silver-gold deposit in Mexico as well as the Barsele gold project in Sweden. The management team also holds 29 percent of company shares, supported by a significant holding of 15 percent by Ingalls and Snyder Brokerage Accounts.
Investment Highlights
Previously undrilled silver-gold project with three target areas in mining-friendly jurisdiction
Clemente project showing similar structures to Goldgroup Cerro Prieto gold mine
Check sampling conducted by Silver Viper includes top sample of 1,895 g/t silver, 4.46 g/t gold, 1.95 percent lead and 1.62 percent zinc across 0.5 meters
2,000-meter drilling program over 15 to 20 holes launched in October 2017
$5 million in the bank
Experienced management and advisory team with proven ability to  develop projects through exploration
Management holds 29 percent of shares and strategic investor holds another 15 percent
Flagship Property: Clemente Silver Project
The Clemente silver-gold project is a 6,214-hectare property located in the northern region of Mexico's mining-friendly Sonora state. The property sits upon the Mojave-Sonora megashear, which is a stretch of 700 kilometers defined by medium to large orogenic gold and silver deposits and over 20 million ounces of gold. The property is 6 kilometers northwest of the Goldgroup Mining's Cerro Prieto gold mine and from the Granmin Cerro Colorado mine. Due to the presence of multiple mining companies in the region, the project is supported by established infrastructure including water from underground springs, power lines and road access.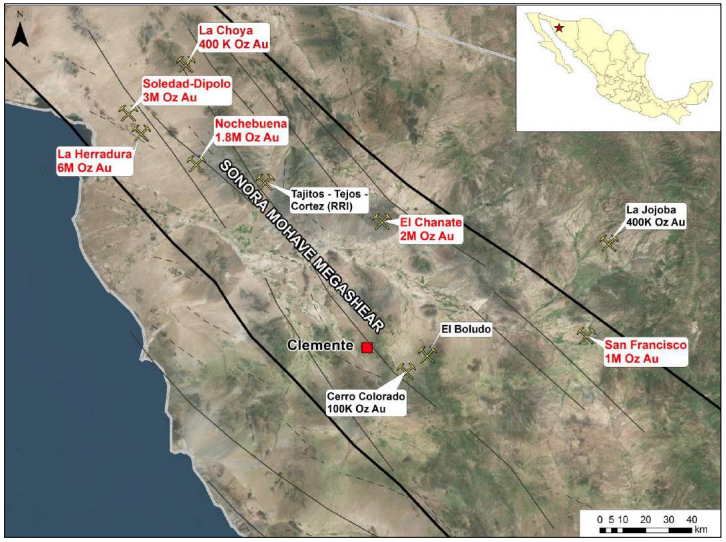 Mineralization on the property shows characteristics of orogenic gold deposits and low-sulfidation epithermal gold-silver deposits, with structures similar to those on the Cerro Prieto mine.
Past exploration and results
Historical exploration results for the property were compiled and enhanced by a sampling program conducted by Riverside. This included data compilation, ASTER analysis, ground magnetics and a geochemical sampling program. The sampling program was composed by 152 grab samples and returned assay results of up to 2,108 g/t silver, and up to 5.44 g/t gold, with multiple samples returning values of over 50 g/t silver—an anomaly for the region. Samples on the property showed the presence of not only mineralized gold and silver, but also lead, copper and zinc.
Target Areas
The sampling program also identified three target areas—El Mundo, Nuevo Mundo and Santa Elena—which all returned high silver-gold grades. Results of Riverside's program have since been confirmed by check sampling conducted by Silver Viper.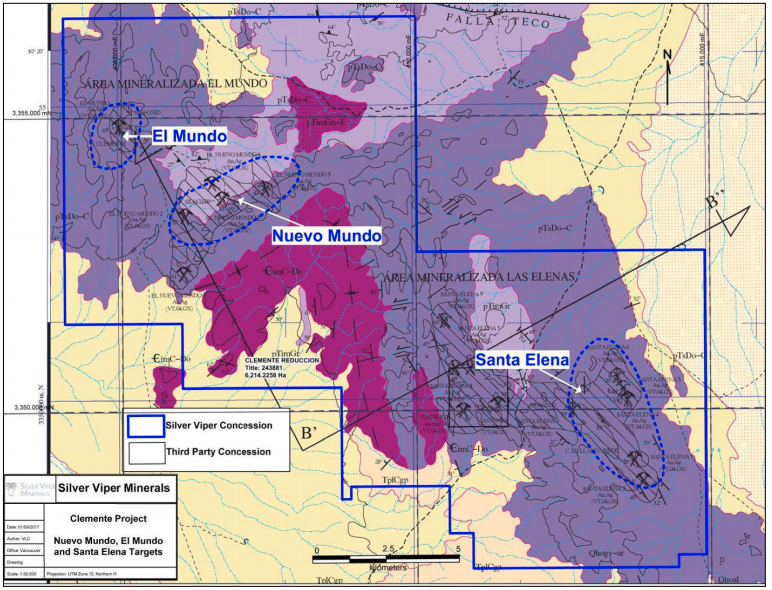 Check sample results for the El Mundo area included samples grading 1,895 g/t silver, 4.46 g/t gold, 1.95 percent lead and 1.62 percent zinc from a 0.5-meter chip sample. In the Nuevo Mundo zone, sampling returned grades of 696 g/t silver, 0.77 g/t gold, 1.25 percent lead and 5.73 percent zinc over 0.5 meters. Lastly, Silver Viper did not conduct check sampling on the Santa Elena prospect area, but historical sampling includes results of 2,930 g/t silver, 0.35 g/t gold, 2.4 percent copper, 5.2 percent lead and 1.6 percent zinc.
Phase 1 drilling program
Despite these positive sampling results, the property had seen no drilling conducted prior to Silver Viper's option agreement. The company has subsequently deployed the project's first drilling program in October 2017, focusing firstly on the El Mundo and Nuevo Mundo targets.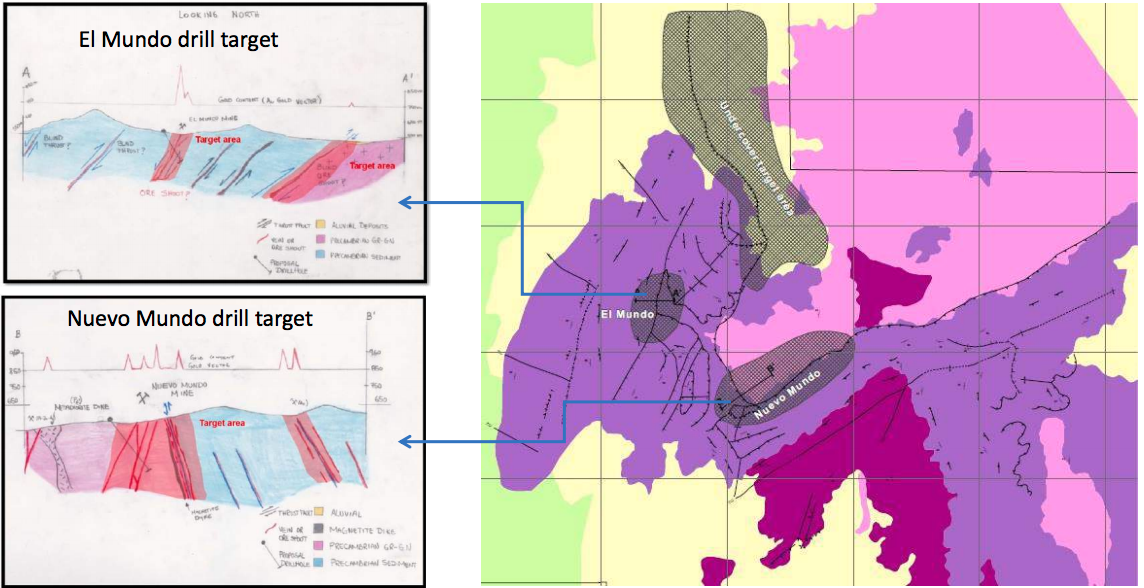 The program is estimated to cover at least 2,000 meters over 15 to 20 holes. Its goal is to help Silver Viper further understand the resource on the property and refine the selection of target areas. Over the course of this program, Silver Viper will also be conducting an aggressive field campaign.
"We are extremely excited to begin exploration on a target-rich project that has never been drilled before," said Silver Viper CEO Steve Cope. "We have a great technical team in place and look forward to developing our understanding of the Clemente project through our maiden exploration program."
Management
Steve Cope—CEO and Director
Steve Cope has 12 years experience in the mining sector. He has worked in corporate development for Orko Silver Corp, Barsele Minerals Inc, Orex Minerals Inc and Timmins Gold Corp. His responsibilities with these companies have covered a wide range of areas including financing companies, project evaluation, investor relations and mergers and acquisitions.
Stephen Brohman, CPA, CA—CFO and Director
Stephen Brohman has nine years of working experience in a variety of roles with public companies and has become proficient in corporate finance, project acquisition, executive management, corporate communications, corporate branding, shareholder relations and investor lead generation. He has extensive experience in the audit of publicly traded companies on the TSX, TSX-V and OTC markets, and has worked with mining and exploration, oil and gas, real estate investment and merchant banking companies during his time in public practice. Brohman serves as either a director and/or officer for several publicly traded companies, including as CFO of Dolly Varden Silver Corp.
Dale Brittliffe, PGeo—VP Exploration
Dale Brittliffe is a professional geologist with 20 years of experience in design and management of mineral exploration programs in Australia, Canada, Mexico and Brazil. He has particular expertise in identifying and upgrading early stage projects and boasts a solid track record of successful stakeholder negotiations resulting in amicable and productive land access agreements. Based in Vancouver, he has eight years of experience managing exploration projects in northern Mexico and has previously completed such work for Kootenay Silver, Astral Mining and Orex Minerals Inc. He holds a Bachelor of Applied Geology degree from Curtin University of Western Australia and a Bachelor of Science (Environmental) degree from the University of Western Australia.
Melissa Martensen—Secretary
Melissa Martensen has served as corporate secretary to junior mining companies since 2008 with Orko Silver Corp and others. Currently, she serves on the Boards of Orex Minerals Inc, Barsele Minerals Corp, Silver Viper Minerals Corp, and Dolly Varden Silver Corp. She has a BComm (Finance) from UNBC.
Gary Cope—Director
Gary Cope has accumulated over 33 years of experience in corporate management and strategy, with a specific emphasis on public company finance. He arranged financing for the South Kemess project and later became heavily involved with the negotiations and selling of the deposit to Royal Oak Mines. In the past 12 years, he has acted as a senior officer and director for various publicly held companies, such as St Phillips Resources. Cope served as the president, CEO and director of Orko Silver Corp, and was instrumental in negotiating and arranging the sale of Orko Silver to Coeur d'Alenes Mine Corp in 2013. He currently holds those same positions with Orex Minerals Inc and Barsele Minerals Corp.
Art Freeze, PGeo—Director
Art Freeze has an impressive 45 years of experience in mineral exploration and project management. Until 2007, he served as the primary consulting geologist for Goldcorp Inc, and has held consulting, management and supervisory positions with international mining companies such as Cominco Ltd, Pasminco Exploration, Echo Bay Mines and Pan American Silver Corp. He is a member of the Association of Professional Engineers and Geoscientists of British Columbia (APEGBC) and was a consulting geologist and advisory board member for Orko Silver Corp.
Ross Wilmot, CPA, CA—Director
Ross Wilmot is a chartered accountant who has provided public companies with senior financial management services for more than 20 years. He offers exhaustive knowledge of reporting practices and requirements for public companies based in Canada and the United States. Wilmot has been involved in numerous business valuations and acquisitions, high tech start-ups and international mining operations.