This profile is part of a investor education campaign. The profile provides detailed information which was sourced and approved by Focus Graphite in order to help investors make better investment decisions. The Company's support of Investing News Network ensures we can continue to bring you unbiased, independent news and information.
Resource Investing News Featured Stock
OVERVIEW
Focus Graphite Inc. (TSXV:FMS,OTCQX:FCSMF,FWB:FKC) is an advanced exploration and development mining company with the goal of becoming a low-cost producer of technology-grade graphite concentrate from its Lac Knife and Lac Tétépisca projects in Québec. Lac Knife is one of the most advanced graphite projects in North America and holds one of the highest-grade flake graphite deposits in the world.
Graphite is used in steel manufacturing, auto part fabrication, lubricants and batteries. Future demand drivers are likely to be green technologies such as lithium-ion batteries, fuel cells, construction materials and graphene-based industrial products. In 2013, global demand for flake graphite reached 375,000 tonnes. By 2020, annual global demand for flake graphite is expected to rise by more than one million tonnes, the equivalent of 25 new 40,000 tonnes per year mines like the Lac Knife project (Source: Industrial Minerals Data, 2014).
Focus Graphite is also the largest shareholder in Grafoid Inc., an advanced graphene technologies and solutions company. Grafoid's Mesograf™ aims to develop high standards for high-energy density, high purity, economically scalable, and environmentally sustainable graphene.
Since its initial listing on the TSX-V in May 2010, Focus Graphite has worked hard to position itself as one of the world's most advanced, innovative graphite mining development companies.
In March 2016, the company announced its affiliate, Grafoid Inc. signed a memorandum of understanding to enter a strategic joint venture partnership with Xiamen Tungsten Co. Ltd., a publicly traded company listed on the Shanghai Exchange and China's largest producer and exporter of tungsten products. The agreement establishes terms for Xiamen's acquisition of upto a 20-percent equity position in Grafoid through the purchase of common shares – including up to seven million Grafoid common shares currently held by Focus Graphite, the largest shareholder in Grafoid.
Proceeds from the pending sale of Grafoid shares held by Focus Graphite will be applied to the company's continuing efforts to bring its Lac Knife project into production. The deal opens the door to additional offtake partners, and increases opportunities for the sale of value-added graphite products in China.
Conductivity test findings in March 2016 demonstrated that using Lac Knife graphite in both the anodes and cathodes of lithium-ion batteries enhanced overall battery efficiencies, including increased power, higher capacity, longer battery life and increased utilization of cathode active materials, leaving Focus Graphite well positioned to compete internationally. Focus Graphite's proprietary process has also purified fine flake graphite sourced at Lac Knife to a 99.99 percent purity, making it ideal for the next generation of lithium-ion batteries.
The company closed its first tranche of non-brokered private placement offering in April 2016, and its second in May 2016, raising a total of about CDN$1.87 million.
INVESTMENT HIGHLIGHTS
Quebec is a mining friendly jurisdiction and the city of Fermont is located in a well-established mining camp with excellent regional infrastructure and Hydro Quebec's inexpensive and green hydroelectricity.
Experienced mining and exploration technical team.
Excellent local community, First Nation, and Quebec government support.
Feasibility Study completed in August 2014.
Mineral Reserves of 7.9 Mt @ 15 percent Cg (429 kt @ 23.61% Cg of Proven Mineral Reserves and 7,428 kt @ 14.64 percent Cg of Probable Mineral Reserves.
98 percent total carbon graphite concentrate (average grade of all graphite concentrate size fractions greater than 200 mesh).
Potentially a low-cost producer @ $441/t of concentrate.
Successful battery coin cell tests of high quality coated spherical graphite used in lithium-ion batteries was produced using Lac Knife graphite concentrate.
Industry-first Off-take Agreement with Chinese Industrial Consortium.
Two 10-year Off-take Agreements with Grafoid Inc. Near-term North American graphite production — addressing North American security of supply of a critical material.
Focus Graphite owns 7.9 million common shares in GRAFOID Inc. — estimated value of USD$39 million — and is the company's largest single shareholder
KEY PROJECT
Lac Knife Graphite Mining Project, Quebec, Canada
Focus Graphite's 100 percent-owned Lac Knife flake graphite deposit is located about 27 km southwest of Fermont in the province of Québec. The Government of Québec has deemed graphite a priority commodity under the "Plan Nord", a program for the sustainable development of resources in northern Québec.
The Lac Knife project is within the well-established iron ore-mining jurisdiction in Canada, with multi-billion-dollar mining operations owned by ArcelorMittal (23 Mtpy) and Rio Tinto (14-17 Mtpy) among others. Infrastructure is well developed for both hydroelectric power and public railway transportation that is connected to the Port of Sept-Iles. The Quebec North Shore and Labrador (QNS&L) railway has the capacity to handle the annual production of 44,300 tonnes of concentrate. The hydroelectric power capacity required for the project is currently available on the existing Hydro Quebec power grid.
Lac Knife Mineral Resource Estimate and Open Pit Mineral Reserves
Feasibility Study Highlights Low-Cost Production
The 2014 Feasibility Study completed on the Lac Knife Project includes the Open Pit Mineral Reserves outlined above and indicates that the project has the potential to become a low-cost, high-margin graphite concentrate producer at $441 per tonne of graphite concentrate. One key component of Lac Knife's low production costs is the easy access to low cost, environmentally sustainable hydroelectric power from Hydro-Québec. Energy costs are a major factor in total operating costs, and in Quebec it is among the lowest corporate rates in North America.
Over a 25-year mine life, the annual milling capacity is 323,670 tonnes per year to produce 44,300 tonnes of concentrate. The concentrate will grade 97.8 percent total carbon (Ct) on average for the life of the mine based on current open pit reserves. All graphite concentrate produced with flakes larger than 200 mesh, representing 81.5 percent of total annual production, contain more than 98 percent Ct.
The Feasibility Study also highlighted a Net Present Value of CDN$383 million pre-tax and of CDN$242 million after-tax and an Internal Rate of Return of 30.1 per cent pre-tax and of 24.1 per cent after-tax. Capital Expenditures needed to construct the mine, processing plant, power line and all associated infrastructure is estimated at a total of CDN$165.55 million.
99.99 Percent Pure Flake Graphite
In August 2016, Focus Graphite announced it has developed the technology to purify low-value fine flake graphite, also known as fines, to a 99.99 percent purity for the production of lithium-ion batteries. This development is in line with an emerging global low-carbon economy, which estimates the production of 25 million hybrid and pure electric vehicles by 2025. Other uses for lithium-ion batteries include portable electronic devices, utility scale energy storage, urban transportation, rail, marine, aviation and clean energy applications for the military.
Between June 2014 and August 2016, Focus Graphite published the results of four independent, mandatory test results highlighting the superior performance of Lac Knife graphite in short-term and long-term lithium-ion battery cycling.
"We now have the technological capabilities to provide customers with a full range of battery-grade products to meet their specifications – from fine to large flake. We believe our novel process will further secure our competitive advantage in global markets," said Focus Graphite President and CEO Gary Economo. About one-third of the Lac Knife deposit is comprised of small and fine flakes suitable for processing to lithium-ion battery grade specifications.
Unique Graphite Characteristics Give Focus Graphite an Edge
"The key resource characteristics are the deposit's grade and the concentrate purity that is produced. Combined, these characteristics set the company apart from other competitors, these two metrics represent a significant cost-saving on one hand and higher margins on the other," explained Chester Burtt, a Focus Graphite Director. "A high-grade of nearly 15 percent Cg significantly reduces the amount of mined tonnage needed to produce 1 tonne of graphite concentrate. Regarding the purity, using hydroelectric thermal energy to purify graphite concentrate is a more environmentally friendly purification process and it costs a lot less to upgrade to the required 99.95 percent Ct level for battery-grade when starting with a high-purity concentrate of 98 percent Ct," added Burtt.
In May 2014, Focus Graphite announced the potential for selling to the higher margin value added markets, more specifically the lithium-ion battery sector, following battery coin cell tests performed on spherical graphite (SPG) produced from the Lac Knife graphite concentrate. Testing measured the performance metrics of the Lac Knife SPG and confirmed the company's capability to tailor lithium-ion battery-anode-grade SPG to meet stringent customer specifications.
Following tests that showed the spherical graphite produced from Lac Knife concentrate is potentially a very competitive product, the company announced in April 2015 it had initiated an industrial project feasibility study of a graphite concentrate transformation facility in the port city of Sept-Iles, Québec. The transformation plant feasibility study is in accordance with the new Québec Mining Act.
In March 2016, Focus Graphite introduced a high-conductivity graphite for cathodes in lithium-ion batteries, after tests supported that cathodes using Lac Knife's expanded graphite showed twice the conductivity as lithium ion batteries produced under current commercial standards. Testing was performed under three independent contracts between 2014 and 2016.
The findings were presented at the 33rd International Battery Seminar and Exhibition in Fort Lauderdale, Florida in March 2016. Due to its added-value benefits, expanded graphite typically commands larger revenue margins due to higher selling prices than the competitive grades of flake and synthetic graphite currently used. Niche markets using expanded graphite include: specialty paints and coatings, cathodes of alkaline zinc/manganese dioxide primary batteries, cathodes of zinc-air batteries and negative electrodes of lead-acid batteries.
Advancing Lac Knife to Development
Focus Graphite is working to advance the construction of the Lac Knife mine and concentrator facilities. Permitting is well underway with an Environmental and Social Impact Assessment that was filed with the Québec Government in November 2014. Other upcoming catalysts for the Lac Knife mine project include project financing to continue with the front end detailed engineering required for mine permitting. Discussions are underway with public and private sector funds, equipment vendors and institutions. Focus Graphite is also in discussions to secure additional offtake agreements.
Offtake Agreements in Place
In December 2013, Focus Graphite signed a 10-year offtake agreement for a minimum of 20,000 and up to 40,000 tonnes of graphite concentrate per year, the first of its kind in the graphite industry, with an industrial conglomerate, comprised of heavy industry, manufacturing and technology companies located in Dalian City, Liaoning Province, China.
In June 2015, Focus Graphite and Grafoid Inc. signed two offtake agreements. The "Graphene Offtake" agreement is for up to 1,000 tonnes annually for 10 years, of large flake (larger than +80 mesh) graphite concentrate that is high-purity at 98.3 percent Ct. The 1,000 tonnes annually represents up to 6.8 percent of the 14,606 tonnes of projected annual production of high-purity large flake graphite concentrate at Lac Knife (larger than +80 mesh).
The agreement will supply Grafoid with material for future graphene-based batteries and for green energy applications. The "Polymer Offtake" agreement is for up to 25,000 tonnes of 97.8 percent Ct graphite concentrate annually for 10 years, representing up to 56.4 percent of the projected total annual production of 44,300 tonnes of all flake sizes. The agreement will supply Grafoid with the material needed for a range of graphite-based polymer applications for the automotive and aerospace industries.
"The mine-to-market strategy starts with Focus Graphite's Lac Knife mine project and ends with Grafoid's graphene applications and potentially with Focus' value added products," stated Burtt. "This distinctly separates us from our competitors. Focus is very close to meeting market opportunities."
Lac Tétépisca Graphite Project, Québec, Canada
Focus Graphite discovered a 1,968-foot graphitic corridor in 2012 on its wholly-owned Lac Tétépisca graphite project property, located in the southwest Manicouagan reservoir area, 145 miles north-northwest of Baie-Comeau in the Côte-Nord administrative region of Québec. The project, situated on property accessible year-round by logging roads, consists of 87 contiguous map-designated claims covering about 11,596 acres.
The company has discovered significant measured drill core graphitic intercepts down to about 328 feet deep. Initial drilling results at Lac Tétépisca indicate there is potential for a new large volume-high grade graphite deposit in the South Manicouagan reservoir area. In particular, interest for this type of deposit could come from the future graphite-based plastic polymer industry.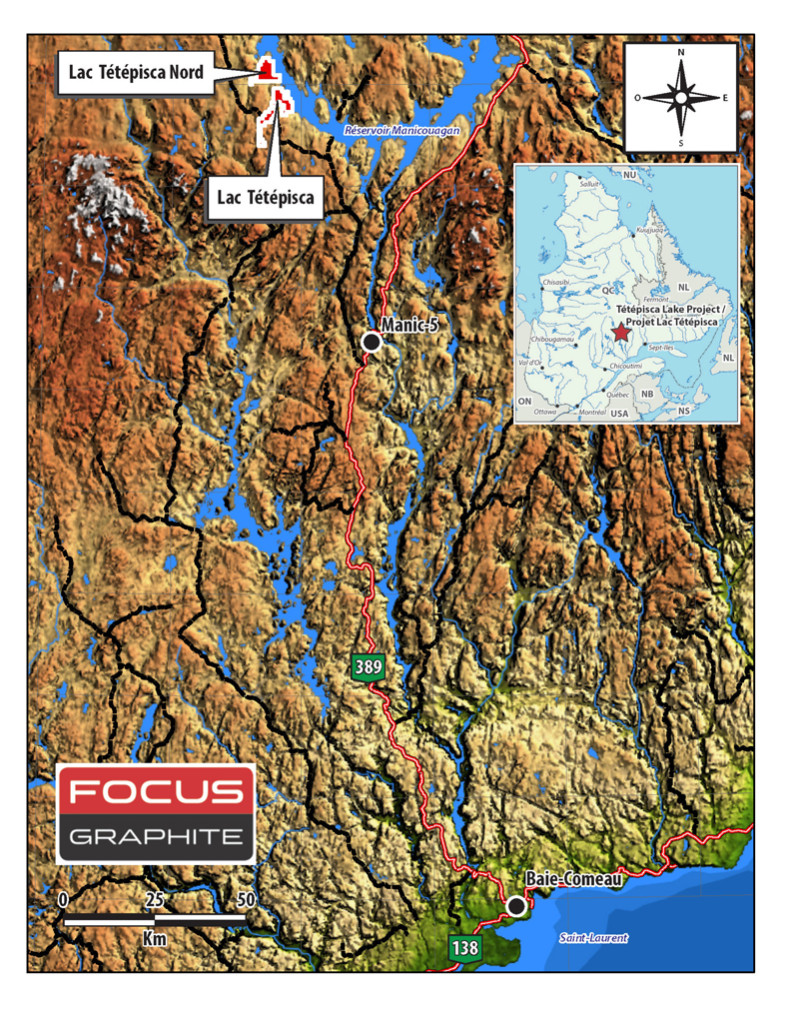 High-grade Drilling Results at Lac Tétépisca
In August 2016, Focus Graphite reported high-grade results from its 2014 core drilling program on the Lac Tétépisca property. The program identified a significant graphitic zone 197 to 328 feet wide extending down to deep intersections located within the Manicouagan-Ouest Graphitic Corridor. A secondary graphitic zone, 20 to 39 feet wide, is located 33 feet northwest of the main zone.
"We are extremely encouraged by these initial drilling results as they open the door to a potentially important sister resource to our flagship natural flake graphite deposit at Lac Knife, Québec," said Economo. "This is significant given our recent technological capabilities in purifying Lac Knife's fine flake graphite to a 99.99 percent carbon battery-grade materials."
The Lac Tétépisca graphite property is located about six miles north of the Lac Guéret graphite deposit. The final report on the geophysical survey of the property identified two important electromagnetic conductors, one over the area of the Manicouagan-Ouest corridor, and another anomaly in the southern part of the property. This work was followed up in July 2013 with a comprehensive exploration program.
Results of the company's trenching program at the Lac Tétépisca graphite project reported significant widths of graphitic mineralization ranging from 312 to 361 feet thick intersecting in the new zone. As part of the 2014 drill program designed to test surface mineralization found in trenches down to a vertical depth of about 328 feet, four fences of holes were spaced 656 feet apart, covering a 1,968-foot strike length of the new zone. Focus has completed the design of a new follow-up core drilling program at the Lac Tétépisca graphite property. This second phase of drilling will be mainly designed to test the strike-length extensions of the known graphitic mineralisation.
Lac Tétépisca Nord Graphite Project, Québec, Canada
Focus Graphite announced in August 2016 the results of a trenching program conducted in 2014 at the Lac Tétépisca Nord graphite project, becoming the company's third potential source of natural flake graphite for future customers. The Lac Tétépisca Nord property is comprised of 51 contiguous map-designated claims covering a surface area of 6,788 acres located southwest of the Manicouagan reservoir, five miles north of the Lac Tétépisca project.
While trenching and channel sampling work was carried out in 2014, samples were prepared and assayed in the spring of 2016, as the completion of the Lac Knife mineral project feasibility study was the company's main priority at that time. "We are highly encouraged by the initial channel sampling results at Lac Tétépisca Nord, our second significant graphite discovery in the southwest Manicouagan reservoir area in addition to the "Manicouagan-Ouest Graphitic Corridor" at our Lac Tétépisca project," explained Economo.
The first round of drilling currently underway at Lac Tétépisca Nord will help to confirm subsurface extensions of the graphitic zone at depth and along strike of the 1.5-mile ground MAG-EM anomaly, and support a larger opportunity than what is visible from mineralized surface channel samples.
Green Energy Business Alliance
Known as the 2GL Platform, a new strategic Green Energy Business Alliance promises to reinvent a business approach for the green energy economy. Focus Graphite's affiliate Grafoid Inc. formalized its Green Energy Business Alliance with Focus Graphite, Stria Lithium and Braille Battery in May 2016. The collaborative agreement integrates graphene, graphite, lithium and battery innovation, creating a shared vision and direction for the development of materials, technologies and processes critical for next-generation energy applications.
The alliance incorporates a mine-to-market next generation energy production and storage supply chain. Grafoid will provide high-performing graphene, while Focus Graphite will supply battery-grade graphite. Stria Lithium will supply lithium metal and lithium foil, and Braille Battery will run battery production and sales.
"The establishment of 2GL is the affirmation of our vision that integrating innovation from a strategic alliance provides us with a competitive advantage from a joint marketing platform," said Economo, also a Grafoid Founding Partner and the CEO. "The potential from next-generation green energy markets is enormous. By pushing the boundaries of battery technologies, we aim to supply both materials and the know-how that create better energy storage applications at a cost acceptable for widespread adoption."
Research and development will be coordinated through Grafoid's Global Technology Center in Kingston, Ontario, Canada.
Management
Gary Economo—President, Chief Executive Officer and Director
Mr. Economo has a distinguished business leadership career, serving as Chief Executive Officer for a number of public and private high technology companies during the last 20 years. Mr. Economo enjoys a long history of graphite marketing and sales for high-tech applications. Prior to joining Focus Graphite Inc., a company he founded with Jeffrey York, he served as Director, Corporate Communications and Investor Relations for Everton Resources Inc.
Over the span of his business career, Mr. Economo has provided strategic consulting and representation services to technology companies in North America and Asia. In particular, he has a track record of success and expertise in building shareholder value when tasked with bringing discovery companies to market. Born in Greece and raised in Montréal, Mr. Economo is trilingual and lives with his family in Ottawa. Mr. Economo is also acting CEO of Grafoid Inc.
Judith T. Mazvihwa-MacLean, CMA, MBA, MSc—Chief Financial Officer
Ms. Mazvihwa-MacLean has nearly two decades of experience in mineral exploration, mining, management, and corporate finance. Prior to joining Focus Graphite, Ms. Mazvihwa-MacLean was the Chief Financial Officer for Golden Harp Resources, Logan Resources and Acme Resources (formerly, International KRL Resources Corp.). She also served on the Board of Directors for both Logan Resources and Acme Resources.
Ms. Mazvihwa-MacLean has a significant academic background. She holds a B.Sc. (Geology) from the University of Zimbabwe, an M.Sc. from Brunel University in England, and earned her MBA at Simon Fraser University in British Columbia. She was accredited as a Certified Management Accountant by the Certified Management Accountants Society of British Columbia. Ms. Mazvihwa-MacLean is also Chief Financial Officer for Grafoid Inc.
Jeff Hussey, P.Geo. — Vice President, Project Development
Mr. Hussey earned his BSc in Geology from the University of New Brunswick and is a consulting geologist with 30 years' experience in open pit and under ground mine operations, and more recently, as a mining project developer. During his near 20-year engagement with Noranda/Falconbridge, he worked in a corporate culture that developed values in safety, sustainability, and optimization.
Operational experience includes Brunswick No. 12 and Gaspe Copper underground base metal mines, open pit operations include the Antamina Mine start up in Peru, and Raglan in Northern Quebec. Mr. Hussey's responsibilities included general foreman of open pit operations, site services, water treatment, as well as optimization projects in the Concentrator and Site Services Departments for quality control, continuous improvement and process optimization for financial gains.
Since 2007, Jeff Hussey and Associates Inc. has supported various junior mining companies offering services in exploration, mining, and geo-metallurgy. They include Puma Exploration, Champion Iron Mines, and Starcore International. Mr. Hussey is a member of the Ordre des géologues du Québec
Benoit Lafrance, P.Geo., PhD —Vice President, Exploration
A Chicoutimi, Québec-based geologist, Mr. Lafrance has more than 14 years of experience in mineral exploration, scientific research and geological surveys in both private and public sector enterprises. Prior to joining Focus Graphite, Mr. Lafrance was researcher for CONSOREM, an applied research group for mineral exploration in Québec. He also served as a senior geologist for Cogitore Resources Inc., as well as a geologist for the Government of Québec in Rouyn-Noranda, Abitibi, Québec. With strong academic and private sector experience, he acts as project adviser, new project developer and as a Qualified Person as defined by NI 43-101 regulations.
Mr. Lafrance holds a PhD degree in Mineral Resources from the Université du Québec à Chicoutimi. He is a member of the Ordre des Géologues du Québec, the Prospectors and Developers Association of Canada as well as an active member of the Canadian Institute of Mining and Metallurgy.
Joseph E. Doninger, PhD —Director of Manufacturing and Technology
Mr. Doninger is the developer and co-developer of a number of U.S., European and Canadian patents related to carbon processing methodologies and processing equipment.
A chemical engineer, Mr. Doninger is the author and co-author of some two dozen technical papers and studies related to graphite composite anodes; carbon-based materials for electrochemical energy storage systems; advanced graphite for Lithium-ion batteries and other related publications. He also is a co-editor of a NATO Science Series book titled New Carbon Based Materials for Electrochemical Energy Storage Systems.
Mr. Doninger's academic background includes an Honorary Professorship at the Department of Chemistry, Kiev National University of Technologies and Design; a Doctorate of Philosophy in Chemical Engineering and Master of Science, Chemical Engineering, Northwestern University, and; a Bachelor of Science Degree in Chemical Engineering, University of Illinois. As a consulting engineer, Mr. Doninger served as President of Dontech Global, Inc. During his 17-year career with Superior Graphite Co., he held the posts of Senior Vice-President, Technology, Vice-President, Engineering and Product Commercialization, Vice-President, Manufacturing, and Vice-President, Technology. His corporate background also includes that of Vice-President, Sales and Marketing, Minerals Group, Applied Industrial Materials Corp, of Deerfield, IL; and General Sales and Marketing Manager, International Minerals and Chemical Corp., of Libertyville, IL.
Ann Lamontagne, P.Eng., PhD —Environmental Director
Ann Lamontagne is a civil engineer, graduated in 1990, with a PhD in mine engineering specifically regarding the dynamics associated with waste rock management and associated acid mine drainage. With over 15 years of experience in environmental and geotechnical aspects of mine engineering has helped her to develop several mine closure concepts to address various issues regarding contaminated neutral drainage, and/or acid mine drainage.
Ms. Lamontagne participated in annual water and tailings management facility inspections. Since 2007, Ms. Lamontagne has worked on the mining project authorization process including environmental baseline studies and the Environmental and Social Impact Assessment (ESIA). Ms. Lamontagne has worked at various levels within the processes at both the provincial and federal levels. Ms. Lamontagne has worked on several projects including Goldcorp's Eleonore mine development, Nemaska Lithium's Whabouchi project, Blackrock Metal's iron project, and Osisko's Canadian Malartic mine.
Jeffrey York—Chairman of the Board
Mr. York is the Chief Executive Officer of Farm Boy Inc., named one of the best managed companies in Canada in 2011. A chartered accountant, Mr. York began his professional career with Ward Mallette, Chartered Accountants, before joining Giant Tiger Stores Limited — a regional retail chain which he grew into a national, billion-dollar company. During his 20 years with Giant Tiger, he served as President and Chief Executive Officer of the company for 10 years. Mr. York is an active member of the Young Presidents Organization and has been involved in that executive network since 2002.
As a co-founder and Chairman of the Board of Focus Graphite Inc., Mr. York is a director who has an active role in shaping the company's business growth and development. He graduated from Princeton in 1986 with a degree in Economics and obtained his Chartered Accountant designation in 1989. Mr. York is also Chairman of the Board of Grafoid Inc.
Chester Burtt—Director
Mr. Burtt is President of Chester Burtt & Associates Ltd. (CBAL), a corporate and public affairs advisory firm that specializes in connecting private and public companies with domestic and international opportunities. CBAL also arranges for the provision and supply of financial services in mergers, acquisitions and joint ventures.
Working through an international network and associate firms, CBAL has a 25-year history of offering a full range of services to assist companies with strategy development and decisions to best suit their investor and corporate relations. Mr. Burtt graduated with a BA from Waterloo Lutheran University and MA from Wilfrid Laurier University in Political Science. Mr. Burtt also serves as Director of Corporate Communications for Grafoid Inc.
Francis Pomerleau — Director
A Civil Engineer, Mr. Pomerleau was born and raised in St. Georges, Québec. He joined the Pomerleau Group of companies in 1991 as an assistant project manager. Currently, Mr. Pomerleau serves as a Director of the Pomerleau Group and is President of Ottawa-based Pomerleau Ontario. He also serves as Co-President of Ébénisterie Beaubois Ltée, an architectural millwork company.
In addition to his day-to-day management responsibilities, Mr. Pomerleau is actively involved with several industry-linked committees and is Chair of the General Contractor Council of the Canadian Construction Association. Mr. Pomerleau holds a civil engineering degree from École Polytechnique de Montréal, and an MBA from the International Institute for Management Development (IMD) in Lausanne, Switzerland.
Marc-André Bernier, M.Sc., P.Geo. — Director and technical adviser
A geoscientist with three decades of professional experience, Mr. Bernier specializes in regional mineral potential assessment, technical assistance and technology transfer initiatives in support of national and international mineral development projects. A resident of Chibougamau, northern Québec, Mr. Bernier has directed mineral development projects in Canada, Haiti, the Central African Republic, Madagascar and Brazil.
In addition to his responsibilities as Director and technical adviser to the Board of Focus Graphite Inc., Mr. Bernier holds the position of Senior Geoscientist with the Table Jamésienne de Concertation Minière (TJCM),a regional development agency dedicated to promoting sustainable mineral development across northern Québec. He is also a director of Stria Lithium Inc. and Mincom Capital Inc. and is Vice President of the Société d'Aide au Développement des Collectivités (SADC) de Chibougamau-Chapais, an Industry Canada economic development initiative for Québec regions.
Mr. Bernier's past industry assignments include: President and CEO of Majescor Resources Inc. (Canada); Director of SIMACT Alliance Copper-Gold Inc. (Canada); Director of Daraina Exploration SARL (Madagascar); Director and executive vice-president of SOMINE SA (Haiti); and exploration manager for Asquith Resources Inc. (now Axmin Inc.; Canada) and its subsidiary Aurafrique SARL (Central African Republic). He remains an active member of the Association of Professional Geoscientists of Ontario and the Ordre des géologues du Québec, as well as a member of the Canadian Institute of Mining and Metallurgy.