Seed to Consumer Premium Cannabis Products
This Next Green Wave profile is part of a paid investor education campaign.*
Overview
Next Green Wave (CSE:NGW, OTCQX:NXGWF) is a vertically-integrated seed-to-consumer producer and reseller of cannabis products. The company is building a premium portfolio of brands in California. Led by a multiple Cannabis Cup winner for producing seeds and hybrids, and a team of seasoned executives, Next Green Wave strives to distinguish itself as a dominant cannabis products and services provider.
In January 2018, Proposition 64 came into effect, allowing adults aged 21 years or older in California to possess and use cannabis for recreational purposes. California is the fifth-largest economy in the world and provides legal cannabis companies a unique opportunity. In 2017, marijuana sales in California were estimated at $2.76 billion and the forecast is expected to more than double to $6.3 billion by 2021 according to Statista. Next Green Wave could be well-positioned to take advantage of the growth of a fragmented cannabis industry that is moving from the grey market to the legal market.
As of August 2018, NGW has raised nearly C$27 million through investments from Canada, the US, Europe and Australia to fund the development of the company. The investment has aided NGW in the acquisition of cannabis-zoned development land, phase one construction, equipment and building acquisitions, branding and marketing as well as potential corporate expansion.
Next Green Wave's Company Highlights
Fully licensed for medicinal and recreational cannabis operations
100 percent owned, 15-acre cannabis-zoned property
Up to 350,000 square feet of operational capacity in the company's cultivation facility which commenced production in Q2 2019.
Premium product: award-winning seeds and plants
Currently holds over 120 cultivars in its genetic archive
Agreement with Colombian medical cannabis company, OMG3
Launching products through newly acquired major California brand developer SDC
Signed agreement with global biotech company Intrexon 
Building out research and innovation facility, licensed for nursery and extraction
Internationally experienced management team with a focus on brand development
Click here to view the Next Green Wave Corporate Presentation
Next Green Wave has secured multiple licenses for both recreational and medicinal cannabis operations in Coalinga, California, which are fully compliant with the Medical Marijuana Regulation and Safety Act (MMRSA). The company has acquired a license for nursery, cultivation, volatile and non-volatile extraction and distribution. Possessing multiple licenses in California is uncommon and can vary from municipality to municipality. Together, the licenses allow NGW to provide its services from production to distribution throughout California to fulfill the seed-to-consumer experience.
Next Green Wave has entered into a strategic licensing agreement with Intrexon Corporation (NASDAQ:XON) to use Intrexon's Botticelli™ next-generation plant propagation platform to enable rapid production of NGW's proprietary cannabis cultivars. Phase 1 of the agreement began in Q1 2019 and includes optimizing the Botticelli™ tissue culture technology to NGW-specific cannabis cultivars to show this platform offers cost-effective cannabis plantlet production compared to traditional cloning.
"This program enables Next Green Wave to improve its library of award-winning premium genetics through a next-generation tissue culture platform, Botticelli™, and serves two vital functions for our company," said Next Green Wave COO Mike Jennings. "First, it is a step toward ensuring that all of our flowering facilities are filled with the highest quality of nursery stock resulting in higher yields and overall cannabinoid content than traditional clones. Second, it offers the potential that our nursery will have state of the art top quality nursery stock to sell to other commercial growers, providing a long-term pathway to increase market share and revenue on a statewide scale."
Next Green Wave has invested in Organic Medical Growth OMG3 Inc. (OMG), a Canadian-based company focused on producing and commercializing CBD products derived in Colombia. The agreement facilitates NGW's entrance into Colombia's medical cannabis market, which serves approximately 6 million patients. OMG has a distribution channel that services 7,300 pharmacies.
NGW has acquired SDC Venture LLC, which owns eight leading cannabis brands with 45 CBD and THC products. The company also has over 25 million followers on its social media accounts and has over 100 million views on YouTube. SDC has a growing network of retail and online sales channels including 700 Zumiez stores.
Along with brand partner Loki the Wolfdog, Next Green Wave  has two revenue-generating CBD pet products, Loki Naturals Love Biscuits and Loki Naturals CBD Tincture. The biscuits contain 100 percent natural and locally-sourced ingredients and are free of preservatives and fillers. The CBD tincture contains a Colorado-grown, single-origin cannabidiol formula free of GMOs and rich in essential fatty acids.
Next Green Waves management team is headed by Mike Jennings, who has worked in the cannabis industry for 20 years. He is the co-founder of the highly acclaimed Loud Seeds breeding and cultivation company. Loud Seeds has won the High Time Cannabis Cup five years in a row and has been named one of the top 40 seed banks of all time by High Times magazine. On top of this, Jennings has extensive experience within the cannabis industry, which provides NGW with access to multiple commercial and retail channels to sell and distribute its products. Showing their investment in the company, management also notably holds 45 percent of the company's shares.
Next Green Wave's Business Model
As of August 2018, Next Green Wave has raised over $21 million dollars. The company used part of this financing for the construction of Facility A, including the purchase and installation of equipment and utilities, and will apply the remaining resources to the retrofit of Facility C and the acquisition of Facility D. The company will also use the funds to finalize the supply chain of seed-to-sale and to ensure it complies with existing licenses and California's legal framework as well as for the execution of brand and marketing strategies.
NGW has been granted licenses for:
Nursery

NGW has a library of award-winning seeds and clones to utilize. The company is focused on developing new strains and in acquiring exclusive premium seed varieties from other seed banks.
The nursery will be capable of cultivating hybrid strains and be a supplier of clones, seeds and seedlings to retail and wholesale markets.
The company has recently acquired an additional 112 cultivars to add to its genetic nursery archive, further executing on its strategy to build a world-class nursery.

Cultivation

Producing premium, pesticide-free cannabis flower
NGW aims to be an industry leader with its state-of-the-art fertigation, integrated pest management and cultivation techniques.

Extraction

This license allows NGW to manufacture both volatile and non-volatile cannabis products.
The company is also permitted to produce and infuse THC and CBD into finished products, such as edibles, topical products and vaporizers.
The company will be capable of processing its own inventory as well as third party biomass into oils, waxes, shatter, terpenes, distillates and finished products.

Distribution

Transportation and distribution capabilities make NGW one of a few companies with a license for distribution. This allows them to sell products to licensed retail stores and allows them to act as an intermediary for products from other companies that require distribution.
Next Green Wave's Facility Projects
Facility A (Completed)
Facility A is 35,000 square feet in size and is NGW's main indoor growing operation as well as  the company's operational headquarters in California. The building is equipped with 14 climate-controlled flowering rooms which are expected to produce an average of 9,150 pounds of cannabis flower annually.
In April 2019, NGW obtained its Occupancy Permit from the City of Coalinga, authorizing licensed cannabis production at Facility A. The company has commenced its first cannabis production with 10,000 plantlets to house "a perpetual harvest cycle" of approximately 50 yields per year. The raw material produced at the facility will be used for downstream consumer products such as oils, waxes, tinctures and extracts for custom vaporizer products associated with NGW's partner brands and other licensed cultivators in the wholesale supply chain. The company expects revenue from the cultivation process to begin in Q3 2019.
Facility B
Construction of this facility is expected to commence in the near term. This facility will cover up to 50,000 square feet and will accommodate expansion of the nursery, cultivation and distribution as Facility A reaches capacity.
Facility C
A 3,240-square-foot nursery, extraction and distribution operation under a joint venture with an NYSE-listed biotech company. This facility will accommodate the research and development of new cannabis strain technology. NGW recently received city approval for its conditional use permits for the facility, allowing for the acceleration of its seed and seedling production program.
Facility D
A proposed 250,000-square-foot mixed-light, deprivation greenhouse for which NGW is currently developing a site plan.
Organic Medical Growth OMG3 Inc.
Next Green Wave made a strategic investment in Organic Medical Growth OMG3 Inc. (OMG), a Canadian-based company focused on producing and commercializing CBD products derived in Colombia. The agreement allows NGW to access Colombia's medical cannabis market, which is home to approximately six million patients. Through OMG's distribution channel that services 7,300 pharmacies, NGW is expected to license its brand and products in the Colombian market.
OMG has signed a joint venture agreement with Cannabolland Cluster SAS, a vertical biotech cluster that groups companies with cannabis licenses together to consolidate licenses and provide technical knowledge and infrastructure. Under the terms of the agreement, OMG will gain access to 5,000 hectares with the option to expand up to 12,000 acres. The six companies within Cannabolland include 2,500 associated growers with three THC licenses, three CBD licenses and two extraction licenses.
OMG also intends to launch nine cannabis-based topical products under the OMG brand in Colombia. The first two products in OMG's topical line are expected to be in distribution in the near term.
"To see how quickly OMG is growing their business opportunities in Colombia is exciting for Next Green Wave," said former CEO Leigh Hughes. "As OMG grow their distribution channels, it opens up the platform for our brands outside of California and gives us scope to do more in a low-cost, high-margin environment in Colombia."
SD Cannabis
In March 2019, Next Green Wave acquired California-based consumer products goods and extraction leader, SDC Venture LLC.  SD Cannabis owns eight leading cannabis brands with 45 CBD and THC products. The company also has over 25 million followers on its social media accounts and has over 100 million views on YouTube. SDC has a growing network of retail and online sales channels including 700 Zumiez stores.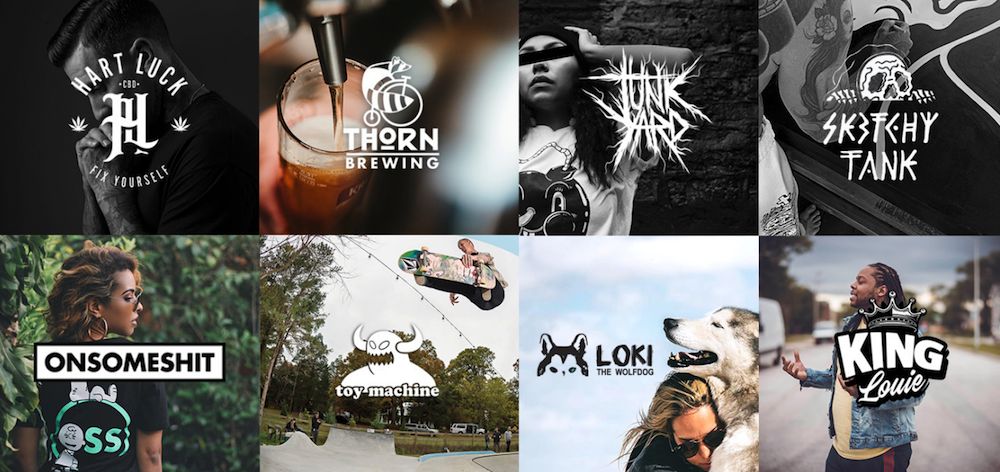 SDC's product lines and partnerships
SDC has secured strategic partnerships with important cultural influencers for the development of branded product lines for the adult cannabis market.
King Louie THC products
SDC has an exclusive partnership with Grammy-nominated hip hop star King Louie who will be launching premium flower THC products and concentrates during his new 'Life of Louie' album world-tour as well as appearances at select dispensaries in southern California.
Junkyard cannabis oils and apparel
SDC is launching an exclusive cannabis product line with influential illustrator and street artist Junkyard. The first product to market will be an oil extraction with limited release collectible packaging designed by the artist, with apparel   follow.
Lurking Class oils
SDC has partnered with California artist Sketchy Tank and his apparel brand Lurking Class to launch a line of select cannabis oils featuring limited collectible  packaging with his artwork. Sketchy Tank's artwork and clothing are sold at more than 700 stores across the US, including the leading specialty retailer Zumiez, and several multinational brands such as Vans have featured his artwork.
Next Green Wave's Management Team
Mike Jennings — Director, COO and Head of Research and Innovation
Mike Jennings is a Californian native from the Central Valley that has been working in the cannabis industry for 20 years. Aside from focusing on multiple large-scale cultivation projects, he has specialized in owning and operating dispensaries and medical offices specializing in cannabis.
Jennings is the co-founder of Loud Seeds, a multiple High Times Cannabis Cup winning cannabis breeding and cultivation company. He has been involved in cannabis cultivation, breeding and marketing for more than 15 years and has established multiple brands in both the United States and Europe. The development of these brands and their position in the industry has enabled Jennings to develop close business relationships with the leading cannabis seed breeders, distributors and collectors providing unparalleled access to cannabis genetics.
The company, Loud Seeds, has been named one of the top 40 seed banks of all time by High Times magazine and has been inducted into the Seed Bank Hall of Fame by High Times magazine. Loud Seeds has also appeared in multiple articles and features in High Times magazine, including The Million Dollar Grow Room, America's Next Pot Kings and Top Ten Strains of the Year.
Paul Chow — Co-Founder and Director
For over 18 years, Paul has provided business-advisory services for both public and private companies. He has founder, acted as a senior officer and director, and provided strategic planning for various companies in the cannabis, mining, oil & gas and technology sectors during his career. Chow's experience working with the Canadian equities market will provide great assistance to the IPO and the business development of Next Green Wave.
David Wilson, CPA, CMA — Director and Legal Compliance Officer
David Wilson is a senior financial executive with over 25 years of experience as a strategic advisor focused on facilitating opportunities and solving problems. His career has covered all aspects of corporate finance, including mergers and acquisitions, public and private financing of equity and debt, and corporate governance both in the US and Canada, with an emphasis on liquor distribution, technology, electronics manufacturing, international agriculture and consumer goods industries.
Matthew Jewell, CPA-CA — VP Finance
Matthew has spent the last several years assisting companies in emerging industries scale and grow from a financial reporting, treasury, HR, legal and operational perspective. Before joining NGW, Matt was involved with numerous technology companies in various sizes and in international locations including California. Matt spent the first several years of career at KPMG where he gathered his base knowledge of financial reporting, tax, compliance, process and control implementation.
Glen Harder — Director
Glen Harder is a corporate finance and securities lawyer, actively practicing and headquartered in Vancouver, BC. He has over 30 years of experience advising and assisting venture and emerging companies with global operations that conduct business in many different sectors of the economy. Along with years of transactional, strategic and negotiating expertise, Glen will offer legal guidance, corporate governance assistance and strategic advice to the board. Glen also serves as an independent board and board committee member for other public companies that are listed on CSE and TSXV.
---
*Disclaimer: This profile is sponsored by Next Green Wave (CSE:NGW, OTCQX:NXGWF). This profile provides information which was sourced by the Investing News Network (INN) and approved by Next Green Wave, in order to help investors learn more about the company.Next Green Wave is a client of INN. The company's campaign fees pay for INN to create and update this profile.
INN does not provide investment advice and the information on this profile should not be considered a recommendation to buy or sell any security. INN does not endorse or recommend the business, products, services or securities of any company profiled.
The information contained here is for information purposes only and is not to be construed as an offer or solicitation for the sale or purchase of securities. Readers should conduct their own research for all information publicly available concerning the company. Prior to making any investment decision, it is recommended that readers consult directly with Next Green Wave and seek advice from a qualified investment advisor.