Toll Milling Gold Stock in the Atico Valley in Peru
This profile is part of a paid investor education campaign.*
Overview
Montan Mining Corp. (TSXV:MNY; FSE:S5GM) is an emerging low-cost gold producer working in the mining district of Caraveli, Arequipa Province,  Peru. Montan Mining will execute on a third party and partnered mineral feed model to maintain maximal throughput on a small gold mill to create near-term cash flow, allowing the company to grow organically. The Company will grow its supply through agreements and partnerships and acquire additional properties in the future.
Peru is a highly ranked Latin American leader in mined commodities and over 60 percent of its exports are generated by the mining sector. The Peruvian government encourages foreign investment by guaranteeing stable income tax regulation and dividend distribution. There are also no restrictions on the repatriation of earnings, currency exchange practices, the remittance of dividends, interest or royalties or international transfers of capital.
Peru has a long history of mining that has grown from and been sustained in part by artisanal production. Artisanal miners and small mine operators contribute approximately 20 percent of all Peruvian gold production. The government has been regulating and formalizing small mining operations to better address concerns associated with the practice and to capitalize on $305 million in lost taxes. In order for artisanal miners to operate, they need to apply for operating permits and ideally only sell to companies that are licensed to process ore, and are encouraged to sell their mineralized rock ("mineral") to independent operations like the one run by Montan Mining. For the mills there are several advantages: margins are protected; there are multiple sources of mineral; operations are not predicated on depletion of a single resource; commodity price fluctuations have reduced impact; and companies need principally to focus on processing costs.
Montan Mining owns 100 percent of the Cerro Dorado Project. The property hosts the Cerro Dorado mill and the Rey Salomon mine. There is also an existing 45-person camp that provides accommodation, catering, office and storage facilities. In May & June 2018, Ausenco, an independent third party company conducted a due diligence exercise, with report that validated the Montan Mining's plans (subject to certain conditions and assumptions) for the plant and made several recommendations to enhance mill efficiency and safety. The mill is currently capable of processing 45 tpd and will be upgraded to produce 115 tpd and will include a new 60 tpd flotation circuit that will enable the processing of mineral sources that include copper or other base metal minerals.
Since 2012, the Rey Salomon mine has recorded sales of 1,675 tonnes grading 11.80 g/t gold. The on-standby mine is adjacent to the Cerro Dorado mill and is fully permitted.
In June 2018, Lions Bay Capital Inc. (TSXV:LBI) was approved to be a control person in the company by voting shareholders at Montan Mining's annual general meeting. Lions Bay is an activist investor in the resource and technology sectors. They are working with Montan Mining to recapitalize the company and to execute a strategy that will allow the company to become a near-term gold producer with expansion opportunities.
Montan Mining's executive team is experienced in both the mining and financial sectors. Jose Luis Garcia Yrivarren, Montan Mining's VP Operations in Peru, was a former commercial manager and buyer for Peru's largest private toll milling company. He brings an extensive network and has deep relationships with desirable mineral suppliers. Management and insiders, including Lions Bay, also notably own approximately 50 percent of company shares.
Company Highlights
Near-term precious metal milling production in mining-friendly Peru.
Cerro Dorado plant with 60 tpd capacity.
Permitted to expand current mill to 115 tpd and to install a +60 tpd flotation circuit.
Toll mining provides multiple capital and risk averse advantages.
Lions Bay Capital is a strategic shareholder in the company.
Management and insiders, including Lions Bay, own approximately 50 percent of company shares.
Cerro Dorado Project
In January 2017, Montan Mining acquired 100 percent ownership of the Cerro Dorado project from Chazel Capital Inc., which represented the private Peruvian company Cerro Dorado SAC. Montan Mining also acquired the existing permits to operate the Rey Salomon gold mine and processing plant.
The Cerro Dorado project is located approximately 42 kilometers up the Atico Valley via highway. There are no communities within a 40 kilometer radius of the plant. However, the project hosts a full-service 45-person camp with accommodation, catering, office and storage facilities already on site. Much of the regional production contains high recovery characteristics, and coarse gold is uncommon in most mineral feed from the region.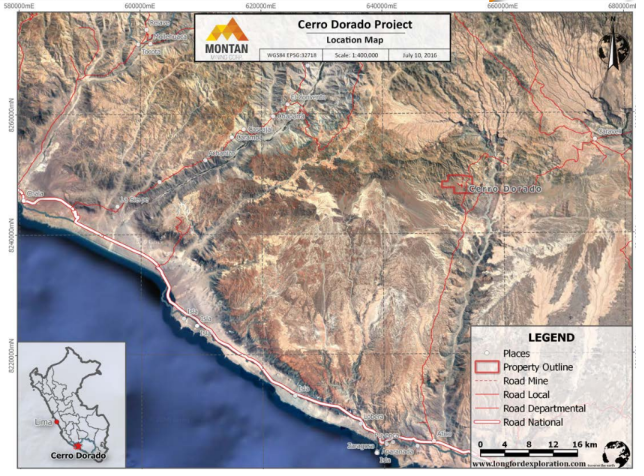 There are numerous mining claims and small producers in the area, which provides ample opportunity to form joint venture partnerships in the Atico Valley and surrounding area. The closest toll milling centers are in Chala and Nazca, which are respectively 130 kilometers and 290 kilometers away, and no competitors are formally operating in the Atico Valley. Miners in the region would save approximately $25 to $40 per ton in transportation costs by using the Cerro Dorado plant..
The historic 500,000 ounce gold past producing Mina Calpa is located approximately eight kilometers northeast of the plant. Mina Calpa continues to produce mineral from artisanal development. Cerro Dorado's proximity to Mina Calpa could offer business opportunities for both companies.
Cerro Dorado mill
The Cerro Dorado plant is capable of processing 45 tpd in its current state, but Montan Mining has been granted a permit to expand the current processing center to handle 115 tpd and to include a new 60 tpd flotation circuit.
There is also an option to expand the mill's processing to 360 tpd under a small mining permit. The proposed flotation circuit would make the sulphide-gold recovery process more efficient. The property is also hosts a permitted water well on site with an adequate supply.
The Ausenco report
In order to confirm the proposed business model for the project, Montan Mining and Lions Bay chose Peruvian division of Ausenco to inspect and assess the plant in May and June, 2018.
The resulting independent due diligence report confirmed Montan Mining's confirming the pathway to operating and upgrading the Cerro Dorado plant to reach permitted capacity. Ausenco also made several recommendations, which include:
Improved handling of certain monthly cost items (vehicle leases) in the cash flow model
Reviewed & validated the plant restart CAPEX model
Corroborated or corrected market price cost assumptions
Plant found fit for purpose on completion of Company preparations plan
Modifications to the tailing dam construction detail
Improved CIL carbon flow and recovery scheme
Improved detail to the HSEC improvements to the existing plant and generator installations
Improved handling of monthly cost items, such as vehicle leases, in the cash flow model.
A reviewed and validated plant restart CAPEX model: some revisions on made on advice; and
Recommendation re. Labour Market assumptions made
Recommended increasing overall Contingency Allowances
Overall, Ausenco found the plant was fit for purpose subject to the proper completion and implementation of the company's preparation plans.
Rey Salomon mine
The Rey Salomon mine is adjacent to the Cerro Dorado plant. Since 2012, the mine has recorded sales of 1,675 tonnes grading 11.80 g/t gold. The mine is a fully permitted underground mine and has been producing minerals up until May 2016. The Rey Salomon mine and adjoining 1,172 hectares of claims could provide the feedstock for the plant.
Underground mine development includes:
1,246 meters in 27 drifts;
Approximately 317 meters in 14 audits;
Approximately 400 meters in 18 raises; and
Approximately 48 open mining faces.
The Rey Salomon mine requires further exploration as only five of the 32 identified veins have been developed.
Management
Ian Graham, B.Sc. (Honors), Geology — CEO & Director
Ian Graham is an accomplished mining professional with over 20 years of experience in the development and exploration of mineral deposits. Most of his experience was gained working for the major mining companies Rio Tinto and Anglo American. He was the former Chief Geologist with the Project Generation Group at Rio Tinto from a operating base in Vancouver.
Graham has been involved with evaluation and pre-development work on several projects in Canada and abroad including the Diavik Diamond Mine in the Northwest Territories in Canada, Resolution Copper in Arizona, Eagle Nickel in Michigan, Lakeview Nickel in Minnesota and Bunder Diamonds in India.
Prior to his work with Rio Tinto, Graham held exploration geologist roles with Anglo American. He graduated from the University of Natal (now Kwazulu Natal) in Durban, South Africa with a B.Sc. in Geology and Applied Geology in 1984 and B.Sc. (Hons) in Geology in 1985.
Luis F. Zapata — Executive Chairman
Previously, Luis Zapata was a Partner and the Head of Capital Markets at Seminario SAB, Peru's largest independent brokerage firm. Prior to that, he was the Head of Latin America Institutional Equity Sales at Canaccord Genuity. Zapata has structured, financed or participated in over $500 million of equity raises for natural resources companies with a focus on connecting Latin American assets with Canadian and global public market financing and listing vehicles.
Zapata is a frequent media commentator on the resource sector in Peru and a dual Canadian/Peruvian citizen who is fluent in both English and Spanish.
Anthony Balic — CFO
Anthony Balic is a Chartered Professional Accountant who has worked with publicly listed Canadian and US resource companies for the past 10 years. He is currently the CFO of Goldgroup Mining Inc. and he was part of the finance team that brought their Mexican gold mine into commercial production. Prior to this position, he was a Senior Manager at Deloitte LLP in Vancouver, where he specialized in assurance and advisory for publicly traded mining companies.
Greg Hall — Director
Greg Hall is an independent business advisor to the mining industry. For over 30 years, he has focused on significant international exploration, development, and mining ventures, and all aspects of their structuring and finance.
He is currently President of Water Street Assets Inc. and is a Director of Prophecy Development Corp. Hall was previously a director of Silvercorp Metals Inc., China's largest primary silver producer and one of the lowest cost silver producer among its industry peers. Other former appointments include: Director at Haywood Securities; Vice-President, Canaccord Genuity; and Senior Vice-President of Leede Jones Gable.
He is a graduate of the Rotman School of Management, University of Toronto, SME Enterprise Board Program, and a Member of the Institute of Corporate Directors.
Jose Luis Garcia Yrivarren — VP Operations in Peru
Jose Luis Garcia Yrivarren was previously employed at Peru's largest private gold processing company. The firm produced 79,966 ounces of gold in 2014 through its gold milling facility located in the Chala district. During his tenure, Yrivarren was responsible for the organization and formalization of mineral feed purchases as well as overseeing the business' mineral supply chain, which is secured through satellite receiving stations dispersed among the established gold production districts in southern Peru.
In his former role, he assisted in achieving a 300 percent gold production increase, as well as improving average feed grade from 0.53 ounce per ton to 0.79 ounce per ton gold. Yrivarren also helped shorten the feed assay and mineral supply payment process, which reduced the wait time for miners and rendered the process more efficient and transparent.
Yrivarren was also responsible for helping miners through the formalization process. He helped maintain rigorous safety standards, which among other things reduced the average number of transport accidents from five per year to one per year during his tenure.
Yrivarren is a graduate of the University of San Martin (B.A Econ) and holds a Diploma of Finance from ESAN, Peru's most prestigious business school.
Bahay Ozcakmak — Director
Corporate strategy expert with extensive experience, including CEO and director level roles in the energy and resource sectors. His recent experience has been with companies focused on cobalt, gold, lithium, nickel, potash and uranium projects. Currently, Ozcakmak is a director of several mining focused companies, including Consolidated Potash Corporation and executive director of Lions Bay Capital Inc., Montan Mining Corp's largest shareholder.
Mark Reynolds — Business Development
Mark Reynolds is a public company financier, management consultant and entrepreneur.  After working for mining concerns in Western Australia and Montana, Mark worked as a stockbroker in Vancouver where he focused on the financing of mining, exploration and technology companies.
Mark is a co-founder of Mineral Development Advisory Group ("MINDEV"), which consults to advanced stage mining projects globally to assist companies realize their production goals, including Mandalay Resource Corp.  (TSX:  MND) and MCoal Corporation (a subsidiary of NovaDX Ventures (TSX:  NDX)), among others.
Mark Reynolds graduated with a Bachelor in Business Administration in Perth, Western Australia.
*Disclaimer: The profile provides information which was sourced and approved by Montan Mining in order to help investors learn more about the company. Montan Mining is a client of the Investing News Network (INN). The company's campaign fees pay for INN to create and update this profile page, to which links are placed on Investingnews.com and channel newsletters.
The company description, investment highlights and catalysts were sourced by INN and approved by the company. INN does not guarantee the accuracy or thoroughness of the information contained on this page.
INN does not provide investment advice and the information on Investingnews.com profile should not be considered a recommendation to buy or sell any security.
INN does not endorse or recommend the business, products, services or securities of any company profiled.
Readers should conduct their own research for all information publicly available concerning the company.