Overview
MLK Gold Ltd. ("MLK", MLK Gold", or the "Company") is a new company formed concomitantly during the agreement arrangement between Mountain Lake Minerals Inc. and 1151024 B.C. Ltd. Mountain Lake Inc. was renamed to Pac Roots Corp. and a new Company (Spinco, or 1167343 B.C. Ltd.) was formed to hold Pac Roots mineral assets. The new Canadian gold exploration company (MLK Gold Ltd.) has a portfolio of gold projects in mining-friendly Newfoundland. The company recently completed a series of low-cost acquisitions, including the low sulphidation epithermal Manuels Gold Project and the mesothermal Caledonia Brook Projects hosting mineralization in granitoid lithologies of the Crippleback Lake Intrusive Suite (same age as Marathon Gold's Valentine Lake project host rocks) and the surrounding highly altered volcanics of the Victoria Lake Supergroup. MLK also owns a 100 percent interest in the high-grade Golden Eye Project at Little River. Located along major gold trends, each of these properties exhibit the potential to host large-scale mineralizing systems.
Newfoundland ranks among the world's top 10 mining jurisdictions, according to the Fraser Institute's Mining Survey. Although Newfoundland's only producing gold mine, Anaconda Mining's (TSX:ANX) Point Rousse, is running low on gold reserves, the region has become a recent hotspot for gold exploration and development.
MLK Gold's flagship project is the Caledonia Brook Gold Project, which has the potential to host large mesothermal, quartz vein hosted gold systems like that of Marathon Gold which lies about 180 km further to the southwest along the same structural trend. Host rocks at Caledonia Brook share the same unique geological age as those of Marathon's Valentine Lake gold deposit. The Company completed a fully funded exploration program in the fall of 2021 at both Caledonia Brook and Little River. Although the exploration team will focus on gaining a better geological understanding of the mineralization, alteration, structure and stratigraphy controlling gold mineralization, emphasis will be placed on locating potential mineralized zones for test drilling. MLK Gold's management will acquire additional financing to complete its strategic action plan in 2022.
Positive results from three successive exploration programs at the Company's Caledonia Brook Gold Project further support the similar potential for intrusion-hosted gold mineralization along the Valentine Lake Structural. MLK will continue its ongoing exploration there into 2022. Currently, based on both historical data and new interpretation, 10 specific trends with the potential to host gold mineralization have been identified. Selected work was carried out over 4 of these trends in 2021. Visible gold (2.85 g/t Au) is present in quartz veins and pristine gold grains recovered from glacial till are present over a significant portion of the property. Prolific alteration and anomalous soil geochemistry suggest multiple gold targets along these specific trends across the property.
The Golden Eye Project at Little River has historical assays up to 18.9 g/t Au from angular grab samples on the property. A prospectus mineral corridor, based on historical diamond drilling, trenching, and soil sampling runs through the center of the property. Fine- and coarse- grained visible gold mineralization is associated with deformed quartz veins located approximately 3 km south of the property with the same structural/stratigraphic package striking through the centre of the project area. Diamond drilling along this mineral corridor recently reported assays up to 289 g/t Au over 1 m widths. Gold assays from grab samples up to 4,485 g/t Au along this corridor was verified by the Company. MLK Gold believes its new geological interpretation at the property will result in further gold discoveries.
The Manuels Property, located on the Avalon Peninsula of Newfoundland is a structurally complex volcanogenic, low-sulphidation epithermal setting with known veining and mineralization. Gold mineralization on the property is low grade (~0.5 g/t Au) but has never been drill tested other than by MLK Gold in late 2020-early-2021.
MLK Gold is led by a team of seasoned veterans with decades of experience in resource exploration and raising capital. President and CEO Paul Smith is a professional geologist who spent 33 years with the Mineral Resources Section of the Nova Scotia Department of Natural Resources as a Senior Research Gold Geologist and as Liaison Geologist for the Mineral Resources Branch before entering the private sector in 2008. Executive Chairman Bill Fleming has years of experience raising equity for small cap companies, including mineral exploration. The team also benefits from a strong network of contacts across Canada, as well as those in Newfoundland's resource sector.
Company Highlights
Operating in the world-class mining jurisdiction of Newfoundland, an emerging hotspot for gold exploration and development.
Has a strong portfolio of gold projects with discovery and resource development potential.
Its flagship Caledonia Brook property host mesothermal lode gold mineralization on the Valentine Lake Structural Trend, which hosts Marathon Gold's Valentine Lake gold deposit to the southwest and New Found Gold Corp's high grade mineralization along the parallel Appleton Fault Trend to the northeast.
High grade gold at the Golden Eye Project in southern Newfoundland supports the potential of previously unrecognized mineralization in that area where recent high grade grab samples are reported.
The Manuels gold property is located along major gold trend and exhibits the potential to host a low-sulphidation epithermal gold system.
Experienced management team well-connected to Newfoundland resource sector and throughout Atlantic Canada.
MLK Gold is newly listed on the CSE stock exchange under the symbol, MLK.
The company added 104 lithium claims covering 2,600 hectares on its 360 Lithium property located on the south coast of Newfoundland
Key Projects
Exploring Atlantic Canada
MLK released its Exploring Atlantic Canada: We Believe promotional video showcasing Newfoundland's "diverse, resource-rich land of golden opportunity." Shot with a high-definition (HD) quadcopter aerial drone over Newfoundland's picturesque mining interior, the video captures MLK's passion and commitment to "standing amongst giants" as the Company aims to grow its 2022 operations in a sustainable and inclusive way. To view the video, please click HERE.
Flagship Project: Caledonia Brook, Newfoundland
MLK Gold ("MLK") holds a 100 percent interest in 280 mineral claims (7,000 hectares) at the Caledonia Brook mineral property in central Newfoundland. This property is situated along the Valentine Lake shear zone which hosts the Valentine Lake Gold Project including total resources of 3.14 Moz. of gold at 1.72 g/t Au in the Measured and Indicated categories and an additional 1.64 Moz. of gold at 1.72 g/t Au in the Inferred Mineral Resource category. This Intrusive Related Gold System ("IRGS") crossing Central NL is host to dominantly mesothermal lode gold deposits. MLK's Caledonia Brook IRGS, which is hosted in quartz monzonite and gabbro/diorite of the Crippleback Lake Pluton yielding a U/Pb zircon age of 565 +4/- 3Ma, identical to the Valentine Lake plutonic suite. Much of the volcanic and sediment dominated units in the northern half of the property are unexplored but are known to host quartz veins with visible gold.
The high-grade gold discovery by New Found Gold Corp's located west of Gander lies east of Caledonia Brook property and along en echelon mega-fractures that trend southward towards MLK Gold's Golden Eye gold property in an en echelon fashion.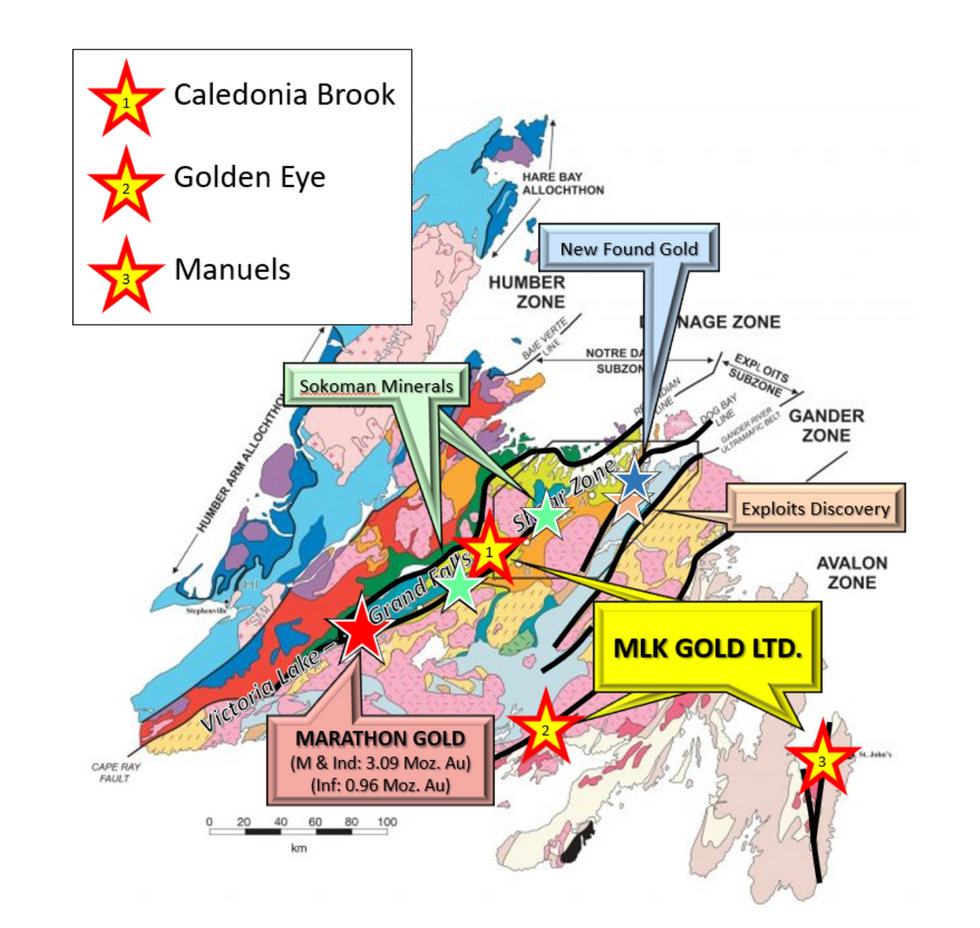 Preliminary exploration and data farming have resulted in the MLK team defining 10 initial target gold zones. The Company's earlier exploration focused on the five western zones while 2021 exploration looked at portions of the Mustang66, Viper, Iceman, and Maverick Zones on the more easterly part of the property.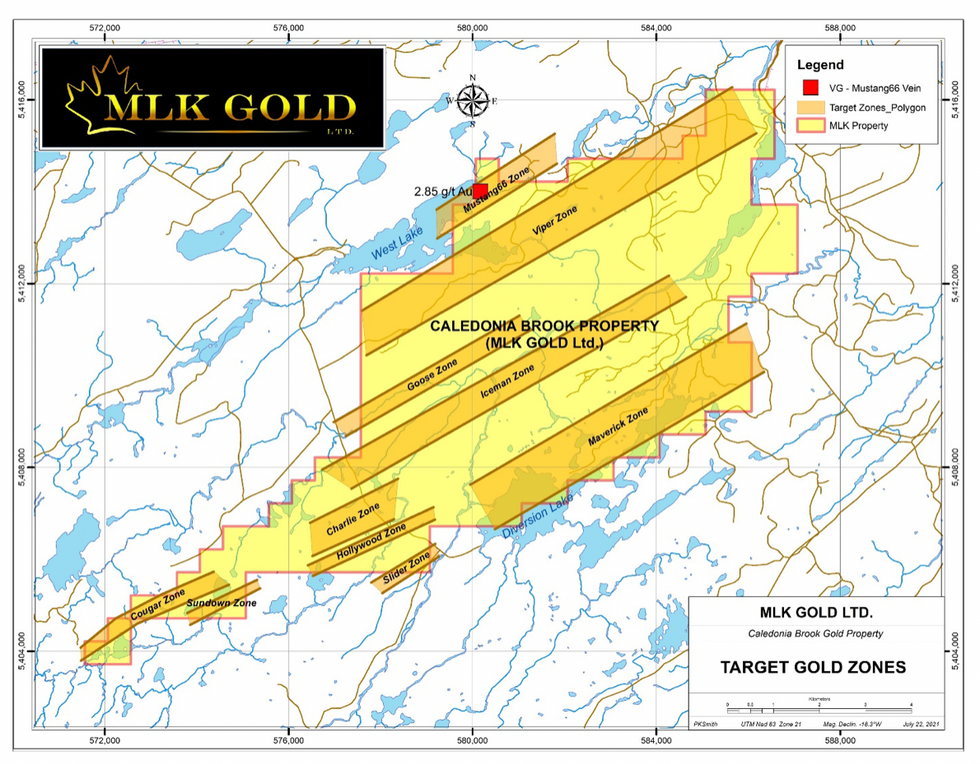 Golden Eye Project, Newfoundland
The Golden Eye Project currently covers 20 mineral claims along a more than 40 kilometres long mineral trend hosting high grade gold and antimony mineralization with lesser amounts of copper, lead, and zinc. Most of the higher grades of both gold and antimony occur in systematically spaced en echelon quartz vein arrays, mostly concentrated along an approximately 200-metre-wide stratigraphic corridor that trends through the Golden Eye project area. Alteration is generally subtle but locally pervasive. Disseminated sulphides (pyrite ± arsenopyrite) my locally range up to 20%.
Gold-bearing quartz vein morphology includes stratabound, en echelon, zoned, anastomosing, discordant side veins, stockwork, breccia, and cross-cutting forms. Ankerite with minor calcite and minor amounts of plagioclase are also present. Host rock fragments are common in many veins which occur up to three (3) metres locally. The high-grade mineralization recently discovered by New Found Gold appears to be similar to mineralization at the Golden Eye.
Historical soil sampling, prospecting, and diamond drilling by Mountain Lake Resources between 2009 and 2011 resulted in the discovery of numerous gold and antimony discoveries, albeit little follow up exploration was conducted. MLK Gold management believes that further exploration is required evaluate historical information.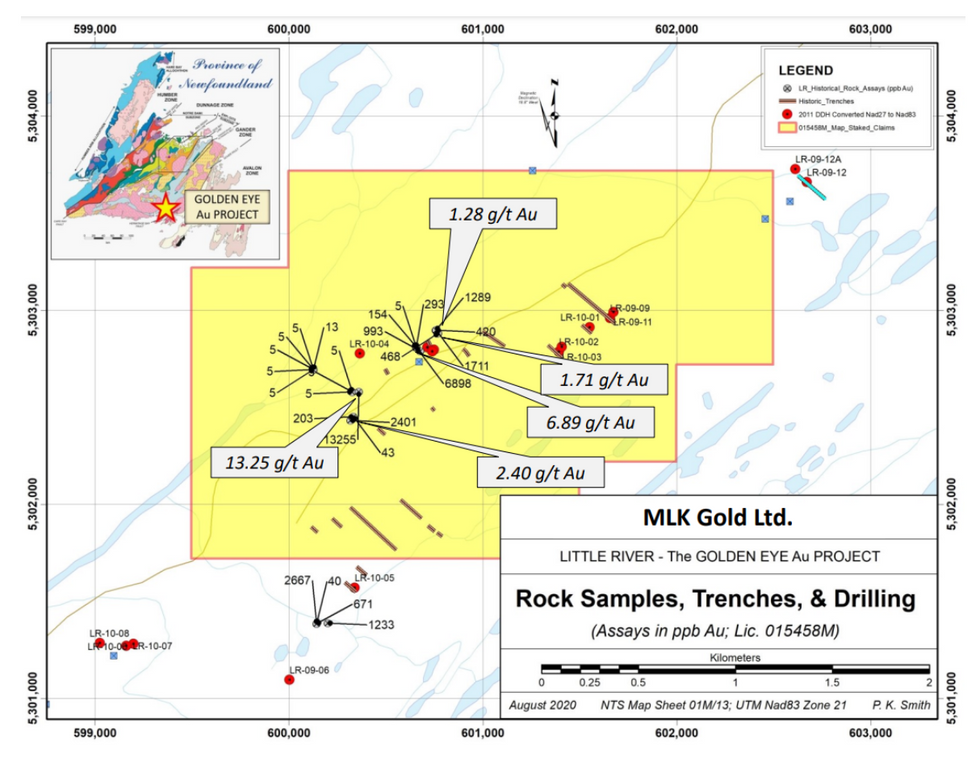 Manuels Gold Property, Newfoundland

MLK Gold's Manuels gold property covers 21 claims on three contiguous licenses located in eastern Newfoundland. A mere 3 kilometers south of the town of Conception Bay South and adjacent to existing pyrophyllite mining operations, the Manuels project area enjoys excellent infrastructure including paved roads, utilities, and a skilled workforce, as well as rail and a seaport immediately to the north.
The Manuels project occurs along an underexplored north-south trending structural setting with epithermal quartz veins hosting a series of vein and breccia gold occurrences along a 10-kilometer-long portion of the Manuels high-alumina mineral belt. There are five specific north-south, sub-parallel structures crossing the property that could all host mineralization. There is also potential for an east-west trending mineralizing fault system. Grab samples from the Bergs and Steep Nap vein, which trends onto the property have historical assay up to 9.3 g/t Au and 54.3 g/t Au respectively.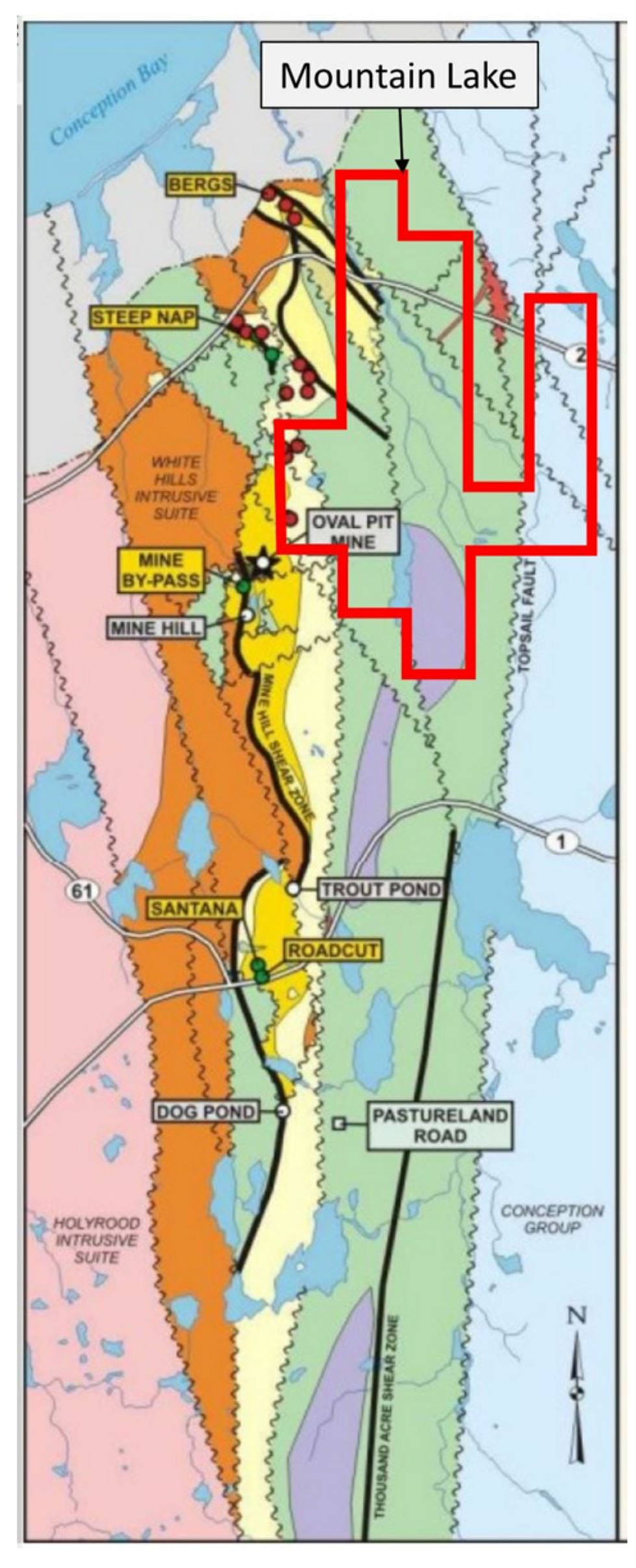 MLK Gold's management team believes this geological environment is an ideal setting for a large, shallow, volcanogenic, low-sulphidation epithermal gold vein system. This setting shares similarities to epithermal systems found in the North Island of New Zealand that gave rise to the Waihi gold deposits.
The company is pursuing both known mineral extensions on the property identified through historical work and new vein systems. In 2004, Rubicon Minerals drilled broad zones of gold-bearing veins and hydrothermal breccia with assay returns of up to 1.9 g/t gold over 0.7 meters. At Bergs, immediately to the north, a grab sample from a 1-meter-wide vein trending onto the Manuels property assayed 54.3 g/t gold.
MLK's current exploration work is testing both the strike and down dip potential of these extensions, in addition to other anomalous silver geochemistry
Exploration Update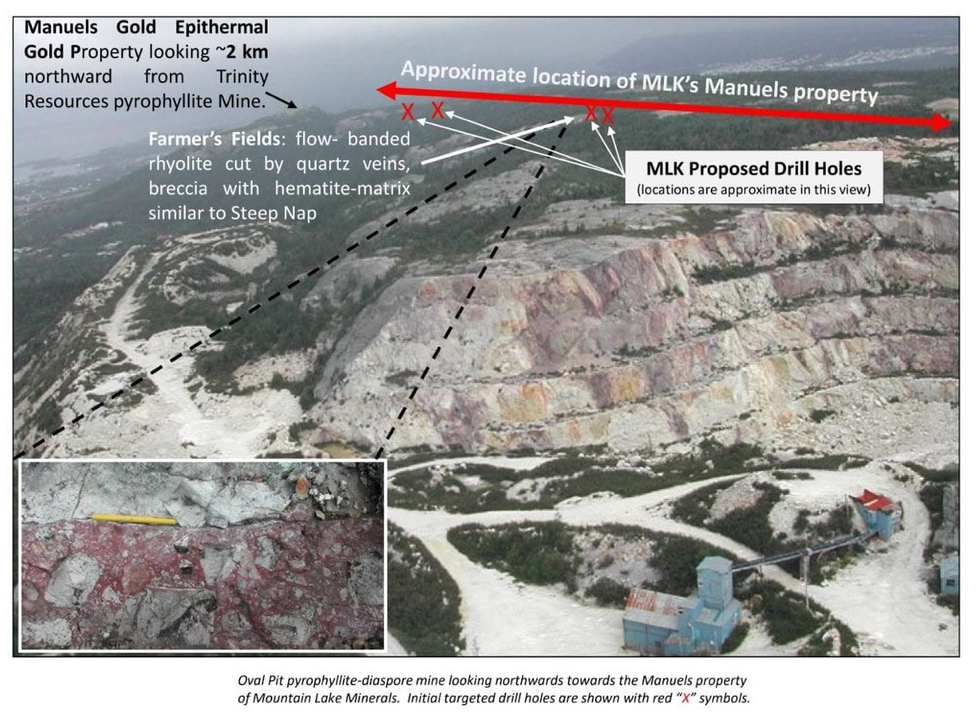 Fall 2020-winter 2021 confirmation diamond drill results targeting the near-surface and depth extension within each corridor will be released soon. The company's 2021 Phase II application for exploration permit is currently under review.
Management Team
William (Bill) Fleming - Executive Chairman, CFO, Director
Bill Fleming has founded and served as CEO for a number of entrepreneurial companies and has served with senior executive teams dealing with equity and debt financings. Fleming has developed corporate strategies for a wide range of companies, from family-owned businesses to multinational companies. He currently serves as Executive Chairman of Mountain Lake Minerals and was President of Mernova Medicinal Inc., which recently sold to Switzerland-based Creso Pharma Limited. Fleming is a Director of SpeakEasy Cannabis, and he served as the CFO and Director of NWest Energy Corp. He has experience raising equity for small cap companies and has experience in mineral exploration, renewable energy, cannabis and the psychedelic industry.
Paul K. Smith (P.Geo.) - President and CEO, Director
Paul Smith initially assumed the role of president and CEO of Mountain Lake Minerals in July 2012 after the successful plan of arrangement between Mountain Lake Resources and Marathon Gold. A professional geologist with an MSc in structural geology from Acadia University, Smith has a unique mineral deposits skill set that stems from both private and public sector experience. He spent 33 years with the Mineral Resources Section of the Nova Scotia Department of Natural Resources as a Senior Research Gold Geologist and finally as Liaison Geologist for the Mineral Resources Branch. He joined Acadian Mining Corp in 2008 and was instrumental in the cleanup and sale of the ScoZinc Zn-Pb mine at Gays River. Smith joined Mountain Lake Resources in 2011 as Exploration Manager and then became COO. He has strong communication skills and has traveled and worked extensively throughout Canada, the US, Australia and New Zealand.
Kiley Sampson - Independent Director
Kiley Sampson has been a professional engineer in the Marine and Oil and Gas industries for the past 30 years. For the past 15 years he has been the owner and operator of his own business, supplying expertise on both construction and conversion of sea-going vessels. A native of Cape Breton, Sampson has worked for major oil companies and small independent operators alike, always delivering customer value with a high degree of technical expertise and knowledge. He is recognized as a leader in marine, oil and gas industry where he specializes in project management with projects now completed ranging from $60 million to $150 million. As project manager, Sampson was recently responsible for the successful delivery of the Cecon Pride, a multipurpose subsea construction vessel. He has experience in both the technical aspects and financial arrangements of complex projects, resulting in positive return on investment for his clients.
Patrick Elliott - Independent Director
Mr. Elliott is a true leader and entrepreneur. He is the President & CEO of Lexore Capital Corp., a private resource and cannabis investment company as well as Phenome One Corp, a full-service cannabis farming company focused on elite strain selective breeding. Mr. Elliott brings over 10 years of corporate finance, mineral exploration, and financial markets experience. He is a graduate of the University of Western Ontario in Geology and holds a MSc. in Mineral Economics and an MBA from Curtin University of Technology in Perth, Australia. Patrick specializes in economic resource evaluation, financial modelling, CAPEX estimation, corporate development, and finance. Combined with his technical knowledge, Patrick has a wealth of contacts in the financial sector.
Advisory Board
In 2021, the Company announced it had initiated the creation of an independent Advisory Panel to provide input to both management and the Board of Directors. The Panel will reflect the Company's increased awareness around diversity and inclusion within the mining industry. With three members currently appointed, management will seek two additional candidates to round out the panel's wide range of interests and expertise. Further details will be provided in 2022 once all five members have been confirmed.
Request an Investor Kit
EXCITING upcoming projects!
IN-DEPTH reliable insights!
SUCCESSFUL growth strategies!
VALUE-BASED content!
MLK Gold