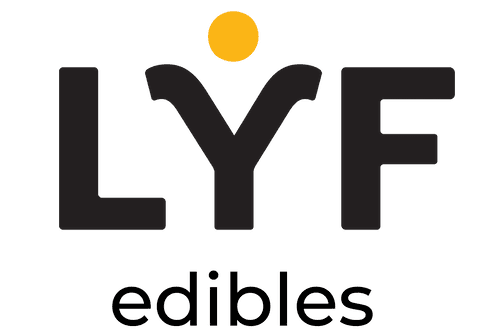 LYF Food Technologies
Quality Edibles at High-Value Margins
Overview
LYF Food Technologies Inc. is a 100 percent edibles-focused consumer products company, developing high-quality edible products that are just as enjoyable as snacks as they are cannabis products. The company's management team has more than 25 years of experience in large-scale food manufacturing.
More than one full year after the first wave of cannabis legalization, Canada has finally made value-added cannabis products like edibles available for legal sale, with the changes coming into effect in December. According to data by Deloitte Canada, the market for infused cannabis products is projected to be worth an estimated US$2.7 billion annually, with edibles accounting for the bulk of the market.
In much of the cannabis industry, edibles have been something of an afterthought. Many cannabis companies are developing edibles as part of larger product lines with dried bud, extracts and other infused products. Most cannabis companies are not experienced in the food industry, and so high-quality non-cannabis ingredients and ideal recipes tend not to be a focus. In contrast, LYF's management has extensive experience in large-scale food manufacturing for some of Canada's largest grocery stores, health and wellness retailers and pharmacies. LYF's model is 100 percent focused on producing edible products that taste just as good as their non-cannabis infused counterparts.
To make high-quality cannabis edibles, you need high-quality ingredients. This includes using premium-quality cannabis and pure extracts, but equally important are the non-active ingredients. A brownie, for example, is only as good as the chocolate used to make it. The addition of cannabis will only serve to highlight the flaws in a low-quality baked good. LYF is focused on sourcing only high-quality cannabis extracts and food ingredients. To that end, the company has formed strategic partnerships with suppliers of premium food ingredients as well as a number of public and private licensed cannabis producers.
LYF's wholly-owned production facility in Kelowna, British Columbia is capable of producing edible products quickly, in high volumes and with low overhead rates. Premium value-added cannabis products carry high-profit margins. LYF says that the average profit margin for one of their edibles is 92 percent compared to a 76 percent margin for a gram of dried cannabis bud. LYF's lean and efficient team of experienced professionals also helps the company maintain a low overhead rate. According to the company, LYF will require just three million in gross sales before breaking even in 2020.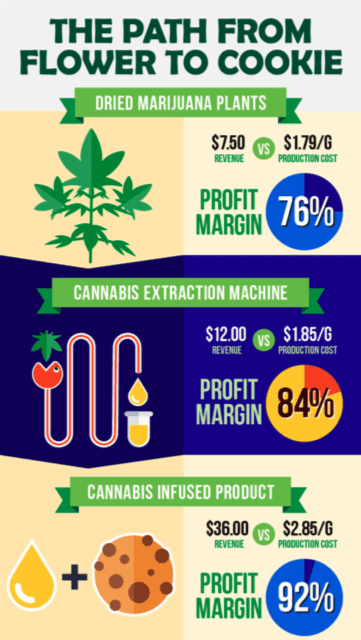 LYF Food Technologies Company Highlights
100 percent focused on edible cannabis products
Evidence package submission to Health Canada scheduled for December 2019
Health Canada license approval expected in the first quarter of 2020
Management team has in-depth food industry development experience
High profit margins of as much as 92 percent per value-added product
Purpose-built manufacturing facility with capacity to produce $250,000,000 worth of edible cannabis products yearly
Opportunities for white labeling partnerships
Participating in the Lift & Co trade shows in both Vancouver and Toronto 2020
Kelowna manufacturing facility
LYF Food Technologies owns a purpose-built state of the art manufacturing facility in Kelowna, British Columbia. The 10,500 square foot facility is capable of producing $250,000,000 worth of edible cannabis products each year in safe and consistently dosed processes. The all-in-one facility will serve as an innovation, manufacturing and distribution hub with the second floor equipped with microbial and analytical labs and dedicated space for research and development. LYF's offerings will cater to traditional taste and texture profiles while allowing for forward-thinking development to keep up with evolving consumer tastes and trends. The facility is equipped with proprietary production technology capable of producing 17,500 units per hour with interchangeable molds and injection nozzles to be able to flexibly produce multiple product categories. The facility also contains infrastructure for quality and safety testing.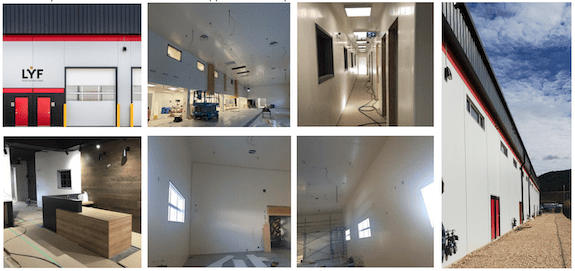 White labeling opportunities
The Kelowna facility's massive production capacity also opens up opportunities to open additional revenue streams. For the hundreds of existing cannabis brands operating in Canada that are looking to expand into the edibles market, acquiring the production infrastructure and expertise necessary to produce a quality edible product is often not financially feasible. These companies are likely to turn to white labelers for their edible production needs and LYF's Kelowna facility has the capacity necessary to provide these services in addition to the company's own products. LYF is already at work building relationships that could potential competitors into strategic partners. In addition to building partnerships with Canadian markets, LYF is developing relationships with companies in emerging cannabis markets in Australia, Europe and South America.
LYF Food Technologies' Management Team
Paolo Pero—CEO, Director
Paolo has extensive experience in management, product development, quality control, scalability and operations after a 25+ year food manufacturing career. Paolo grew up working in his family bakery before launching his own career in the early 90's after achieving his Red Seal certification. Over the years, Paolo's businesses have supplied the largest supermarket chains in Canada, including Save-OnFoods, Safeway, Sobeys and IGA. In addition to manufacturing chocolate and confectionery products under private label and provided co-packing solutions for retailers such as Walmart, Pharmasave, 7-Eleven and Whole Foods.
Matthew Amado—President, Director
Matthew has been focused on marketing strategies, branding, packaging, import/export operations and e-commerce solutions for food manufacturing companies for over 8 years. His most recent role involved growing market share and cutting distribution costs in the pharmacy sector. Matthew started his entrepreneurial journey after retiring from a 6-year professional hockey career that took him all over North America and Europe. He is a graduate of the University of Notre Dame with a B.B.A. in Marketing.
Dani Majzoub—VP of Production
With over 24 years of experience producing all kinds of food, her last 13 years have been spent exclusively managing and operating a confectionary team as a master chocolatier. Dani is able to formulate and consistently produce chocolates and other food items with specific taste profiles at the highest levels. She is proficient with Organic, HACCP, BRC and GMP accredited facilities. She recently won best snack food for her milk chocolate quinoa bar at the 2019 Canadian Gluten Free awards.
Jessika Bedard-St-Amant—VP of Science
Jessika brings 12 years of experience as a food chemist and flavorist previously working for Kerry, SunRype and Marvini. She has developed and successfully launched dozens of food and beverage consumer products with distribution in the Americas and Europe. She also has extensive experience in obtaining and maintaining HACCP, ISO 22 000, GMP and organic certified facilities. She holds a Master's degree in Food Science from Université Laval and a Bachelor in Chemistry from Université de Sherbrooke.
Todd Sprieszl—VP of Quality Assurance
Todd has spent his entire career working in a multitude of related chemistry, microbiology, and biotechnology labs. In his last position at a Phytoceuticals company, Todd worked with clients to produce both natural health products and food products. He specializes in obtaining product license numbers, site licensing, editing and writing SOPs and has tremendous proficiency in the new cannabis regulatory processes. Todd has a BA in Chemistry from the University of British Columbia.
Ranjeev Dhillon—Legal Advisor, McCarthy Tetrault LLP
Ranjeev is the co-lead of the firm's national Cannabis Law Group. A recognized leader known for his pragmatism, business knowledge and industry expertise, Ranjeev helps clients successfully navigate the evolving demands of the high-growth cannabis market in Canada and abroad. Ranjeev is at the forefront of the industry, helping innovative companies and entrepreneurs manage significant market potential while minimizing risk. He has worked with some of the biggest names in the cannabis industry including Canopy Growth Corporation, Auxly, and Vivo Cannabis.
---
*Disclaimer: This profile is sponsored by LYF Food Technologies Inc. This profile provides information which was sourced by the Investing News Network (INN) and approved by LYF Food Technologies Inc., in order to help investors learn more about the company. LYF Food Technologies Inc. is a client of INN. The company's campaign fees pay for INN to create and update this profile.
INN does not provide investment advice and the information on this profile should not be considered a recommendation to buy or sell any security. INN does not endorse or recommend the business, products, services or securities of any company profiled.
The information contained here is for information purposes only and is not to be construed as an offer or solicitation for the sale or purchase of securities. Readers should conduct their own research for all information publicly available concerning the company. Prior to making any investment decision, it is recommended that readers consult directly with LYF Food Technologies Inc. and seek advice from a qualified investment advisor.