Overview
---
Lexaria Bioscience Corp. (NASDAQ:LEXX) is a biotechnology company focused on its proprietary drug delivery technology DehydraTECH™. The company has been granted 18 patents internationally and submitted over 60 patent applications. Operating on an out-licensing and royalty business model, the company generates most of its revenue from very high profit-margin royalties by licensing its patented DehydraTECH™ technology to other companies.
Lexaria is exploring several verticals for its DehydraTECH™ technology:
A potentially game-changing hypertension medication using Lexaria's patented processed CBD without the awful side effects of other leading drugs. There are 1.3 billion people with high blood pressure.
Reduced risk nicotine alternatives to deadly cigarettes: intended to improve the lives of 1.1 billion global smokers.
Much faster and more reliable oral cannabinoid delivery in product formats like oral pouches intended to eliminate cigarette smoking.
Antiviral drug improvements targeting COVID-19, HIV/AIDS, influenza, and other viruses that together kill millions of people every year.
DehydraTECH™ improves the way in which active pharmaceutical ingredients enter the bloodstream and increases the effectiveness of fat-soluble active molecules, thereby lowering overall dosing. This method promotes healthier oral ingestion methods compared to smoking, and less wasteful methods compared to needles for vaccines. The technology enhances formulations that quickly and effectively deliver a wide range of bioactive molecules, such as nicotine, CBD, NSAIDs and various other drugs and medicines. In addition to these priority verticals, the technology can be applied to food and supplements.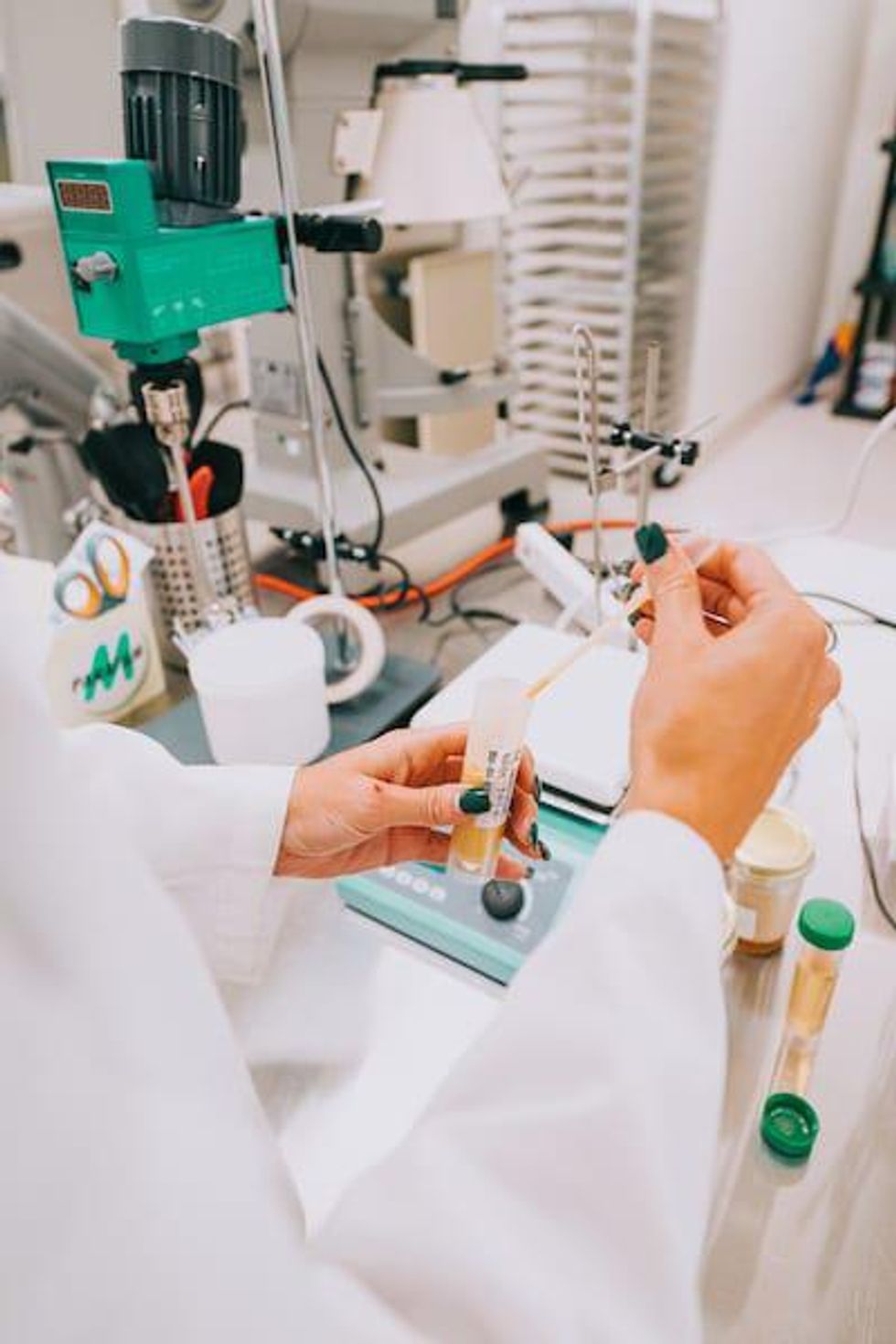 In March 2021, the company announced significant progress in its research and development for DehydraTECH™ use for administering both CBD hypertension medication and antivirals for COVID-19 using DehydraTECH™ 2.0, an enhanced version of its proprietary technology. Lexaria expects to receive results for all five studies for its CBD for hypertension R&D this year, beginning as early as May. Results from Lexaria's 2018 human clinical study were successful and positive 2021 results could open the door to a new commercial pathway within this US$28 billion annual market.
"It's been a very productive start into 2021 with a total of seven studies currently underway across our various research programs," commented Chris Bunka, CEO of Lexaria. "Lexaria's applied R&D programs are vital to generate the supportive data required to pursue either regulatory approvals or corporate relationships necessary for commercial launch. We expect great success this year and are eager to report study results as they become available."
Some existing studies have found that DehydraTECH™ technology increases the absorption of bioactive compounds by as much as five to 10 times and takes effect in as little as several minutes after swallowing a capsule.
The company is also focused on licensing its technology for use as a safer method of nicotine consumption, as millions of people die each year from smoking cigarettes – the worst possible method from a safety perspective of administering nicotine. Oral administration of purified nicotine, for example, avoids lung disease potential such as emphysema and lung cancer. Lexaria's second-generation testing of its oral nicotine showed 195 percent more nicotine across the blood-brain-barrier, which could allow for smaller doses of nicotine. The formulation was also four times faster at reaching its peak level in brain tissue than the control formulation.
In other industries, DehydraTECH™ is licensed as an alternative form of orally administered THC and CBD. Like cigarettes, joints are harmful to users' lungs, but the safer choice of edibles have their own drawbacks of a long onset and prolonged effect. The use of DehydraTECH™ for oral edible formulations offers a fast onset and more control, making it a much safer and more user friendly alternative to old-fashioned options.
Lexaria is led by an experienced management team that owns about 13 percent of the company's shares and have many decades of experience.
Lexaria's Company Highlights
Intellectual property (IP) portfolio consists of ~60 pending patent application submissions and 18 granted patents.
Most revenue generated is high profit-margin royalty income.
B2B revenue model focused on out-licensing the patented DehydraTECH™ technology in return for licensing fees and commercial royalties.
Positive results in preclinical and clinical research for DehydraTECH™ technology.
Licensing or formal R&D agreements in place with Altria, Cannadips, Hill Street Beverages, British American Tobacco and more.
Research partnership with the Canada's prestigious National Research Council ("NRC").
Health Canada licensed, state-of-the art formulation development laboratory.
Lexaria's 19th patent granted in India complements the existing suite of granted patents spanning the EU, the US, and Australia. The 20-year patent also provides intellectual property protection to both consumer-packaged goods as well as registered drug applications.
DehydraTECHTM
DehydraTECH™ is Lexaria's patented and cost-effective delivery technology that improves the speed of action, bioavailability, taste and more, of beneficial compounds in oral and oral ingestible products. DehydraTECH™'s patents cover its use with a broad range of bioactive molecules, such as CBD, nicotine, NSAID pain-relievers, and others.
DehydraTECH™ technology is optimized to work with hard-to-deliver fat-soluble payloads. The technology is an additional value-adding step to companies that are looking to improve the effectiveness of prescription and non-prescription drugs, NSAIDs, nicotine and other products.
Lexaria's revenue streams have started to show growth in the fiscal year that started September 1, 2020, with more revenue in the first two quarters ending Feb 28 2021 than in the entire previous fiscal year. Operations are now cash flow positive if corporate G&A is ignored.
Lexaria's Research Initiatives
Lexaria is looking into various applications for its DehydraTECH™ technology, focusing during 2021 on CBD for pulmonary vascular hypertension as well as the delivery of antivirals for COVID-19 and other viruses.
The CBD for pulmonary vascular hypertension R&D encompasses five studies, including two animal and three human studies, using the DehydraTECH™ 2.0 technology. Results from animal studies are expected during May to July 2021 and from human studies from September through November 2021. If successful, Lexaria believes the wealth of data may be sufficient to attract the attention of big pharma and biotech.
The final area of investigative focus for 2021 is reduced risk methods of nicotine delivery. In 2018, Lexaria conducted two nicotine absorption and tolerability studies in animals, the results of which were strong enough to lead to a commercial licensing deal with tobacco giant Altria Corp.
Lexaria's Subsidiaries
Lexaria's subsidiary companies focus on distinct customer bases and business applications. This allows Lexaria to focus its research and optimize the company's financial structure and partnerships to ensure that each sector of its business is given due consideration, time and effort. Lexaria Bioscience Corp administers the intellectual property portfolio and segregated technology licenses into the various subsidiaries, some of which are identified below.
Lexaria Pharmaceutical Corp.
Lexaria Pharmaceutical provides DehydraTECH™ to the global pharmaceutical sector to help find solutions for pain relief, hypertension, hormone treatments, anxiety disorders, central nervous system conditions, and more.
Lexaria Nicotine LLC
Lexaria Nicotine provides DehydraTECH™ technology to the global nicotine and tobacco industries. Lexaria Nicotine is focused on reduced-risk nicotine solutions to help smokers lead healthier lives and reduce the risk of cancer by avoiding combustible products.
R&D for this vertical has been supported by relationships with Altria Group and British American Tobacco. Lexaria Nicotine is also in discussions with other global tobacco and pharmaceutical companies to use DehydraTECH™ for non-combusted nicotine products.
Lexaria Hemp Corp.
Lexaria Hemp provides DehydraTECH™ using hemp-derived CBD to the rapidly growing consumer packaged goods ("CPG") sector in the US, and depending on local regulatory frameworks, into certain medical cannabis markets. This divisionis generating licensing and processing revenues in the US market from the CPG sector where the technology is used under license by companies such as Cannadips, Amari, and others.
Lexaria's Management Team
Chris Bunka – Chairman and CEO
Chris was primarily responsible for the corporate pivot from older business activities to bioscience in 2014. Chris is a serial entrepreneur and has been involved in several private and public companies since the late 1980's. He was well known for more than a decade as a part-time business commentator in print and radio, as well as an author. He has extensive experience in the capital markets, corporate governance, project acquisition and corporate finance. He is a named inventor on some of Lexaria's pending patents.
John Docherty – President and Director
John Docherty is a senior operations and management executive with over 20 years of experience in the pharmaceutical and biopharmaceutical sectors. He has worked with large multinational companies, as well as emerging private and publicly-traded startups. He is the former President and COO of Helix BioPharma, where he led the company's pharmaceutical development programs for its plant and recombinantly derived therapeutic protein product candidates. He was also instrumental in the areas of investor and stakeholder relations, capital raising, capital markets development, strategic partnering, regulatory authority interactions and media relations.
Prior to this, he was the President and Director for PharmaDerm Laboratories Ltd., a Canadian drug delivery company that developed unique microencapsulation formulation technologies for use with a range of active compounds. He is a named inventor on issued and pending patents and he has a M.Sc. in Pharmacology and a B.Sc. in Toxicology from the University of Toronto.
Greg Downey – CFO
Greg Downey has over 10 years of experience as a senior accounting executive with public companies and had acted as Lexaria's Controller for two years prior to becoming CFO. Mr. Downey has served as the Chief Financial Officer for a variety of publicly traded companies, including: Fission Uranium Corp., Big Wind Capital Inc., SecureCom Mobile Inc. and others. Mr. Downey holds a Certified Management Accountant designation and is a member of the Chartered Professional Accountants of British Columbia
Nicholas Baxter – Independent Director
Nick Baxter received a Bachelor of Science (Honours) from the University of Liverpool in 1975, and has worked on oil and gas projects across the globe. Since the 1980's, he has worked with companies in the public markets both in the U.K. and in Canada.
Ted McKechnie – Independent Director
Ted McKechnie is a well-recognized thought leader in the Canadian food industry. In the past, he was president of Maple Leaf Foods, an owner and senior executive at Humpty Dumpty and a senior leader at PepsiCo. After a distinguished career as an executive and marketer specializing in food manufacturing, he now focuses on moving the Canadian food sector into the future. Besides being the chairman of Food Starter's board, McKechnie is also the Chairman and CEO of The Davies Group and William Davies Consulting Inc. He is also a chairman of the board for Advanced Technology For Food Manufacturing, and the Director of Lexaria Bioscience Corporation.
Brian Quigley – Independent Director
Brian Quigley is a 20-year consumer packaged goods veteran of managing complex regulatory environments including for novel and innovative nicotine products, with additional deep experience with operations and marketing. In his time at Altria, he spearheaded harm reduction strategies and worked to deliver results by creating change in the tobacco business in North America. He has launched dozens of new products, created consumer-focused innovation strategies and built businesses and cultures that deliver results.
Quigley formed Green Sky Strategy with other cannabis community leaders following four years of investing and strategic advisory roles to create the first cannabis strategy team that combines deep cannabis industry and consumer experience with proven Fortune 500 strategic thinking. A graduate of the University of New Hampshire, he serves on the board of the Science Museum of Virginia Foundation and on the board of trustees of the Virginia Foundation for Independent Colleges.
Al Reese – Independent Director
Mr. Reese has over 40 years experience in public and private businesses including as CFO of a formerly Nasdaq-listed public energy company where he helped arrange finance transactions totaling over $10 billion dollars. Mr. Reese has also been a Director and Chairman of the Audit Committee of a community bank in Texas for ten years until such time as it was acquired by a larger banking group in 2018. Mr. Reese has been a Certified Public Accountant since 1974 and received his Bachelor degree in Business Administration from Texas A&M in 1971, and his MBA from University of Houston in 1977. He has extensive experience at a senior level in financial services, finance transaction, investor relations, and more.
Dr. Philip Ainslie – Advisor
Dr. Ainslie is a Co-Director for the Centre for Heart, Lung and Vascular Health in Canada, Research Chair in Cerebrovascular Physiology and Professor at the University of British Columbia. His research is directed to the integrated mechanisms, which regulate human cerebral blood flow in health and disease with specific areas of interest including fundamental mechanisms of cerebral blood flow regulation, influence of environmental stress on cerebrovascular function.
---
The information contained here is for information purposes only and is not to be construed as an offer or solicitation for the sale or purchase of securities. Readers should conduct their own research for all information publicly available concerning the company. Prior to making any investment decision, it is recommended that readers consult directly with Lexaria Bioscience Corp. and seek advice from a qualified investment advisor.