Developing PMG and Lithium Properties in Canada
This profile is part of a paid investor education campaign.*
Overview
New Age Metals Inc. (TSXV:NAM; OTCQB:NMTLF; FSE:P7J.F) is a green metals exploration company currently developing its flagship River Valley platinum group metals (PGM) property in Sudbury, Ontario, Canada. The River Valley project is the largest undeveloped primary PGM deposit in North America, with an updated measured and indicated resource of 3.29 million ounces of PGMs and Gold which is 4.6 million ounces of Palladium equivalent. This is complimented by an inferred resource of 1.5 million ounces of PGMs and gold and 2.7 million ounces of palladium equivalent. This updated resource included the four-kilometer extension to the mineralization zone, which was acquired in the 2016 purchase of the River Valley Extension.
PGMs are a collection of precious metals such as palladium and platinum—the two primary focus metals for New Age Metals—that have industrial applications, included in the manufacturing of catalytic converters in vehicles. Between 2016 and 2017, the price for palladium saw an increase of 56.3 percent, maintaining its position as the best performing commodity in the last ten years. According to SFA Oxford, despite a limited supply, the demand for palladium will continue to grow, moving from 7.1 million ounces in 2013 to 10.1 million ounces by 2025. Platinum, the company's secondary metal, has also seen a rise in prices, coming off its bottom price in late 2017.
In addition to its River Valley property, New Age Metals also has five pegmatite properties located in Southeastern Manitoba, near the world-class Tanco pegmatite deposit. One of the largest mineral claim holders in the area for lithium, the company owns over 6,000 hectares in the pegmatite field and three of the properties are drill ready. In January 2018, New Age Metals entered into a final agreement with Azincourt Energy Corp (TSXV:AAZ) for a 50 percent, 60 percent or 100 percent interest of the five lithium properties. Under this agreement, New Age Metals will receive $500,000 of project exploration expenditures within the first year, which it will use for drilling at least two of the drill-ready properties.
In April 2018, New Age Metals announced that it had signed an agreement with Anglo Alaska Gold Corp to purchase a 100 percent interest in their 10,240-acre Genesis PGM project. The Genesis project sits in the Valdez and Chitina Recording district of Alaska and is both road accessible and drill-ready.
New Age Metals is led by a management team and board of directors with significant collective experience and knowledge in exploring and developing PGM deposits. This includes CEO Harry Barr, who has completed 43 joint venture deals with major mining companies and has raised over $300 million in non-brokered financings across his career. The management team is also significantly invested in the company, holding 14 percent of shares. President Trevor Richardson spent over 10 years in exploration and development working in South Africa on one of the world's richest platinum group metals complexes, the Bushveld Igneous Complex. Both the Board of Directors and Advisory Board are complemented by a very technical team, that includes Ron Hieber and Gordon Chunnett. Both spent their careers, over 30 years with Anglo Platinum and are today internationally recognized Platinum Group Metals experts.
Company Highlights
Flagship PGM-primary deposit in safe and stable jurisdiction of Sudbury, Ontario, Canada with ample history of nickel-copper-PGM mining (may want to state Sudbury has been in mining production for over 100 years)
2018 measured and indicated resource of 3.29 ounces of PGM and gold (4.6 million ounces of palladium equivalent)
Aggressive 2018 exploration and development program on both the Platinum Group Metals and Lithium division.
Palladium best-performing commodity in last ten years
Largest mineral claim holder in Tanco Mine pegmatite region in Manitoba
Partnership with Azincourt for development of lithium properties
Recent acquisition of Genesis PGM project in Alaska
Management team with deep experience in developing PGM deposits holds 14 percent of shares
What are PGMs?
PGMs are classified as rare precious metals which include palladium, platinum, rhodium, ruthenium, iridium and osmium. Used in a variety of different applications, the primary use for PGMs is in catalytic converters, which convert harmful gases produced by hydrocarbon emissions in vehicles into less-harmful substances. In fact, 80 percent of produced PGMs are used in catalytic converters, each of which contain between 3.0 grams to 7.0 grams of PGM's, depending on the vehicle size and manufacturer.
As the number of vehicles increase around the world while more and more governments impose mandates regarding reductions in vehicular pollution, the demand for catalytic converters, and for the metals required to develop them, is growing continually. This has been reflected in the price of palladium, which has been the best performing commodity in the last ten years, growing at an average 21.5 percent per year.
The automobile industry is also facing a rise in demand for electric vehicles. Within this transition of the market, catalytic converters will still play a relevant role as they will be necessary for any form of hybrid vehicle.
Flagship Project: River Valley PGM Project
The wholly-owned River Valley project covers 5,381.1 hectares of mining leases and is located in Northern Ontario, 60 kilometers east of Sudbury (Figure 1). Situated within the renowned nickel-copper-PGM mining jurisdiction, the property is readily accessed by existing roads, has available infrastructure, including access to power, and is supported by strong local relationships. The property also sits within 100 kilometers of a metallurgical facility with capacity for any production from the River Valley project. Currently, North America's only producer of Palladium, North American Palladium, ships all of their concentrates 1,000 KMs to Sudbury. Both of the processing facilities of Vale and Glencore, in Sudbury, have excess capacity and could take the concentrates generated from River Valley.
Figure 1: Project Location
Resource
In March 2018, New Age released an updated NI 43-101 compliant resource estimate that built upon a 2012 resource estimate. The largest primary PGM deposit in North America, the River Valley project hosts a near-surface measured and indicated resource of 3.29 million ounces of PGM and gold (4.6 million ounces of palladium equivalent). The resource also includes an inferred 1.5 million ounces of PGMs and gold and 2.7 million ounces of palladium equivalent (Figure 2).
Figure 2: The Yellow Band represents the footwall potential area of the River Valley Deposit based on the results of the Pine Zone where footwall mineralization was noted to extend 150 meters eastward from the Pine Zone/ T3 main deposit. At present the only area that has confirmed footwall mineralization is in the Pine Zone (defined from 2015 to 2017 drilling). Geophysics and exploration are in progress to test other areas of the deposit. Management's specific focus is to outline a sufficient economic resource in the northern portion of the project, and then develop a series of open pits (bulk mining), crush, and concentrate on site, then ship the concentrates to Sudbury.
The updated resource estimate was built out based on results from drilling conducted after 2012 and takes  into account the added 4 kilometers of strike length from the River Valley Extensions, acquired in 2016.
Structure of the deposit
New Age Metals' PGM deposit sits in the base of the River Valley intrusion and runs across 16 kilometers, and is drill proven to a depth of 0.2 kilometers. The deposit remains open to depth.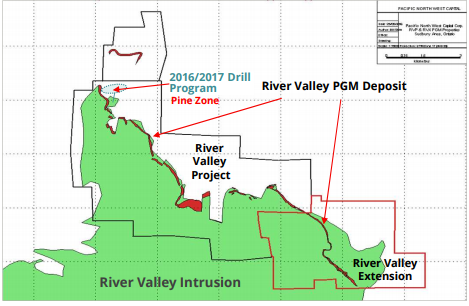 Figure 3: River Valley Land Position
The River Valley PGM deposit sits near surface, with an average drilling depth of just 200 meters. As such, the project has significant open-pit potential, which could result in substantial capital savings.
Exploration
The River Valley property has a number of PGM exploration target areas, which have seen over 140,660 meters of drilling conducted across 628 holes.
This includes the Pine zone, an area which was discovered through drilling in 2015 and 2016, open along strike. Results in the Pine zone include high-grade PGM values of 4.0 meters of 5.12 g/t palladium-platinum-gold, 6.0 meters of 5.29 g/t palladium-platinum-gold and 3.0 meters of 7.12 g/t palladium-platinum-gold (Figure 4).
Figure 4: Northern Portion of the River Valley PGM Deposit Showing Regions of Current IP Geophysics and grade at a 0.4g/t cut-off. NOTE: Image only represents approximately 3.5 km of the 16 km of the overall strike length of the River Valley PGM deposit.
Figure 5: The Yellow Band represents the interpolated footwall potential area of the River Valley Deposit based on the results of the Pine Zone where footwall mineralization was noted to extend 150 meters eastward from the main deposit. At present the only area that has confirmed footwall mineralization is in the Pine Zone (defined from 2015 to 2017 drilling). Exploration is in progress to test other areas of the deposit.
In 2016, New Age Metals acquired the River Valley Extension from Mustang Minerals Corp., bringing the length of the strike to 16 kilometers (Figure 5). Open at depth, the segment of strike within the River Valley Extension has seen grab sample results of up to 10 g/t PGM. Drilling highlights from this region also include 9.0 meters of 1.4 g/t PGM, 1.0 meter of 4.0 g/t PGM and 4.5 meters of 2.2 g/t PGM.
Genesis PGM Project
The Genesis PGM project is a highly-prospective, drill-ready palladium-platinum-nickel-copper project that has seen limited exploration in the past. New Age has determined that future work on the project will include follow-up drilling, additional surface sampling, and additional exploration activities aimed at determining the size of the mineralization. The road accessibility and existing infrastructure on the project allow for year-round exploration, development and production.
New Age Metals Genesis Project
Highlights of the project include a PGM mineralization zone that covers nine kilometers across the prospect. The property also hosts a target area with identified grades of 2.4 g/t palladium, 2.4 g/t platinum, 0.96 percent nickel and 0.58 percent copper. It also hosts a separate chromite mineralization with grades of up to 2.5 g/t palladium and 2.8 g/t platinum. The property's reef mineralization is open to the west, east and north, as well as at depth.
Lithium Division
In addition to its PGM property in Ontario, New Age Metals also holds five lithium projects within the Winnipeg River pegmatite field. Near the world-class Tanco pegmatite mine, which has been mined for tantalum, cesium and spodumene since 1969, New Age Metals is one of the largest mineral claim holder in the region, holding over 6,000 hectares. Of the properties, three of these are drill-ready.
Lithium One
The Lithium One property is in a region that was first explored in 1924, and its Silverleaf pegmatite went on to become the first commercial production of spodumene in Canada. 500 tonnes of spodumene were extracted from an open pit during that time. Since then, the area has been explored for pegmatites, tantalum and base metals.
The company conducted field work on the property in 2016, outlining and sampling several historical pegmatites. The results from this initiative included 4.33 percent lithium oxide and 0.04 percent tantalum pentoxide in the Silverleaf pegmatite. The company also saw notable lithium values from spodumene and lepidolite in our pegmatites on the property.
Lithium Two
In 2016, New Age Metals also conducted ground work on the Lithium Two property, outlining and sampling the Eagle and FD5 pegmatites. Both of these contained surface spodumene. The highest values from the Eagle pegmatite were 3.04 percent lithium oxide and 2.08 percent lithium oxide in the FD5 pegmatite.
Lithman West
The Lithman West project has a number of drill-ready targets that have been identified following a review of historical rock and soil geochemical anomalies.
Azincourt Joint Venture
In January 2018, New Age Metals signed a final agreement with Azincourt Energy Corp. Under the agreement, Azincourt will have the option to acquire up to 50 percent, 60 percent or 100 percent of the properties, allowing New Age Metals to enter into a joint venture agreement once Azincourt reaches 60 percent.
"We are pleased to have the final agreement completed and partner with Azincourt Energy on our Lithium properties," said New Age Metals CEO Harry Barr. "This option joint venture allows the continued development of our Lithium projects and for management to focus on our 100% owned River Valley Project, located in the Sudbury mining district of Ontario, which is Canada's largest undeveloped primary PGM Deposit."
For the first 50 percent interest of the five properties, Azincourt has agreed to cash payments totalling $2,100,000 within the first 18 months and a total 1 million shares within three years. This is supplemented by project exploration expenditures of $500,000 in year 1, $600,000 in year 2 and $1 million in year 3. Once Azincourt has earned 60%, New Age Metals has the option to form a joint venture and maintain a 40% interest. Under the terms, Azincourt has also agreed to pay New Age Metals a 2 percent net smelter royalty return on each of the properties.
With financing in hand, New Age Metals has outlined an exploration plan for its lithium properties. This will include the drilling of at least two of the drill-ready projects, working towards further understanding the resources and developing a NI 43-101 resource estimate.
Management
Harry Barr—Chairman, CEO and Director
Harry Barr has over 30 years of experience in the Mining Industry, founding Freegold Ventures Limited, Canalaska Uranium Ltd. and New Age Metals Inc. Over the last 15 years, he has acted in various management capacities for El Nino Ventures Inc. (currently Chairman and CEO). Former president/CEO of Next Gen Metals, which merged with Namaste Technologies in February 2016. He has created shareholder value by building teams to assist him in corporate finance, project acquisition, and exploration and development of mineral projects in nine countries and three continents. As a CEO, he has guided his management teams to complete over 43 option joint venture agreements with major mining companies, and over 300 with mid-tier and junior mining companies. He and his team have raised approximately $300 million in non-brokered private placements, other equity arrangements and option joint venture agreements.
Trevor Richardson—President and COO
Trevor Richardson is a Co-founder and Director of Caracle Creek International Consulting (CCIC), an International Geological consulting firm, with offices in South Africa and Canada. He has extensive exploration experience, in Africa and Canada, in precious metals, more specifically Gold and Platinum Group Metals as well as base metals. Registered as a Professional Natural Scientist, under the South African Council of Natural Scientific Professions, he has managed many multi-million dollar projects from conception through to exploration and production. He was also the co-founder, CEO, President and Vice President/Director of various junior exploration companies on TSXV.
Robert Guanzon, CPA, CMA—CFO
Robert Guanzon has been in the field of accounting for more than 25 years. He has been involved in the financial reporting of junior mining exploration companies, pharmaceutical manufacturing business, research & development, real estate/property management, and project building construction. He holds a Bachelor's degree in Accounting, a Certified Public Accountant (Philippines) and a member of Chartered Professional Accountants British Columbia. He brings extensive experience in dealing with financial matters and corporate strategy.
Charlotte Brown—Corporate Secretary
Charlotte Brown is an administrator with over 15 years of experience in the corporate and securities industries in both public and private sectors. Ms. Brown has previously held positions as corporate secretary and corporate assistant for publicly traded companies. She currently holds the position of Corporate Secretary for El Nino Ventures and New Age Metals Inc.
John Londry—Director
John Londry received his B.Sc. and M.Sc. degrees in Geology from the University of Windsor. For the past 30 years he has been active in the mineral exploration and mining industry. His considerable experience encompasses both grass roots and advanced stage exploration projects throughout Canada, the United States and South America. He has held senior positions with Camflo, Noranda Exploration, Hemlo Gold Mines, and Battle Mountain Gold.
Michael Neumann—Director
Michael Neumann brings significant experience in the mining arena and has been Proprietor of Neumann Engineering and Mining Services, Inc. since 1993, providing international engineering services focusing primarily on underground hard rock engineering facets such as mine design, productivity improvements, rock mechanics, second opinions, peer reviews and other types of studies. He is a graduate of Haileybury School of Mines and Michigan Technological University, a member of the Canadian Institute of Mining, the International Society of Rock Mechanics and the Association of Professional Engineers of Ontario. From 2003 to 2006, he was Director and Chief Operating Officer of Silver Eagle Mines Inc., (now Excellon Resources Inc.). Prior to this he was Co- Founder and Director of the Engineering Seismology Group Inc. His early industry experience includes positions of Chief Engineer at Campbell Red Lake Mines and Underground Superintendent at Barrick's Holt McDermott Mine.
Colin Bird—Director
Colin Bird is a chartered mining engineer and Fellow of the Institute of Materials, Minerals and Mining. He has spent over 20 years in operational mine management. He has extensive international experience in developing, financing and managing mines. He has been involved in the management of Nickel, Copper, Gold and other diverse mineral operations. He is responsible for listing several resource companies and has been the founder of a number successful companies significantly Kiwara Resources Plc. and Pan African Resources Plc. He has served on resource company boards in the UK, Canada and South Africa. He has specific PGM industry knowledge generally gained in South Africa where he is the Chairman of Jubilee Platinum Plc an emerging platinum focused junior.
Ron Hieber—Director
Ron Hieber is an Internationally Recognized Expert in Platinum Group Metals and was Head of Worldwide Exploration for Anglo Platinum, the world's largest Platinum producer. He is a geology graduate of Rhodes University, South Africa. He began his career with Anglo American Platinum, on the company's Platinum mines in Rustenburg, followed by service on the mines in other Bushveld Complex areas, becoming Chief Geologist at Rustenburg in 1981.
In 1986 he was appointed to the corporate office as head of all Anglo Platinum's mining geology and exploration functions until retirement in 2009. During his service with Anglo, Ron was made a Divisional Director and the Group's Survey, Ventilation, Rock Engineering and Strategic Planning functions were added to his Geological responsibilities. From the time of his appointment at Corporate, he contributed significantly to the accumulation, retention and management of Anglo Platinum's mineral rights portfolio, on the Bushveld Complex and Great Dyke, whilst also directing worldwide PGM Exploration Programmes for Anglo Platinum, in Australia, China, Canada, Russia and Brazil. This included heading-up the River Valley Option/Joint Venture for Anglo Platinum, from Discovery, in 2000, with Pacific North West Capital. At the time he retired, he was a Director of several Anglo Platinum subsidiaries, including Unki Platinum Ltd. (Zimbabwe) and Rustenburg Platinum Mines Ltd. From 2009, he worked as Executive Director: Business Development for Kameni Ltd., which had PGM interests, in the Eastern Bushveld and Zimbabwe. After selling its projects, Kameni closed and he now runs his own company, with interests in South African and Zimbabwean Gold projects.
---
*Disclaimer: The profile provides information which was sourced and approved by New Age Metals Inc. in order to help investors learn more about the company. New Age Metals Inc. is a client of the Investing News Network (INN). The company's campaign fees pay for INN to create and update this profile page, to which links are placed on Investingnews.com and channel newsletters.
The company description, investment highlights and catalysts were sourced by INN and approved by the company. INN does not guarantee the accuracy or thoroughness of the information contained on this page.
INN does not provide investment advice and the information on Investingnews.com profile should not be considered a recommendation to buy or sell any security.
INN does not endorse or recommend the business, products, services or securities of any company profiled.
Readers should conduct their own research for all information publicly available concerning the company.