Developing Energy Metal Projects for the Clean Technology Market
Overview
Go Metals Corp. (CSE:GOCO,OTCQB:GOCOF) is a Vancouver-based mining exploration company focused on developing energy metals projects for the growing battery market. The company is currently focused on developing its copper-cobalt Monster project in Yukon, Canada.
The emphasis on developing copper and cobalt projects is due to advances in clean technologies and the rising demand for electric vehicles (EV) and lithium-ion batteries, of which both materials are key components. Copper is expected to reach a supply deficit in the face of the rising demand for the metal.
Go Metals' flagship Monster property resides in the Dawson mining district in the Yukon. The property hosts iron oxide-copper-gold (IOCG) occurrences, which are associated with large deposits found in Australia and Chile. The property features an extensive exploration history. Highlights from the past two years include values of over 22 percent copper and over nine percent cobalt in grab samples.
Work on the Monster project has identified two drill targets that have the potential to host IOCG-style mineralization: Beast and Bloom. Both targets are well over one kilometer in width and are associated with gravity highs. Go Metals is fully-permitted to drill and has planned a 4,500-meter program to test these two targets in 2020.
Go Metals also owns the HSP nickel-copper-cobalt-platinum group element (PGE) project in Quebec, Canada. The property has four large conductive and magnetic targets of which several are associated with mineralized outcrops. The company believes that the mineralization can be expanded along strike and at depth with further exploration.
Go Metals' Company Highlights
The Yukon is a mining-friendly jurisdiction.
Wernecke breccia is similar in age and style as other IOCG deposits in Australia, such as Olympic Dam and Carrapateena.
IOCG deposits offer high-tonnage potential.
Substantial historic work has been completed on the property.
Grab samples have returned values over 22 percent copper and nine percent cobalt.
Drilling on the Bloom and Beast targets is expected to commence in 2020.
Go Metals joined the Yukon mining alliance in June 2019.
Go Metals acquired the HSP nickel-copper-cobalt-PGE project in Quebec.
Insiders notably own approximately 15 percent of the company's shares.
The Monster Project
In January 2018, Go Metals acquired a 100 percent interest in the 43.3-square-kilometer Monster ICOG project in the Yukon. In October, the company increased the land size of the property by staking 21 additional claims, creating a land package of 63 square kilometers. The property consists of 212 mineral claims and is located west of the Peel watershed planning region in the Dawson mining district. The Monster property hosts IOCG occurrences across the property within and directly adjacent to the Wernecke breccia. The presence of an IOCG deposit trend is significant as the deposits are also known for hosting cobalt.
After acquiring the Monster project, the company teamed up with Go Metals VP Exploration Jacob Verbaas, who completed his Ph.D. on the IOCG prospects in the Yukon. The Monster IOCG project is a unique exploration play in Canada due to its age and style of mineralization. At 1.6 billion years old, the hematitic breccia system is the same age as the Olympic Dam deposit in Australia. The Olympic Dam is one of the largest copper mines in the world. Based on the research he concluded in a 2018, Verbaas determined that the Olympic Dam and the Monster project formed in the same hydrothermal field.
Historic exploration
Between 1975 and 1976, initial exploration focused on the DAS and Cobalt Cirque mineral claims. Highlights from the exploration programs include assays of up to 190 ppm copper and up to 270 ppm zinc at Cobalt Cirque and assays of up to 480 ppm copper and up to 110 ppm cobalt at DAS.
The property remained dormant until 1993, when the Monster joint venture took over the property. A total of 872 soil samples and 377 rock samples were taken from the property between 1993 and 1988. In 1993, soil samples returned values of over 1,000 ppm copper and returned anomalous cobalt, zinc and lead values. These values led to the identification of mineral showings that yielded grab samples with 44.8 percent copper and 2.8 percent cobalt in 1994.
Between 2001 and 2007, Monster Copper Resources Inc. acquired the property and conducted a range of exploration programs on the property. In 2007, Monster Copper analyzed rock and soil samples collected by Blackstone Resources AG (SWX:BLS) for uranium. Highlights from those samples include 32 ppm uranium and 20 ppm uranium.
Ongoing exploration
Go Metals has been concentrating its recent exploration efforts on three main areas of the property: the Arena, Bloom and Beast . All three areas host surface showings that contain excellent copper and cobalt grades, and two are drill-ready.
The Bloom, Beast and Arena areas were defined as the main areas of interest through the data obtained from a remote spectral geology survey, an airborne magnetic survey and prospecting and sampling across the property in 2018.
The Bloom drill target (Bloom South) is a coincident magnetic, gravity and IP high. The target is highly prospective because the local surface mineralization is located in areas with similar geophysical characteristics. Grab samples from the Bloom include up to 9.6 percent cobalt, 3.19 percent copper, 11.31 g/t silver and 1.16 g/t gold. The Bloom South target further shows many IOCG indicators such as extensive hematite and chlorite alteration. The gravity anomaly is approximately one kilometer wide and the top of the target ranges from 25 meters to 100 meters deep.
The Beast target overlies a large magnetic high that is approximately two kilometers wide on the east of the property. Part of this magnetic is bounded by a 1.5-kilometer-wide gravity high. Associated shallower gravity highs have a positive IP response; however, the target is blind, and so is not confirmed by outcrop. Geophysically the target appears similar to the Carrapateena deposit in Australia. IOCG style alteration increases downslope in the overlying valley and samples of up to 2.75 percent copper equivalent. have been found in the vicinity. The target currently represents the largest potential volume of mineralized rock on the property, with a depth of approximately 100 meters.
The Arena is an area overlying a magnetic low with excellent surface showings. Samples from the area include up to 6.1 percent cobalt, 3.81 percent copper, 53.52 g/t silver and 0.49 g/t gold. Two surface showings called Goblin and Cobalt Cirque occur along a weak magnetic lineament that is about 700 meter long. The lineament may connect in the west, increasing the strike length increases to 1,200 meters. This lineament is further located within a preferentially mineralized structural corridor. Go Metals continues to analyze the data for this area to determine the best drill target.
Go Metals is permitted for drilling in 2020 and plans to drill the Beast and Bloom target using a combination of rotary air blast drilling and diamond drilling.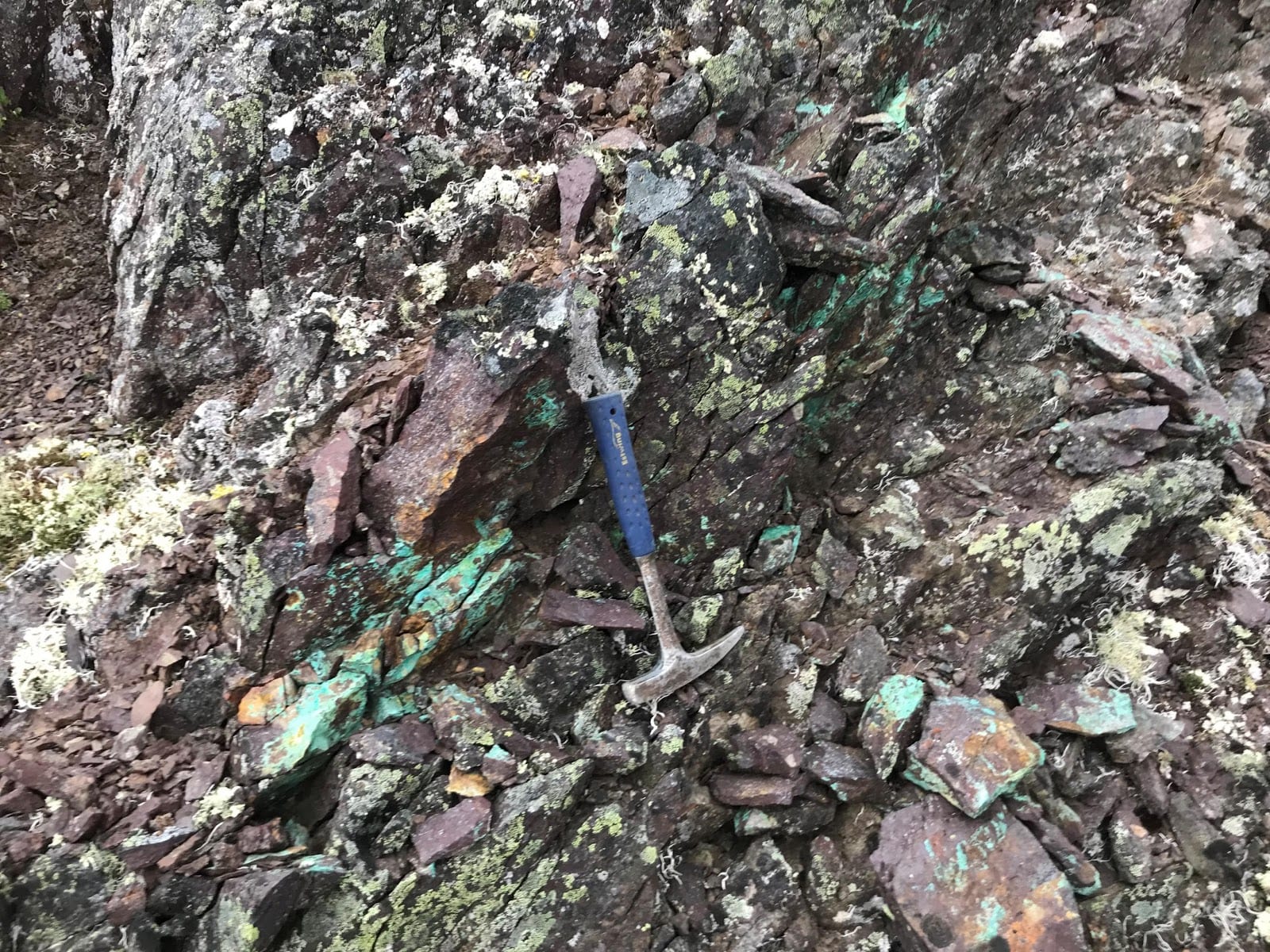 HSP Project
Go Metals acquired the HSP nickel-copper-cobalt-PGE project in February 2019. The property is comprised of 4,240-hectares and located approximately 100 kilometers north of Havre-Saint-Pierre, Quebec. The property is accessible by floatplane and a forest service road runs five kilometers to the south.
Historical exploration
In the 1990s, a series of EM anomalies were followed up with trenching. Trenching identified a massive pyrrhotite vein on the Hamlet and EGP showings. Five samples at the Hamlet showing yielded 0.69 percent copper, 0.53 percent nickel, 0.09 percent cobalt and 83 ppb platinum. Seven samples on the EGP showing returned 0.71 percent copper, 0.33 percent nickel, 0.04 percent cobalt, 86 ppb platinum, 145 ppb protactinium and 109 ppb gold.
Ongoing Exploration 
During Go Metals' appraisal of the property, the company defined four large conductive and magnetic targets that are associated with mineralized outcrops. The mineralization occurs at the surface and has the potential to be expanded along strike and at depth.
Go Metals completed a frequency and time domain EM surveys on the property to help delineate the most prospective targets on the property late in the 2019 exploration season. Based on the results of the survey, Go Metals expects to plan the most effective follow-up exploration program for 2020.
Go Metals' Management Team
Dr. Jaap Verbaas, – VP Exploration
Dr. Jaap Verbaas, finished his M.Sc. degree in structural geology and metamorphic petrology at Utrecht University in 2011. Afterwards, he worked on several exploration projects as a graduate geologist for CSA global in Western Australia. In 2012 he moved to Vancouver, Canada to pursue a Ph.D. at Simon Fraser University. He completed his dissertation on the Proterozoic evolution of the Yukon Territory, with focus on the Wernecke breccia in 2017.
Don Sheldon, MBA — Chairman
Don Sheldon brings more than 30 years of experience working with reporting issuers. He has had an extensive career managing and raising capital for junior resource companies; holding positions with Range Oil & Gas, Shoal Point Energy, Castle Rock Minerals, and Pure Gold. He is a graduate from the University of Western Ontario with a Master's degree in Business Administration.
Brian Murray, MBA, CPA — Director and CFO
Since December 1973, Brian Murray has worked as Chartered Professional Accountant and a Chartered Accountant in Ontario. He has also worked with reporting issuers for more than 20 years. Murray is currently CFO and Director of Sea Green Capital Inc., a junior gold mining company focused on exploration in Quebec. From January 2008 to date, Murray has served as President and Director of Nebu Resources Corp., a company listed on the TSXV which is engaged in the acquisition, exploration and development of mineral properties in Canada.
Adrian Smith, P.Geo. — Director
Adrian Smith is a Consulting Geologist with over 10 years' experience working in the mining and exploration industries. He began working for exploration companies as an underground mine geologist in the Shasta gold-silver mine in northern BC. He then began work for North American Tungsten Corp. at the Cantung mine in the Northwest Territories, where he was involved in successfully identifying, modeling and producing ore, in addition to known reserves.
Since then, he has taken his mining and exploration experience from underground and applied it to exploration projects across Canada and the US. Currently, Smith sits on the board of Go Metals Corp., and has founded Divitiae Resources Ltd. He graduated from Simon Fraser University with a Bachelor of Science degree specializing in Geology and has been a member of APEGBC since 2008.
Scott Sheldon, BA — Director and CEO
Scott Sheldon is President of Surgenia Productions, a web campaign company he established in April 2003. As president of Surgenia, he has worked on projects with Manulife, Bank of America, Ford Motor Company, Sun Microsystems and the GLOBE Foundation. He has also helped a handful of Vancouver junior mining companies including Pure Gold, Gold Giant and Cross Lake Minerals to promote and advance their mining exploration projects online. He graduated from Dalhousie University in Halifax.
---
*Disclaimer: This profile is sponsored by Go Metals Corp. (CSE:GOCO,OTCQB:GOCOF). This profile provides information which was sourced by the Investing News Network (INN) and approved by Go Metals Corp., in order to help investors learn more about the company. Go Metals Corp. is a client of INN. The company's campaign fees pay for INN to create and update this profile.
INN does not provide investment advice and the information on this profile should not be considered a recommendation to buy or sell any security. INN does not endorse or recommend the business, products, services or securities of any company profiled.
The information contained here is for information purposes only and is not to be construed as an offer or solicitation for the sale or purchase of securities. Readers should conduct their own research for all information publicly available concerning the company. Prior to making any investment decision, it is recommended that readers consult directly with Go Metals Corp. and seek advice from a qualified investment advisor.